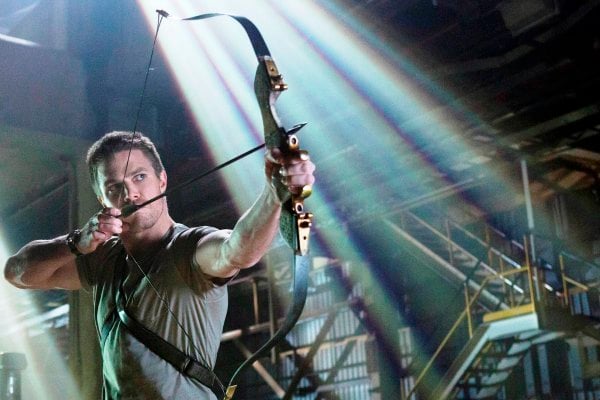 Another Batman villain will soon dominate the world of Arrow, the hit CW show based on the DC Comics crime-fighter Green Arrow. The notorious Ra's al Ghul will finally appear in season three after being hinted at in previous seasons. News of his presence was confirmed at San Diego Comic Con. Ra's will soon be the main foe, but he isn't the first and only Batman villain to appear in the series; several reincarnations to varying degrees of comic book similarity have been depicted on the show since its premiere in 2012.
The writers and producers of Arrow have long been inspired by Batman, especially Christopher Nolan's Dark Knight films, which weren't afraid to explore darker territory on screen. The line: "You should be mindful of your surroundings," is repeated in Batman Begins and is also spoken in a season two episode of Arrow titled "League of Assassins." Ra's leads the League of Assassins, a secret organization that also includes his daughters, one of which is named Nyssa al Ghul in Arrow, but named Nyssa Raatko in the comics. His other daughter, Talia, has a higher profile in the comics after being married to Bruce Wayne and giving birth to his son.
Thus far in Arrow, members of the organization have also included Sara Lance (The Canary) who was released and rejoined, Malcolm Merlyn, and Al-Owal. In the comics, there have been countless members in the League of Assassins, so it'll be interesting to see which other characters the creators choose to depict.