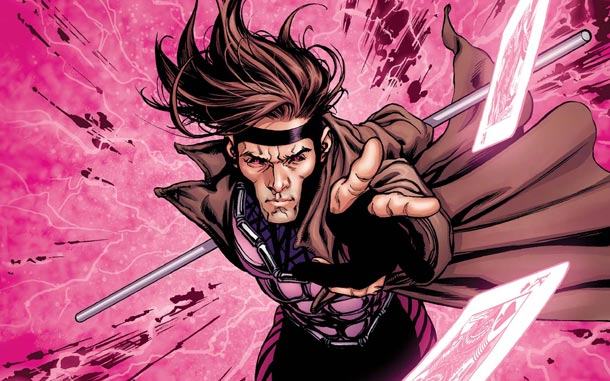 Poor Taylor Kitsch. The 33-year-old actor has been in his share of flops (Battleship, Oliver Stone's Savages, John Carter), and now, through no fault of his own, he's been ousted from the role of Remy LeBeau, aka Gambit. Kitsch gave a well-received performance in the television series Friday Night Lights, and a film career seemed certain. But his best role to date was the horny guy in the airplane bathroom who gets killed by a snake in Snakes on a Plane, circa 2006.
Kitsch appeared as Gambit, sans the Cajun's trademark red eyes, in the unbelievably awful X-Men Origins: Wolverine, a film that's inept on every level. Kitsch wasn't bad as LeBeau, though he was given material so stiff and contrived it's practically a fire hazard. Hoping to expunge the painful memories of X-Men Origins from the fragile minds of fans, the producers behind X-Men: Apocalypse and the recently confirmed Gambit spinoff have replaced Kitsch with Channing Tatum.
Tatum began his acting career playing pretty boys with phobias of shirts before turning to action movies. After that obligatory period of Nicholas Sparks films, Tatum surprised moviegoers in Steven Soderbergh's Haywire, in which he loses a brutal fist fight to Gina Carano. Soderbergh has a keen eye for actors, and he was on to something with Tatum; the next year, the actor had a break-out series of performances as a stripper in Magic Mike (a fun foil to his shirtless soccer player in She's the Man) and an undercover cop posing as a high school student in 21 Jump Street, an exceedingly smart film that garnered almost no hype pre-release. Both Magic Mike and 21 Jump Street were surprise hits, the former being at the forefront of the McConaissance.
Lauren Shuler Donner, X-Men producer, said of Tatum that, "Well you know, he's a rogue — Channing — he's a rascal, just like Remy LeBeau, and he can handle the action, we all know that! And he's got a really good heart."
"He'll be great for Gambit," she added, "and he's a Southerner, too! He's not from New Orleans, but he is a Southerner, and he understands that world."