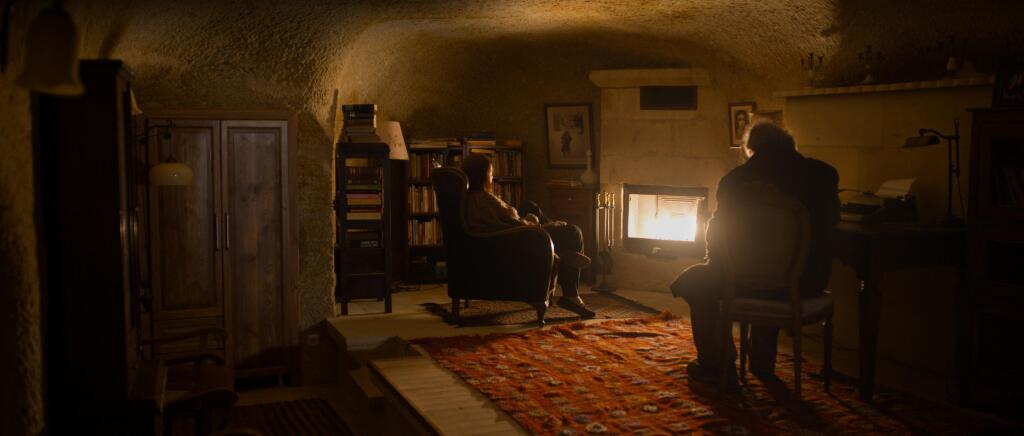 Nuri Bilge Ceylan's Winter Sleep, winner of this year's Palme d'Or, was by far the longest film in competition this year (Last year's gorgeous winner Blue is the Warmest Colour was also the longest film in competition, so maybe a pattern is emerging?). The film, clocking in at 196 minutes, depicts a Chekhov-inspired tale of a curmudgeon (Haluk Bilginer) who slowly, gradually comes to realize the damage his selfish, privledged life has brought upon his family.
Indiewire describes Bilginer's character as "a bearded, middle-aged grouch who lives on a hill high above Inherited land owned by his late father. An ex-actor thinking about writing a book project on Turkish cinema, he lives in the shadow of his previous accomplishments, alienated from the community that resents his his privilege. 'The elephant gave birth to a mouse,' he sighs, one of many instances in which Ceylan's textured script matches his movie's symbolic visuals that draw out the conceit of a man antagonized by everyone around him."
Ceylan's previous film, the stunning Once Upon a Time in Anatolia, was a co-winner of the Grand Prix at Cannes in 2011. The Turkish film is, in many ways, a precursor to, and spiritual forefather of Winter Sleep. At close to three hours, the slow, patient film has an ethereal aura about it, shot in burning hues, beams of slight cutting through the dark rural night. It's sedulously paced and deliberately reveals very little. Ceylan likes to make his audience work, a habit leftover from his avant-garde days.