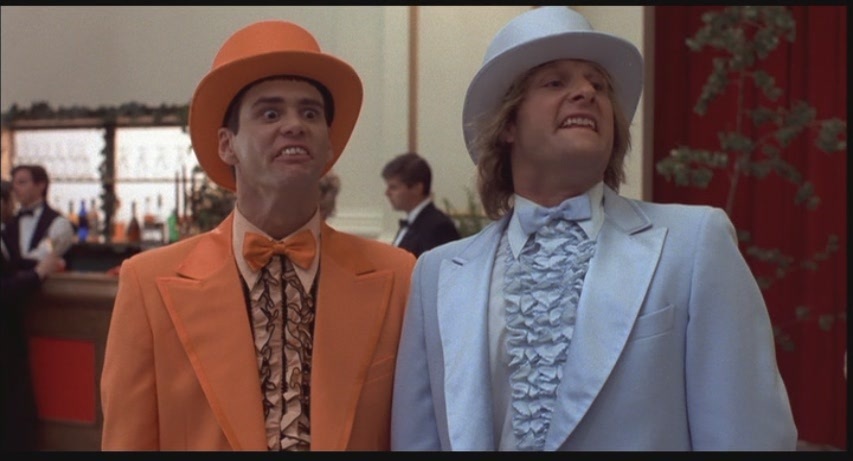 Jim Carrey having a catheter yanked out of him? A cat's butt flaunted in front of the camera? An old woman tricking two stupid men into giving her sexual pleasure? Yup, there's a new Farrelly Brothers movie coming to town. Dumb and Dumber To, which has been gestating for a long time, was hinted at last year, when Jeff Daniels gave a slight smirk and thumbs-up to Jimmy Fallon, saying the movie would start filming that year. He wasn't lying: Jim Carrey and Jeff Daniels both return to the roles they made them famous, and they look dumber, and creepier, than ever.
The first film, a surprise hit, came out in 1994, when Carrey and Daniels were relatively unknown. (That year would be Carrey's break-out year, as he appeared in Dumb and Dumber, Ace Ventura, and The Mask, which is an astounding year for slapstick comedy). Made for $17 million, the gross-out comedy earned almost $250 million, which probably says a lot about Americans. Steve Martin turned down the role of Lloyd, and Carrey was brought in. Because Ace Ventura was such a huge success, Carrey's salary was upped to $7 million. (He'd set a record for most money for an actor when he took a $20 million fee to star in Ben Stiller's brackish comedy The Cable Guy.)
Carrey has famously refused to participate in sequels, after his unpleasant experience with Ace Ventura: When Nature Calls (he rewrote the original film to suit his over-the-top vision). Dumb and Dumberer, Evan Almighty, and Son of the Mask all had to make due without Carrey, and all suffered for it. That Carrey, Daniels, and the Farrellys are all returning for Dumb and Dumber To, twenty years later, is a promising sign. Daniels has said the film will be even grosser than the first, and the trailer backs up that statement.