'Kong: Skull Island': Everything We Know (So Far)
The King Kong franchise is set to continue with next year's Kong: Skull Island, starring Tom Hiddleston. Though the movie still has a ways to go before its premiere, fans don't have to wait that long to learn more about what they can expect from the upcoming blockbuster. Hiddleston has dropped several hints about his lead character and why this Kong will be completely different than anything audiences have seen before. Here's everything we know about Kong: Skull Island so far (including the first trailer, released at the 2016 San Diego Comic-Con, above) .
1. It has a star-studded cast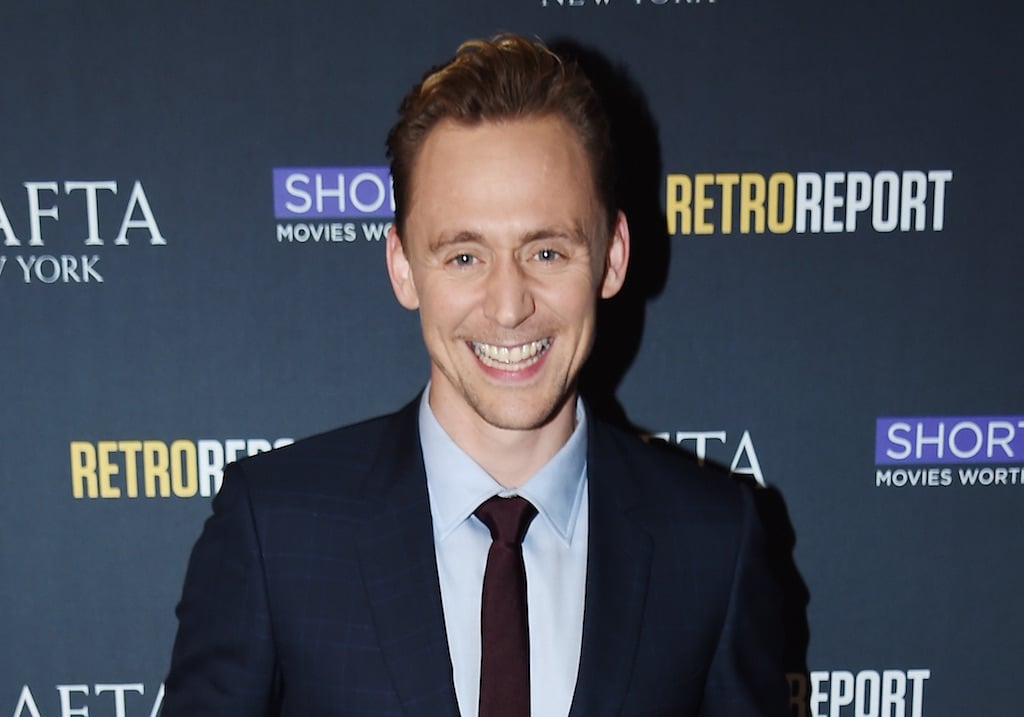 The movie boasts an A-list ensemble cast, including Tom Hiddleston, Brie Larson, Corey Hawkins, Samuel L. Jackson, and John Goodman. Toby Kebbell will also appear as the motion capture Kong.
While details are being kept mostly under wraps for now, we have gotten some hints as to what to expect from a couple of the characters. Hiddleston will play a sword-wielding explorer, as he himself confirmed multiple times over the last year. "There's something very heroic about my character in Skull Island. He's an adventurer, he's an explorer," the actor told Collider last year.
He reiterated the point to Entertainment Weekly in March, saying, "Kong was a change, to play a heroic protagonist—having never really played that role before—in a massive movie."
Meanwhile, Deadline reports that Goodman will reportedly take on the role of Randa, a government official who leads an expedition.
It's also worth noting that the project underwent several cast changes prior to the start of filming in fall 2015. Michael Keaton and J.K. Simmons were both previously attached to co-star in the movie, but had to exit the project due to scheduling conflicts.
"We had maybe the most diverse and talented cast I think I've ever worked with as a whole," Hiddleston told EW of the final cast, adding he's especially excited to share the screen with "the biggest movie star in the history of movies," Kong.
Update 7/12/16: Here's the full cast listing, as released by Warner Bros:
"Kong: Skull Island" stars Tom Hiddleston, Samuel L. Jackson, Oscar winner Brie Larson, John Goodman and John C. Reilly. The international ensemble cast also includes Tian Jing, Corey Hawkins, Jason Mitchell, John Ortiz, Thomas Mann, Shea Whigham, Toby Kebbell and Eugene Cordero. Vogt-Roberts directs the film from a screenplay by Max Borenstein, John Gatins, Dan Gilroy and Derek Connolly. "Kong: Skull Island" is produced by Legendary's Thomas Tull and Jon Jashni with Mary Parent. The executive producers are Eric McLeod and Alex Garcia.
[Update 11/17/16]: The second full-length trailer was released, below:
2. The creative team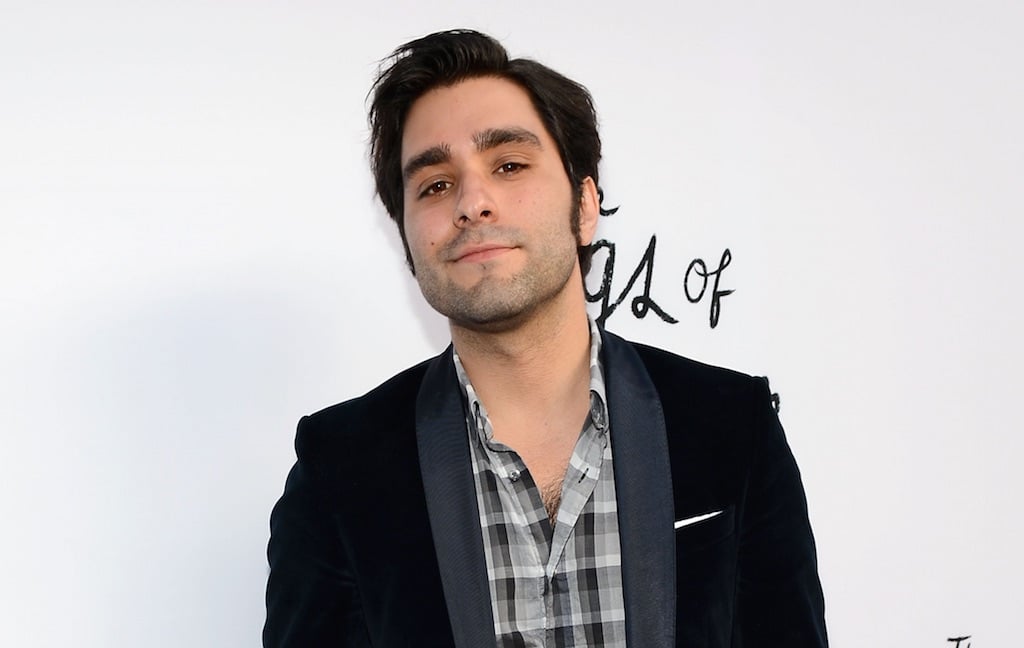 Jordan Vogt-Roberts, known for directing 2013's The Kings of Summer, will helm the film. Dan Gilroy (Nightcrawler), Max Borenstein (Godzilla), and John Gatins (Flight) penned the script, with Jurassic World co-writer Derek Connolly making some revisions this past summer.
Meanwhile, Godzilla producers Thomas Tull, Jon Jashni, and Mary Parent will serve as producers on the movie.
3. It will be a complete re-imagining of the King Kong mythology
Specifics about the plot have not been revealed, but Hiddleston has confirmed that fans should expect a very new take on the Kong lore.
"It's cool, it's gonna be new this time," he told The Daily Beast in March. "Jordan's vision for it is really unique: completely different time period, different story, and Kong like you've never seen him before. There is no young movie actress, there is no film director. It's a reimagining of it."
He revealed a few more details to Entertainment Weekly, saying:
I don't want to spoil too much … But it's a whole new re-conception of the mythology. It essentially follows a group of disparate travelers and explorers and soldiers who travel to an undiscovered island in the South Pacific. And it's set in a time period where you could conceive that there are still undiscovered places on the earth. What they find on the island is surprising, and then every character has a very different response to it. It's going to be spectacular and epic, but also the human drama is kind of interesting as well.
Hiddleston also added that the movie will add "a little extra social commentary" while still feeling fresh. "The myth behind it is more about the necessity of man's humility in the face of nature," he said, per The Daily Beast. "We keep thinking we can build a better world than nature. I'm not sure that we can."
The first look at the movie was released at the 2016 MTV Movie Awards, seen above.
Update 7/12/16: Per Warner Bros.' official synopsis, Kong: Skull Island "reimagines the origin of the mythic Kong in a compelling, original adventure from director Jordan Vogt-Roberts. In the film, a diverse team of explorers is brought together to venture deep into an uncharted island in the Pacific—as beautiful as it is treacherous—unaware that they're crossing into the domain of the mythic Kong."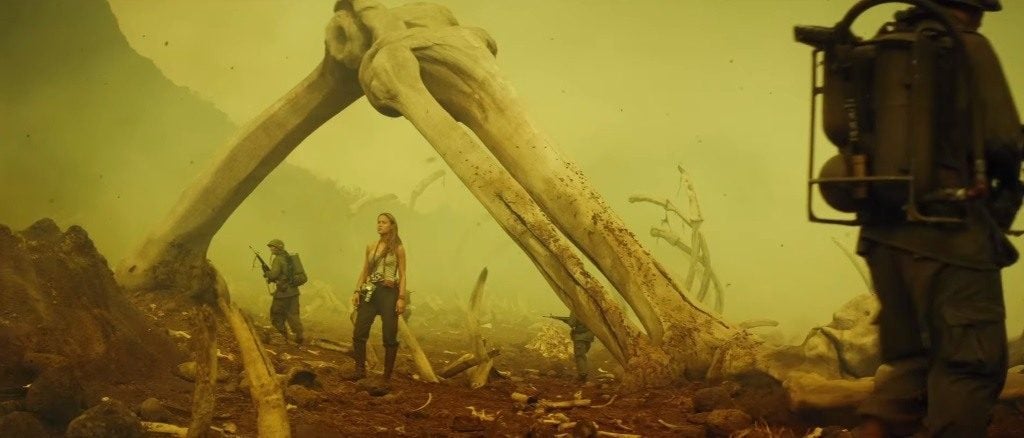 4.It will be the biggest Kong we've seen yet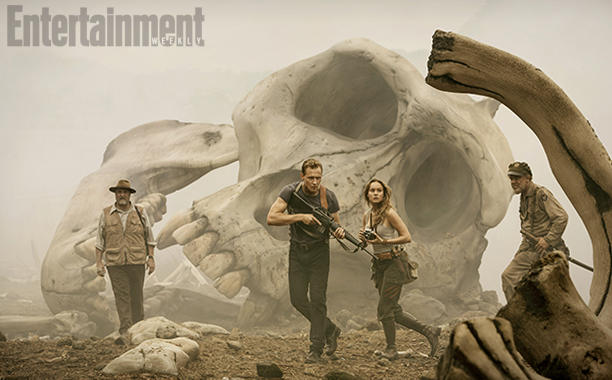 In a recent interview with Entertainment Weekly, director Jordan Vogt-Roberts shared a first look at the upcoming movie (seen above) and promised big things ahead for the franchise. "From the size of the skull, you can tell that things on this island are much bigger than audiences are used to with traditional Kong lore," Vogt-Roberts said of the image. "Our Kong is by far the biggest Kong that you've seen on screen, and that translates to a lot of different things on the island."
So just how big are we talking? "In terms of actual size, our Kong is by far the biggest Kong," he clarified. "Peter Jackson's Kong was around 25 feet. The '33 Kong ranged between 25 feet and 50 feet, I want to say he was 50-plus feet when he was on the Empire State Building. He varied in size dramatically! The '70s Kong was somewhere between them."
As the director explained, the size is actually a key part of the mythos of Skull Island. He told EW: "The thing that most interested me was, how big do you need to make [Kong], so that when someone lands on this island and doesn't believe in the idea of myth, the idea of wonder – when we live in a world of social and civil unrest, and everything is crumbling around us, and technology and facts are taking over – how big does this creature need to be, so that when you stand on the ground and you look up at it, the only thing that can go through your mind is: 'That's a god.' Pretty big, we're guessing?"
Update 10/12/16: A new poster-sized map of Skull Island has been revealed. When the map is shown under a black light, it reveals several hidden messages, including images of a hidden skull in the Western portion of the island and various notations, seemingly from Monarch, the secret government organization introduced in 2014's Godzilla. It also reveals the image of a large lizard-like creature. Check out a photo of the poster here.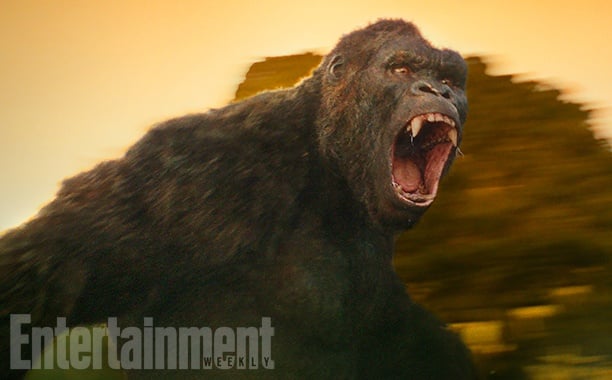 Update 11/10/16: A brand new photo of the new King Kong from the upcoming Kong: Skull Island has just been released (via EW), seen above.
5. It will lead to a Godzilla vs. Kong movie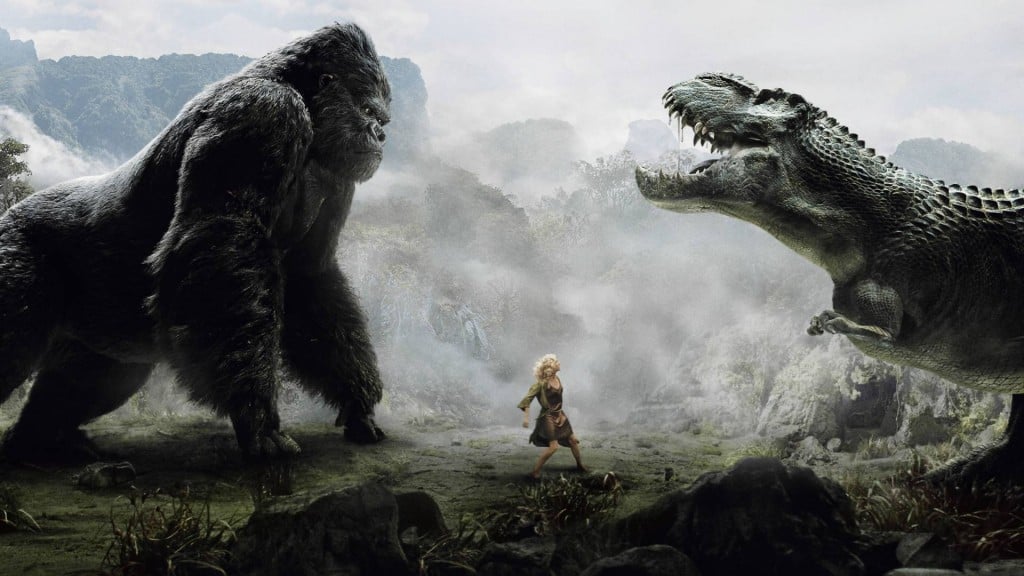 Last fall, Legendary Pictures moved Kong: Skull Island from Universal Pictures to Warner Bros. According to The Hollywood Reporter, the move was made in order to open up a path for an eventual King Kong vs. Godzilla movie.
Prior to the move, there was an argument brewing over Legendary's reference to Monarch in the script for Kong: Skull Island. As those who saw 2014's Godzilla know, Monarch is the top secret government employer of Ken Watanabe and Sally Hawkins' characters. Per THR, Warner Bros was less than thrilled of the inclusion of a Godzilla element in a Universal-backed Kong movie. Thanks to the transition in studios, that problem has now been solved.
With Skull Island now under its umbrella, Warner Bros. is reportedly plotting a three-movie plan, culminating in a crossover film: Kong: Skull Island next year, Godzilla 2 in summer 2018, and Godzilla vs. Kong now scheduled for 2020.
Update 11/16/16: The first official posters have been revealed, below: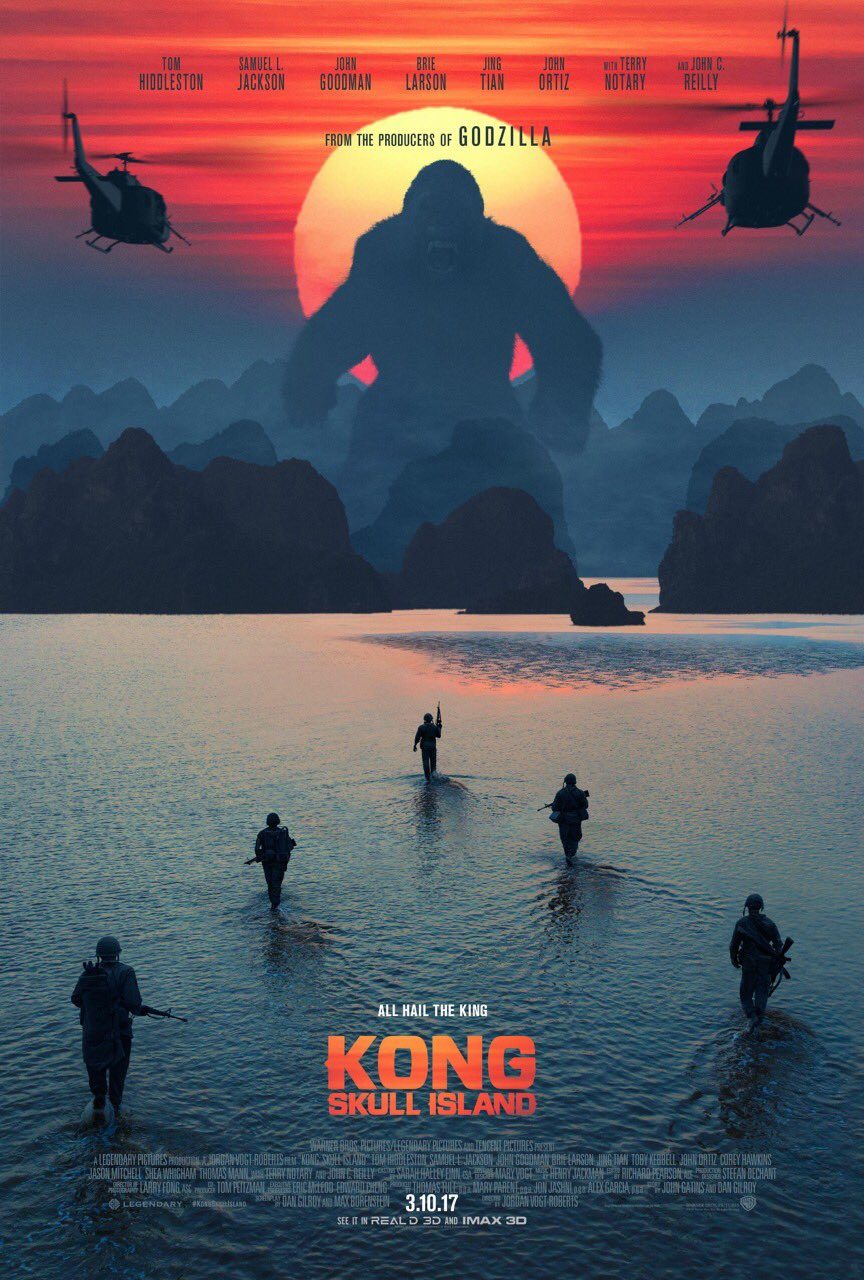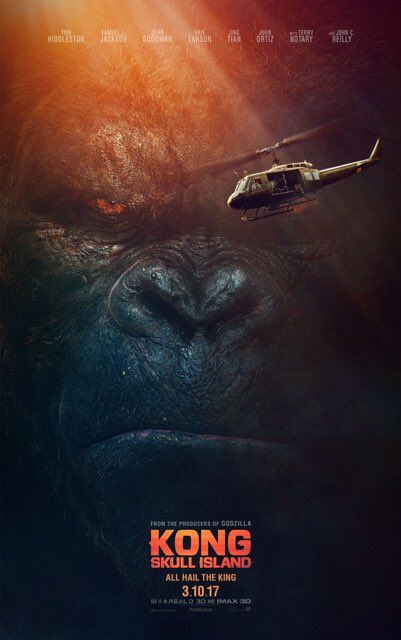 Kong: Skull Island is set to hit theaters on March 10, 2017.
Check out Entertainment Cheat Sheet on Facebook!