Marilyn Monroe: 10 of Her Greatest Movies of All Time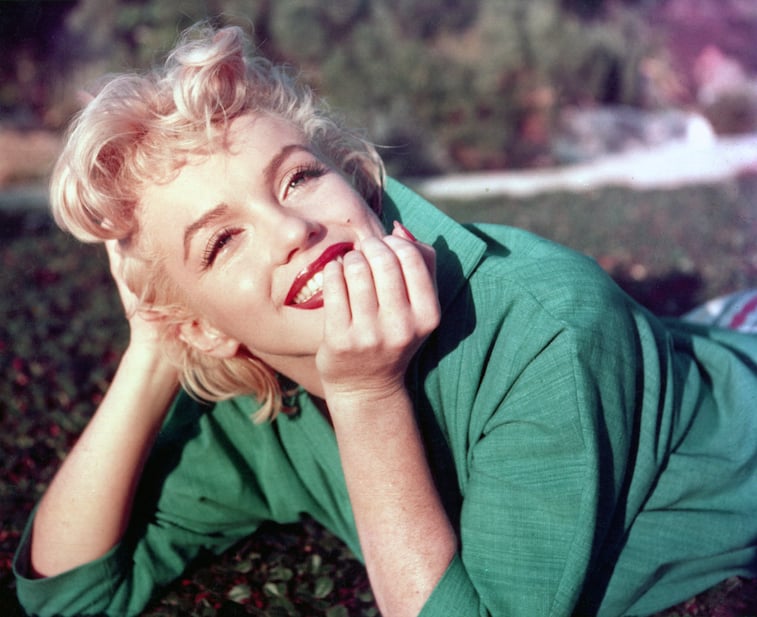 Marilyn Monroe is one of the most celebrated and iconic actresses of all time, but she's never won an Academy Award. In fact, critical acclaim for her acting eluded Monroe for much of her career. That may come as a surprise to some, as in the modern era, Monroe has rightfully been recognized for her comedic gifts and subtleties, and she's now considered to have been a great actress.
Unfortunately, during her lifetime, Monroe was not widely considered to be talented, and was paid an astonishingly low salary in comparison to colleagues that would be forgotten as years passed. Now, she is beloved for both her acting and sex appeal, and was recognized by the American Film Institute as the sixth greatest female movie star of all time.
Here's a list of 10 performances that prove there were brains behind the beauty and that Monroe was more than a dumb blonde, even if she was playing one.
1. Niagara (1953)
The sexy 1953 thriller Niagara was one of Monroe's first starring features. The film centers on the dangerous sexual appetites of a woman who schemes with her lover to murder her much older, violent husband (played by Joseph Cotten).
While future comedies would result in Monroe being unfairly typecast as a dumb blonde, in this movie, she's too smart for her own good and her unbarred sexuality makes her capable of anything, even a ruthless murder. The movie also contains what was at the time the longest walk ever filmed, a scene that made Monroe's "sexy walk" famous, and put what the studio thought were her best assets on display.
Most praise for the moderately well-received film focused on the beauty of Marilyn and the Niagra Falls. This early film in Monroe's career shows the actress using her potent sexuality in a much different way than her more famous comedic roles.
Fun fact: Andy Warhol used a promo shot from this movie to make his famous "Marilyn Diptych."
2. Gentlemen Prefer Blondes (1953)
On the heels of Niagara, Monroe had her biggest role to date, co-starring alongside Jane Russell in Gentlemen Prefer Blondes. This role sees Monroe perfecting her "dumb blonde" character and is considered to be her most iconic performance.
Many critics and undiscerning viewers frequently make the mistake of thinking that Monroe was a dumb blonde in real life, just because she played one in her films, when really, the comedic timing, singing, and dancing involved in this movie show that she had considerable talents.
Monroe and Russell's characters are two showgirl best friends who go on an adventure to Europe and get into all kinds of trouble on the way. While the plot is less than substantial, watching Monroe and Russell work together is a treat and Monroe's performance of "Diamonds Are a Girl's Best Friend" has been widely imitated. Watching those imitations from singers and actresses, including Madonna and Nicole Kidman, show how much talent and charisma Monroe had — while she makes it look easy the homages never come close.
Fun fact: Russell and Monroe became friends during filming and Russell helped Monroe deal with her nervousness on set.
3. Bus Stop (1956)
Bus Stop was Monroe's first starring role in a dramatic film. While the film itself got mixed reviews, Monroe's performance as a mediocre singer in a nightclub who unwittingly leads on a young, naive cowboy (played by Don Murray) received favorable reviews.
Monroe's character of Cherie takes Gentlemen Prefer Blondes' Lorelei Lee and imagines what she would look like after a few hard years spent living in the real world. Monroe's performance of "Old Black Magic" transfixes the cowboy, but everyone else can see how sad she is, how half-rate her talent is, and how unattainable her dreams of success on the stage are.
It was a brave move for Monroe to give a performance that made her look less talented than she actually was. Her beauty is also dampened with pale makeup (because Cherie stays up all night) and straw-colored hair.
Monroe's Southern accent is shaky, but her feel for Cherie is spot-on. Murray's performance as the young cowboy Bo is hard to take at times, as is the ending that sees Cherie falling in love with Bo even though he has essentially kidnapped her and dragged her on a cross-country bus ride. But Monroe makes up for the areas in which the film falls short. This was her first big move in an attempt to be taken seriously by Hollywood, something she unfortunately never really attained.
Fun fact: Bus Stop is the first film in which Monroe employed method acting techniques learned in her studies with Lee Strasberg in New York.
4. The Seven Year Itch (1954)
This 1954 comedy contains one of the most famous scenes in film history, which is also one of the most famous photographs of all time. It's the widely-known scene of Monroe and the "subway grate" scene in which her white dress is blown above her head by air from a subway train passing blow. This movie sees Monroe finely honing her "dumb blonde" character, who isn't even given a name in the film aside from being called "the upstairs girl." It is also her first effort with director Billy Wilder.
Monroe plays a girl living upstairs from the protagonist Richard Sherman (played by Tom Ewell), a businessman who is left alone in Manhattan for the summer as his wife and young son escape the heat in Maine. The film's sexism can be cringe-inducing when viewed from a modern perspective, but Monroe's performance is downright hilarious, especially in Richard's wild fantasies.
Fun fact: That famous subway grate scene is often cited as the beginning of the end for Monroe's marriage to Joe DiMaggio, who witnessed the scene being filmed and was horrified by the crowd's raucous response to his wife's dress flying over her head.
5. The Misfits (1961)
This drama was written for Monroe by her then-husband Arthur Miller, and sees her acting alongside her childhood hero, Clark Gable, as well as the great Montgomery Clift, Eli Wallach, and Thelma Ritter. It was directed by the legendary John Huston.
Monroe's character is an animal lover and recent divorcée who starts living with an older cowboy played by Gable in Reno, Nevada. While the script was supposed to be a tribute to Monroe from Miller, she was unhappy with his depiction of her and their disintegrating marriage caused problems on set.
Even surrounded by such incredible talent, Monroe is the one who carries the movie. Her vulnerability contrasts with the tough men she's surrounded by, but the tough guys can't outdo her when it comes to being world-weary. Monroe is at her most heartbreaking when she attempts to overthrow the mens' hunt of wild horses to be sold for use in dog food, screaming, "You are all dead! You are all dead!" across the Nevada desert.
"It is MM that tells the truth in this movie, who accuses, judges, reveals," said a The Village Voice review.
Fun fact: This movie was both Monroe and Gable's last completed film before their deaths.
6. Some Like It Hot (1959)
Some Like It Hot is considered by many to be both Monroe's best performance and her greatest film. The movie was ranked No. 1 on the American Film Institute's list of the funniest films of all time and includes some of Monroe's most famous lines, like "I always get the fuzzy end of the lollipop" and, "Diamonds, must be worth their weight in gold," among other gems from Billy Wilder's screenplay.
The 1959 film stars Tony Curtis and Jack Lemmon as best friends and musicians that flee Chicago after accidentally witnessing the St. Valentine's Day Massacre by cross-dressing and joining an all-female jazz band. Monroe's character, the band's singer and ukulele player, is running away from her own problems with male saxophone players. Monroe is hilarious, reluctantly reprising her dumb blonde role which she imbues with humanity that wasn't present in her previous comedies.
Fun fact: Monroe wasn't present for the filming of that famous ending, which is considered by many to be the greatest ending scene in all of cinema. Tony Curtis' character leans her out of the frame in the previous shot.
7. All About Eve (1950)
Selected in 1990 for preservation in the United States National Film Registry, All About Eve is widely considered one of the best films of all time. It also features Monroe in one of her earliest and most important dramatic roles.
In the film, Monroe plays Miss Casswell, who (as seen in the scene above) is introduced by Addison DeWitt (George Sanders) as "a graduate of the Copacabana school of dramatic art." Although it was a minor role, Monroe's star quality is already apparent, and she holds her own with other Hollywood legends such as Anne Baxter and Bette Davis.
Fun fact: In 1951, All About Eve received 14 Academy Awards nominations, the most of any film at the time.
8. Don't Bother to Knock (1952)
One of Monroe's earliest headlining dramatic roles was in this film noir psychological thriller. In the film, Monroe plays Nell Forbes, a disturbed babysitter who is caring for Bunny, the young daughter of two hotel guests. Nell invites airline pilot Jed to the room where she is watching Bunny, but events take an unexpected turn when Bunny reveals that Nell is not really a fellow hotel guest, but the niece of an elevator operator.
At the time of its release, Don't Bother to Knock received mixed reviews from critics, but today it has a 100% approval rating from the critics at Rotten Tomatoes.
Fun fact: Several reviews of the film noted that the glamorous Monroe was an odd choice for such a dramatic role — a view she pushed back against throughout her career as she tried to be taken seriously as an actor.
9. How to Marry a Millionaire (1953)
The 1953 romantic comedy How to Marry a Millionaire features Monroe in a role that is perhaps most associated with her public persona — that of a ditzy, beautiful blonde. In film, Monroe plays Pola Debevoise, who along with her two friends Schatze Page (Lauren Bacall) and Loco Dempsey (Betty Grable), are temporarily renting a luxury apartment in New York City in a brazen attempt to land wealthy husbands.
After a series of comical mishaps, all three women end up marrying for love, although one of them manages to unintentionally marry a wealthy husband anyway. How to Marry a Millionaire earned a Best Costume Design Academy Award nomination in 1954 and currently has an 83% approval rating from the critics at Rotten Tomatoes.
Fun fact: How to Marry a Millionaire was the second film to be released using the CinemaScope widescreen process. The biblical epic The Robe was the first, as noted in the book, CinemaScope: Selected Documents from the Spyros P. Skouras Archive.
10. River of No Return (1954)
Directed by Otto Preminger and starring Robert Mitchum and Monroe, River of No Return is a classic Western adventure story, with a few musical numbers thrown in for good measure. Recently released from prison, widower Matt Calder (Robert Mitchum) seeks out his young son who was left in the care of Kay (Marilyn Monroe), a saloon singer. They soon get caught up in an adventure that involves a gold claim and Indians on the warpath.
Fun fact: Per IMDb, Monroe became very attached to Bandit, a trained raccoon used in the film that was owned by renowned Hollywood animal trainer Ralph Helfer.
Additional reporting by Nathanael Arnold and Nick Cannata-Bowman.
Check out Entertainment Cheat Sheet on Facebook!