Marvel's 'Doctor Strange': Everything We Know So Far
Doctor Strange will be the first new character of Marvel's Phase 3, which first kicks off this year with Captain America: Civil War. The movie, starring Benedict Cumberbatch and the newly confirmed Rachel McAdams, began filming in November and viewers are finally getting more details about what to expect. Here's everything we know (and don't know) about the project so far.
1. The leads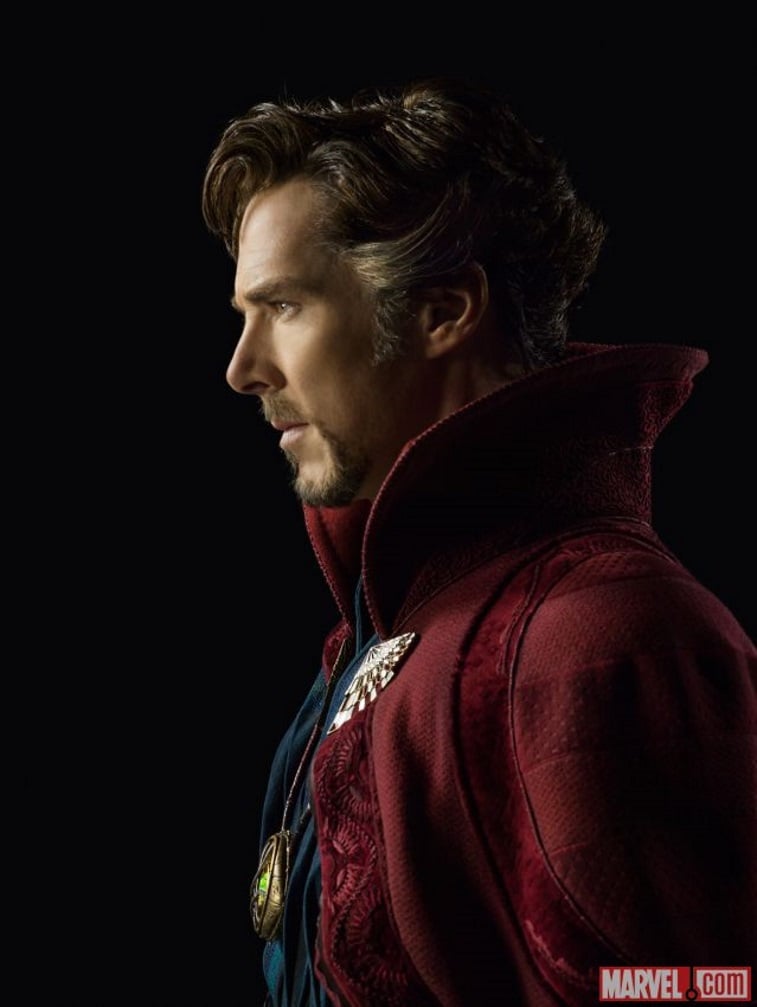 Cumberbatch beat out the likes of Keanu Reeves and Joaquin Phoenix for the titular role last year. The actor will play Doctor Stephen Strange, a brilliant, renowned and very arrogant neurosurgeon whose career is abruptly cut short by a car accident. "I'm very, very, very lucky and very excited to be taking on Doctor Strange for Marvel," Cumberbatch said of the role at this year's D32 expo. "He's an extraordinary character who brings in a whole other dimension – multiple dimensions – to the Marvel universe." Marvel revealed its first look at Cumberbatch's titular character in the image above.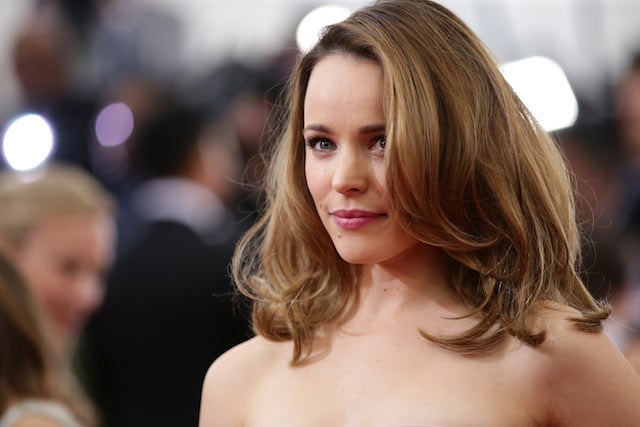 As for the female lead role, McAdams previously confirmed to The Wrap that she will star opposite Cumberbatch in the upcoming film. The star has long since been rumored to be in line for a part in the project, but has previously remained tight-lipped about the possibility of her participation. Though she has now corroborated her addition to the star-studded cast, the actress sadly didn't elaborate on which exact role she would be playing. Of course, that hasn't stopped fans from speculating, with many theorizing that she'll play Clea, daughter of Prince Orini, who becomes the pupil (and lover) of Strange after he takes on the title of Sorcerer Supreme. The character made her debut in Doctor Strange in 1964 and has been a key part of its mythology ever since.
[Update 12/28/2015:] Per EW,  director Scott Derrickson has described her character as "a fellow surgeon that has a history with Strange and is his sort of lynchpin to his old life, once he steps into the role of a sorcerer. She is someone he connects with at the beginning, and reconnects with, and helps anchor his humanity."
[Update 7/25/16:] The second, full-length trailer, unveiled at Comic-Con, can be seen below:

 2. It will be an origin story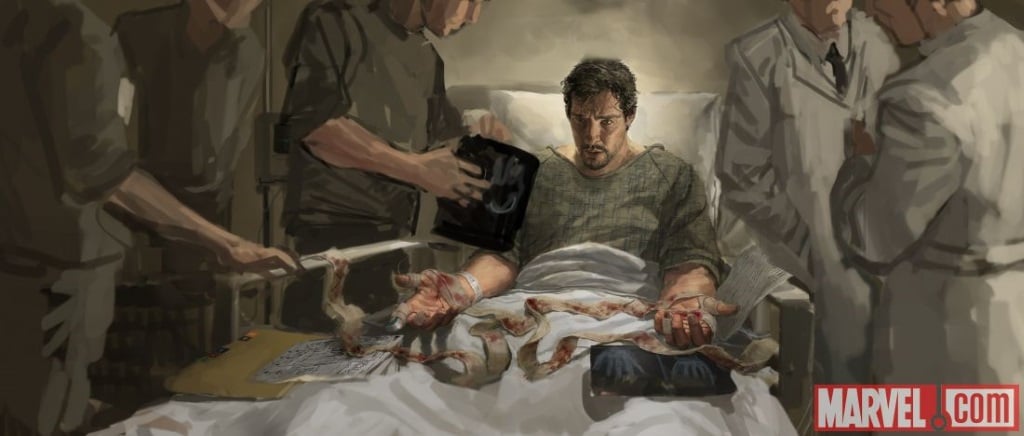 Details about the storyline are being kept under tight wraps, but the movie is expected to be an origin story. It will reportedly follow Doctor Strange as he is driven to desperate measures to try and heal himself after his hands are left too damaged from the accident to perform surgery. He eventually turns to magic and the discovery of the mystical arts ultimately earns him the 'Sorcerer Supreme' moniker.
As Cumberbatch teased at the D23 expo, the film will be full of "girls, cars, explosions and a bit of astral projection into multiple dimensions – the usual fare."
[Update 4/7/16]: Marvel has released a new image of Cumberbatch's Doctor Strange, seen below.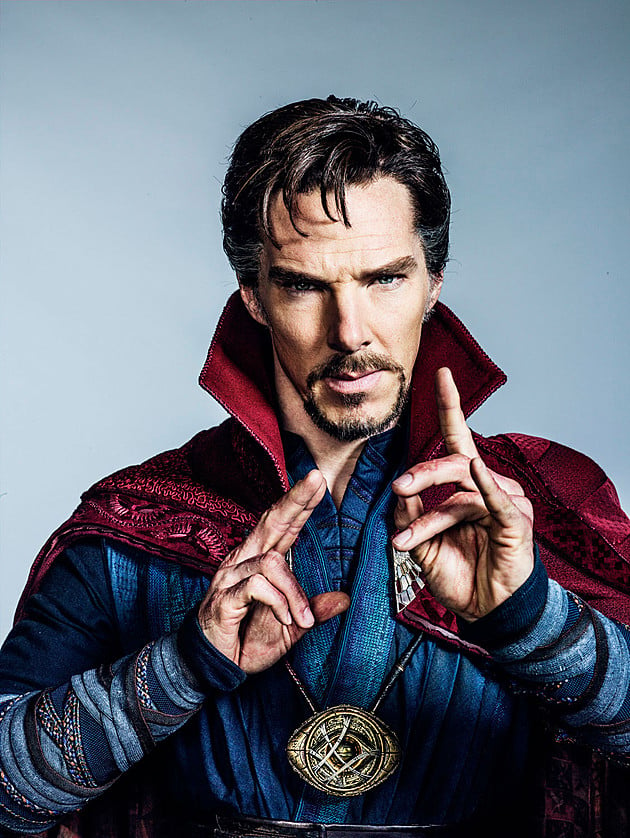 [Update 10/5/16:] Another teaser has been revealed, below:
,,puᴉɯ ɹnoʎ puɐdxǝ puɐ ɥɔʇɐM ˙˙˙sʞɹoʍ plɹoʍ ǝɥʇ ʍoɥ ʍouʞ noʎ ʞuᴉɥʇ no⅄,, pic.twitter.com/ZJOP7Vue0L

— Marvel Studios (@MarvelStudios) October 5, 2016
3. The supporting cast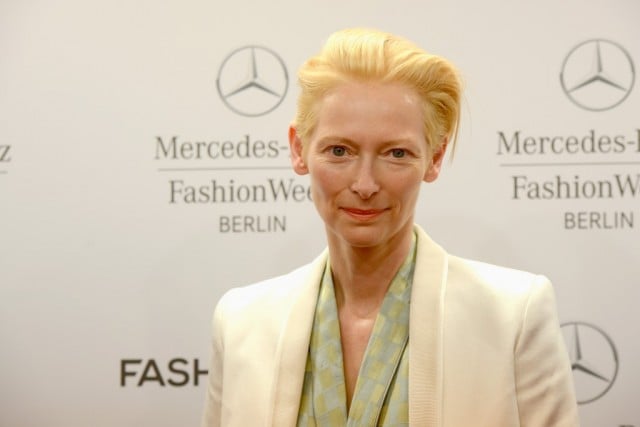 Tilda Swinton will take on the role of the Ancient One, a powerful sorcerer and Doctor Stranger's mentor. Her casting came as a twist to fans of the original comics, as the character is originally a centuries-old Tibetan man.
Swinton opened up about taking on the role to the Huffington Post earlier this summer, "I have yet to decide exactly where I'm going to place the gender of this character. It's not that I know and I'm not telling you — I have yet to decide that," she explained, adding, "Let's see what the tenor and what the feeling is…If we decide we're dealing with a male Ancient One, then we're going to have to deal with a naturalistic disguise. If we're not and we decide the Ancient One is not gender specific, then we can play a different game."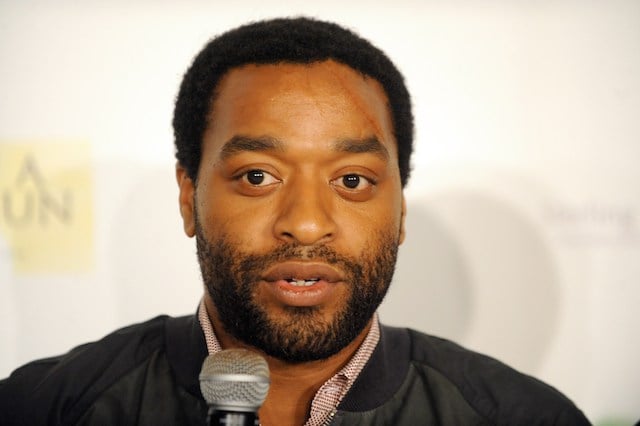 Chiwetel Ejiofor is also confirmed to be part of the Dr. Strange cast. While both he and Marvel have kept tight-lipped about the part, Deadline reports that Ejiofor will play Baron Mordo, an enemy of Doctor Strange who first appeared in the comic Strange Tales in 1963. Though he's a rival in the comic books, Deadline claims that Ejiofor's Baron won't necessarily be a villain. Instead, he will be an amalgamation of characters culled from Doctor Strange's mythology.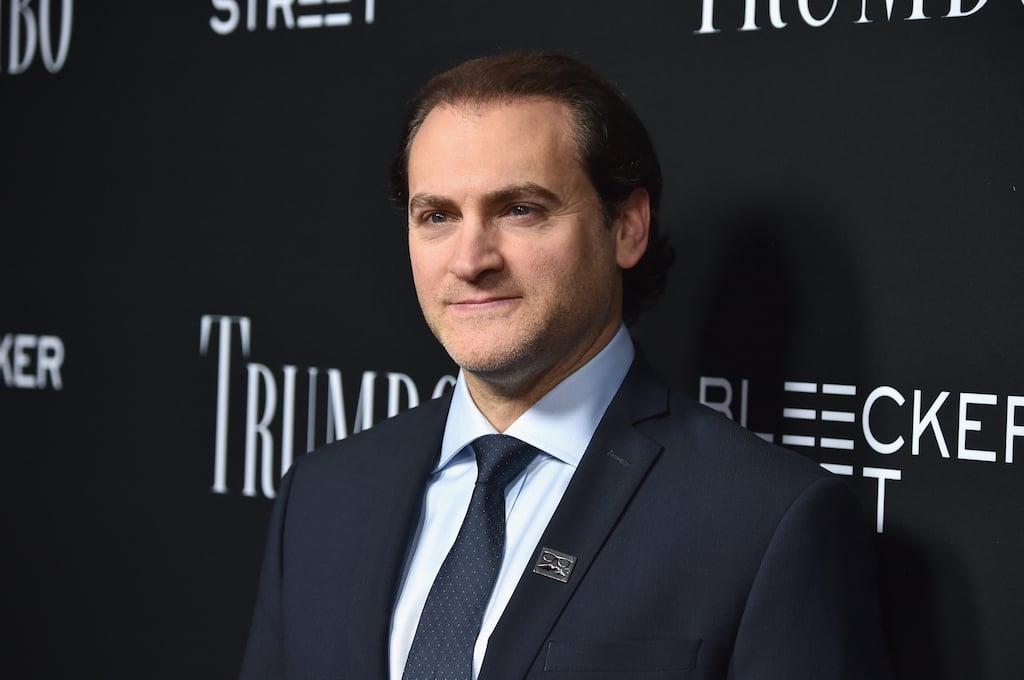 According to Variety, Michael Stuhlbarg has joined the cast of Doctor Strange as Dr. Nicodemus West, a colleague and sometimes rival of Doctor Stephen Strange, who performs the surgery that saves Strange's life after his car accident. Though he was able to save Doctor Strange's life, West couldn't repair the nerve damage in his hands – which leaves Doctor Strange unable to keep his position as a surgeon and West wracked with guilt. In the comics, the character also later trains in the mystic arts with the Ancient One.
[Update 7/25/16]:
Benjamin
Bratt has also apparently joined the cast
of the movie. His name was among the credits in the new poster debuted at this year's San Diego Comic-Con last weekend.  It's unclear who he'll be playing, although some have suggested that Bratt may just be providing a voiceover for a CG character.
4. The primary villain
As revealed in late August, Hannibal star Mads Mikkelsen is in line to play one of the villains in Marvel's Doctor Strange. While specifics about the nature of Mikkelsen's potential role haven't been revealed, Variety reports that he will be another antagonist to Cumberbatch's eponymous sorcerer character. Nothing has been confirmed yet and Mikkelsen, for his part, has yet to comment on the possible part. Still, fans have already speculated that the actor would be perfect to play the powerful mystical being, Dormammu.
[Update 12/28/15]: EW has confirmed that Mikkelsen will be playing the main villain. Though the name of the character has not been revealed, Marvel Studios present Kevin Feige described him as "a sorcerer who breaks off into his own sect." While Doctor Strange and Tilda Swinton's The Ancient One fight to protect people from the "scary things" lurking in other dimensions,  Mikkelsen's character apparently disagrees. He "believes that the Ancient One is just protecting her own power base and that the world may be better off if we were to allow some of these other things through," Feige says.
[Update 4/4/16]: New images of Mikkelsen and Cumberbatch in costume can be seen here (courtesy of ComingSoon.net).
[Update 7/7/16]: A recently released official Doctor Strange prequel comic may have revealed the villain that Mikkelsen plays in the upcoming movie. Not much is known about him, but per ComicBook.com, the character's name is Kaecilius and he wields two scythe-like daggers instead of a staff, unlike the other Masters of the Mystic Arts.
5. The behind-the-scenes team
Director Scott Derrickson, best known for horror fare like Sinister and The Exorcism of Emily Rose, is on board to direct from a script originally written by Thomas Dean Donnelly and Joshua Oppenheimer (Conan the Barbarian) and later revised by Jon Spaihts (Prometheus).
Given Derrickson's horror background, it's no surprise that the film is being described as dark and –as Marvel president Kevin Feige put it – "as weird as anything we've done." Speaking of which…
6. What Doctor Strange's Sanctum Sanctorum looks like
On set with @scottderrickson and @stphnbrssrd #doctorstrange pic.twitter.com/rPVyVwY1Xu

— Louis D'Esposito (@louisde2) December 14, 2015
Marvel co-president Marvel Louis D'Esposito took to Twitter in mid-December to post the first "official" picture from the set of the film.While the photo doesn't give anything away in terms of the characters or their costumes, two important icons from the Doctor Strange mythology are visible: the seal of Vishanti, the symbol of the school of magic that Doctor Strange is taught in, is seen on the door, and the eye of Agamotto, the amulet that Strange uses to dispel magical illusions, is seen on the platform.
This has led to speculation that the set the three are standing on may be Doctor Strange's magical home in New York, known as Sanctum Sanctorum. Marvel has yet to comment on the possibility.
7. How Doctor Strange fits in the MCU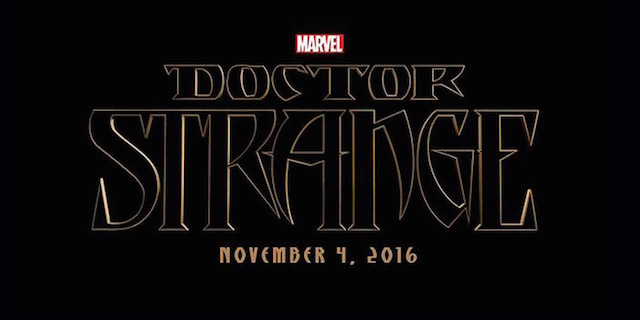 Doctor Strange will be the first new franchise of Marvel's phase 3 and from the sounds of everything we've heard so far, the studio is expecting the film to bring fundamental change to its lineup. "We've done the street-level heroes, and we've done the billionaire superheroes. We've now done the cosmic side with Thor and Avengers and most obviously with [Guardians of the Galaxy], but there's a whole other side of the Marvel comics, which is that supernatural side – the interdimensional side of the Marvel universe," Feige explained in 2014. "Doctor Strange is, I believe, our entry point into that other realm, which has dozens of characters and storylines all of its own."
That theme was supported by the film's concept art, which was revealed at August's D23 expo. Though the movie doesn't start filming until November, audience accounts reported that footage captured Cumberbatch wearing a very traditional version of the Doctor Strange outfit, including the red cape and gray hair at his temples. The scenes were later described as "trippy" and "physics defying" and drew comparisons to Inception.
[Update 4/12/16]: Marvel has revealed a new teaser poster for the film, seen below. From the looks of it, fans can clearly expect this to be one of the company's most intriguing movies yet. As to how it will interconnect with the rest of the MCU…we'll have to stay tuned!
In the meantime, check out the new poster, unveiled via EW, that will reportedly be circulated at Comic Con in July (below).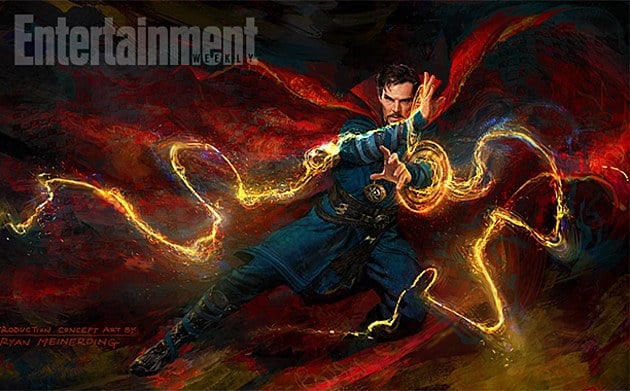 Doctor Strange is scheduled to hit theaters on November 4, 2016.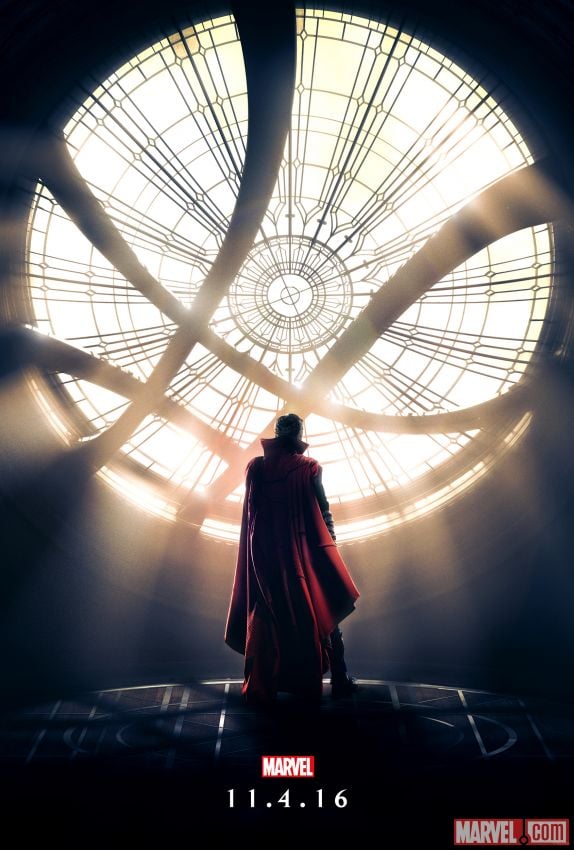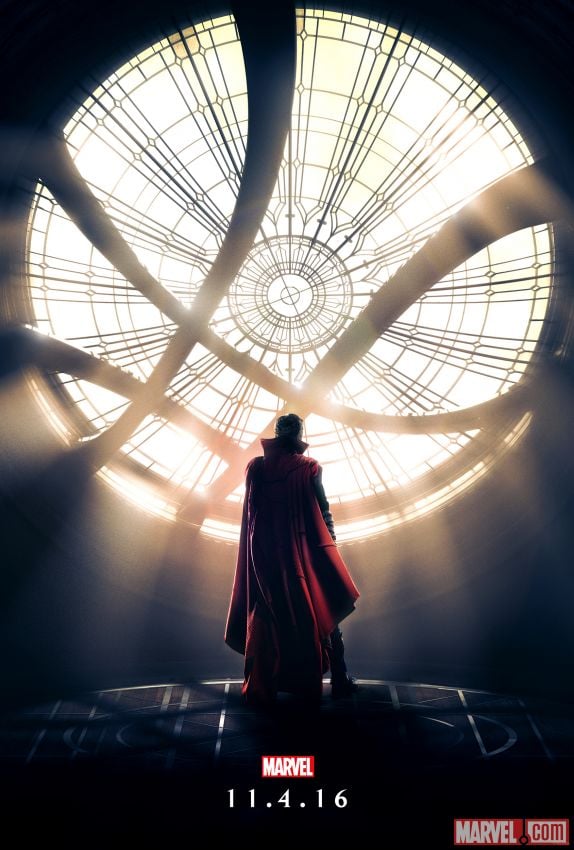 More From Entertainment Cheat Sheet:
Want more great content like this? Sign up here to receive the best of Cheat Sheet delivered daily. No spam; just tailored content straight to your inbox.