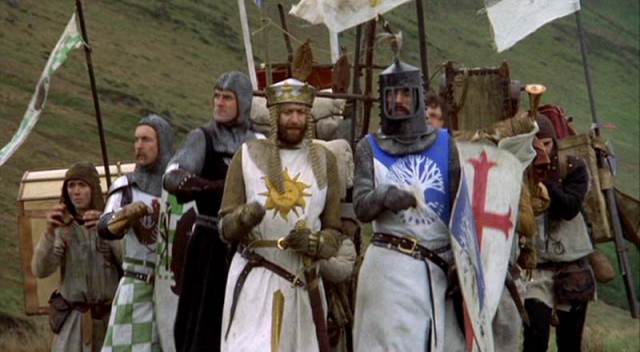 The five remaining members of Monty Python will be performing their last live reunion show at London's 02 Arena later this summer. Eric Idle, John Cleese, Terry Gilliam, Terry Jones and Michael Palin — who haven't given a performance together on stage since 1980 — confirmed on Monday that the July 20 date of their 10-show farewell run at the venue will be their chance to "say goodbye publicly" to their fans.
The live shows reportedly feature the classic Python sketches that fans know well and still love, such as the Spanish Inquisition, the dead parrot routine, and select scenes from their 1983 film The Meaning of Life. In addition to the comedy sketches, the over $7.5 million production also includes an orchestra, songs from their past projects, and yes, plenty of dancing girls in skimpy lingerie and underwear. The final show in July will be broadcast on cable in the UK and played in movie theaters in the states and around the world.
"I have to say it's pretty filthy. I'm happy and proud to say it's pretty filthy and disgusting," Idle, who created the award-winning Monty Python's Spamalot and is now directing the live show, told reporters of what to expect from the performance. He went on to describe it as "a very high-powered energetic show, especially for 70-year-old men."
Though the sixth Python member Graham Chapman died in 1989, audience members can still expect to see him in the show through film footage. British theoretical physicist Stephen Hawking will also reportedly make a cameo in the theatrical production.