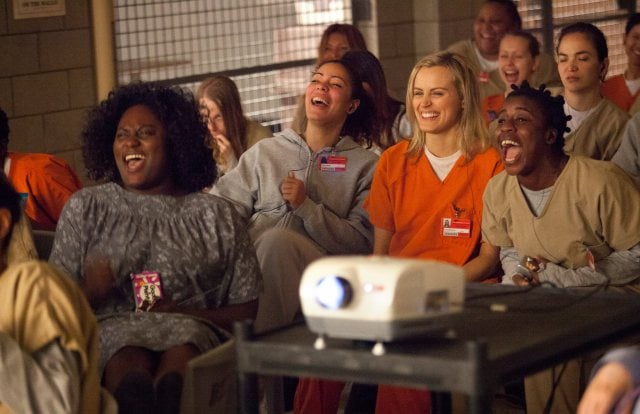 With about a month left before its second season debuts, Netflix's original comedy series Orange Is the New Black has been renewed for a third season, according to The Hollywood Reporter. Its second season was announced before the first season aired ("aired" meaning "streamed"), so this isn't such a shocker. The show, which stars Taylor Schilling and Laura Prepon as former lovers who reunite in a woman's correctional facility, has been critically lauded and immensely successful with viewers (it had more viewers than other Netflix originals House of Cards and the fourth season of Arrested Development, according to Indiewire.)
Netflix has found great success with its original programs: you couldn't read a Tweet the day season 2 of House of Cards premiered without seeing a spoiler for the new season or someone complaining about seeing a spoiler for the new season. The streaming service also turned heads when it picked up a fourth season of the fan favorite (now modern classic) Arrested Development, which was notoriously canceled by Fox because, despite everyone's after-the-fact proclamations of love for the show, no one was actually watching it as it aired. The fourth season earned rave reviews from critics but lukewarm reception from fans.
With fifteen minutes of extra material per episode and a really strange (but ingenious) structure that focused on one member of the Bluth family at a time while gradually interweaving all of the individual stories into a collective whole, Arrested Development's fourth season was a vastly different creature from the Fox sitcom. It wisely encouraged and rewarded binge-watching and repeated viewings. Due to the non-linear structure, jokes became discernible only after you finished the season and went back to rewatch it, which was more effort than casual viewers are willing to exert.