Recently Revealed 'Star Wars: The Last Jedi' Spoilers
It's been a tough wait for Star Wars fans as we've slowly trudged toward the December 2017 release of Star Wars: The Last Jedi. Ever since Star Wars: The Force Awakens, we've been plagued with unanswered questions, many of which won't have concrete answers until The Last Jedi is released. And while Rogue One: A Star Wars Story has sated our need for more Star Wars, it didn't provide us with answers to some of our biggest questions.
That said, we're not short on information about The Last Jedi in the slightest. The modern generation of movie coverage affords us a fair share of rumors, reports straight from the set, and everything in between. So what are the biggest bits of information we've gotten so far? Here's everything we've heard in recent months.
1. We'll be seeing far more of Leia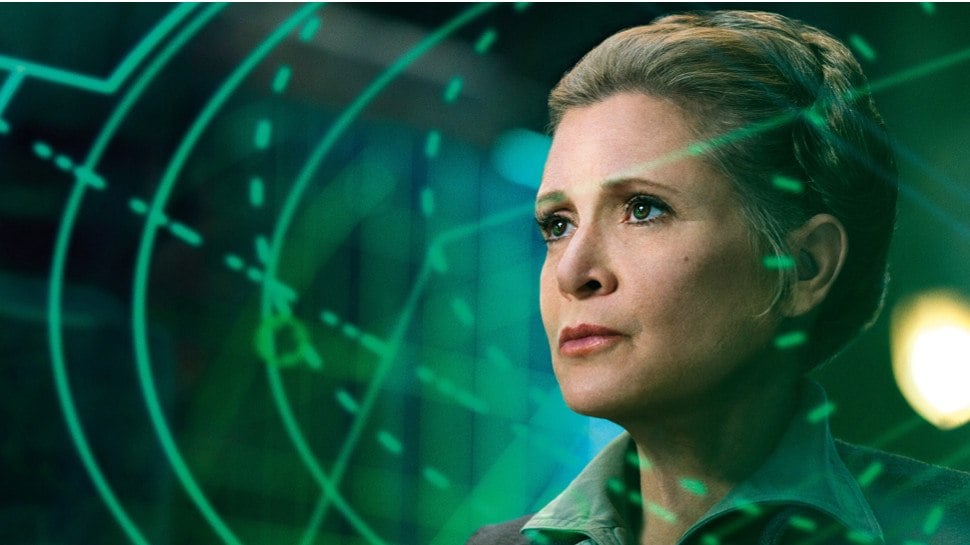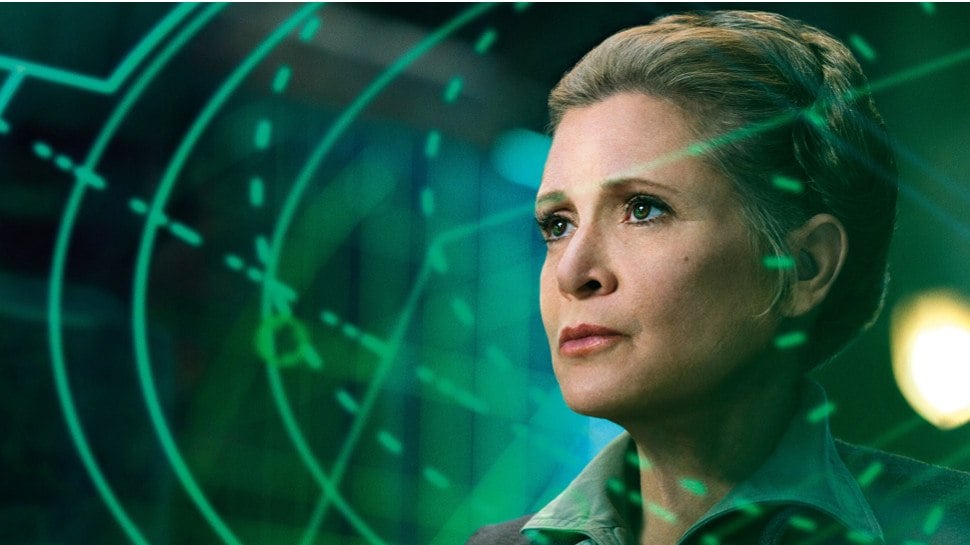 While Han Solo stood center stage as a primary character in The Force Awakens, we saw very little of Leia, who was relegated to a couple choice appearances at the Resistance base. Following Carrie Fisher's death in late 2016, Variety reported that she had already finished her work on the film. The Last Jedi will allegedly expand her role, as teased at by a series of Leia-centric additions to filming that forced Fisher to cut her 2016 New York Comic Con appearance short.
In their own report, StarWarsNewsNet.com mentions that these additions to filming are not reshoots.
For those not in-the-know about the film-making process: additional photography and pick-ups are not quite the same thing as reshoots. What we think of as reshoots are what happen after an assembly cut of a movie is made in order to completely overhaul. Additional photography is what happens when there are sequences that need to be filmed outside of principal photography due to conflicts in scheduling.
The assumption here is that the upcoming "additional photography" will largely focus on Leia (and to an extent Maz Kanata, more on her soon). Even before Fisher's tragic death, there's certainly been a concerted effort to increase Leia's role in the new Star Wars canon, giving her both a standalone series of Marvel comics, and a novel that tells her post-Star Wars: Return of the Jedi story in detail.
2. Contrary to recent reports, Maz Kanata will be returning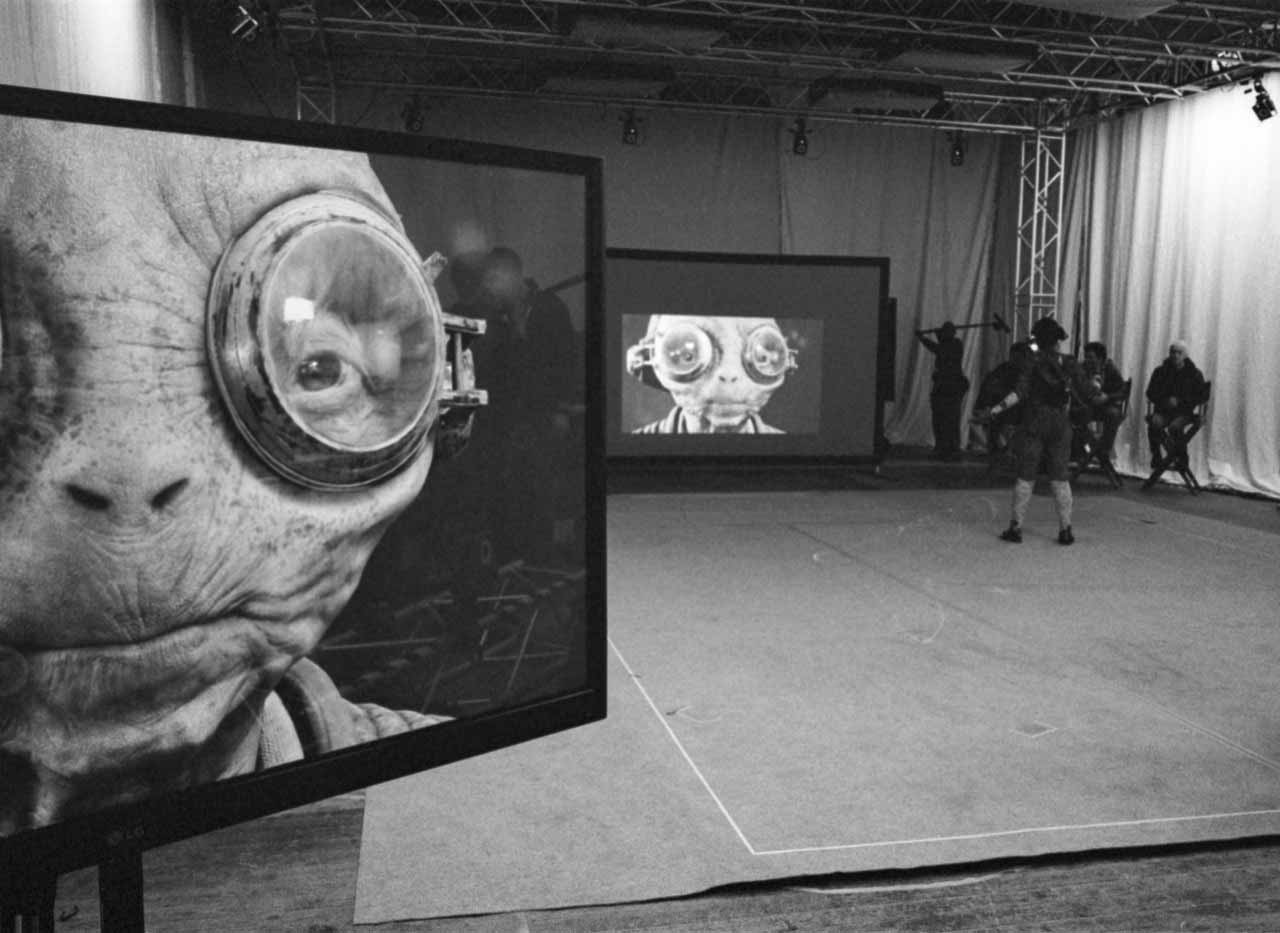 After rumors surfaced that Lupita Nyong'o hadn't shot her Maz Kanata scenes for The Last Jedi, people began to question whether the diminutive pirate was going to be in the movie at all. Nyong'o came forward herself to refute that assumption, claiming that "as far as I know, I'm in it."
This is a good example of how the rumor mill can spiral out of control sometimes, barreling straight toward a conclusion that's far from true. Regardless, it's exciting to know for sure that we'll be getting more Maz once The Last Jedi hits theaters, especially given the importance of her role as the keeper of Luke's old lightsaber in The Force Awakens. 
3. There are rumors surrounding Yoda's return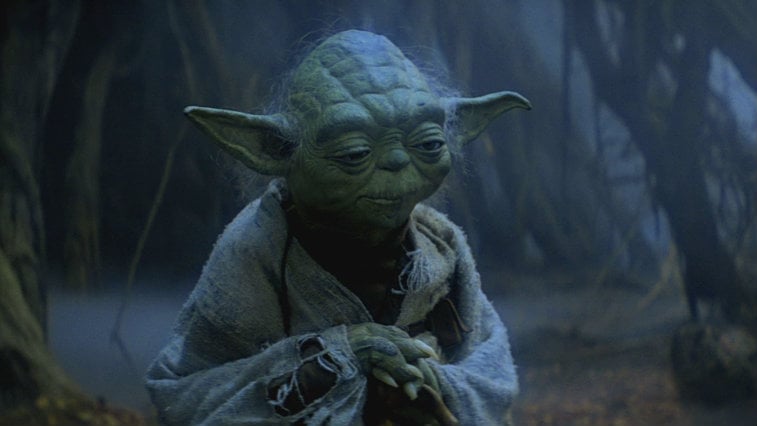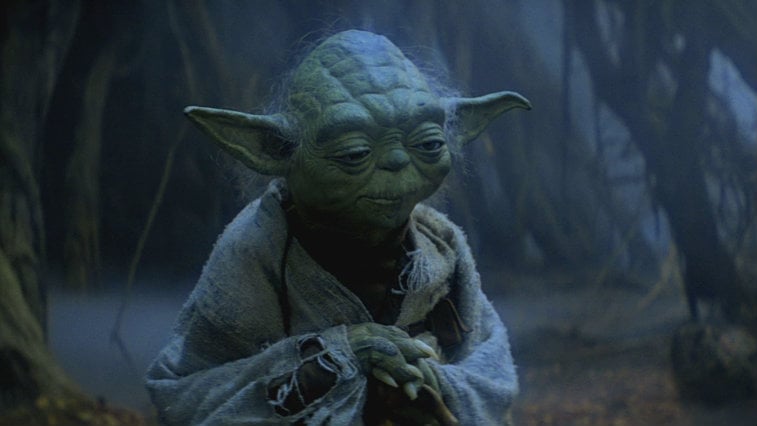 When last we checked in on Yoda, he was a Force ghost hanging out with Obi-Wan and Anakin in the afterlife. He returned briefly as a disembodied voice in Rey's vision in The Force Awakens, but as far as we know, he hasn't been heard from in the Star Wars universe in decades. One Reddit user who attended the London Celebration in 2016 made an interesting claim concerning the return of the deceased Jedi master.
One of the many stalls featured at the convention was Saving Yoda, ran by one of the original team operating Yoda in ESP. While waiting to have my photo taken with the Yoda puppet, the dude running it was talking to another guy. The random guy asked which Yoda puppet was currently on display. In response, we were all told that the one on display was puppet two (I think, I can't quite remember exactly). He looked at both of us, and said that members of the original Yoda team have been called in to work on Episode 8, using the Yoda 8 puppet, as they'd all recently been talking about it. He'd have no reason to lie.
A potential appearance from Yoda was further emphasized in a recent interview Variety did with Frank Oz. When asked about whether he'd be returning to voice the diminutive Jedi master, he noted that he's "been asked not to talk about it" by the studio.
4. Han Solo's funeral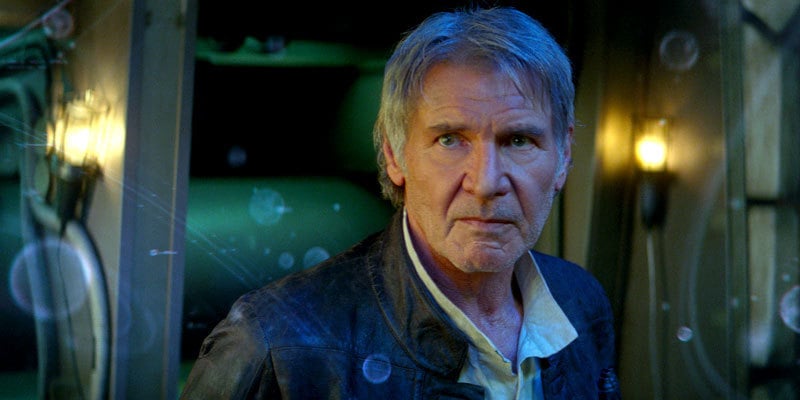 It can often be difficult for actors in a franchise like Star Wars to keep all the various secrets of the film under wraps. We saw that firsthand at a London Celebration panel hosted by Warwick Davis, where he asked Fisher a question that she accidentally interpreted as an inquiry into what Leia was up to post-The Force Awakens. She quickly responded with "Han's funeral," leading us to wonder if we might get some official closure for the beloved smuggler after his tragic death at the hands of his son in The Force Awakens. 
5. Similarities to Star Wars: The Empire Strikes Back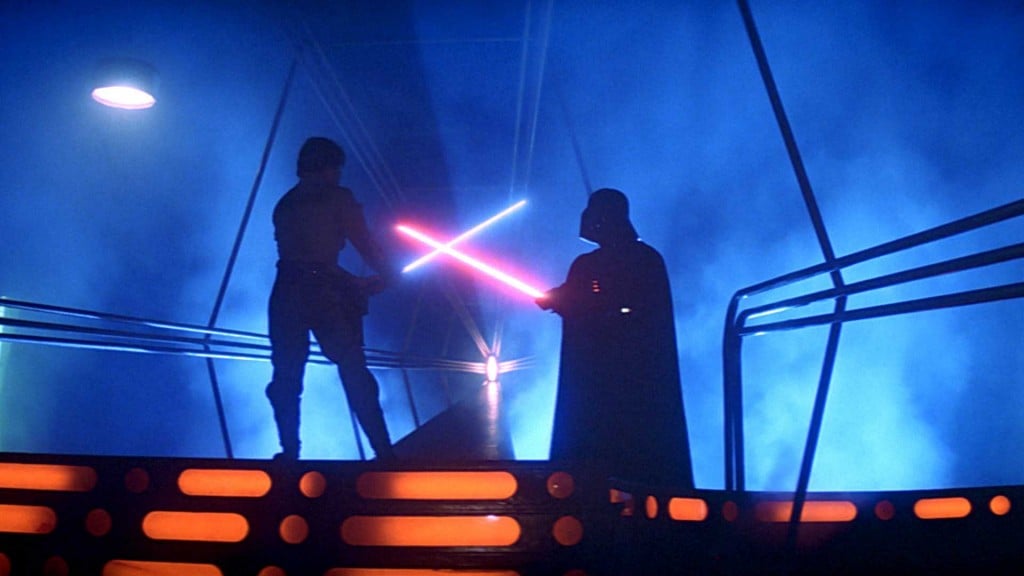 As the second film in the new trilogy, comparisons to fellow second chapter, Star Wars: The Empire Strikes Back are inevitable, especially given Empire's status as the consensus best Star Wars movie of all time.
Actor Adam Driver confirmed as much in recent comments while describing The Last Jedi as "similar to how The Empire Strikes Back has a different tone," going on to add that "it's just different in tone in a way that I think is great and necessary but also very clear." If The Last Jedi can even begin to approach its original trilogy predecessor, we could be in for one hell of a movie.
6. The Knights of Ren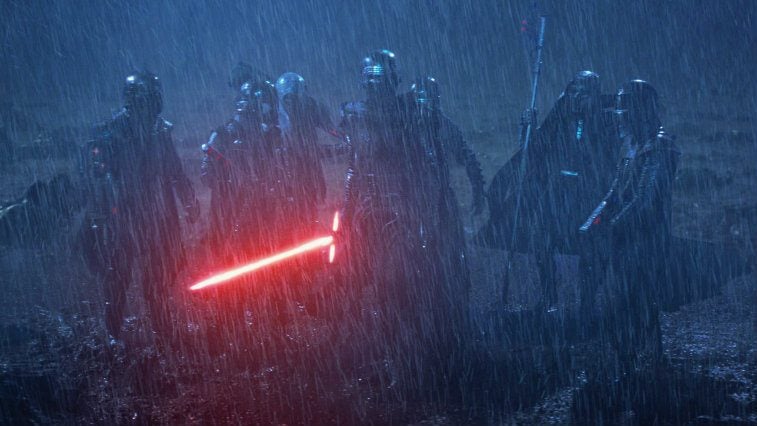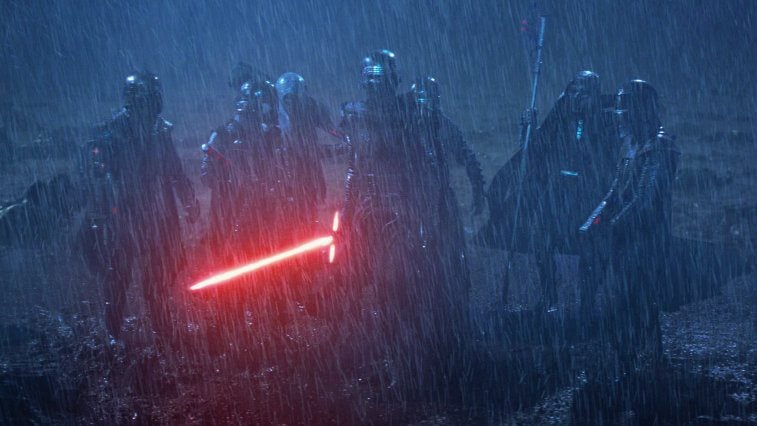 We know the Knights of Ren are important to the larger narrative of the new trilogy, but their exact role is pretty unclear. The best guesses paint them as an order of Jedi killers led by Kylo Ren, who were allegedly responsible for destroying Luke's fledgling Jedi Order.
We're going to see more of them in The Last Jedi, hinted at by rumors straight from the set. StarWarsNewsNet.com cites a report from the island of Skellig Michae, Ireland, where witnesses watched a scene being shot wherein the Knights disrupted Luke and Rey's Jedi training, leading to an action-packed fight sequence.
7. A foreboding line from Luke Skywalker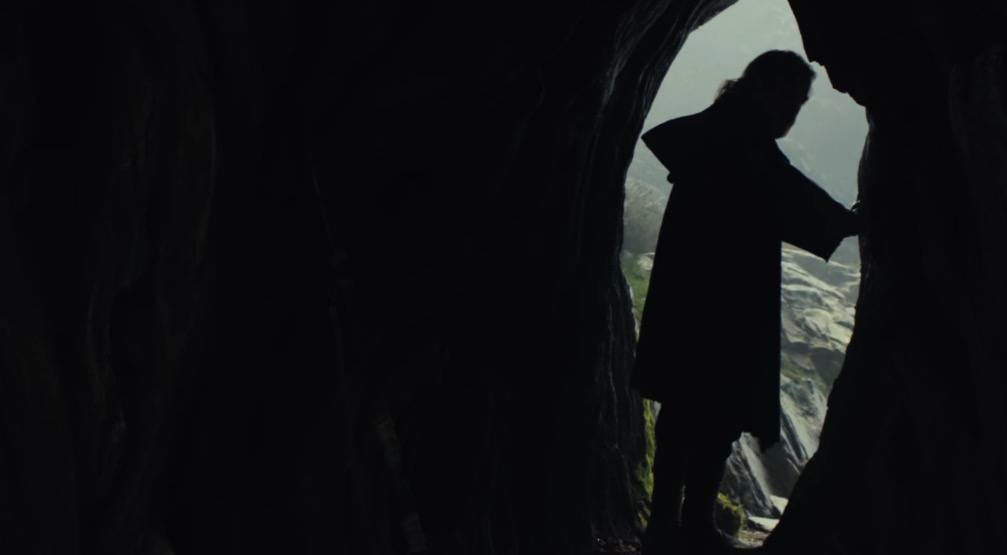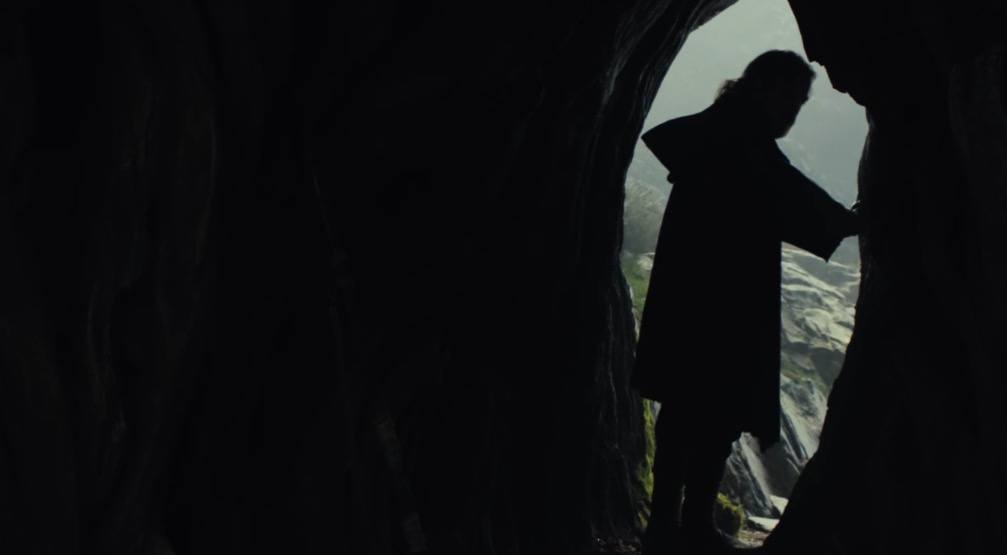 The release of the first official trailer for The Last Jedi brought forth a grim line of dialogue from Luke. "It's time for the Jedi to end," he appears to tell Rey. Fans have been theorizing wildly ever since, trying to decipher what exactly that could mean.
Will the Skywalker legacy of Jedi end with Luke? Or does it mean that something far greater is being planned for Rey? Either way, it's something that will affect the future of the Star Wars universe forever.
8. Obi-Wan Kenobi could be slated for an appearance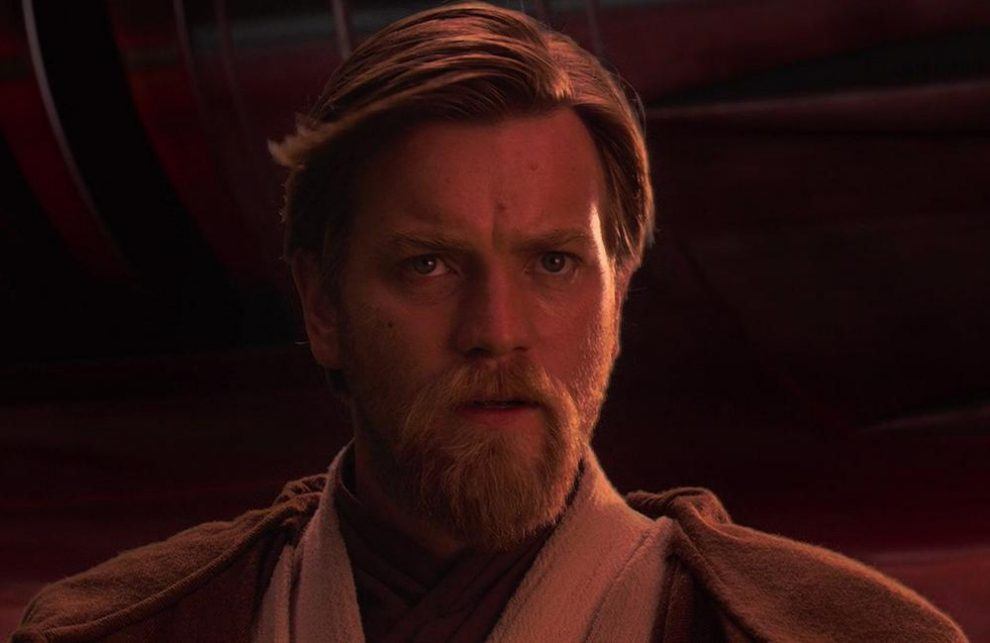 Lucasfilm's choice to not include Obi-Wan Kenobi in the recent Anthology series has been a curious one, to say the least. Ewan McGregor is right around the correct age for Kenobi's character before Star Wars: A New Hope, McGregor himself has expressed an interest in returning to play the role, and there's plenty of story left to tell for the man who would later become Luke Skywalker's first true mentor. As it turns out, his omission from the Anthology series had a very good reason behind it.
According to Entertainment Weekly's Anthony Breznican, "the one reason they haven't moved sooner on [an Obi-Wan spin-off] is that they're not done with Obi-Wan quite yet in the 'saga' films." He goes on to note that he "wouldn't be surprised to see an Obi-Wan thing happen beyond Episode IX," and that "there's bound to be some reference" to Kenobi in either Episode VIII or IX."
9. Supreme Leader Snoke will be brought to life using practical effects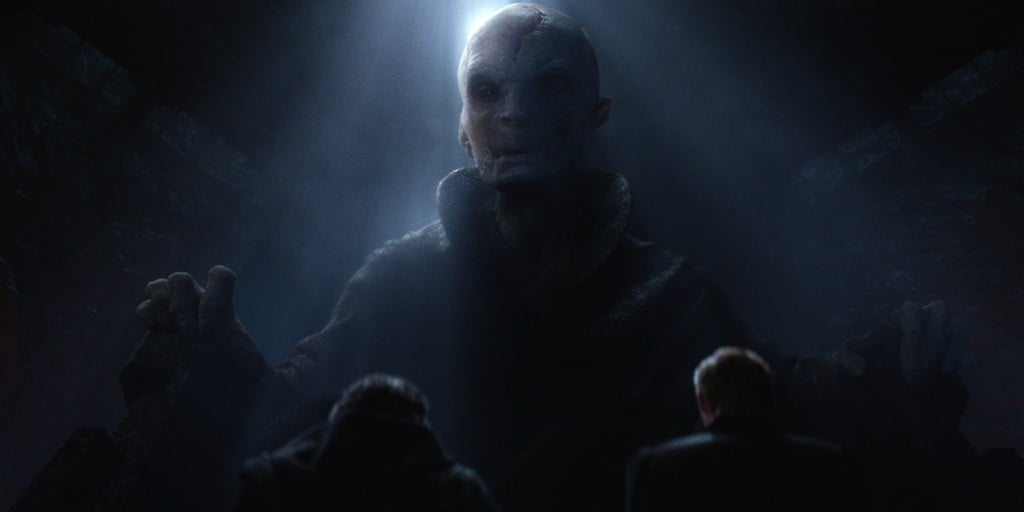 The technology used to create Supreme Leader Snoke in The Force Awakens involved Andy Serkis wearing a motion-capture bodysuit, with a whole lot of post-production CGI. Things could very well change in The Last Jedi though, with MakingStarWars.net claiming that "at least in part, Snoke will not be a character generated in a computer. Instead he will be a huge puppet around seven to eight feet tall, taking several people to operate and a man inside a suit to make him walk."
Scenes where he's a hologram will apparently still lean heavily on CGI, "but when he has scenes in Episode VIII next to real flesh-and-blood humans like Kylo Ren he will be a practical puppet with facial features operated by the crew."
10. A few more clues from director Rian Johnson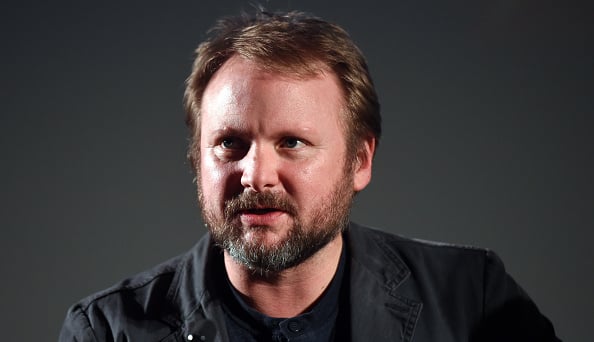 Rian Johnson teased a few more tidbits about The Last Jedi in an interview with USA Today. He revealed it won't be exactly like The Empire Strikes Back. While the original trilogy featured a dark second installment, don't expect The Last Jedi to be similarly gloomy. Per Johnson, he wants the film "to be a blast and to be funny and to be a ride the way The Force Awakens and the original Star Wars movies were."
Not surprisingly, The Last Jedi will also give fans more information about the heroes we first met in The Force Awakens, including how they handle themselves when faced with obstacles. "I wanted to know more about each of them, and that doesn't just mean information or backstory," Johnson said. "Figure out what's the most difficult thing each of them could be challenged with now — let's throw that at them and dig into what really makes them tick by seeing how they handle that."
While Johnson didn't confirm the fan theory that Rey is a Skywalker, he did tease that the film will expand on the connection between these two characters. The Last Jedi will begin right where The Force Awakens ended, with Rey handing Luke his old lightsaber. The next chapter will further explore their relationship, with Rey "both not knowing what's going to happen and also having a lot of expectations in her head about how this is going to go," said Johnson.
That being said, it sounds like Luke's story may be the main focus of the upcoming film, since Johnson also stated that "What's going on with Luke Skywalker?" is the primary question at the center of The Last Jedi.
11. The official poster and a callback to A New Hope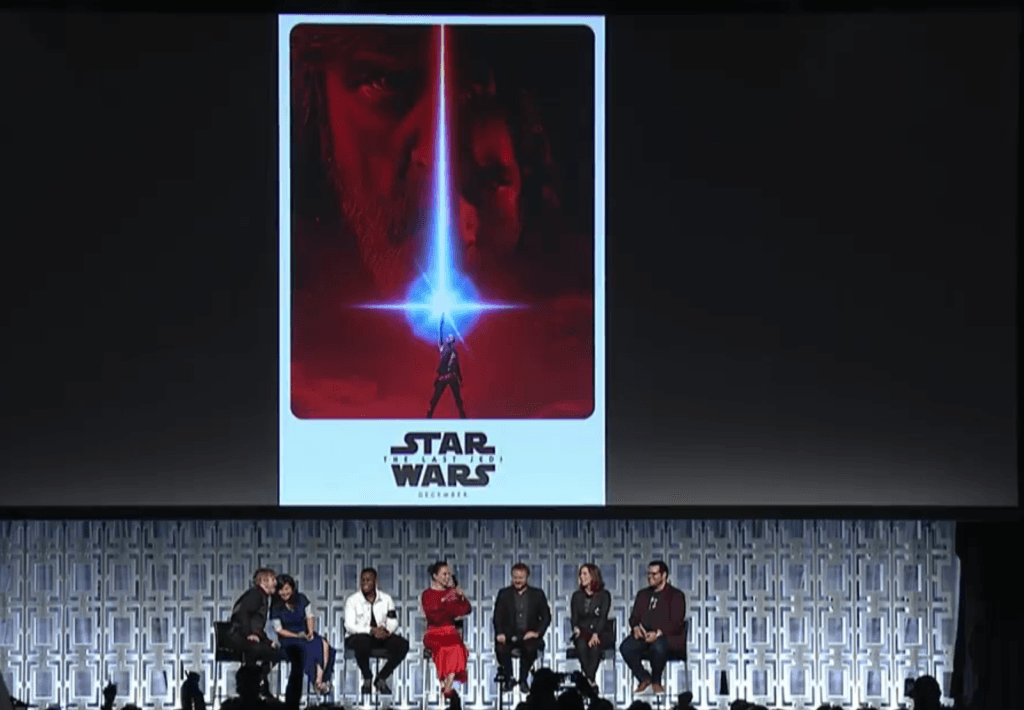 2017's Star Wars Celebration didn't just provide us with the first trailer for The Last Jedi. During that same panel, Johnson introduced the film's official poster.
With Rey stretching her arm skyward, it's an intriguing callback to the original poster for A New Hope back in 1977, perhaps hinting at a similar arc for Daisy Ridley's character in The Last Jedi. 
Additional reporting by Nathanael Arnold.
Follow Nick on Twitter @NickNorthwest.
Check out The Cheat Sheet on Facebook!