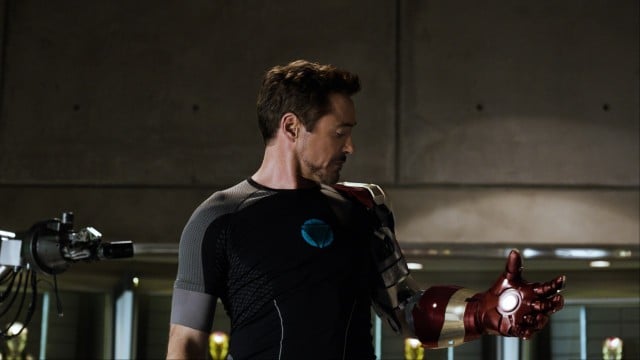 Robert Downey Jr. might not really be Iron Man, but he definitely gets a superhero-sized paycheck for playing him. The Avengers star just took the top spot on Forbes' annual list of highest paid actors for the second year in a row.
According to Forbes' ranking, Downey earned an estimated $75 million between June 2013 and June 2014, about the same amount that he earned last year. That's a lot of money for any celebrity to bring in, but what makes Downey's income even more astounding? During that year, the actor actually only appeared in one movie — Jon Favreau's Chef, which he helped get produced and made a brief but standout cameo in. Chef has since earned $25 million at the box office, an impressive gross for a small film, but not exactly the kind of money that makes someone the highest paid actor in all of Hollywood.
Instead, the bulk of his earnings came from — you guessed it — back end of the hugely successful Iron Man 3. The third installment in the superhero franchise became both a critical and commercial success, earning over $1.2 billion worldwide and becoming the second highest grossing film of the Marvel Universe (behind Marvel's The Avengers), as well as the second highest grossing film of 2013 (behind Disney's Frozen.)
The incredible reception for the film gave Downey the leeway not only to help much smaller movies like Chef to get made, but also to hold out during negotiations for the upcoming Avengers: Age of Ultron movie. Per Forbes, Downey secured more money than ever upfront for the film and is set to make even more after its debut.