'The Big Bang Theory': The Major Change Coming in Season 9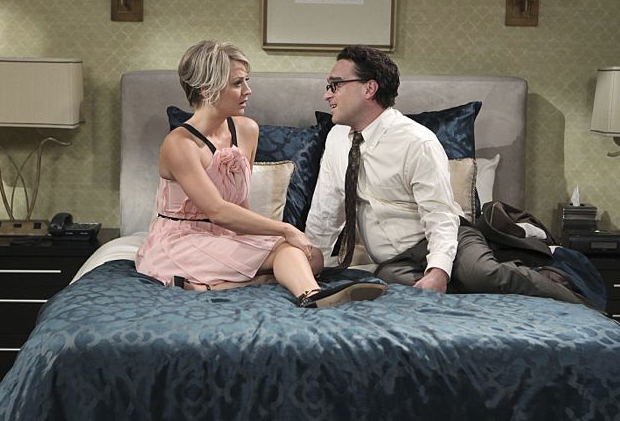 The Big Bang Theory's season eight finale left off with several big cliffhangers, but fans don't have to wait for the show to return to get some resolution. Ahead of the upcoming season nine premiere, showrunner Steven Molaro has just dropped a major bomb about the status of Penny and Leonard's relationship. Warning: spoilers ahead.
For those who need a refresher, season eight ended with all of the show's central couples in disarray. Amy (Mayim Bialik) breaks up with Sheldon (Jim Parsons), not knowing that he has bought her an engagement ring. Howard (Simon Helberg) and Bernadette (Melissa Rauch) are desperately trying to get Stuart to leave their house. Meanwhile, Penny (Kaley Cuoco) and Leonard (Johnny Galecki) seemingly run off to Vegas to get married, leaving fans with the question will they finally tie the knot?
According to TVLine, the answer is yes. Molaro confirmed that after years of on-and-off dating, the longtime couple will officially become husband and wife in the season nine premiere. The revelation will come as good news to those who have been waiting for the characters to finally take the plunge since they first got engaged in season seven (or for some, since before that).
"We're nine years in and we want to keep things moving forward, as well as exciting and scary and fun," Molaro told TVLine of the choice to finally let the two marry. "And I think this a great way to do it. Penny has had commitment issues for years and years now, especially when it comes to Leonard, and even she feels, 'How much longer are we going to go back and forth on this? Let's just jump in and hope for the best.'"
While the revelation may be exciting to the series longtime fans, some are surprised that Molaro decided to drop such a big spoiler so close to the upcoming premiere. Still, the showrunner says fans should take it as an indication of how surprise-filled the entire next season will be.
As he told TVLine, Penny and Leonard's marriage is just the tip of the iceberg. "That's really only the beginning of the story," Molaro said. "As fun and as great as it is to see them get married, that's only part of it." Translation? The wedding is the least of the many shockers headed our way, so fans should probably get ready.
Of course, just because the two characters are finally getting married doesn't mean it will be all smooth sailing. As recently confirmed, actress Melissa Tang has been cast to join the show as Mandy, the woman that Leonard confessed to kissing while on the North Sea expedition. Her arrival will likely throw a wrench in the couple's post-wedding bliss.
But the sitcom is set to tackle more than just relationship drama in its upcoming season. Since the show's male characters are obsessed with Stars Wars, season nine will reportedly dedicate an episode to the upcoming The Force Awakens. Specific details about the storyline haven't been revealed, but Molaro said viewers can definitely expect Sheldon, Leonard and the other guys to address the franchise's next installment. "We're talking about how that will be weaved into [the guys'] lives," Molaro told TVLine. "And we have some really cool ideas."
Between the wedding, the homage to Star Wars, and the promise of more answers to many lingering questions, it looks like viewers have a lot to look forward to in season nine.
The Big Bang Theory is set to return to CBS on September 21.
More from Entertainment Cheat Sheet:
Want more great content like this? Sign up here to receive the best of Cheat Sheet delivered daily. No spam; just tailored content straight to your inbox.