'The Mortal Instruments' Getting Second Life on TV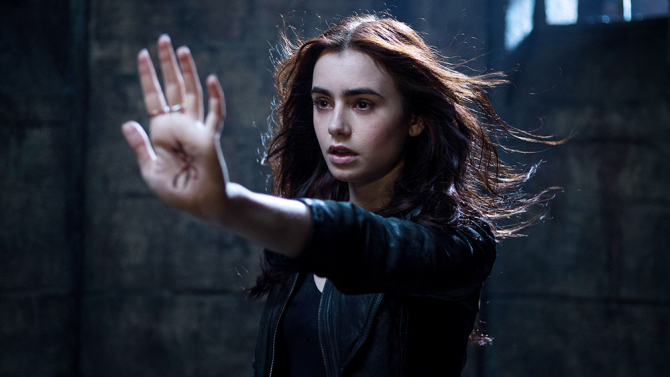 The Mortal Instruments franchise is getting a second shot — this time, on the small screen. ABC Family has reportedly just issued a straight-to-series order for Shadowhunters, a forthcoming drama based on author Cassandra Clare's bestselling YA fantasy novels.
As announced back in October, production company Constantin Films, which holds the rights to the hugely popular book series, recruited Ed Decter (Helix, Unforgettable, The Client List) to help repackage The Mortal Instruments storyline into a high-end drama. At the time, it was only early on in the development process and the project was still unattached to any network. Now, it seems their plans are officially moving forward.
Per The Hollywood Reporter, ABC Family is envisioning Shadowhunters as a 13-episode fantasy drama, inspired by the six popular Mortal Instrument novels. The show will follow Clary Fray, who finds out on her 18th birthday that she is not who she thinks she is, but rather comes from a long line of human-angel hybrids known as "Shadowhunters," who hunt down demons. When her mother Jocelyn is kidnapped, Clary is thrown into the world of demon hunting with mysterious Shadowhunter Jace and her best friend, Simon. Now living among mystical creatures like fairies, warlocks, and vampires, Clary begins a journey of self-discovery that leads her to learn more about both her past and what her future may hold.
Constantin Film will produce, while Decter is on board to serve as showrunner and executive producer. Though casting hasn't yet been announced, it's already underway and fans will likely get more information sooner rather than later, as production on the show is reportedly expected to begin as soon as May.
News of the television adaptation comes after Constantin's failed attempts to turn Clare's well-received novels into a blockbuster franchise similar to The Hunger Games. After the huge success of the latter at the box office, it was clear that the studio was hoping to launch a comparable young adult feature film series of its own. But 2013's The Mortal Instruments: City of Bones (based on the first book in Clare's series), starring Lily Collins and Jamie Campbell Bower, couldn't find an audience and didn't take off as expected. In addition to receiving a poor critical reception, the movie ended up flopping at the box office, earning a well below-estimated gross of $14 million in its opening weekend and $31 million total domestically.
Despite its poor history on the big screen, The Mortal Instruments may still have a good chance at becoming a hit, now that it's changed formats. The show seems tailor-made for a younger-skewing network like ABC Family and will fit in nicely with their other hugely successful, teen-oriented book-to-TV adaptations, like Pretty Little Liars. Plus, bringing it to TV gives the studio a chance to switch up its casting – a factor that was a point of contention with many fans of the book the last time and which may have turned audiences off from seeing the film.
Clare is also somewhat involved in the project and has been present for some auditions, as the author herself confirmed on Twitter. "I met with the writers for the Shadowhunters show, and the network," she wrote, also adding, "I have more meetings tomorrow and right now I can't say too much, but everything went well."
Meanwhile, ABC Family has also expressed confidence in the coming series. "Shadowhunters is a big epic saga that will resonate with viewers who come to ABC Family for the Harry Potter, Hunger Games and Twilight franchises," President Tom Ascheim told THR.
Fans of the novels will have to stay tuned to see if Shadowhunters proves to be a more satisfying adaptation than the film. No premiere date for the show has been set just yet.
More from Entertainment Cheat Sheet:
Want more great content like this? Sign up here to receive the best of Cheat Sheet delivered daily. No spam; just tailored content straight to your inbox.