'The Night Manager': AMC Scores Again With Compelling Spy Saga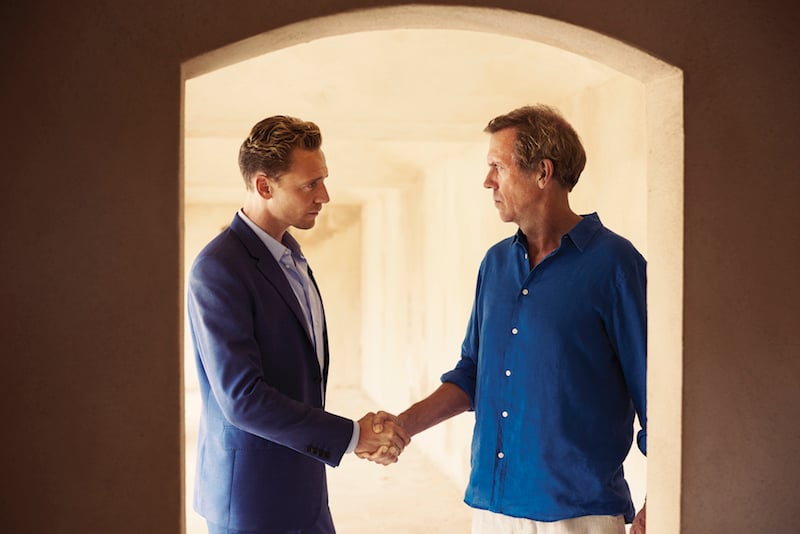 In recent years, AMC has proven itself to be a quality network with a strong lineup of original content and its latest offering, The Night Manager, is no exception. The miniseries, starring Tom Hiddleston and Hugh Laurie, is a smartly written and well-acted adaptation of John le Carré's 1993 spy novel of the same name.
The six-part series stars Hiddleston as Jonathan Pine, a former British soldier turned luxury hotel night manager. While working the overnight shift at a Cairo hotel, Pine gets involved with a seductive French-Arab spy named Sophie, who leads him into a world of espionage by telling him the truth about the wealthy businessman Richard Roper, who — though publicly perceived to be a humanitarian — is actually a black market arms dealer.
After Sophie gets brutally murdered in her room, Pine is drawn into a battle against Roper (Laurie) in order to avenge her. To complete his mission, he must work with intelligence operative Angela Burr (Olivia Colman) to infiltrate Roper's inner circle, which includes his girlfriend Jed (Elizabeth Debicki) and associate Corkoran (Tom Hollander). With Burr's help, Pine goes undercover to set up a sting meant to trap Roper and bring him to justice. But will he finally be the one to put Roper away for good or will he get sucked into his evil games?
Penned by David Farr (Hanna) and directed by Susanne Bier, The Night Manager is a co-production between AMC and the BBC that earned plenty of buzz in the lead-up to its premiere. Following its U.K debut, the show garnered an overwhelmingly positive response from both critics and audiences alike — and for good reason. The Night Manager lives up to the hype, making for a stylish and engrossing new entry in this year's line of superb limited event series (see also: FX's The People v. O.J. Simpson: American Crime Story and Hulu's 11.22.63).
Like the aforementioned titles, The Night Manager owes much of its success to its A-list cast. Hiddleston's Pine is charismatic and deceptively obliging, pouring champagne for Roper and his comrades even as he fends off memories of Sophie and tries to gather intel from the room.
Colman is also immensely likable as the no-nonsense Burr (originally a male character named in le Carré's novel), who encourages Pine to embrace his own dark side in order to be able to stand next to Roper.
But it's Laurie who's the real star of the show here. The actor, who is known to be a huge fan of le Carré's, adds dimension and complexity to the character of Roper, making him more than just "the worst man in the world" (as Sophie describes him in the first episode). In his hands, Roper is an evil guy, but also witty, gentlemanly, and a loving father. It's a show-stealing multilayered performance from Laurie, made all the more impressive by the fact that he reportedly had qualms about taking on the role. As Bier revealed during a recent panel at the Tribeca Film Festival, Laurie came very close to dropping the role just days before filming after having misgivings about his casting and even went so far as to offer a list of potential replacements. His doubts were eventually squashed — and thankfully so, as this show would not have been the same without him.
Fair warning to le Carré readers: The miniseries deviates from the source material in more significant ways than just changing Burr's gender. But all of its contemporary updates were made with the approval of the author, who was closely involved in the making of the project.
Le Carré's work has been brought to screen before, but The Night Manager marks the first TV adaptation of his writing in more than 20 years — and luckily for fans, it was worth the wait. In fact, a second season
The Night Manager premieres on AMC on April 19.
More from Entertainment Cheat Sheet: