'The Secret Life of Pets' Really Wants to Be the Next 'Toy Story'
Thus far in 2016, big-screen animation has been largely defined by Disney Animation and its corporate sister Pixar. Both animation studios have delivered critically acclaimed blockbusters in Zootopia and Finding Dory, respectively, seemingly confirming the Mouse House's status as the gold standard for animated family fare, a title that has been challenged throughout the 2000s by the rise of competing animation studios like Dreamworks, Blue Sky, and Laika. However, Disney's ostensibly triumphant one-two punch might just be countered by Illumination Entertainment — Universal's wholly owned in-house animation house — with the release of The Secret Life of Pets.
The new animated film from the creative team behind the Despicable Me franchise (and yes, those ubiquitous yellow-skinned Minions) centers on a terrier named Max (Louis C.K.) whose happy life is thrown for a loop when his owner takes in the brash and bossy Duke (Eric Stonestreet). Told over the course of a single day, the film follows the mismatched pair as they get lost and must rely on each other to find their way back. Meanwhile, their fellow pets band together and venture out of their apartment building to bring the lost dogs back to their owner Katie (Ellie Kemper).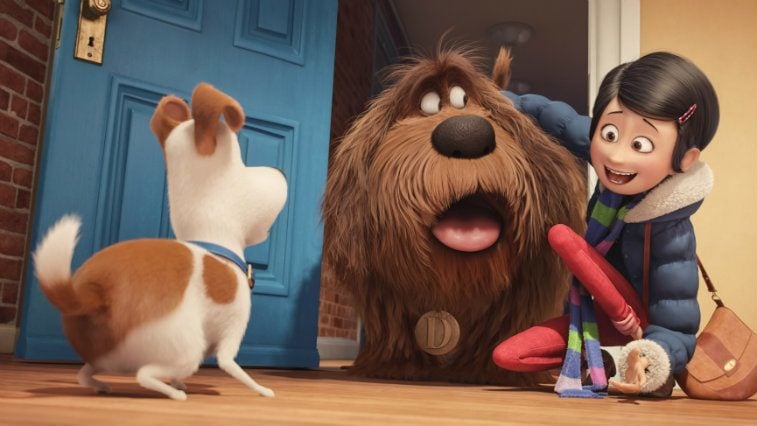 If that premise doesn't sound eerily familiar, the film's central concept — that people's pets get into all kinds of shenanigans while their clueless owners are at work — will certainly hammer home the Toy Story comparisons. More than simply that imaginative hook, The Secret Life of Pets hits almost the exact same story beats and thematic ground as that groundbreaking Pixar release and its 1999 sequel. Moviegoers may get a sinking feeling of déjà vu, as the filmmakers blatantly position Max and Duke to be the heirs apparent to Woody and Buzz Lightyear. There's even a flashback sequence in which a major character reminisces about their idyllic life with a former owner, an idea ripped straight from Toy Story 2.
That's not to say that The Secret Life of Pets is without merit. The animation is certainly eye-catching and colorful enough to serve as spectacle, and the spirited voice acting by stars like Kevin Hart (as the most spastic and heavily kid-targeted character in the film, aka the one your nephew will want a toy version of for his birthday) and Lake Bell goes a long way to keep the film at least mildly amusing, even when its story slips into predictability and cliché. In particular, Jenny Slate steals the whole film as the sweet, lovestruck white Pomeranian named Gidget who lives across from Max and possesses more agency than nearly every other character combined. Perhaps we can get a Finding Dory style spinoff focusing on her from Illumination? That might be a tale worth telling.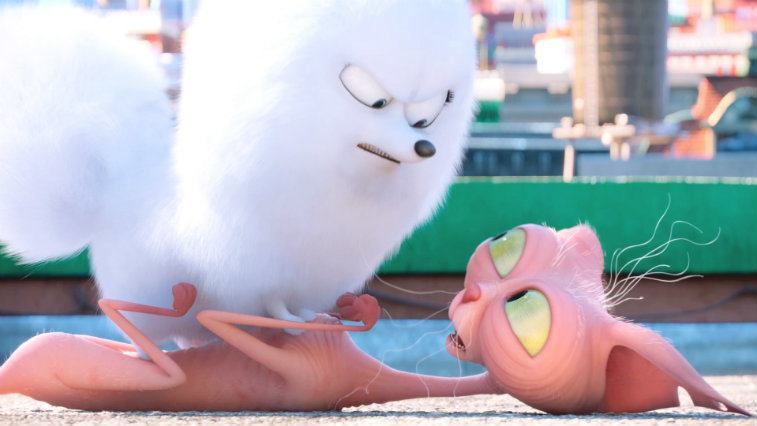 Since its first feature release in 2010, Illumination has seen mixed critical reaction to most of its five previous films, but last year's $1 billion-grossing Minions was a particular target of criticism by those considering it to be a blatant cash-in on the widespread popularity of its title critters and nothing more. So while The Secret Life of Pets does play like a greatest hits compilation of the far, far superior Toy Story franchise, some parents will likely be grateful that Illumination's divisive Minions only appear in the animated short before the film. As for younger viewers, the madcap action and slapstick comedy should keep them entertained for the full 90 minutes and blissfully ignorant that the story at hand has little new to bring to the screen, other than a triple helping of animals driving vehicles (seriously).
Moviegoers shouldn't expect there to be much in the way of transcendent storytelling, but as a way to spend a rainy afternoon or lazy summer day, The Secret Life of Pets gets the job done. However, if Illumination really aspires to be the next Pixar-level animation house, the studio needs to up its creative spark in upcoming releases. Next up is this winter's Sing about a group of crooning animals, and Steve Carell is back as Gru for the surefire hit Despicable Me 3. Now that The Secret Life of Pets is hitting theaters to astounding box office numbers, here's hoping that the unannounced but inevitable sequel can manage to sharpen the franchise's formula going forward.
Rating: 3 (out of 5)
Follow Robert Yaniz Jr. on Twitter @CrookedTable
Check out Entertainment Cheat Sheet on Facebook!       
More from Entertainment Cheat Sheet: