Kendrick Lamar: Understanding his Ambitions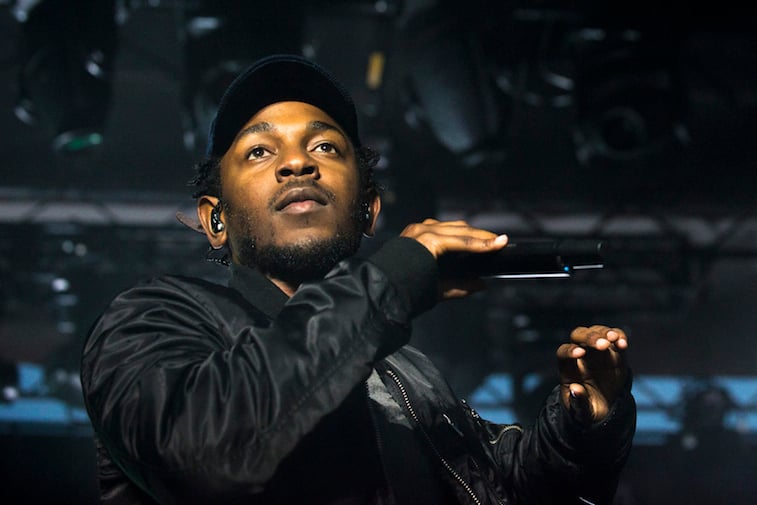 "I remember you was conflicted, misusing your influence," Kendrick Lamar intones plainly, in the space between the third and fourth track of his last studio album, the critical and commercial success To Pimp a Butterfly.  Throughout the album, he revisits the line again and again, adding new lines and new depths to the statement each time. [Update,2/16/16: Kendrick Lamar earned five awards at the 2016 Grammys, including Best Rap Album for 'To Pimp a Butterfly'.]
This is only the most obvious instance of the intricate themes that turn Kendrick's latest album into a cohesive statement rather than a simple collection of radio-ready songs. In fact, for such a successful album from a breakthrough artist like Kendrick, very few songs on To Pimp a Butterfly sound like anything you're likely to hear on FM airwaves, not when they're so prone to unpredictable jazzy instrumentation and downbeat tonal shifts. Even the lead single "i" sports a life-affirming chorus — "I love myself!" — but still works better in context, a counterpoint to the self-loathing rant of "u" earlier on the album.
All this is to say that Kendrick is using his recent success and considerable talents to create the kind of music too often forgotten in a current age mostly dominated by iTunes singles rather than proper albums. To Pimp a Butterfly is his third album, his third concept album, and perhaps the most difficult of all three.  His first album released after Good Kid, M.A.A.D. City and its successful singles catapulted him into stardom proves that the young rapper isn't content to rest on his laurels. This isn't an album that regurgitates old themes or builds itself around a few choice singles, because Kendrick isn't an average musician. He's a great one, an auteur who relies on albums to tell of his beliefs and experiences in new ways.
His first LP Section.80 uses the tales of two young girls, Tammy and Keisha, growing up in the singer's native Compton to paint a generational portrait of youths born in the Reagan era. Themes of greed, death and racial identity run through the album, which relies more on concept than story to unite the songs together. His follow-up Good Kid, M.A.A.D. City doubles down on its concepts by using lyrical content and spoken interludes to tell an unchronological autobiographical tale unfolding through the events of a single night, wherein the narrator breaks into a home with friends ("The Art of Peer Pressure"), meets up with a hoodrat femme fatale ("Sherane"), gets jumped ("m.A.A.d. City") and goes to exact revenge with his friends.
Kendrick used his sophomore album to tell his most direct story yet, even if the order is purposely jumbled. It's a tale of redemption grounded in a harsh setting of Compton, where gangland pressures could turn a supposedly good kid like Kendrick into a common criminal in spite of his artistic ambitions. Rap music is built upon black identity and gang-infused lifestyles, but rarely do rap artists tackle the subject matter with such personal immediacy. For well-off suburbanites such as myself, it feels like a fresh look into the lives of an oft-forgotten segment of the population,
His evolution as a songwriter and artist continues unabated on To Pimp a Butterfly, which is simultaneously his most enigmatic and candid album yet. It still sounds like the creation of an artist with intent and intelligence, but Kendrick is more aware of his own shortcomings and hypocrisies, just as he was with Compton's on M.A.A.D City.  While that record sounded like a story that was meant to solve all the social ills it addressed, To Pimp a Butterfly wrestles with those social ills. M.A.A.D City told a story, and To Pimp a Butterfly starts a conversation.
That's not to say it doesn't tell a story too. Kendrick here expounds on themes briefly referenced on his previous album in tracks like "Bitch, Don't Kill My Vibe." Instead of retelling stories of his harrowing Compton childhood, he discusses his current fame in relation to his complicated past to examine conflicted feelings about his home, his stardom, his past and even his politics — most notably black identity. The opening track "Wesley's Theory" references actor Wesley Snipes's jailing for tax evasion, a starting point for an ongoing discussion of famous black men being sabotaged by the powers that be, even as they compulsively sabotage themselves. The closing track "Mortal Man" features a passage in which Kendrick has a faux-conversation with resurrected recordings of his hero Tupac Shakur about the future of blacks in America, a poignant conversation during a time when headlines are dominated by controversial police actions and "black lives matter" protesters.
I've spent most of this article discussing Kendrick's lyrical acumen without a word about his knack for crafting beats both complex and accessible with creative use of samples to support his lyrics. While all of his albums are brilliantly written and produced, To Pimp a Butterfly makes the most striking musical decisions of all. Impressively, the music feels one with the lyrical themes, as Kendrick surrounds his poetic rhymes with a musical pastiche made from remnants of genres rooted in black identity like jazz, funk, hip-hop, afrobeat and more, supported by such legends as George Clinton of P-Funk and afrobeat pioneer Fela Kuti.
Though not as accessible as M.A.A.D. City, To Pimp a Butterfly shows that Kendrick is willing to grow without abandoning his own roots and the roots of his music. It isn't difficult to imagine a future wherein he continues to grow as an artist and becomes one of the all-time musical greats. His latest demonstrates a unique ability to reconcile and blend genres as well as he blends lyrical content, utilizing a unique mix of both personal and political content that reveals as much about Kendrick as it does the society that produced him. His next album might not produce another single as successful "Swimming Pools (Drank)," but there's little doubt it'll produce something even greater. It's anyone's guess at this point what that might sound like though.
[Update, 3/4/16: Kendrick Lamar released a compilation album, 'untitled unmastered.']
Check out Entertainment Cheat Sheet on Facebook!
More from Entertainment Cheat Sheet:
Want more great content like this? Sign up here to receive the best of Cheat Sheet delivered daily. No spam; just tailored content straight to your inbox.