Why No One Cares About the 'Divergent' Movies Anymore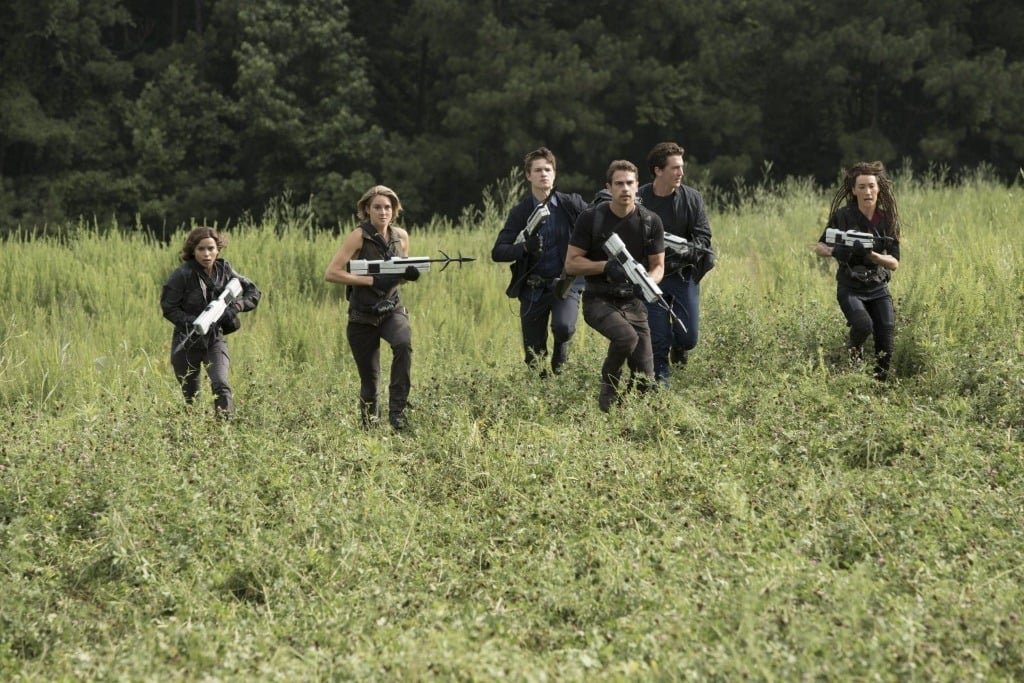 Earlier this year, the latest installment of a best-selling YA book series about teens in a dystopian future will hit theaters nationwide. No, it doesn't star Jennifer Lawrence. It's Allegiant, the third of four films in the Divergent franchise. And yeah, if this is the first time you're hearing about it, you're not alone.
Divergent was supposed to be the next Hunger Games — a major breadwinner for Lionsgate, and a chance for stars Shailene Woodley, Theo James and Miles Teller to cement themselves as the next wave of Hollywood's rising stars. But that hasn't been the case — though not for lack of trying.
The first two chapters of the Divergent franchise performed decently at the box office — 2014's Divergent brought in over $150 million domestically, and last year's Insurgent landed near the $130 million mark. Still, given the jump in profit that other franchises like Twilight to The Hunger Games saw between their first and second releases, Divergent has a long way to go before it can be considered a tried-and-true success with fans. And despite an aggressive marketing campaign, the buzz surrounding Allegiant wass lukewarm at best, with the critics at Rotten Tomatoes noting that there was " a sense of growing boredom with a franchise that's gone on too long."
[Update, 7/21/16:] Now, according to Variety, the fourth and final film in the Divergent Series — Ascendant — won't even make it to theaters. Per Variety's sources, the studio plans to end the series with a TV movie and a subsequent spinoff TV show.
[Update, 9/9/16:] In a recent interview with ScreenRant, Shailene Woodley revealed that she would not return for a final Divergent film if it was released on TV. "I didn't sign up to be in a television show," Woodley told ScreenRant. "Out of respect to the studio and everyone in involved, they may have changed their mind and may be doing something different, but I'm not necessarily interested in doing a television show."
So, why is a series that sounds like it would be a tremendous hit on paper a lukewarm success at best? There are more than a few reasons why fan fervor has died down when it comes to the Divergent series.
Fans of the book series hated how it ended
Any successful YA movie franchise needs two things — devoted fans that evangelize the series at its start, and newcomers that stay invested in the story during the films' inevitably drawn-out release schedule. This is the Divergent series' first big problem. The author, Veronica Roth, published the third and final full-length installment, Allegiant, in October 2013 — less than six months before the first film, Divergent, hit theaters. It sold 2 million copies, and eager fans tore through the book to learn what happened to the series' heroes Tris and Four.
To say that a majority of fans hated how Allegiant — and thus, the entire Divergent series — ended would be a bit of an understatement. The backlash toward some of Roth's narrative choices was swift and unrelenting. And as a result, a great deal of the excitement over the book series likely already died out before the film franchise even had a chance to get fully up and running. Sure, a core group of fans stuck it out to watch the story they loved come to life on the big screen. But it's difficult to discount the sense of betrayal many fans felt and how that played into the first film's overall success.
The franchise's first three installments kind-of sucked
Here is a fact that will shock approximately no one: Not all blockbuster films are great. In fact, some of them are pretty awful. But when it comes to word of mouth and building momentum, it definitely helps if a movie is well made. Series like The Hunger Games and Harry Potter found sustained success not only because their rabid fan bases, but also the solid writing and direction, and stellar performances of the films' stars.
The same unfortunately can't be said for the Divergent series' production value. The first film failed to muster enthusiasm from critics, who felt it was flat, predictable and largely formulaic. Its follow-up, Insurgent, was resoundingly panned as well. The third and most recent movie in the series, Allegiant, did even worse with the critics and currently only has a 13% approval rating from Rotten Tomatoes. While this doesn't mean that no one would watch a fourth movie, it does mean that in the long run, few moviegoers outside of already established fans will go out of their way to get to the theater. Hence, the studio's shift to a television-based conclusion to the series.
We're all a little bit tired of YA adaptations
It's been almost eight years since the first Twilight film hit theaters. If you count the Harry Potter series as a YA franchise, then we're looking at nearly 15 years of regularly-scheduled book adaptation releases at our local movie theaters. That's a lot of young adults falling in love while standing up against the forces of evil and/or an oppressive government bent on destroying them.
So it makes sense that when it comes to these types of stories, moviegoers may have reached critical mass. With The 5th Wave's failure to perform at the box office, it's already apparent that dystopian-themed adaptations aren't as exciting to moviegoers as they were a few years ago. And as Mockingjay Part 2's surprisingly low box office numbers already showed us,  fans could be growing a bit weary of Hollywood's split-the-last-book-up-into-multiple-parts trend. Allegiant, like Mockingjay, was be broken in half; with the last installment of the Divergent series — Ascendant — originally scheduled to hit theaters in 2017.
Though we won't know for sure until more details emerge about Ascendant's fate, it's clear to see that interest in the series is at an all-time low. And between the flimsy filmmaking, controversial narrative, unnecessarily drawn-out storytelling, and general viewer burnout when it comes to YA, it's pretty easy to see why.
Follow Katherine Webb on Twitter @katiedoubleyew.
Check out Entertainment Cheat Sheet on Facebook!  
More from Entertainment Cheat Sheet: