For some people, the idea of a pancake or waffle topping other than maple syrup is an idea that comes close to an act of breakfast treason — but in our opinion, maple has had its moment in the sun, and it is time for the rays to shine on other potential toppings. When one considers all the compotes, syrups, and flavored butters they could possibly pile on their pancakes or wallop on their waffles, they'll wonder why they didn't start switching things up sooner. Here are the 10 topping recipes that will have you reconsidering sauces and spreads.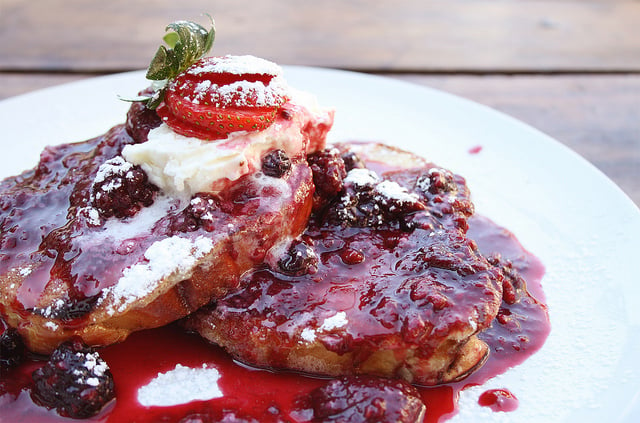 1. Mixed Berry Compote
Take a mix of your favorite berries — be they strawberries, blueberries, blackberries, or raspberries — and make a fruit-sweetened topping for your stack of flapjacks. You can store this compote from Whole Living for up to one week if you store it in an airtight container in the fridge.
Ingredients:
2 cups berries
1 tablespoon honey
1 teaspoon lemon zest
Directions: In a small saucepan, combine berries, honey, and lemon zest. Bring to a boil. Reduce to a simmer and cook until thickened, 7 to 8 minutes. Transfer to a bowl; set aside.