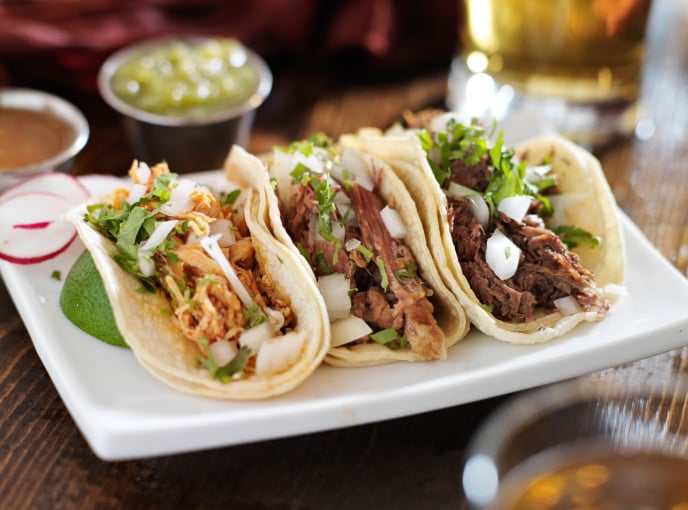 Many families turn to old favorites, such as mac and cheese and tacos, for dinner time. Unfortunately, some of these go-to meals aren't always made with the healthiest ingredients. But, the recipes are easy and taste delicious, so you can't help but make them week after week. The good news? Healthier versions of these recipes do exist, and they're just as easy to make (and taste just as good.) Just make sure you plan out your meals and shop accordingly to ensure you have your healthy ingredients on hand when it comes time to cook dinner, writes WebMD. With a few simple switches, you'll quickly be on your way to putting healthier food in front of your family. Try one of these five healthy recipes to start — you won't be disappointed.
Tacos
For your next meal, swap out your standard tacos for Andrea's chicken tacos instead, per America Now. The chicken is much healthier than beef, and the vegetables add more flavor, allowing you to cut back on the cheese and sour cream you usually pile on your taco.
Ingredients:
1 pound chicken (boneless/skinless breast)
4 green chiles
1/4 yellow onion
2 cloves garlic
1 bay leaf
Salt/pepper
Dry ground oregano
Directions: Roast the fresh green chiles by placing them in the oven under a high broil setting. Blacken each side, and then immediately place the blackened chiles in a large zip-lock bag for 10 minutes. Under running cold water, remove the blackened skin, stem, and (optional) seeds. Roughly chop the chiles into large chunks or strips.
Preheat the oven to 350 degrees Fahrenheit. Place the chicken in a large roasting pan, adding water (just enough water to cover the chicken.) Roughly cut one-fourth of a yellow onion into slices. Add to chicken. Finely chop two garlic cloves, adding to the chicken. Add salt and pepper to taste. Then add in about one teaspoon of oregano, followed by one bay leaf.
Cover and roast the chicken for about 1 hour, 30 minutes. Shred the chicken and return to the oven for an additional 30 minutes. Then, load your taco shells (preferably whole wheat) with the chicken, lettuce, and a touch of hot sauce for a delicious taco alternative.