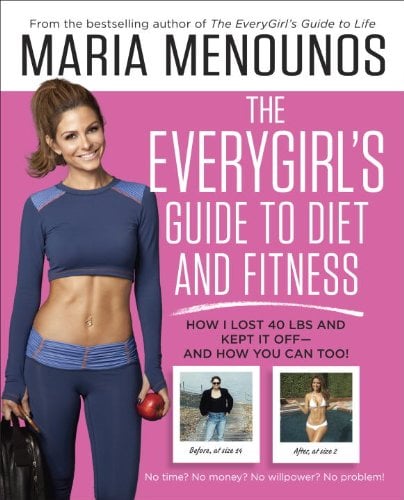 Summer weather has finally arrived, causing many of us to rev up our diet and fitness routines in preparation for swimsuit season. Sometimes the easiest way to achieve your diet and fitness goals is by following a plan that lays out exactly what you should be eating and how you should be working out. From following a Mediterranean diet to eliminating wheat, this collection of health books includes something for everyone. Ready to take the first step toward living a healthier lifestyle? Check out this list of must-read health books hitting the shelves this summer.
1. The EveryGirl's Guide to Diet and Fitness: How I Lost 40 lbs and Kept It Off — And How You Can Too!
Maria Menounos, host of Extra, kicks off this list with the June 3 release of her book, The EveryGirl's Guide to Diet and Fitness. The book details the importance of following a Mediterranean diet, designed to get women to look at weight-loss and healthy eating as a lifestyle change rather than a restrictive diet. Why should you bother to hear what she has to say? She based this diet on her firsthand experiences.
Menounos struggled with her weight in the past; there was actually a time when she was more than forty pounds overweight. Frustrated with her low energy and poor immune system, Menounos tried every diet that was available, having very little success. Finally, Menounos decided to take matters into her own hands. She spent a year developing a commonsense diet, realistic exercises, and lifestyle techniques. Guess what? It worked for her, and she was able to shed those pesky pounds. In her book, Menounos is sharing her secrets, along with tips and input from some of the world's leading health and fitness experts, to bring readers a realistic diet plan. 
The book details a nine-step weight loss plan, easy and healthy recipes, and quick and effective workouts, along with other tips and tricks for losing weight, getting fit, and maintaining it. For example, Menounos acknowledges there will be times you can't get in an hour-long workout at the gym. So, what should you do? "There will be times when you can't fit in exercise, so you have to figure out a way to make it work. One way I do it is something I've coined 'convenience conditioning.' I make sure I'm getting in my workout throughout the day. When I'm in the office, I'm not sauntering from spot to spot, I'm speed walking. I'm always moving, which is why I'm able to maintain my figure without being a gym rat," Menounos shares with Shape.