5 Stuffed Rolls Your Dinner Table Desires
These aren't the kind of rolls you leave in your bread basket. These are the kind of rolls you build a meal around. They're sturdy and filling and totally worth the effort. It's still winter, and we're still entrenched in the practice of carb-loading to keep warm. Any of these 5 rolls will do the trick. Hailing from all around the world, from Eastern Europe to France to China to West Virginia, a pile of these are sure to satisfy. They're particularly great for weekend days when you have plenty of time to let the dough rise, though you could cheat and unwrap some pre-packaged biscuit or pizza dough. We won't tell.
1. Knish
The sturdiest stuffed roll around. In fact, this Eastern European dish is more stuffing than roll. Filled with mashed potatoes and onions, sometimes ground meat and sauerkraut, this roll is a meal. Much like the rest of Eastern European cuisine, knishes evolved to stretch a little into a lot. They're carbs wrapped in more carbs in the most delicious, comforting way we know. If you're staring down your pantry and all you have is flour, a potato, and an onion, you have a knish. These classic knishes from Smitten Kitchen feature soft, flaky, rich dough wrapped around buttery mashed potatoes studded with caramelized flecks of onion and baked to perfection.
Ingredients:
Dough
2½ cups all-purpose flour
1 teaspoon baking powder
½ teaspoon table salt
1 large egg
½ cup vegetable oil
1 teaspoon white vinegar
½ cup water
Filling
1½ pounds russet potatoes, peeled and quartered
1 small yellow onion, peeled and diced small
1 tablespoon vegetable or olive oil
1 tablespoon unsalted butter
½ teaspoon table salt
Freshly ground black pepper
Finishing 
1 large egg yolk
1 teaspoon water
Directions: First, make the dough. Stir together your dry ingredients in the bottom of a medium/large bowl. In a small bowl, whisk together the egg, oil, vinegar, and water. Pour it over the dry ingredients and stir them to combine. Once the mixture is a craggy, uneven mass, knead it until smooth, about 1 minute. Place the dough back in the bowl and cover it with plastic wrap. Set it aside for an hour while you make the filling.
Put potatoes into a large pot, cover with cold water, and bring to a boil over high heat. Reduce heat to medium and cook until potatoes can be pierced easily with a knife, about 20 minutes. Drain, then transfer to a large bowl to cool.
Heat a large, heavy skillet over medium heat. Once hot, add butter and oil and once they're fully melted and a bit sizzly, add onions and reduce to medium-low. Cook, stirring frequently, until deeply caramelized, which will take about 45 minutes. Transfer to bowl with potatoes and mash together until almost smooth. Stir in salt and many grinds of black pepper and set the filling aside.
Line a large baking sheet with parchment paper and preheat your oven to 375 degrees Fahrenheit.
If your dough has sweated some beads of oil while it rested, knead it back into an even mass. Divide the dough in half. On a well-floured surface, roll the first half of the dough into a very thin sheet, roughly in the shape of a 1-foot square. For moderate size knish, create a 2-inch thick log from half your potato filling across the bottom of your dough. Roll the filling up in the dough, but not too tight. A tiny amount of slack will keep the dough from opening in the oven. Keep rolling until the log has been wrapped twice in dough. Trim any unrolled length and add it to the second half of the dough; it can be used again. Repeat the process with the second half of your dough and second half of filling.
Trim the ends of the dough so that they're even with the potato filling. Then, make indentations on the log every 3 to 3½ inches and twist the dough at these points, as if you were making sausage links. Snip the dough at each twist, then pinch one of the ends of each segment together to form a sealed knish base. Use the palm of your hand to flatten the knish a bit into a squat shape and from here, either pinch together the tops as you did the bottom to seal them or gently press the dough over the filling but leave it mostly open.
Arrange knish on prepared baking sheet so that they don't touch. Whisk egg yolk and water together to form a glaze and brush it over the knish dough. Bake knish for about 45 minutes, rotating your tray if needed for them to bake into an even golden brown color. Let cool before diving in, because that filling is hot!
2. Pepperoni Rolls
Pepperoni rolls are a culinary tradition only seen in certain pockets of the U.S., typically in the states closest to its birthplace in West Virginia. The basics are simple: dough wrapped around pepperoni and cheese. Sometimes you'll see them tightly spiraled with more layers than a cinnamon bun, and others you'll see barely folded over twice. Some rolls will be stuffed to the brim with thin slices of pepperoni, while others will feature dough wrapped around one big ol' hunk of meat. These from Brown Eyed Baker are somewhere in between. The dough isn't homemade, it's Rhodes frozen bread dough. You could make your own, or you could take this as a free pass to use store-bought!
Ingredients:
1 (3-pound) package frozen bread dough
12 to 14 ounces sliced pepperoni
24 ounces shredded mozzarella
Directions: Follow package instructions for thawing and rising frozen bread dough.
Preheat oven to 350 degrees Fahrenheit. Line two baking sheets with parchment paper or a silicone baking mat; set aside.
Cut each loaf of dough in half and work with one piece at a time, keeping the remaining pieces covered under plastic wrap that has been coated with non-stick cooking spray. Roll the dough into a thin rectangle about 7 inches by 12 inches. Cover the surface with sliced pepperoni, then sprinkle shredded mozzarella over top. Starting with a long side, roll the dough up tightly and pinch the seams and ends to seal. Place on the prepared baking sheet and repeat with remaining pieces of dough.
Bake until golden brown, 35 to 45 minutes. Remove from the oven and allow to cool a bit before serving. The pepperoni rolls can be served warm or at room temperature.
3. Steamed Pork Belly Buns
These Asian buns are clouds made corporeal. Seriously. If you've never had a steamed bun, you're missing out. Steamed bread sounds like it might be weird texturally, but that is a thought that should be banished from your mind immediately. These buns from Steamy Kitchen feature a fusion of Vietnamese caramel braising sauce, a traditional Chinese steamed bun and pork belly, and little bites of Korean kimchi. And it just works. Head to the closest Asian market for specific pre-mixed steamed bun flour that looks like this. If you don't have a local Asian market, grab a can of Pillsbury buttermilk biscuit dough and skip to the shaping step.
Ingredients:
Pork Belly
One 2-pound slab pork belly
1 tablespoon cooking oil
2 to 3 cloves garlic, finely minced
1 tablespoon finely chopped fresh ginger
1 fresh chili pepper, minced
1 green onion, chopped
¼ cup packed brown sugar
2 tablespoons rice vinegar
3 tablespoons Asian fish sauce
1 tablespoon soy sauce
½ cup water
Buns
14-ounce package of steamed bun flour
Ingredients as per package instructions, likely milk, sugar, and oil
3 tablespoons all-purpose flour for dusting work surface
16 (4-inch) squares of parchment paper
Chili Sauce and Toppings
1 stalk green onion, minced
1 fresh chili, minced or sliced very thinly
1 teaspoon rice vinegar
¼ teaspoon salt
2 tablespoons cooking oil
3 tablespoons hoisin sauce
Kimchi
Directions: Preheat oven to 275 degrees Fahrenheit. Wrap the pork belly in heavy tin foil. Place on baking sheet and roast for 2 hours. Remove from oven and let cool before refrigerating at least 2 hours or up to 2 days.
Unwrap the pork belly and slice into ½-inch pieces
In a large bowl, whisk together the brown sugar, rice vinegar, fish sauce, soy sauce, and water.
Heat a wok or large saute pan over high heat. When hot, swirl in cooking oil and add several slices to the wok, but do not overlap. Fry each side until browned. Remove to plate. Repeat with remaining.
Turn the heat to medium-low. Add in the garlic, ginger, chiles, and green onion. Saute for 30 seconds until fragrant. Pour in the remaining caramel sauce into the pan. Return the pork belly slices back into the wok and let simmer for 10 minutes.
Make the buns, following the directions on the package to make the dough, cover and let rise for 20 minutes.
Sprinkle clean work surface with the all-purpose flour. Place the dough on work surface and cut into 16 equal pieces. Roll each piece into a ball and keep all balls loosely covered with plastic wrap or towel. You'll work with 1 ball at a time, keeping the rest covered.
Use a rolling pin to roll out each ball into an oval, about 4- by 3-inches. Fold the oval in half to create bun shape. Place on parchment square. Keep covered loosely with plastic wrap or towel to prevent drying out. Repeat with remaining dough.
Prepare steamer. Steam the buns in batches to prevent overcrowding for 15 minutes per batch.
While the buns are steaming, place the green onion, chili, vinegar, and salt in a small heatproof bowl. In a small saucepan, heat the cooking oil until smoking, remove from heat and immediately pour on top of the green onion mixture. Please be careful, the oil will bubble and crackle.
To serve, carefully open each bun, spread a bit of hoisin sauce in the bun. Add a slice of pork belly and top with the chili sauce. Add a bit of kimchi if desired.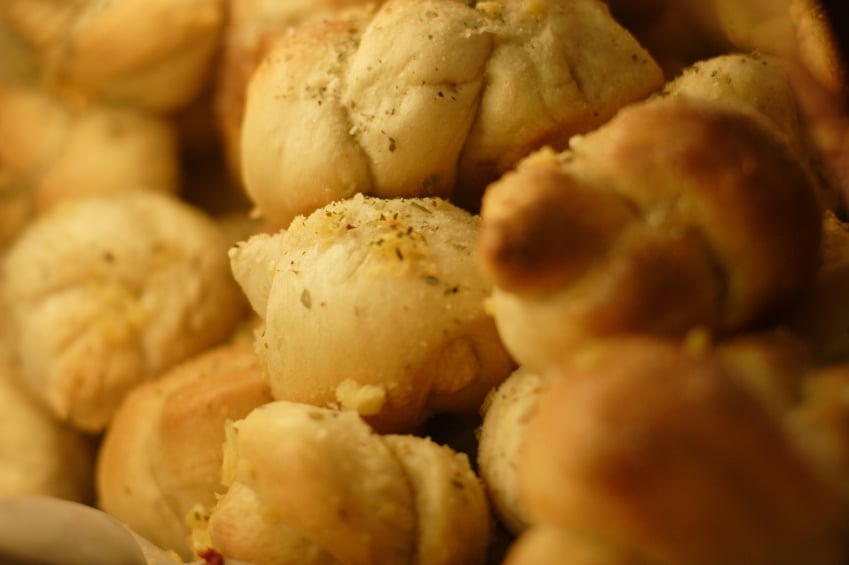 4. Cheese Stuffed Garlic Rolls
These rolls from Handle the Heat are seriously out of this world. We dare you to stop eating them before you're stuffed. As Tessa describes them, these rolls are "garlickly, cheesy, crusty, chewy, sinful goodness in a pretty golden ball." These are a perfect application for no-knead pizza dough as long as you have the patience to start them a day in advance. If you don't, grab some store-bought dough or make a quick batch of your own dough to get these from start to mouth as quickly as possible.
Ingredients:
1 pound pizza dough
36 mozzarella cubes
2 tablespoons butter
½ teaspoon Italian seasoning
1 garlic clove, minced
¼ cup parmesan cheese
Directions: Lightly grease a large baking sheet.
Divide the dough into 18 equal pieces. Flatten a piece of dough and place 2 chunks of cheese inside, sealing the dough around the cheese tightly. Place on the baking sheet seam side down and continue with the remaining dough. Cover and let rise until puffy, about 30 minutes.
Meanwhile, preheat the oven to 375 degrees Fahrenheit.
Combine the butter, Italian seasoning, and garlic in a small bowl and microwave until the butter is melted. Brush all over with the butter mixture. Sprinkle evenly with the Parmesan cheese. Bake for 20 minutes, or until golden brown. Serve very warm.
5. Pan au Chocolat
We couldn't get through a rundown of delicious stuffed rolls without the flaky, chocolate-y, buttery goodness of pan au chocolat. These itty bitty ones from Epicurious are made with puff pastry dough, which is a million times more convenient than slaving over a laminated croissant dough. If you're a traditionalist with nothing else to do, a marble slab, and plenty of butter, don't let us stop you from making your own croissant dough. For everyone else, grab a box of butter-only puff pastry dough from the grocery store and start wrapping up some chocolate.
Ingredients:
2 sheets frozen puff pastry, thawed, each sheet cut into 12 squares
1 large egg beaten to blend with 1 tablespoon water
Four 3½-ounce bars imported bittersweet or milk chocolate, each cut into six 2-by-¾-inch pieces
Sugar
Directions: Line baking sheet with parchment paper. Brush top of each puff pastry square with egg glaze. Place 1 chocolate piece on edge of 1 pastry square. Roll up dough tightly, enclosing chocolate. Repeat with remaining pastry and chocolate. Place pastry rolls on baking sheet, seam side down.
Preheat oven to 400 degrees Fahrenheit. Brush tops of pastry rolls with remaining egg glaze. Sprinkle lightly with sugar. Bake until pastries are golden brown, about 15 minutes. Serve warm or at room temperature.
More from Life Cheat Sheet:
Want more great content like this? Sign up here to receive the best of Cheat Sheet delivered daily. No spam; just tailored content straight to your inbox.