5 Ways to Wake Up Your Breakfast Using Spring Produce
When green goodies start showing up at the markets, raw and barely cooked seem like the best preparations to let the produce shine. Good news: These springtime treats are easier to score than ever, thanks to continued growth in farmers markets across the country. So you can load up on bushels of peas without having to battle fellow shoppers.
A few weeks and many plates of steamed asparagus later, those simple dishes start to seem ho-hum. Working spring fruits and veggies into your morning meal is a great way to shake up the routine and start your day with some great nutrition. These recipes showcase everything from tart rhubarb to sweet peas, so there's something to please every palate. But make them fast — spring will be gone before you know it.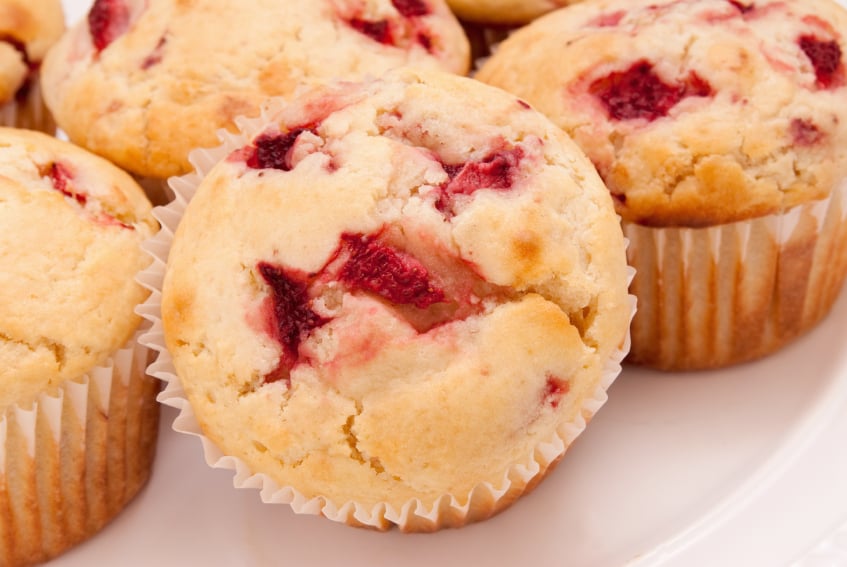 1. Strawberry Streusel Muffins
Rescue strawberries from the land of boring yogurt parfaits with a batch of tasty muffins. Making the baked goods might not be as fast as scooping and slicing, but Karen Raye has a secret to share. "I've been making and freezing grab-and-go goods for a few weeks now in preparation for the frenzied weeks ahead, and muffins are huge on the list of perfect freezer fare," she says.
If adding a spice normally associated with apples seems a bit unusual here, try to keep an open mind. "A bit of cinnamon in the batter and the crunchy-sweet streusel topping complements the sweet tart bites of strawberry perfectly," Raye notes. With a batch of these goodies standing by, you're bound to have a great morning.
Visit Kitchen Treaty for the recipe.
2. Rhubarb Almond Breakfast Bars
Good for way more than just pie, rhubarb's tart flavor shines when paired with toasty oats. With a cookie-like crust and perfectly sweetened jam filling, these bars blur the line between decadent dessert and wholesome breakfast. That's good news for anyone dealing with picky eaters. "These homemade breakfast bars fooled my kids into thinking we were having a treat, awesome!" Laurie McNamara says.
Don't be intimidated by the looks of this triple-layer treat. A clever method uses the same mixture for the base as well as the topping, so they're remarkably easy. So easy that McNamara whipped up a batch at midnight. "The whole thing took 35 minutes," she said. When last-minute baked goods are this easy, there's no reason to buy another sad granola bar again.
Visit Simply Scratch for the recipe.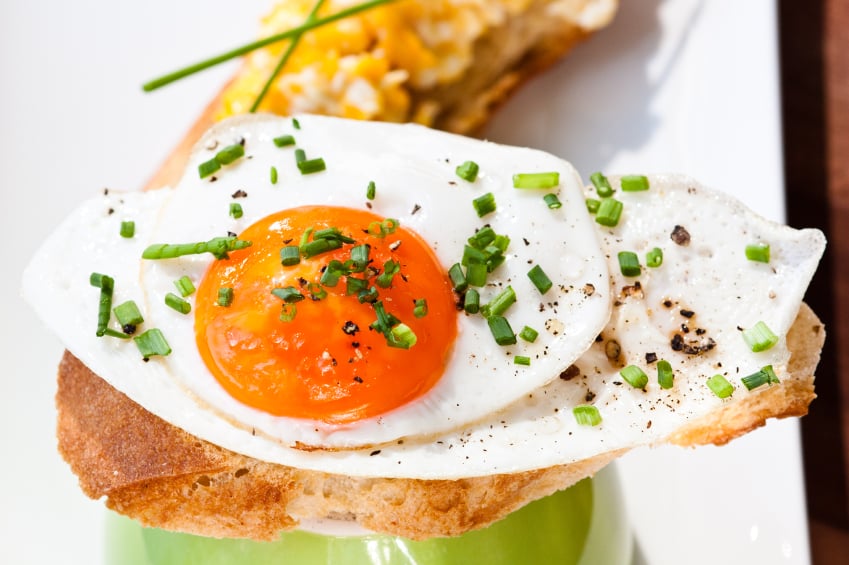 3. Simple Goat Cheese and Egg Toasts With Fresh Peas and Dill
Give avocado toast a little bit of a break and make this elegant egg and pea concoction instead. Though it sounds complicated, Kathryne Taylor insists this recipe won't take more than 10 minutes. She developed the method when recovering from a stretch of feeling kind of ill. She said it was "a good reminder that simple, quick and wholesome recipes are always much needed and appreciated."
The best part about this recipe is that it's not really a recipe, but more of a method. Taylor encourages readers to prepare eggs however they prefer and use whatever veggies are in season. The same goes for the herbs, too. "I opted for dill because I really love dill, but any leafy herb will do, like basil, parsley, mint, cilantro, or chives," she said. With just a handful of ingredients, toast perfection can be yours tomorrow morning.
Visit Cookie and Kate for the recipe.
4. Serrano Ham, Manchego, and Asparagus Breakfast Pizza
If the freezer aisle comes to mind when you hear the words "breakfast pizza," then you'll be pleasantly surprised by this springtime makeover. Topped with plenty of savory flavors, this pie is a delicious way to wake up without resorting to packaged foods. Aida Mollenkamp made this morning meal on an early spring day when the weather seemed like it might take a nasty turn. Though she acknowledges there are tons of ham and egg flatbreads out there, Mollenkamp says, "I just wanted a satisfying breakfast pizza that would cheer me up regardless of what the skies unleashed."
Instead of trying to master perfect egg cookery on top of the baking pie, Mollenkamp simplifies things by cooking the eggs on the stove while the pizza bakes. No more worrying about trying to get a crisp crust without overcooking the yolks. Be sure to use thin asparagus for this breakfast, as fatter spears won't fully cook.
Visit Aida Mollenkamp for the recipe.
5. Hash Brown Casserole With Artichokes and Pancetta
Entertaining friends for brunch usually means a hearty casserole is in order. Often, they're packed with cheese, bread, sausage, and bacon. While that might taste fantastic, it can leave you feeling uncomfortably full for the rest of the day. Inspired by a friend's recipe, Kelley Epstein decided to add her own twist. "This hash brown casserole is my ode to her delicious breakfast casserole, but also my attempt to lighten lighten things up," she said.
Light on calories doesn't mean light on flavor, though. Packed with artichokes, pancetta, arugula, and a little bit of cheese, this dish is a real treat for your tastebuds. Artichoke lovers, this might be your ultimate breakfast.
Visit Mountain Mama Cooks for the recipe.
More from Life Cheat Sheet:
Want more great content like this? Sign up here to receive the best of Cheat Sheet delivered daily. No spam; just tailored content straight to your inbox.