6 Creative Ways to Cook Your Chicken Noodle Soup
Chicken noodle soup comforts us when we're sick and warms us up when we're cold. While the main ingredients in this versatile dish typically remain the same, the way you prepare your soup can make a difference in how it tastes. For example, letting your soup simmer in a crockpot creates a more flavorful dish. Microwaving your chicken noodle soup will yield quick and tasty results, and blending the broth-based soup will give it a thick and creamy base. Ready to explore the many cooking methods behind chicken noodle soup? Here are 6 unique ways to prepare your next batch.
1. Slow Cooker Chicken Noodle Soup
If you're making your soup from scratch, we suggest cooking it in a crockpot. Using this cooking method will allow your soup to simmer on low for a long period of time, creating a more flavorful and complex-tasting dish. Good Housekeeping's recipe yields 6 servings.
Ingredients:
8 cups water
4 medium carrots, cut into ¼-inch slices
4 medium stalks celery, cut into ¼-inch slices
1 small onion, chopped
2 bay leaves
½ teaspoon dried thyme
Salt
Ground black pepper
1 whole (3½-pound) chicken
3 cups egg noodles, uncooked
Directions: In a 4½- to 6-quart slow cooker bowl, combine water, carrots, celery, onion, bay leaves, thyme, 4 teaspoons salt, and ½ teaspoon pepper. Place whole chicken on top of vegetables. Cover slow cooker with lid and cook as manufacturer directs on low setting 8 to 10 hours or on high setting 4 to 5 hours.
Transfer chicken to cutting board. Discard bay leaves. Add noodles to slow cooker bowl; cover with lid and cook 20 minutes. While noodles cook, remove and discard skin, fat, and bones from chicken; shred meat. Skim fat from soup and discard. Return chicken to soup to serve.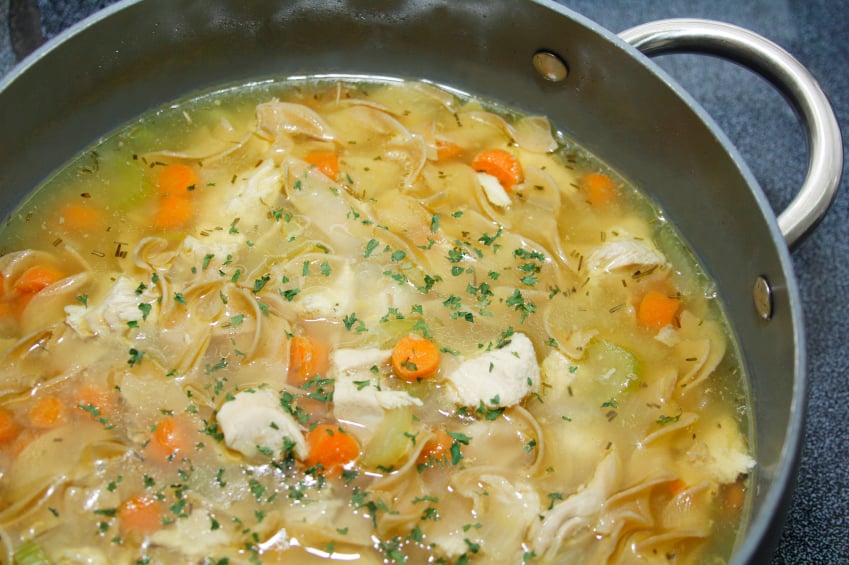 2. Lemon Dill Chicken Noodle Soup
Filled with zesty seasonings and fantastic flavors, Lemon Dill Chicken Noodle Soup is guaranteed to brighten your day. Melanie Makes' one-pot cooking method is about as simple and straightforward as it gets: start by sautéing your carrots and onion, and then gradually add the remaining ingredients to your pot.
Ingredients:
2 tablespoons olive oil
4 carrots, sliced
1 onion, chopped
8 cups chicken broth
2 cups water
1 pound boneless, skinless chicken breasts
1 pound pasta
3 ounces fresh dill
2 lemons
Directions: In a large pot, heat olive oil over medium heat. Add the carrots and onion, and sauté for 2 to 3 minutes or until beginning to soften. Add chicken broth and water and bring to a boil. Season with salt and pepper. Add chicken breasts and reduce to a simmer, cooking chicken for 10 to 12 minutes or until cooked through.
Remove chicken and set aside. Bring broth back to a boil and add pasta. Cook according to package directions until al dente. Meanwhile, chop chicken breasts into bite-size pieces. When pasta is al dente, add chicken back to pot. Stir in chopped dill and juice of one lemon. Serve soup in individual bowls with an additional squeeze of lemon juice.
3. Creamy Chicken Noodle Soup
To prepare Simply So Good's recipe, you'll use a blender to purée the carrots, celery, and onion, creating chicken noodle soup that's smooth and creamy. Butter and flour make this dish richer than most versions, while the fresh seasonings give your soup warm and aromatic flavors.
Ingredients:
3 quarts chicken stock
1 carrot, peeled
1 celery rib
1 small onion
4 whole cloves
¼ cup butter
¼ cup flour
1 cup heavy cream
2 teaspoons fresh rosemary, chopped
2 teaspoons fresh thyme, chopped
2 tablespoons fresh parsley, chopped
Salt and pepper, to taste
Homemade Egg Noodles or a store-bought version
2 cups cooked, cubed chicken
Directions: In a large pot, add chicken broth, carrot, celery, onion, and cloves. Bring to a boil. Cover and reduce to a simmer for about 2 hours or until the vegetables are soft. Remove the carrot, celery, and onion and place in a blender. Add 2 cups of the chicken stock and blend until smooth. Set aside.
In a large pot, melt butter. Whisk in flour. Pour in the remaining chicken stock and the blended vegetables. Stir until smooth. Bring the mixture back to a low simmer. Add salt and pepper to taste. Add noodles and cooked chicken. Stir very gently. Add fresh herbs right before serving. Makes 6 to 8 servings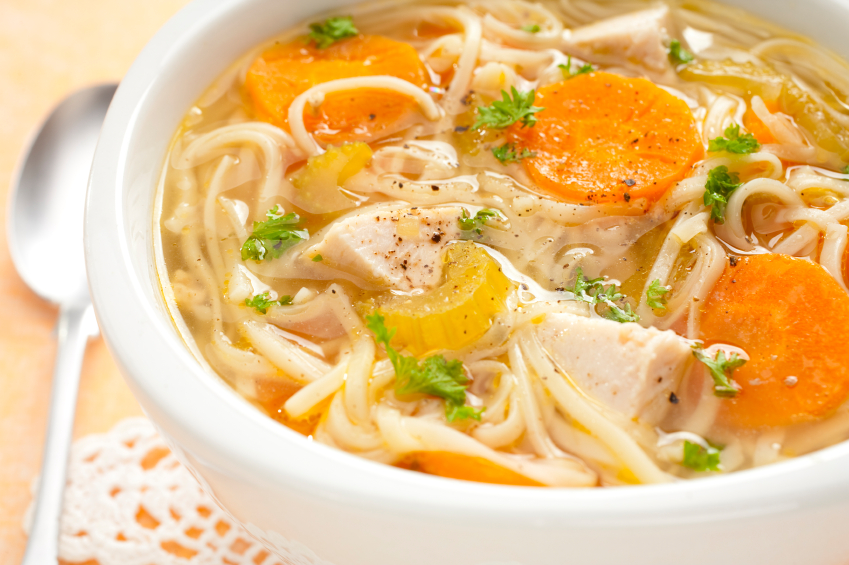 4. Microwave Chicken Noodle Soup
Alicia's Recipes' Microwave Chicken Noodle Soup is the perfect go-to when you're short on time. Cooked chicken, hot water, egg noodles, frozen veggies, chives, marjoram, and chicken bouillon are microwaved for about 15 minutes, until the noodles are nice and tender.
Ingredients:
2 cups cooked, cubed chicken
2½ cups hot water
1½ cups fine egg noodles
1 cup frozen mixed vegetables
2 teaspoons chives
⅛ teaspoon marjoram
Dash of pepper
1 tablespoon instant chicken bouillon
Directions: Combine all ingredients in 3-quart casserole dish. Cover; microwave on high for 12 to 15 minutes or until noodles are tender, stirring frequently.
5. Quick Chicken Noodle Soup
Create a quick and delicious bowl of soup by utilizing your microwave and stove-top. To make Cooking Light's recipe, you'll heat the broth mixture in the microwave, while simultaneously sautéing your vegetables and seasonings. For your final step, you'll add the broth mixture and pasta to your saucepan, and cook until the noodles are almost al dente.
Ingredients:
2 cups water
1 (32-ounce) carton fat-free, lower-sodium chicken broth
1 tablespoon olive oil
½ cup chopped onion
½ cup chopped celery
½ teaspoon salt
½ teaspoon freshly ground black pepper
1 medium carrot, chopped
6 ounces fusilli pasta
2½ cups shredded skinless, boneless rotisserie chicken breast
2 tablespoons chopped fresh flat-leaf parsley
Directions: Combine 2 cups water and chicken broth in a microwave-safe dish, and microwave on high for 5 minutes. While broth mixture heats, heat a large saucepan over medium-high heat. Add oil to pan; swirl to coat. Add onion, celery, salt, pepper, and carrot.
Sauté 3 minutes or until almost tender, stirring frequently. Add hot broth mixture and pasta; bring to a boil. Cook 7 minutes or until pasta is almost al dente. Stir in chicken; cook 1 minute or until thoroughly heated. Stir in parsley.
6. Grilled Chicken Noodle Soup
Give your chicken pieces a great fresh-off-the-grill flavor by frying them in a skillet before adding them to your soup. The recipe (via Allrecipes.com) calls for egg noodles, but feel free to replace them with the noodles of your choosing.
Ingredients:
1 tablespoon vegetable oil
3 skinless, boneless chicken breast halves, cut into bite-size pieces
1 cup sliced carrots
⅓ cup frozen green peas
4 cups chicken broth
1 cup chopped celery
½ red onion, chopped
¾ cup chopped fresh mushrooms
1 cup uncooked egg noodles
Directions: Heat oil in a medium skillet over medium-high heat. Fry chicken pieces in the oil until slightly browned and the juices run clear. Remove from the pan and drain on a paper towel. In a large saucepan or Dutch oven, heat chicken broth over medium heat. Add the carrots, peas, celery, onion and mushrooms. Bring to a boil, then reduce heat and let simmer for 20 to 25 minutes. Add the noodles and cook for 10 more minutes or until noodles are al dente.
More from Life Cheat Sheet:
Want more great content like this? Sign up here to receive the best of Cheat Sheet delivered daily. No spam; just tailored content straight to your inbox.