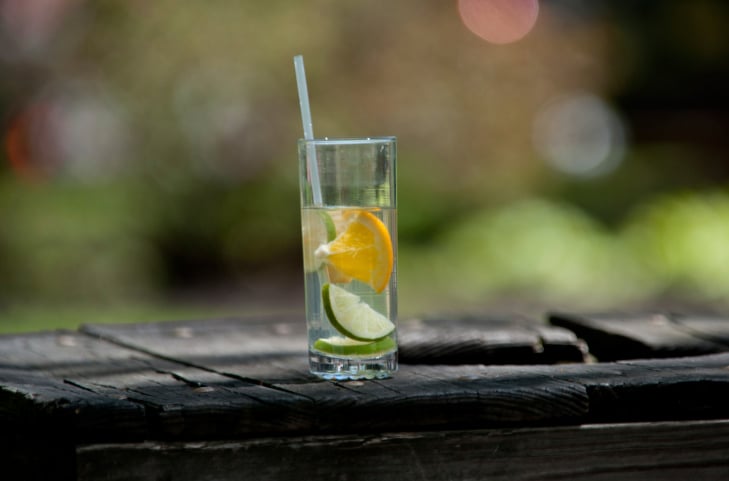 In the summer heat, there's nothing more thirst-quenching than a fruity drink, glass of cold lemonade, or homemade spritzer. Throughout the winter months, coffee, hot chocolate, and tea are the beverages that reign on people's side tables and desks, but once the summertime rolls around, the craving for cold, refreshing drinks strikes again, and those are what we're talking about today. Fun, fruity drinks keep your sugar levels up, keep your mouth from getting parched, and keep a spring in your step. No alcohol is necessary to keep these six drinks flavorful, although if you want to, you can always add a little somethin'-somethin' for a little extra kick. No matter if you're serving minors or adults, blend up these delicious non-alcoholic drinks to serve alongside your hot dogs and hamburgers this summer.
1. Homemade Lemonade
First up is a homemade lemonade recipe from The Pioneer Woman that certainly doesn't require any store bought powdered drink mix. Instead, you only need four ingredients for this iconic summer drink and they include sugar, lemon, water, and ice. Doesn't get much simpler than that. Make lemonade the old-fashioned way this summer and prove to yourself that the sweet and sour beverage doesn't have to come out of a box. This is a recipe that you'll pull out time and time again.
Ingredients:
4 cups sugar
6 cups water
24 whole lemons, juiced
8 cups water (additional)
Lots of ice
Directions: Heat 4 cups sugar with 6 cups of water in a medium saucepan until it's dissolved. Set this in the fridge to cool. Chill the lemon juice if you have the time.
Pour the lemon juice into a large vat. Pour in 3/4 of the syrup, then top off the vat with ice. Pour in 8 cups of water (give or take), stir it around, then give it a taste. Add more syrup if it needs sweetness, or more water if it needs dilution. Serve immediately. Add 2 cups raspberries, blueberries, blackberries, or sliced strawberries to the lemonade for different flavors. Make hard lemonade by adding 2 cups light rum or tequila to the lemonade.