6 Fun Ways to Enjoy Beer in Your Dessert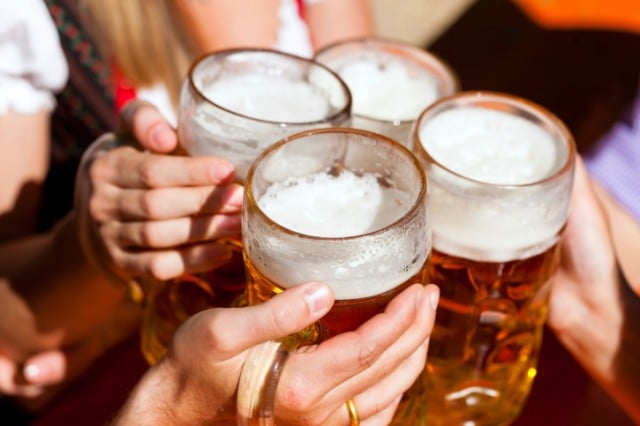 Looking for exciting new ways to enjoy your beer outside of a pint glass? Try it for dessert! Beer comes in all kinds of varieties — lagers, ales, stouts, and more — each of which lends itself to a different sort of innovative and complex dessert offering. The options for enjoying beer in the final course of your meal are virtually limitless. Beer: It's as good to eat as it is to drink, and these 6 recipes prove it!
1. Belgian White Beer Cookies With Orange Icing
The orange zest and coriander in this recipe will help highlight the flavor notes frequently found in Belgian white beers. These cookies are a sweet, light, and slightly citrusy treat — enjoy them with tea or coffee at your next gathering. But really, who needs an occasion to make beer cookies? This recipe from Food Republic yields 12 servings and takes 50 minutes to complete.
Ingredients:
For the Cookies
24 ounces Belgian white beer
5 tablespoons honey
¾ cup unsalted butter, at room temperature
1 ¼ cups powdered sugar
1 large egg
½ teaspoon vanilla extract
Zest of one orange
2 teaspoons ground coriander
2 cups all-purpose flour
½ teaspoon baking soda
For the Icing
½ teaspoon vanilla extract
1 cup powdered sugar
1 tablespoon orange juice
1 tablespoon whole milk
Zest of one orange
Directions: For the cookies, preheat oven to 350 degrees Fahrenheit. Reduce beer and honey in a medium saucepan over medium heat, skimming occasionally, until you have about ⅓ cup of liquid or when it begins aggressively foaming due to the increased sugar content. Let this reduction cool to room temperature.
While it's cooling, cream the butter and sugar together. Add the egg and blend thoroughly. Then add the vanilla, orange zest, coriander, and beer reduction and blend again. Mix the flour and baking soda together then slowly add to the batter.
Scoop mounds of cookies onto an aluminum cookie sheet lined with parchment. Bake for 15-20 minutes. Let the cookies cool on the cookie sheet until they are cool enough (about 10 minutes) to transfer to wire racks to cool completely.
For the icing, whisk the vanilla into the sugar. Mix the orange juice and milk together. Add milk and orange juice mixture to sugar until you reach the consistency of a thick paste. Add orange zest. Using a butter knife put a dollop of icing on each cool cookie and spread it over the top.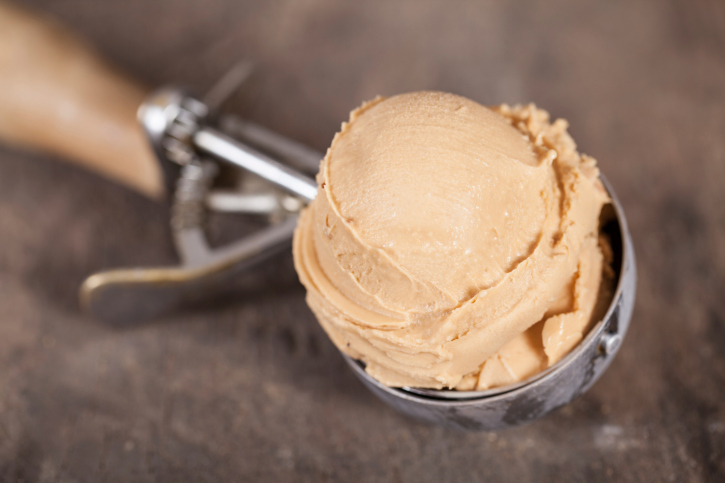 2. Bock Ice Cream
A bock beer drinks smoothly, but has strong and malty characteristics. If you don't have any on hand, you can substitute a stout beer in its stead. This recipe from Homesick Texan is both rich and sweet; best results will be obtained using an ice cream maker. The recipe yields 4-6 servings and takes about 30 minutes to prepare, plus 4 or so hours to chill. Homesick Texan recommends serving along with cajeta, a caramel syrup.
Ingredients:
2 cups heavy cream
1 cup bock beer
½ cup granulated sugar
¼ cup brown sugar
¼ teaspoon kosher salt
4 egg yolks, beaten
2 teaspoons vanilla extract
Cajeta, for serving (optional)
Crushed peanuts, for serving (optional)
Directions: In a large saucepan, stir together the cream, Shiner Bock, granulated sugar, brown sugar, and salt. Place over medium-low heat and cook just until the mixture is warm — do not let it boil — about 3-5 minutes. 

When the cream is warm, scoop out ¼ cup of the mixture and stir into the beaten egg yolks until well-combined. Slowly pour the cream and egg yolks back into the pot and while stirring, continue to cook until the mixture is thickened and coats the back of a spoon, about 2 to 4 minutes. Again, do not let it boil. Remove the cream mixture from heat, stir in the vanilla, and then cool covered in the refrigerator for at least 4 hours. 

After the cream has cooled, freeze in your ice cream machine according to the manufacturer's instructions. Chill in the freezer for 4 hours for a firmer ice cream or serve immediately for a softer ice cream. 

If you like, serve topped with warmed cajeta and crushed peanuts. 

3. Beer Apple Doughnuts
These delightful doughnut-fritter hybrids are packed with chunks of apple and topped with a sweet, subtly spiced glaze. Use your favorite lager — nothing too heavy in this dish — to achieve perfectly soft and cakey results. This recipe from Food 52 yields 12 doughnuts and takes about an hour and 15 minutes to complete.
Ingredients:
For the Doughnuts
2 Granny Smith apples, peeled, cored, and cut into ¼-inch pieces
2 cups all-purpose flour
⅓ cup granulated sugar
1 tablespoon baking powder
1 teaspoon salt
1 teaspoon ground cinnamon
¼ teaspoon ground cardamom
¾ cup light beer (lager)
2 large eggs, lightly beaten
2 tablespoons unsalted butter, melted
1 teaspoon vanilla extract
3 cups peanut or vegetable oil
For the Glaze
2 cups confectioners' sugar
¼ cup freshly squeezed orange juice or apple cider (I used orange juice)
½ teaspoon ground cinnamon
¼ teaspoon cardamom
½ teaspoon vanilla extract
Directions: Spread prepared apples in single layer on paper towel-lined baking sheet and pat thoroughly dry with paper towels. Combine flour, granulated sugar, baking powder, salt, cinnamon, and cardamom in large bowl.
Whisk beer, eggs, vanilla extract, and melted butter in medium bowl until combined. Stir apples into flour mixture, making sure that each piece is covered with the flour mixture. Stir in beer mixture until fully incorporated.
Heat oil in Dutch oven over medium-high heat to 350 degrees Fahrenheit. Using ¼-cup measure transfer 4-5 portions of batter to oil. Press batter lightly with back of spoon to flatten. Fry, adjusting burner as necessary to maintain oil temperature between 325 and 350 degrees Fahrenheit, until deep golden brown, 2 to 3 minutes per side.
Transfer doughnuts to wire rack set inside rimmed baking sheet. Bring oil back to 350 degrees Fahrenheit and repeat with remaining batter. Let doughnuts cool 5 minutes.
For the glaze, whisk confectioners' sugar, orange juice or cider, cinnamon, cardamom, and vanilla in medium bowl until smooth. Top each fritter with 1 heaping tablespoon glaze. Let glaze set 10 minutes. Serve.
4. Chocolate Guinness Cake
As far as beers and desserts go, Guinness (or any other rich stout) makes a great accompaniment to chocolate and coffee flavors. This moist chocolate cake is an irresistible addition to any dessert spread. The creamy topping appears as the head of a pint of stout would, making this dish all the more tantalizing. This recipe from Taste of Home takes about an hour and 15 minutes to complete and yields 12 servings.
Ingredients:
For the Cake
1 cup Guinness (dark beer)
½ cup butter, cubed
2 cups sugar
¾ cup baking cocoa
2 eggs, beaten
⅔ cup sour cream
3 teaspoons vanilla extract
2 cups all-purpose flour
1 ½ teaspoons baking soda
For the Topping
1 package (8 ounces) cream cheese, softened
1 ½ cups confectioners' sugar
½ cup heavy whipping cream
Directions: Grease a 9-inch springform pan and line the bottom with parchment paper; set aside.
In a small saucepan, heat beer and butter until butter is melted. Remove from the heat; whisk in sugar and cocoa until blended. Combine the eggs, sour cream and vanilla; whisk into beer mixture. Combine flour and baking soda; whisk into beer mixture until smooth. Pour batter into prepared pan.
Bake at 350 degrees Fahrenheit for 45-50 minutes or until a toothpick inserted near the center comes out clean. Cool completely in pan on a wire rack. Remove sides of pan.
In a large bowl, beat cream cheese until fluffy. Add confectioners' sugar and cream; beat until smooth. Remove cake from the pan and place on a platter or cake stand. Ice top of cake so that it resembles a frothy pint of beer. Refrigerate leftovers.
5. Pineapple Pale Ale Cream Cheese Tart
The Beeroness is a trusted authority on cooking or baking beer into any of your favorite foods, dessert being no different! The fruitiness of the pineapple will play wonderfully off the fragrant and floral notes of an IPA, establishing a tasty flavor balance that all can enjoy. The addition of cream cheese adds a rich, hearty texture and taste. This Beeroness recipe yields 8 servings and takes about 2 hours to complete. It's worth the wait!
Ingredients:
For the Crust
9 standard sized graham crackers
2 tablespoons brown sugar
Pinch salt
4 tablespoons melted butter
For the Filling
1 ¾ cups pineapple chunks
3 tablespoons cornstarch
6 ounces cream cheese, softened
⅔ cup granulated sugar
3 eggs
⅔ cup pale ale
For the Topping
1 cup whipped cream
½ cup powdered sugar
2 tablespoons pale ale
¼ cup sweetened coconut flake
¼ cup almond slices
Directions: Preheat oven to 350 degrees Fahrenheit. In a food processor, add the graham crackers, brown sugar, and salt process until only crumbs remain. While the food processor is still running add the melted butter, process until it resembles wet sand. Dump into the bottom of a 9-inch tart pan. Starting with the sides, press the crust evenly into the tart pan.
Put the pineapple chunks in the food processor, sprinkle with cornstarch, and process until smooth. In the bowl of a stand mixer beat the cream cheese with the sugar until well-combined. Add the eggs, one at a time, beating well between additions. Mix in the pineapple puree. Add the beer, mix until well-combined. Pour into the tart shell.
Bake at 350 degrees Fahrenheit for 55 to 60 minutes or until the top of the tart turns golden brown. Allow to cool at room temperature for ten minutes. Refrigerate until set and chilled, about 3 hours.
In the bowl of a stand mixer, add the whipped cream, powdered sugar, and pale ale. Beat on high until soft peaks form. Add to the top of the cooled tart. Chill tart until ready to serve.
Add the coconut and almonds to a dry pan. Add to medium high heat, toss continually until toasted, about 5 minutes. Top the tart with toasted coconut and almonds just prior to serving.
6. Beer Tiramisu
Beer tiramisu, or "beeramisu," offers up the unrivaled complementary tastes of chocolate, coffee, and rich stout beer. This recipe from Tablespoon is an exciting twist on the light, fluffy Italian dessert standard. Pair it with a mug of coffee and you might even be able to pass it off as breakfast (though your doctor may not agree.) This recipe takes about 45 minutes to complete (plus 2 hours chill time) and yields around 16 servings.
Ingredients:
1 ½ cups cream cheese
1 cup heavy cream
1 cup confectioner's sugar
1 egg, beaten (optional)
1 tablespoon vanilla extract
42 to 48 ladyfinger cookies
¾ cup coffee stout, chocolate stout or Porter beer
½ cup strong brewed coffee or espresso
½ cup cocoa powder
Directions: In a medium bowl, whip ¾ cup heavy whipping cream. Set aside. In a separate, large bowl, whip (using a hand mixer) cream cheese, remaining heavy cream, sugar, egg, and vanilla. Fold in whipped cream and set aside.
In a shallow pie dish or bowl, stir together beer and coffee. Dip individual ladyfingers very quickly into the dish, careful not to make them too soggy. Place in the bottom of an 8 by 8-inch baking dish in neat, tight rows until the bottom is filled.
Carefully spread ½-inch layer of cream cheese mixture on top of the soaked ladyfingers. Sprinkle with ¼ cup cocoa powder. Repeat with another ladyfinger layer, then top with remaining cream cheese mixture and cocoa powder.
Cover and refrigerate until chilled and set, about 2 hours.
More From Life Cheat Sheet:
Want more great content like this? Sign up here to receive the best of Cheat Sheet delivered daily. No spam; just tailored content straight to your inbox.