6 Recipes to Make When You Need a Great Dish Last-Minute
Spontaneous plans are the best plans, and that's why last-minute summer get-togethers are sometimes the most fun. Unexpected soirées are all about low stress, casual dress, and simple cooking. And while you shouldn't show up empty-handed to any party no matter how late the notice, there's no need to worry about making a dish last minute. Simply check out this list of six fuss-free summer recipes and choose one to quickly whip up and serve at your next backyard party.
1. Summer Chicken Salad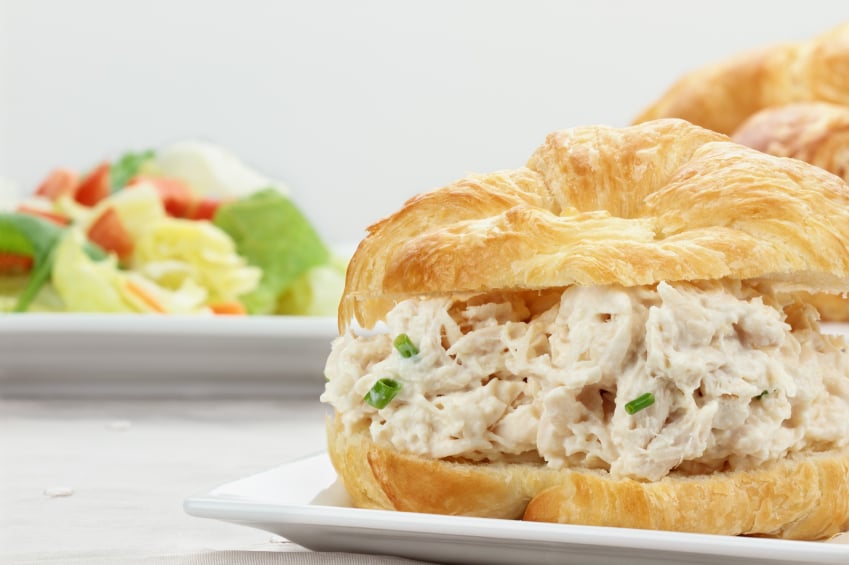 Chicken salad is the perfect dish to serve at parties, as it is easy to prepare, satisfies a crowd, and requires little prep work. Follow this recipe from Taste of Home, which requires pre-cooked chicken and any fruits or chopped vegetables you have on hand. You can go heavy-handed on the mayonnaise or lighten up the salad with Greek yogurt instead. Leave the dish in the refrigerator until it is go-time, and serve the good stuff on fresh croissants or in lettuce cups.
Ingredients:
2 cups cubed cooked chicken

1 celery rib, thinly sliced

½ cup seedless red grapes

⅓ cup raisins

½ cup mayonnaise

½ teaspoon salt

⅛ teaspoon pepper

⅓ cup chopped pecans

Leaf lettuce

Tomato slices, optional
Directions: In a large bowl, combine the chicken, celery, grapes, and raisins. In a small bowl, combine the mayonnaise, salt, and pepper. Add to chicken mixture; toss to coat. Stir in pecans. Serve on lettuce. Garnish with tomato if desired.
2. Summer Corn and Tomato Pasta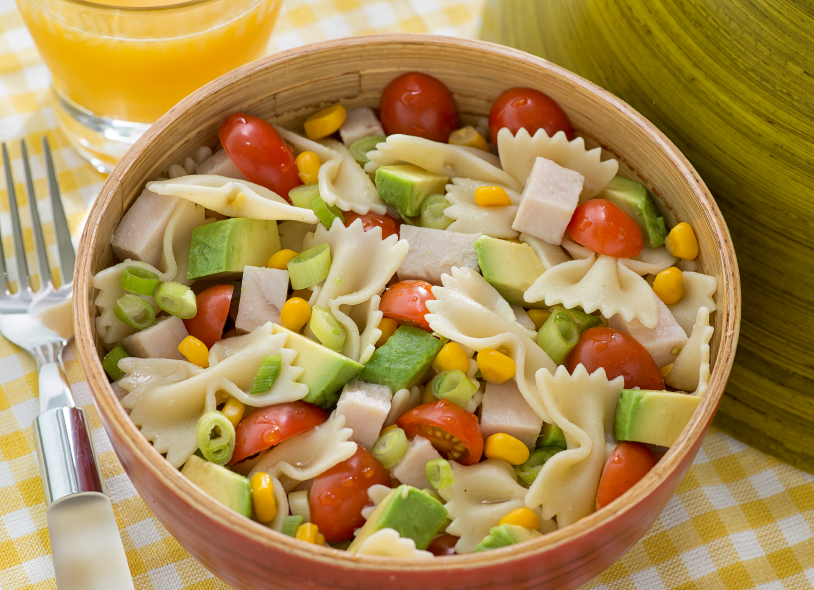 Next, take a page from Rachael Ray's book, and make her simple summer corn and tomato pasta. This dish takes advantage of prime summer produce and combines the fresh flavors of tomatoes, corn, basil, and butter. The only thing you have to cook for this satisfying supper is the pasta; the dish comes together in only 20 minutes.
Ingredients:
Salt

1 pound

bow-tie pasta

2 tablespoons

extra-virgin olive oil

2

garlic cloves, smashed

1 pint

cherry tomatoes

3

ears fresh corn, kernels cut off

2 tablespoons

unsalted butter

¼ cup

fresh basil leaves, torn into pieces
Directions: Bring a large pot of salted water to a boil and cook the pasta until al dente; drain.
Meanwhile, in a large skillet, heat the olive oil over medium heat. Add the garlic and tomatoes and cook, stirring occasionally, until the tomatoes are softened, about 5 minutes. Stir in the corn, raise the heat slightly and cook until the corn is heated through and golden, about 5 minutes. Season to taste with salt.
Add the vegetables, butter, and basil to the pasta and toss.
3. Mayo-Less Red Skinned Potato Salad
Summer is all about salads, including the ever-adored potato salad, but if you're trying to steer clear of mayo during the sunny season, try this simple recipe from Iowa Girl Eats for red skinned potato salad. This dish comes together in no time and also can be served hot or cold. The red-skinned potatoes should be dressed while they're warm, allowing the flavors of the vinaigrette to sink in, but after a quick stint in the refrigerator, the dish is good to go. Everyone loves their tried-and-true potato salad, but this recipe yields a fun twist on a classic.
Ingredients:
1½ pounds baby red skinned potatoes, quartered
1 jumbo sweet onion, chopped
1 tablespoon extra virgin olive oil
Salt
3 eggs
4 slices bacon, cooked and crumbled
2 green onions, chopped
Honey-Dijon Vinaigrette
½ cup extra virgin olive oil

¼ cup apple cider vinegar
2 tablespoons Dijon mustard
2 tablespoons honey
Salt and pepper
Directions: Add Honey-Dijon Vinaigrette ingredients to a jar with a tight fitting lid or bowl then shake or whisk to combine. Set aside.
Add potatoes to a large pot then fill with cold water and season with salt. Bring to a boil then cook until potatoes are tender, 10 to 15 minutes. Drain then return potatoes to pot off the heat for 5 minutes to help evaporate excess water.
Toss warm potatoes with ⅓ cup Honey-Dijon Vinaigrette then refrigerate for 1 hour or up to overnight.
Heat olive oil in a large skillet over medium heat then add onions and a dash of salt. Cook, stirring every so often until onions reach a caramel brown color, 20 to 25 minutes, reducing heat slightly if they start to brown too quickly. Remove skillet from heat then let cool slightly.
Place eggs in a saucepan then cover tops by 1 inch with cold water. Bring to a boil, place a lid on top, then remove pan from heat and let sit for 12 minutes. Drain then plunge eggs into ice water or run under cold water for a few minutes. Peel eggs when cool enough to handle then chop and set aside.
Combine marinated potatoes with caramelized onions, chopped hard-boiled eggs, bacon, and green onions with as much Honey-Dijon Vinaigrette as you like then toss to combine. Taste then adjust salt and pepper if necessary.
4. Mexican Seven-Layer Dip
If you want to bring a last-minute dip to your summer party, consider this seven-layer delight from Midwest Living. Everyone loves Mexican food, and this dip is the easiest to prepare. Thanks to store-bought ingredients including bean dip, guacamole, taco sauce, and sour cream, all you have to do to make the dip is make a bean and guac-heavy base before topping it with olives and cheese. Refrigerate your appetizer before serving and don't forget your chips!
Ingredients:
1 (

9-ounce) can bean dip


¼ cup

picante or taco sauce


1 (

8-ounce) container refrigerated guacamole


1 (

8-ounce) carton dairy sour cream


1

cup shredded cheddar or taco cheese


¼ cup

sliced green onion


2

tablespoons sliced pitted ripe olives


⅔ cup

chopped, seeded tomato


8

cups

tortilla chips or crackers
Directions: Combine bean dip and picante sauce; spread into a rectangle about 9-by 5-inches on a serving platter making a layer about ¼-inch thick. Next carefully layer avocado dip and sour cream. Top with cheese, green onion, and olives. Cover and chill for 4 to 24 hours.
Before serving, sprinkle with chopped tomato. Serve with tortilla chips.
5. Honey Lime Rainbow Fruit Salad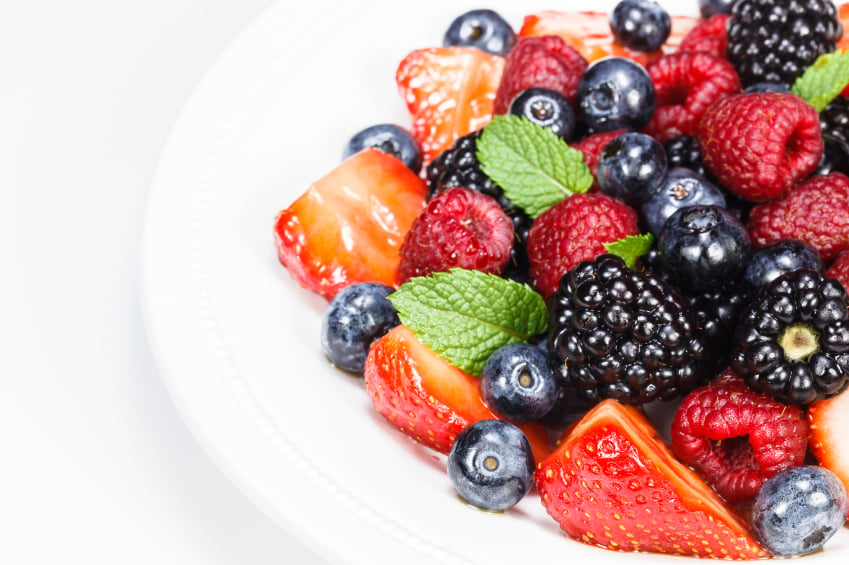 Taste the rainbow with this honey lime rainbow fruit salad from Cooking Classy. The guests you are serving at your get-together won't even know this dish came together last minute because they'll be too busy enjoying the fresh fruit dressed with a tangy sweet honey sauce. This salad couldn't be prettier and summer's candy couldn't be tastier. Combining fresh strawberries, pineapple, blueberries, kiwi, and grapes, it's safe to say this dish will be the most colorful on the food table.
Ingredients:
1 pound fresh strawberries, diced
1 pound fresh pineapple, diced
12 ounces fresh blueberries
12 ounces red grapes, diced into halves
4 kiwis, peeled and diced
1 can mandarin oranges in juice, drained well and sliced into halves
2 ripe bananas, diced
Honey Lime Dressing
¼ cup honey
2 teaspoons lime zest
1 tablespoon fresh lime juice
Directions: Add all fruit to a large mixing bowl. In a small mixing bowl, whisk together they honey, lime zest, and lime juice. Pour over fruit just before serving and toss to evenly coat.
6. Tomato, Watermelon, and Basil Skewers
Last but not least: a different kind of skewer featured on Cooking Channel TV. Rather than spiking beef or chicken, the skewers in this recipe are spearing fresh pink and red fruit dressed in a balsamic syrup. It doesn't get more simple and sophisticated than that. These tomato, watermelon, and basil skewers are fun to prepare and easy to eat. Everyone loves party food they can eat with their hands, and this cool combination of savory and sweet couldn't be more surprisingly satisfying. And better yet, the skewers can be made in 20 minutes or less.
Ingredients:
¼ cup balsamic vinegar
¼ cup sugar
1 watermelon, cut into 32 1½-inch cubes
32 small basil leaves
16 cherry tomatoes, halved
2 tablespoons extra-virgin olive oil
Kosher salt
Directions: Combine the balsamic vinegar and sugar in a small saucepan over medium heat. Bring to a simmer, stirring occasionally, until the sugar is dissolved. Turn off the heat and set aside to cool. Starting with the watermelon squares, push the watermelon to the very tip of the skewer. Then skewer a basil leaf, then a tomato half. Continue with another watermelon, basil leaf, and tomato half. Place the skewer on a serving platter so it stands upright, using the lowest watermelon square as a base. Continue with the remaining skewers.
Drizzle the skewers with the reserved balsamic syrup and the olive oil. Sprinkle with coarse salt. Serve.
More from Culture Cheat Sheet: