6 Recipes For Galettes, a Pie That Can Be Savory or Sweet
A galette is a rustic, free-form pie that can be either savory or sweet. Making a galette is easy: 1 batch of pie dough gets rolled out, dressed up with simple fillings, folded at the edges, and baked on a pan or bare on a pizza stone. If you like to take it easy and curl up for a night in every so often, you should be making galettes. If pies like to show up dressed to the nines after much tweaking and primping, galettes are their laid back, sexy friend who just throws on any old thing and still shows up looking great.
This is the type of meal that you don't really need a recipe for; just a few odds and ends from the fridge tossed together with some spices will do. To get you started, though, here are six delicious galettes for when you need a relaxed, rustic dinner that still shows up looking great.
1. Kale and Squash Galette With an Olive Oil Crust
This recipe from Eating Well features kabocha squash, a Japanese pumpkin with a flavor profile not quite as sweet as butternut, not quite as savory as acorn, and with a tender-yet-meaty texture. Kabocha squashes are a bit squat and often either green-peeled or bright orange with a porous, gnarled stem, and can sometimes be found in stores. This would also work with thinly sliced butternut, acorn, or delicata if need be. This crust is made with a yeasted olive oil dough rather than a flaky, buttery pie crust, making it a bit more forgiving in the end. It's so relaxed that you can roast the squash with the peel still on.
Ingredients:
Dough
1 cup lukewarm water
2 teaspoons sugar
1 teaspoon active dry yeast
1¼ cups white whole-wheat flour
1¼ cups all-purpose flour, plus more for rolling
1 teaspoon salt
2 tablespoons extra-virgin olive oil, plus more as needed
Filling
3 tablespoons extra-virgin olive oil, divided
2 medium yellow onions, sliced
1 teaspoon salt, divided
1 2-pound kabocha squash
2 large cloves garlic, finely chopped
10 cups coarsely chopped kale
2 tablespoons water, plus more as needed
½ cup shredded Gouda cheese, divided
¼ cup pine nuts
Directions: Combine water, sugar and yeast in a small bowl; stir to dissolve the yeast, then set aside for a few minutes until foamy.
Combine whole-wheat flour, all-purpose flour and salt in a medium bowl. Whisk 2 tablespoons oil into the foamy yeast mixture. Pour the liquid into the flour mixture and mix with a wooden spoon until a dough forms; it will be soft. Turn the dough out onto a lightly floured board and knead until it is smooth and pliant and springs back when pushed down, 3 to 4 minutes. Sprinkle with flour as needed to keep the dough from sticking, but don't let it get stiff and dry.
Lightly coat a large bowl with oil. Shape the dough into a ball and place in the bowl, turning to coat with oil. Cover with a towel or plastic wrap and set in a warm, draft-free place to rise until roughly double in size, about 1 hour.
Preheat oven to 400 degrees Fahrenheit. Lightly coat a large baking sheet with oil or cooking spray.
While the dough is rising, heat 1 tablespoon oil in a large skillet over high heat. Add onions and ½ teaspoon salt and cook, stirring, until just starting to lightly brown, 3 to 5 minutes. Reduce heat to medium-low, cover and cook, stirring occasionally, until soft and golden brown, 20 to 30 minutes.
While the onions are cooking, scrub squash clean. Cut it in half and remove the stem and seeds. Cut into fairly thin wedges, about ½-inch wide at the rind. Toss the squash with 1 tablespoon oil and ¼ teaspoon salt in a large bowl, rubbing lightly with your hands until all the slices are well coated. Spread in a single layer on the prepared baking sheet. Bake, turning the slices over about halfway through, until tender and browned, 30 to 35 minutes.
When the onions are done, push them to the edges of the pan; add the remaining 1 tablespoon oil to the center, then add garlic and cook, stirring, about 1 minute. Add kale and the remaining ¼ teaspoon salt; cook, stirring, until the kale is wilted, 3 to 5 minutes. Add 2 tablespoons water, cover and cook, stirring once or twice and adding water by the tablespoon if the pan is dry, until the kale is just tender, 10 to 15 minutes. Remove from heat and stir in ¼ cup cheese.
When the squash is done, reserve 6 of the prettiest slices. Cut the remaining slices into 1-inch pieces. Add the squash pieces to the onion-kale mixture and gently combine.
Place a large piece of parchment paper on a work surface and dust it with flour. Roll the risen dough into a thin round, 15 to 16 inches across.
Spread the onion-kale-squash mixture over the dough, leaving a 2-inch border around the edge. Arrange the reserved squash slices decoratively on top and gently press into the filling. Sprinkle the remaining ¼ cup cheese and pine nuts on top. Fold the edges of the dough up over the filling in loose pleats. Lift or slide the galette, parchment and all, onto a large baking sheet. Trim off any overhanging parchment.
Bake the galette until the edges are lightly brown and sound hollow when tapped, 30 to 35 minutes. Let cool at least 15 minutes before serving. Serve warm or at room temperature.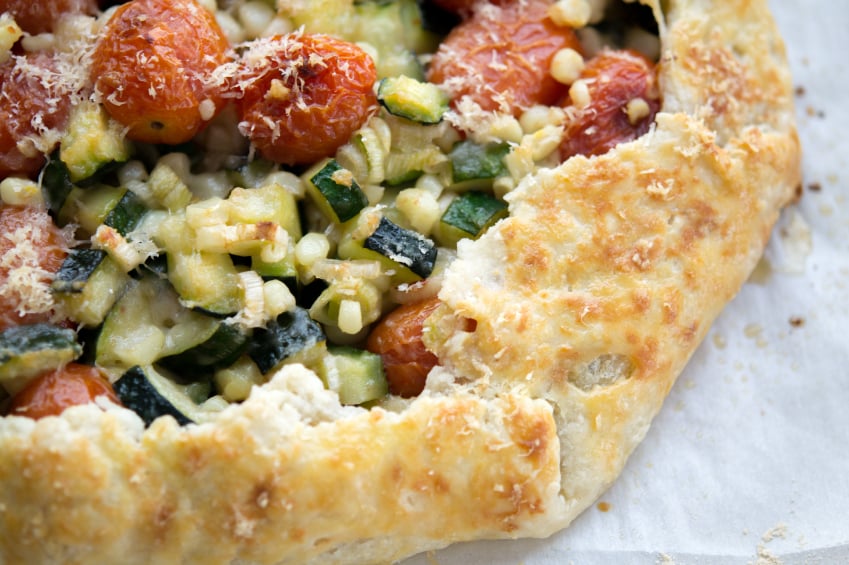 2. Burst Tomato Galette With Corn and Zucchini
This galette combines the concentrated flavor of skillet-darkened cherry tomatoes with the sweetness of fresh corn and zucchini and the savory flavor of Parmesan cheese. It's best made in summer at the height of freshness, but can be approximated with grocery store produce any time of year. Deb from Smitten Kitchen warns that some of the juice from the tomatoes will run when you cut the galette, but really, that's OK.
Ingredients:
Crust
1¼ cups all-purpose flour
¼ teaspoon table salt
8 tablespoons cold unsalted butter, cut into pieces and chill again
¼ cup plain yogurt or sour cream
2 teaspoons fresh lemon juice
¼ cup ice water
Filling
1 tablespoon olive oil
¼ teaspoon coarse Kosher or sea salt
3 cups cherry or grape tomatoes
1 ear corn, cut from the cob
1 small zucchini or summer squash, diced
1 bundle scallions, thinly sliced
½ cup grated parmesan
Glaze
1 egg yolk beaten with 1 teaspoon water
Directions: Whisk stir the flour and salt in a large bowl. Sprinkle bits of butter over dough and using a pastry blender or your fingertips, work it into the flour until the mixture resembles coarse meal, with the biggest pieces of butter the size of tiny peas. In a small bowl, stir together the sour cream, lemon juice and water and add this to the butter-flour mixture. With your fingertips or a wooden spoon, mix in the liquid until large lumps form. Pat the lumps into a ball. Wrap with plastic and refrigerate for 1 hour, or up to 2 days.
Use a saute pan with a lid for this dish. Add olive oil, tomatoes, salt, and a pinch of red pepper flakes to your sauté pan then cover and heat over high heat. Roll the tomatoes around from time to time so that they'll cook evenly. In a few minutes, you'll hear some putts and pops as the tomatoes burst a little. When most have, remove lid, turn heat down to medium and add zucchini chunks. Sauté for two minutes, until they soften. Add corn and cook one minute. Add scallions, just stirring them in, then turn off heat. Adjust seasonings if needed. Transfer mixture to a large plate and spread it out, so that it will cool to at least lukewarm before assembling the galette.
Heat oven to 400 degrees Fahrenheit. On a floured counter, roll the dough out into a 12-inch round. Transfer to a parchment-lined baking sheet. Sprinkle tomato-zucchini-corn mixture with half of parmesan and spoon the mixture into the center of the dough, leaving a 2-inch border. Sprinkle with almost all of remaining Parmesan, leaving a pinch or two behind for the crust. Fold the border over the filling, pleating the edge to make it fit. The center will be open. Brush crust with egg yolk glaze. Sprinkle glaze with last pinches of Parmesan.
Bake for 30 to 40 minutes, or until puffed and golden brown. Remove from the oven and let stand for 5 minutes, then slide the galette onto a serving plate. Cut into wedges and serve hot, warm or at room temperature.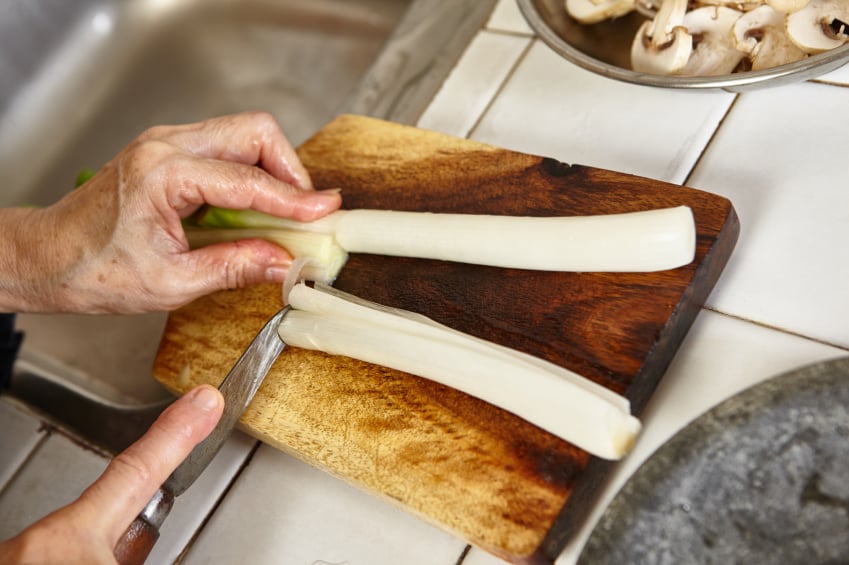 3. Leek, Fennel, and Mushroom
This galette uses the sweetness of the leek, the springy taste of fennel bulb, and the woodsy flavor of mushrooms for a balanced filling that just works together. Food52 suggests serving this with a brightly dressed salad and glass of wine. Sounds just about perfect.
Ingredients:
Crust
1¼ cups all-purpose flour
1 teaspoon sugar
½ teaspoon salt
6 tablespoons unsalted butter, cold, cut into small pieces
1 egg
1 teaspoon ice water
Filling
6 tablespoons unsalted butter, divided
16 ounces baby bella mushrooms, thinly sliced
1 clove garlic, finely chopped
Salt and black pepper to taste
2 tablespoons white wine
1 tablespoon olive oil
1 fennel bulb, washed, trimmed and bulb finely chopped
2 large leeks, washed, trimmed, and cut in half lengthwise and sliced cross-wise into ¼-inch half moons
¼ cup finely chopped shallots
⅓ cup grated Fontina cheese
¼ cup grated Parmesan cheese
1 tablespoon chopped mixed olives
1 tablespoon chopped fresh thyme leaves
Directions: Place the flour, sugar, and salt into the food processor and pulse a few times to mix. Add the bits of butter and pulse until the butter is mixed into the flour so that it resembles a coarse meal. Whisk the egg with the ice water and pour into the food processor a little bit at a time, pulsing once after each addition. Don't overwork the dough. Pour the dough out onto a counter and roll it into a ball. Again, don't overwork the dough. Now, flatten it with your hands into a small disk; wrap in plastic and chill for at least 3 hours.
Preheat the oven to 400 degrees Fahrenheit. In a large skillet, melt 4 tablespoons of the butter over medium-high heat. When the butter is bubbling and beginning to brown, add the mushrooms and sauté. They will release liquid as they cook. Cook until this liquid has evaporated from the pan and the mushrooms begin to brown, about 10 minutes. Add the garlic and sauté 1 minute more. Add the white wine and deglaze the pan, scraping up the browned bits as you stir, allowing the wine to evaporate. Season the mushrooms with salt and pepper to taste and remove the pan from the heat.
In another large skillet, melt 2 tablespoons of butter and 1 tablespoon olive oil over medium-high heat. When the butter begins to bubble and turn brown, add the fennel, leeks, and shallot. Sauté until soft and beginning to brown, about 10 to 15 minutes. Season to taste with salt and pepper.
Place the disc of dough between two sheets of wax paper and roll it out into a rough ¼-inch thick square or circle. Transfer the dough to a buttered baking sheet. Leaving a 2-inch border, sprinkle the dough with the Fontina cheese. Mix the mushrooms and leek mixture together in one of the skillets. Pour the vegetables into the center of the galette and spread out into an even layer, leaving the 2-inch border. Fold the edges over. Sprinkle the top with Parmesan cheese, olives, and thyme leaves. Place in the center of the oven. Bake until the crust is golden brown, about 25 to 30 minutes.
4. Beet and Caramelized Onion
This galette, like the last, combines earthy flavors with sweet alliums for a delicious tart, best served with a zippy salad. This one from Cannelle e Vanille uses the milder golden beets and slow-caramelized onions over a hazelnut-enriched crust. We like the crust from Bon Appétit on Epicurious, omitting the brown sugar.
Ingredients:
1 recipe for savory tart dough
2 tablespoons olive oil
½ medium onion, thinly sliced
¼ teaspoon salt
⅛ teaspoon ground black pepper
3 medium golden beets, peeled and thinly sliced with a mandoline
Fresh thyme leaves
Directions: Preheat oven to 400 degrees Fahrenheit.
In a medium sauté pan, heat the olive oil over medium heat. Add the onions, salt, and black pepper. Cook until soft and slightly caramelized, about 8 minutes. Let the onions cool completely.
Roll the tart dough into a disk that is ⅛-inch thick. Place on a sheet pan lined with parchment paper. Spread the cooled caramelized onions on the dough and top with the thinly sliced beets leaving a 2-inch border on the sides. Fold the dough over the beets. Gently tuck in the edges and pinch any cracked parts.
Chill the galette for 15 minutes. Top with fresh thyme and bake for 30 minutes or until golden brown.
5. Roasted Red Pepper, Black Beans, and Avocados
This Mexican-inspired galette from Domestic Fits is a delicious take on standard fajita ingredients. It's like a mash-up of pie, pizza, and tacos, and we're pretty sure that's one of the best things we've ever heard.
Ingredients:
Crust
2 cups flour
1 teaspoon salt
1 teaspoon sugar
1½ sticks of butter
⅓ cup ice cold water
1 tablespoon melted butter
Filling
¼ cup tomato paste
2 teaspoons minced chipotle pepper
2 tablespoons oil
2 tablespoons warm water
1 roma tomato, thinly sliced
2 jalapeños, sliced, stem and seeds removed
1 roasted red pepper, sliced
½ cup cooked black beans, drained and rinsed
¼ cup corn kernels
1 large avocado, diced
¼ cup crema or sour cream
½ cup cilantro
Directions: In a food processor add 1⅓ cup flour, salt, sugar, and butter, process until well combined. Add the remaining flour and process again until combined.
Transfer to a bowl and mix in the water until just combined. The dough should be soft. Form dough into a disk, wrap with plastic wrap and chill in the refrigerator for 2 hours. Can be made three days ahead of time.
Preheat oven to 375 degrees Fahrenheit.
In a small bowl, add the tomato paste, chipotle, water and oil, stir until combined.
On a lightly floured surface, roll the dough into a 16-inch rustic circle. Transfer dough to a baking sheet that has been covered with parchment paper.
Spread the center with the tomato chipotle mixture, leaving about 2 inches of the edges bare.
Add the roasted red pepper, jalapeños, black beans, and corn. Fold the edges up over the filling, leaving a portion of the center still exposed. Brush the edges with melted butter.
Bake 30 to 35 minutes or until the crust is golden brown. Remove from the oven, top with avocado, crema, and cilantro.
6. Rye Galettes With Fennel, Apple, and Goat Cheese
The crust of this galette is fortified with healthy, satisfying rye flour. The filling, a sweet mixture of caramelized fennel, softened apples, and tangy goat cheese is perfectly balanced by the hearty crust. Though you could make one big galette, this recipe from A Tasty Love Story makes 6 individual galettes.
Ingredients:
Crust
3½ ounces butter or flavor-free coconut oil
¼ to ⅓ cup ice cold water
1 cup rye flour
1¼ cup plain white wheat flour
1 teaspoon salt
Lemon zest from ½ lemon plus 1 teaspoon lemon juice
½ teaspoon fennel seeds
1 egg beaten with 1 tablespoon of water
Filling
2 fennel bulbs
1 apple, finely sliced
3½ ounces firm goats cheese
2 to 3 tablespoon maple syrup
2 to 3 teaspoon fennel seeds, finely chopped
3 to 4 tablespoon oil or butter
Flaky sea salt
Fresh mint to serve
Directions: Make the crust by adding all of the ingredients in a bowl or food processor, except the beaten egg, holding back on the full amount of ice water. Mix until the dough sticks together; if it is too dry add a bit more water until it comes together. Wrap it up and place in the fridge for at least 1 hour in order for the gluten to relax and the water to be absorbed.
Preheat oven to 400 degrees Fahrenheit.
Rinse and clean the fennels and cut away the top. Slice it vertical into thin slices. Heat a skillet and add 1 tablespoon oil or butter. Place the fennel in the skillet on medium to high heat with space between them. Fry them until golden, turn on the other side and fry until slightly golden. Add 1 tablespoon maple syrup, a pinch of salt, and fennel seeds. Toss a bit and remove after 1 to 2 minutes. Repeat procedure with the rest of the fennel.
Roll out the rye dough in 6 small circles. Add the raw apple and caramelized fennel in the middle of the galette dough and top it with crumbled goats cheese. Gently fold the crust around the filling as firm as you can. Brush the crust with the egg before baking. Bake in the oven for 20 to 25 minutes or until slightly golden and crispy.
More from Life Cheat Sheet:
Want more great content like this? Sign up here to receive the best of Cheat Sheet delivered daily. No spam; just tailored content straight to your inbox.