6 Seitan Recipes Packing Meals With Vegetarian-Friendly Protein
Looking for a protein-packed non-meat alternative to work into your diet? Consider preparing dishes that contain seitan, a vegetarian meat substitute that's made from wheat gluten, according to Livestrong. Also referred to as wheat meat, seitan is high in protein, low in fat, and a good source of iron. Livestrong notes that a 3-ounce portion of seitan has 2.5 to 4 grams of carbs, 1 to 2 grams of fiber, 0 to 2 grams of fat, and 21 grams of protein. A Demand Media article via SFGate adds that it can even be made to mimic the taste of steak, chicken, pork, or sausage.
There are, however, two things to keep in mind regarding seitan. Livestrong warns that it can be high in sodium — a 3-ounce portion has between 170 and 320 milligrams of it. In addition, the Demand Media article notes that while seitan is high in protein, it doesn't contain all of the essential amino acids your body requires each day. An easy way to ensure you're obtaining all of your daily essential amino acids is by eating a variety of high-protein foods throughout the day, such as nuts, quinoa, seeds, legumes, tofu, soy milk, eggs, and dairy products. Ready to start adding this protein-packed meat substitute to your lunch and dinner dishes? Here are 6 seitan recipes that even meat lovers will enjoy!
1. Seitan Stir-Fry With Black Bean Garlic Sauce
Seitan, fresh seasonings, a zesty sauce, and veggies create Cooking Light's healthy dinner dish, which yields 4 servings; each containing 474 calories, 10 grams of fat, 35.5 grams of protein, 9.9 grams of fiber, and 818 milligrams of sodium. If you'd prefer to skip the store-bought seitan and make your own instead, Eating Rules will show you how.
Ingredients:
2 cups boiling water
1 ounce dried shiitake mushrooms
2 tablespoons Chinese rice wine or sake
2 tablespoons black bean garlic sauce
2 teaspoons cornstarch
2 tablespoons canola oil, divided
2 cups thinly sliced drained seitan, about 8 ounces
1 tablespoon finely chopped garlic
1 tablespoon finely chopped peeled fresh ginger
4 cups 2-inch-cut green beans (about 1 pound)
2 cups hot cooked brown rice
¼ teaspoon salt
Cilantro sprigs (optional)
Directions: Combine 2 cups boiling water and mushrooms in a small bowl; cover and let stand for 20 minutes. Drain in a colander over a bowl, reserving ½ cup soaking liquid. Rinse mushrooms; drain well. Discard mushroom stems; thinly slice mushroom caps. Combine reserved liquid, rice wine, black bean sauce, and cornstarch in a small bowl; stir with a whisk, and set mixture aside. Heat 1 tablespoon canola oil in a large nonstick skillet or wok over medium-high heat.
Add seitan to pan and stir-fry 2 minutes or until lightly browned. Place seitan in a medium bowl. Heat remaining 1 tablespoon oil in pan over medium-high heat. Add garlic and ginger to pan; stir-fry for 30 seconds. Add mushrooms and beans; cover and cook 3 minutes. Add black bean sauce mixture to pan; cook 1 minute or until sauce slightly thickens. Add seitan to pan; cook 1 minute, stirring occasionally. Combine rice and salt; serve seitan mixture over rice. Garnish with cilantro sprigs, if desired.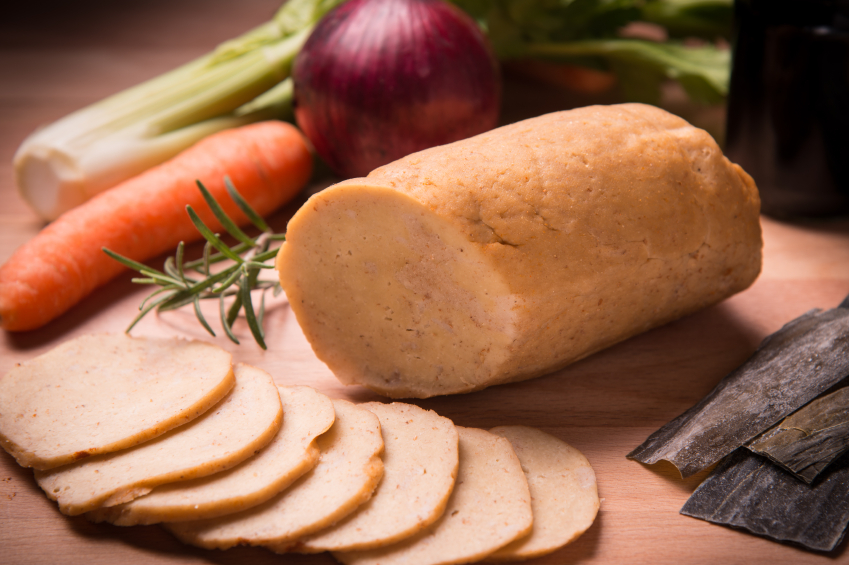 2. Seitan and Quinoa Salad
Epicurious delivers a protein-packed meal that works wonderfully for lunch or dinner. And by including quinoa in this dish, you're ensuring you get all of your required daily essential amino acids — The Whole Grains Council notes that quinoa is one of the only plant foods that is a complete protein.
Ingredients:
½ cup quinoa
¾ cup water
½ cup seitan
¼ cup diced onion
½ cup diced carrots
Diced green veggies
For sauce: almond butter, rice vinegar, soy sauce, small amount of sesame oil
Directions: Cook quinoa in water for about 20 minutes. Sauté seitan and onions in oil, and cook carrots and any other desired veggies in a separate pot. Combine your quinoa, seitan, and vegetables. Mix sauce ingredients with water until you've reached your desired consistency. Add the sauce to your quinoa, seitan, and veggie mixture; stir. Enjoy!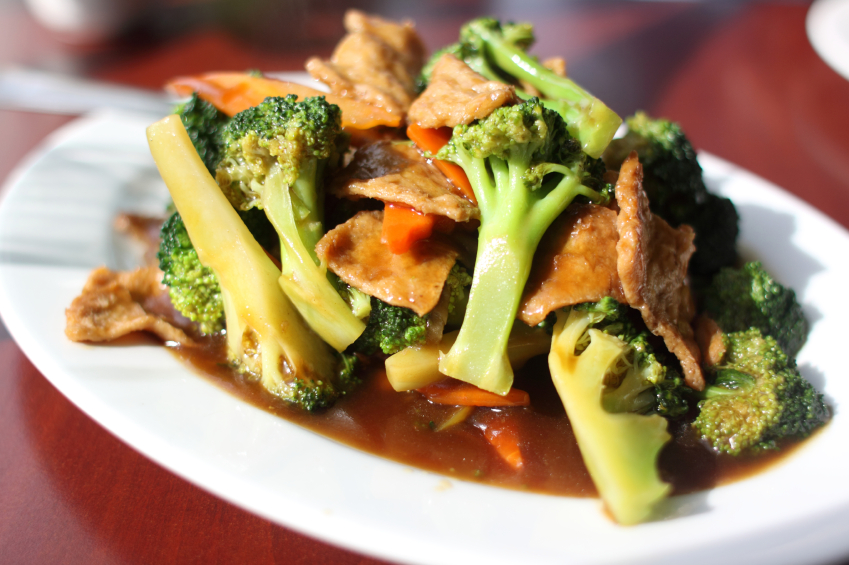 3. Malaysian Seitan, Broccoli, and Mushroom Fried Rice
Eating Well presents a healthy vegetarian fried rice, which contains seitan, broccoli, mushrooms, creamy coconut milk, and soy sauce. If you don't have cooked rice on hand, feel free to prepare a fresh batch; just make sure you let it thoroughly cool before adding it to your wok — otherwise, it'll stick! The recipe yields 4 servings, with each containing 337 calories, 14 grams of fat, 22 grams of protein, 5 grams of fiber, and 552 milligrams of sodium.
Ingredients:
1 teaspoon peanut or canola oil plus 2 tablespoons, divided
2 large eggs, beaten
3 scallions, thinly sliced
2 teaspoons grated fresh ginger
2 teaspoons minced garlic
8 ounces seitan strips, patted dry and cut into ½-inch pieces
2 cups small broccoli florets
2 cups sliced shitake mushroom caps
2 cups cold cooked brown rice
¼ cup lite coconut milk
2½ tablespoons reduced-sodium soy sauce
Directions: Heat 1 teaspoon oil in a large flat-bottomed carbon-steel wok or large, heavy skillet over high heat. Add eggs and cook, without stirring, until fully cooked on one side, about 30 seconds. Flip and cook until just cooked through, about 15 seconds. Transfer to a cutting board and cut into ½-inch pieces. Add 1 tablespoon oil to the wok along with scallions, ginger, and garlic; cook, stirring, until scallions have softened, about 30 seconds.
Add seitan and cook, stirring, for 1 minute. Add broccoli and mushrooms; cook, stirring, until just tender, 2 to 4 minutes. Transfer the contents of the wok to a large plate. Add remaining 1 tablespoon oil to the wok; add rice and stir until hot, 1 to 2 minutes. As you stir, pull the rice from the bottom to the top so it all gets coated with oil and evenly cooked. Return the seitan, vegetables, and eggs to the wok; add coconut milk and soy sauce and stir until well combined.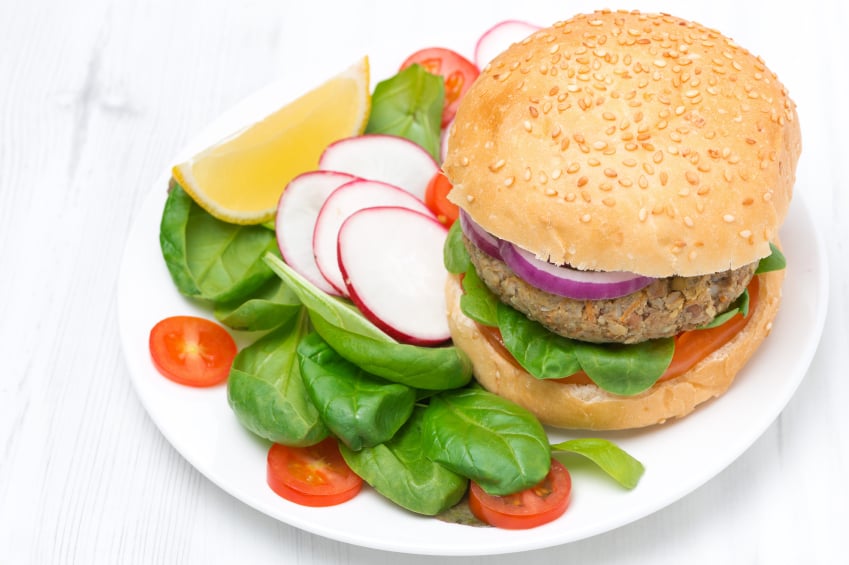 4. Seitan Burger Patties
Create a flavorful, well-seasoned vegetarian burger using seitan, onions, seasonings, chiles, soy sauce, and tomato paste. Cooking Channel's recipe yields 6 to 8 servings. We suggest serving your patties on The Clever Carrot's Light Brioche Hamburger Buns.
Ingredients:
1 yellow onion, chopped
1½ pounds seitan, chopped
2 dried ancho chiles, crushed
3 tablespoons ground coriander
3 tablespoons soy sauce
3 tablespoons tomato paste
2 tablespoons Korean ground chile or crushed red pepper flakes
2 tablespoons extra-virgin olive oil, plus more for oiling the parchment paper
⅓ cup all-purpose flour
Directions: Preheat oven to 350 degrees Fahrenheit. Place the onion in a food processor and pulse a few times. Add the seitan, ancho chiles, coriander, soy sauce, tomato paste, Korean chile, and olive oil and process until the mixture is ground into very small fragments, about 2 minutes. Place the burger mixture in a mixing bowl and knead in the flour.
Line a sheet pan with parchment and lightly grease it with oil. Divide the burger mixture into 6 to 8 portions. With wet hands, roll the portions into balls and flatten them gently onto the sheet pan. Make sure the edges are smooth. Bake until the outsides of the burgers are firm but not dried out, 12 to 14 minutes.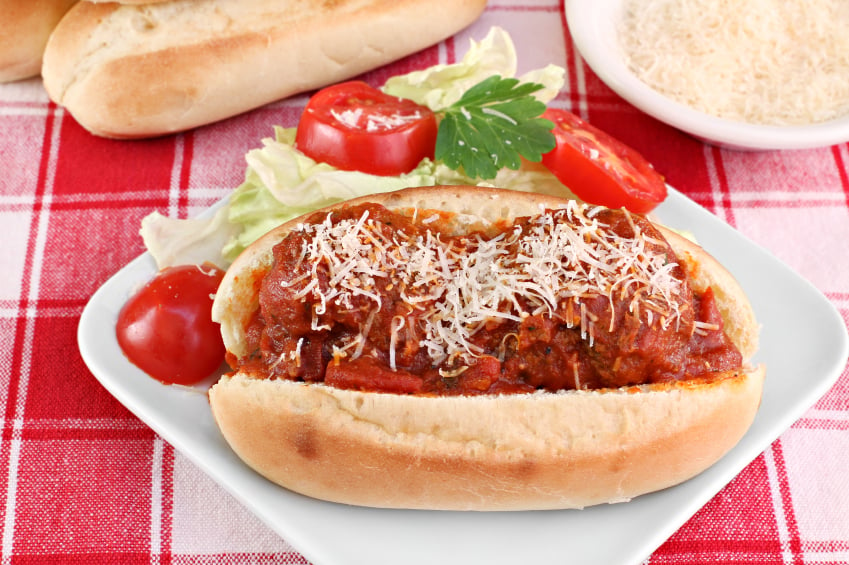 5. Vegetarian Parm Heroes
Looking for a meatless version of a meatball sandwich? We recommend preparing Food Network's recipe for cheesy, saucy Vegetarian Parm Heroes. It yields 4 servings.
Ingredients:
2 tablespoons extra-virgin olive oil
4 cloves garlic, finely chopped
Kosher salt and freshly ground black pepper
1 (28-ounce) can whole tomatoes in juice, puréed in a blender
1½ pounds seitan
½ cup all-purpose flour
½ cup cola
1 cup vegetable oil
4 hero rolls, split in half
8 ounces shredded mozzarella
¾ cup finely grated Parmesan
4 teaspoons chopped fresh oregano
Directions: Preheat oven to 350 degrees Fahrenheit. Heat the olive oil in a medium, heavy saucepan over medium heat until hot. Then stir in the garlic and ½ teaspoon each salt and pepper. Cook until golden, about 3 minutes. Stir in the tomatoes and simmer until thickened, about 10 minutes. Cut the seitan into ½-inch-thick slices. Whisk together the flour, 1 teaspoon salt, ½ teaspoon pepper, and the cola in a bowl. Heat the oil in a large, heavy skillet over medium-high heat until hot.
Dip half of the seitan into the batter, letting the excess drip off, and add to the skillet. Brown, turning occasionally, about 5 minutes. Drain the seitan on paper towels. Repeat with the remaining seitan. Divide the seitan among the rolls and top with the sauce. Divide the cheeses among the rolls. Place the rolls on a baking sheet and bake until the cheese is melted, about 5 minutes. Serve the heroes topped with the oregano.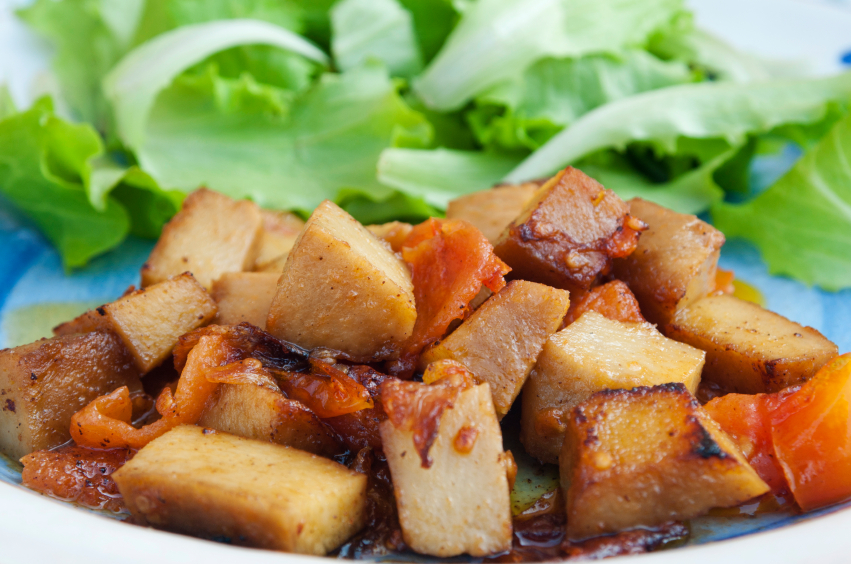 6. Seitan Salad
Recipe 4 Living's Seitan Salad is a great source of protein, antioxidants, healthy fat, vitamins, and minerals. If you'd like to make your own dressing to pair with this dish, we suggest making Health's zesty Roasted Red Pepper Dressing.
Ingredients:
1 pound seitan
1 tablespoon olive oil
1 small head dark green lettuce, shredded
1

medium

green or red bell pepper, cut into strips
2 medium tomatoes, diced
1 medium avocado, sliced
¼ cup sliced black olives
2 scallions, sliced
Dressing of your choice
Directions: Cut seitan into strips, about ½ by 2 inches. Heat oil in a skillet. Sauté seitan until golden, then remove from heat. Combine lettuce, bell pepper, tomato, avocado, olives, and scallions in bowl and toss together. Add seitan and dressing, and toss again. Serve immediately.
More from Life Cheat Sheet:
Want more great content like this? Sign up here to receive the best of Cheat Sheet delivered daily. No spam; just tailored content straight to your inbox.