6 Spring-Inspired Recipes Using Fennel
Despite what the calendar says, it sure seems a lot like winter for much of the country. Spring's promise of fresh peas and asparagus might still seem like a cruel joke, but roasted butternut squash and turnips are starting to get old at this point. With a licorice-like flavor and satisfying crunch, fennel is a delicious way to prepare your taste buds for the warmer months. Best of all, it's versatile enough to work equally as well shaved into fresh salads as it does roasted with heartier fare. These 6 fennel recipes might just be the best way to bridge the culinary gap.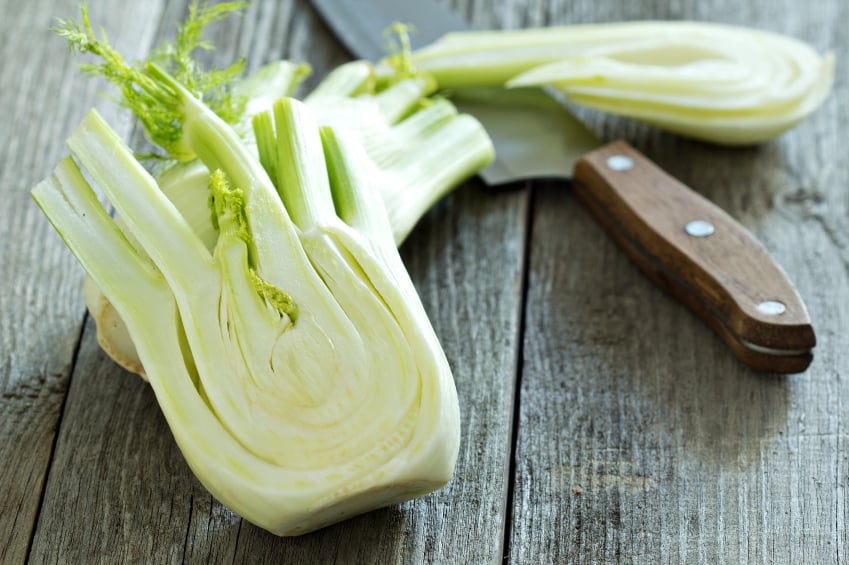 1. Braised Fennel With Saffron and Tomatoes
Slowly cooked vegetables might sound kind of boring, but not when the usual suspects get swapped out to make this Braised Fennel Wedges With Saffron and Tomatoes from cookbook author Deborah Madison. Food Republic recommends pairing this dish with seafood, but it can easily morph into a vegetarian entrée with nothing more than some crusty bread. Ingredients:
2 large fennel bulbs
3 tablespoons olive oil
1 onion, thinly sliced
2 teaspoons fennel seeds
Good pinch of saffron threads
½ teaspoon dried thyme
1 garlic clove, crushed
3 tablespoons tomato paste
1½ cups fennel stock, chicken stock, or water
Sea salt
1 tablespoon butter
Freshly ground pepper
Minced fennel greens or fresh flat-leaf parsley
Directions: Trim off the stalks and greens from the fennel bulbs. If the outer, thick leaves of the bulbs look tough and scarred, as they often do, take a slice off the base to loosen them and set them aside for another use. Halve each bulb lengthwise and cut the halves into wedges about 1½ inches at the widest part. Heat the olive oil in a wide sauté pan over medium-high heat. When hot, add the onion and fennel seeds, crumble in the saffron and thyme, and then cook until the steam releases the color from the saffron, after several minutes. Add the fennel wedges and cook them until golden, turning those and the onions occasionally. Once they are well-colored, add the garlic, stir in the tomato paste, and then add the stock and 1 teaspoon salt. Scrape the pan to release the juices, then cover and simmer until the fennel is tender, another 15 minutes.
2. Halibut With Roasted Potatoes and Fennel
Fitness Magazine's Halibut With Roasted Potatoes and Fennel manages to be both hearty and light. Halibut is another sign that cold weather is on its way out. It works great with this dish, but any firm, white fish will work equally well here. Be sure to save the leafy fennel tops for a pretty garnish that pumps up the flavor even more. Ingredients:
¾ pound Yukon Gold potatoes, diced
½ fennel bulb, diced, plus 1 tablespoon chopped fronds
2 carrots, diced
1 celery stalk, diced
1 small red onion, thinly sliced
2 bay leaves
2 tablespoons plus 2 teaspoons olive oil
¾ teaspoon salt
½ teaspoon freshly ground black pepper
4 (4- to 6-ounce) halibut fillets
¼ cup dry white wine
1 tablespoon flour
Directions: Preheat the oven to 425 degrees Fahrenheit. In a roasting pan, mix the potatoes, diced fennel, carrots, celery, onion, and bay leaves with 2 tablespoons of the olive oil, ½ teaspoon of the salt, and ¼ teaspoon of the black pepper. Roast, tossing a few times, until tender, about 30 minutes. Lay the halibut over vegetables; drizzle with the white wine. Top fish with remaining olive oil and sprinkle with flour; season with remaining salt and black pepper. Meanwhile, preheat broiler. Move the pan to broiler; broil 6 to 8 minutes, until fish is cooked through. Remove bay leaves. Garnish with fennel fronds and parsley. Serve with the lemon wedges.
3. Fennel and Carrot Soup
Pureed soups can be boring, but Bon Appetit's Fennel and Carrot Soup is anything but. The recipe is just about as easy as it gets, too. Simply sauté the veggies, add broth, and then puree the mixture for a rich and creamy texture. Do maple syrup and chestnuts as garnishes seem too much like fall? Sub minced chives in the crème fraiche and finish with a sprinkle of toasted hazelnuts for a fresher take on this warming bowl. Ingredients:
6 tablespoons unsalted butter, divided
1 large fennel bulb, thinly sliced
1 small onion, thinly sliced
2 carrots, peeled, chopped
1 small Yukon Gold potato, peeled, halved
2 sprigs thyme
1 bay leaf
Kosher salt and freshly ground black pepper
4 cups low-sodium vegetable broth
¼ cup coarsely chopped roasted chestnuts from a jar
¼ cup crème fraîche
1 tablespoon pure maple syrup
Directions: Heat 4 tablespoons butter in a large, heavy pot over medium heat. Add fennel, onion, carrots, potato, thyme, and bay leaf; season with salt and pepper. Reduce heat to medium-low, cover, and cook, stirring occasionally and reducing heat if needed, until vegetables are soft but not browned and have released their moisture, 45 to 60 minutes. Add broth, bring to a boil, and season with salt and pepper. Reduce heat and simmer until potato is falling apart, 8 to 10 minutes. Let cool slightly. Remove herbs. Working in batches, purée in a blender until smooth. Strain into a clean pot; season with salt and pepper. Heat remaining 2 tablespoons butter in a small saucepan over medium. Add chestnuts and cook, stirring often, until butter is browned and chestnuts are toasted, about 4 minutes. Mix crème fraîche and maple syrup in a small bowl. Serve soup topped with maple crème fraîche and chestnuts.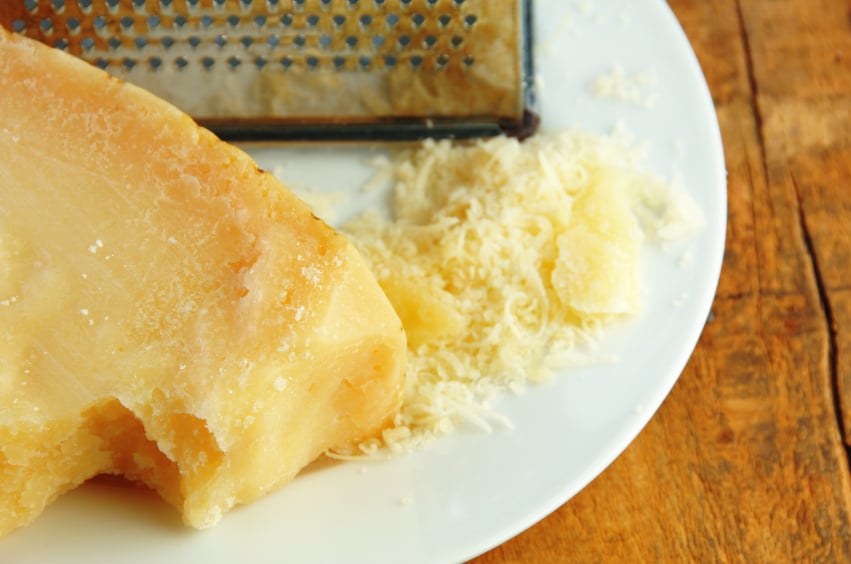 4. Warm Fennel and Parmesan Dip
For a new twist on artichoke dip, roast a combination of fennel and garlic in a 400 degree Fahrenheit oven before smoothing it out in the food processor with some salty cheese. This Warm Fennel and Parmesan Dip from Martha Stewart Living is a delicious appetizer that's perfect for any party. Add a salad, and it morphs into a light dinner for 2. Ingredients:
3 tablespoons extra-virgin olive oil
3 fennel bulbs, trimmed and cut into 1-inch wedges
4 garlic cloves, slightly crushed
Coarse salt and freshly ground pepper
¼ cup plus 2 tablespoons finely grated Parmesan cheese
Directions: Preheat oven to 400 degrees Fahrenheit. Heat oil in a large, heavy ovenproof skillet over medium-high heat until shimmering; add fennel, pressing down so that most of it fits snugly in a single layer. Add garlic to skillet. Brown fennel on 1 side for 4 minutes. Flip, and sprinkle lightly with salt. Cover skillet with parchment-lined foil and transfer to oven. Roast until fennel is very tender, 20 to 30 minutes. Let cool slightly. Raise oven temperature to 450 degrees Fahrenheit. Puree fennel and garlic in a food processor until smooth. Season with salt and pepper, and stir in ¼ cup cheese. Transfer mixture to a 3-cup baking dish and sprinkle with remaining 2 tablespoons cheese. Bake until dip is hot in center and cheese is golden brown, about 20 minutes. Serve immediately.
5. Caramelized Fennel and Onion Pizza
Americans always think pizza's a great meal, according to a recent survey from Cici's Pizza and reported on by the New York Daily News, but this white pie is especially nice when the snow starts melting. Love and Olive Oil's Caramelized Fennel and Onion Pizza stacks the veggies on a homemade crust with fresh mozzarella before a quick trip to the oven. These slices are nearly perfect as is, but a little bit of basil or tarragon makes an extra-special garnish. Ingredients: Crust
2¼ cups unbleached bread flour
¾ teaspoon salt
½ teaspoon instant yeast
2 tablespoons olive oil
⅞ cup (7 ounces) water, ice cold (40 degrees Fahrenheit)
Semolina flour or cornmeal, for dusting
Topping
2 tablespoons olive oil
1 large onion, thinly sliced
1 large fennel bulb, cored and thinly sliced
8 ounces whole-milk fresh mozzarella cheese, coarsely grated
Freshly shaved Parmesan cheese
Directions: Stir together the flour, salt, and instant yeast in the bowl of an electric mixer. Add the oil and the cold water and stir on low speed until the flour is all absorbed. Switch to the dough hook and mix on medium speed for 5 to 7 minutes, or as long as it takes to create a smooth, sticky dough. The dough should clear the sides of the bowl but stick to the bottom of the bowl. The finished dough will be springy, elastic, and sticky, not just tacky. Transfer the dough to floured work surface. Prepare a baking dish by lining it with lightly oiled parchment paper. Cut the dough into 4 equal pieces. Sprinkle flour over the dough. Gently round each piece into a ball. If the dough sticks to your hands, lightly dip your hands in flour. Transfer the dough balls to the prepared dish, mist the dough generously with spray oil, and slip the pan into a food-grade plastic bag or cover with plastic wrap. Refrigerate overnight. At this point the dough can also be frozen; simply wrap each ball individually in plastic wrap and place inside a zippered freezer bag. Transfer to the refrigerator the day before you plan on baking them. Remove dough from refrigerator and rest at room temperature for 2 hours. On a lightly floured work surface, gently press the dough into flat disks about ½ inch thick and 5 inches in diameter. At least 45 minutes before making the pizza, place a baking stone either on the floor of the oven or on a rack in the lower third of the oven. Heat the oven as hot as possible, 500 to 550 degrees Fahrenheit. If you do not have a baking stone, you can use the back of a sheet pan, but do not preheat the pan. Meanwhile, heat 2 tablespoons olive oil in a large skillet. Add onion and fennel and cook over medium heat until onions are soft and golden and the fennel is tender, about 15 minutes. Generously dust a peel or the back of a sheet pan with semolina flour or cornmeal. Make the pizzas one at a time. Dip your hands, including the backs of your hands and knuckles, in flour and lift 1 piece of dough by getting under it with a pastry scraper. Very gently lay the dough across your fists and carefully stretch it by bouncing the dough in a circular motion on your hands, carefully giving it a little stretch with each bounce, and continue to stretch/toss until the dough is approximately 7 inches across and uniformly thin. If you have trouble tossing the dough, or if the dough keeps springing back, let it rest for 5 to 20 minutes so the gluten can relax, and try again. Lay the stretched dough on the peel or pan, making sure there is enough semolina flour or cornmeal to allow it to slide. Lightly brush with olive oil and poke it a few times with a fork so it doesn't bubble. Brush crust with a thin layer of olive oil. Spread with grated mozzarella and top with onion and fennel mixture. Season with salt and pepper. Gently slide the topped pizza onto the stone and close the door. Bake 2 at a time until the bottoms are lightly golden and the cheese is bubbly and just barely browned. Remove from the oven and transfer to a cutting board. Sprinkle with shaved Parmesan. Repeat with remaining pizzas. Let rest for 3 to 5 minutes before  slicing and serving.
6. Apple and Fennel Salad With Blue Cheese
Give roasted beets over greens a rest and try out this Apple and Fennel Salad With Blue Cheese from Eating Well. Make quick work of the fennel and apple with a mandolin, or go at it with a sharp knife. The sweet and salty flavors plus a crunchy texture make this a perfect lunch, but it's easy to turn it into a more substantial meal with some grilled pork tenderloin or chicken. Ingredients:
¼ cup extra-virgin olive oil
2 tablespoons cider vinegar
¼ teaspoon salt
¼ teaspoon freshly ground pepper
1 large crisp, sweet apple, such as Honeycrisp or Ambrosia, thinly sliced
1 medium fennel bulb, quartered and thinly sliced, fronds reserved
6 cups torn butterhead lettuce
⅓ cup crumbled blue cheese
Directions: Whisk oil, vinegar, salt, and pepper in a large bowl. Add apple and fennel, and toss to coat. Chop ¼ cup of the fennel fronds and add to the bowl along with lettuce and blue cheese; gently toss.
More from Life Cheat Sheet:
Want more great content like this? Sign up here to receive the best of Cheat Sheet delivered daily. No spam; just tailored content straight to your inbox.ho