6 Recipes That Let You Eat French Toast in Ways You Never Imagined
When most people think of French toast, they think of the sweet carby confection — thick, egg-soaked pieces of bread fried in butter and drenched in maple syrup. Restaurant chefs make it, home chefs make it, and consumers rarely tire of it, making it one of the most popular breakfast choices in the U.S. However, there's something to be said for a savory breakfast, too, and as it turns out, you can make your favorite breakfast the savory way as well. If you're up for a morning meal change-up in the new year, check out these 6 twists on the traditional French toast feast. Some of these recipes yield sweet treats, while others make savory ones. It's up to you to decide what you're in the mood for this Saturday morning.
1. Savory Parmesan French Toast
Our first recipe comes from The Kitchn, and it's for Savory Parmesan French Toast. Who ever said cheese couldn't be paired with the good stuff? This food formula combines thick pieces of bread, Parmesan, mustard powder, garlic, and hot sauce, giving the dish a kick you would never get from any sweet breakfast. Serve this Parmesan French Toast for breakfast, brunch, or dinner, and expect your guests to be surprised by how fond they are of the savory version of their favorite Saturday morning treat.
Ingredients:
Neutral cooking oil for frying
4 large eggs
½ cup whole or 2% milk
½ cup heavy cream
½ cup grated Parmesan, plus more for serving
½ teaspoon dry mustard powder, or more to taste
½ teaspoon kosher salt
½ teaspoon hot sauce
Freshly ground black pepper, to taste
1 large garlic clove, peeled and crushed
6 slices good-quality bread, cut thick
Freshly minced herbs for garnish
Directions: Turn the oven to the warming setting. Combine the eggs, milk, and cream in a blender and pulse until well-combined. Transfer mixture to an 8-by-8-inch baking dish or shallow pan. Whisk in the Parmesan, mustard powder, salt, hot sauce, and a generous amount of black pepper, followed by the garlic clove.
Pour about ¼- to ½-inch of oil into a large cast iron skillet and heat over medium to medium-high heat until the temperature of the oil reaches 365 to 375 degrees Fahrenheit on an instant-read thermometer.
While the oil is heating, add 2 pieces bread to the batter and soak, flipping frequently, until thoroughly saturated with liquid, 1 to 2 minutes. Add the bread to the hot oil and cook until the bread is golden brown; flip and continue cooking, about 2 minutes per side. Gently shake excess oil from the bread and place on the paper towel-lined sheet pan. Pat the toast with additional paper towels to remove excess oil, if necessary. Transfer the sheet pan to oven to keep warm, and continue cooking the remaining bread.
Garnish the French toast with chopped herbs and Parmesan cheese.
2. Romano Crusted French Toast with Cherry Tomato Basil Butter
Next up is another savory French toast recipe from How Sweet Eats, and this one is for Romano Crusted French Toast with Cherry Tomato Basil Butter. It's a mouthful, but that's also how you'll elect to eat this decadent breakfast — by the mouthful. Jessica from How Sweet Eats takes her breakfast up a notch by adding a compound butter to the mix, and she also enlists grated Romano cheese to really make sure you start off your morning on the right foot.
Ingredients:
4 large eggs
½ cup half-and-half
½ cup finely grated Romano cheese
¼ teaspoon salt
¼ teaspoon black pepper
1 loaf Italian bread, cut into 8 thick slices
3 tablespoons unsalted butter
a few basil leaves for garnish
Basil Butter
5 tablespoons unsalted butter
¼ cup sundried cherry tomatoes
3 tablespoons chopped fresh basil
⅛ teaspoon garlic salt
Directions: In a large bowl, combine the eggs, half-and-half, cheese, salt and pepper. Whisk well until combined. Heat a large skillet over medium heat and add 1½ tablespoons butter. Dip each bread slice in the egg mixture and flip to coat. Add the french toast to the skillet and fry on both sides until golden. Repeat with the remaining bread and butter. Serve immediately with the tomato basil butter for topping, a sprinkling of Romano and a few basil leaves.
For the butter: Mix all ingredients together until combined.
3. Vegan Banana French Toast
Veering back to the sweet side of things, we come to this vegan twist on French toast from Minimalist Baker. This recipe calls for only 5 ingredients, and as its name suggests, is completely vegan. As long as you have a banana, almond milk, flaxseed, bread, and cinnamon on your hands, you're good to go. This French toast is perfect for easy, fuss-free Saturday mornings.
Ingredients:
1 just ripe banana
1¼ cups unsweetened almond milk
½ tablespoon flaxseed
¼ teaspoon cinnamon
4 to 5 slices hearty wheat bread
Directions: Mash banana in a large shallow bowl. Add almond milk, flaxseed, cinnamon and stir. Let batter rest for 5 minutes while you preheat your griddle or skillet to medium heat.
Once surface is hot, coat generously with vegan butter or coconut oil. Dip your slices of bread into the batter and let it rest for 5 to 10 seconds on each side. Transfer immediately to griddle.
Cook for 3 to 4 minutes on each side or until evenly golden brown. Flip carefully using a sturdy spatula. If your French toast appears to be browning too quickly or burning, turn down your griddle. Serve immediately with desired toppings.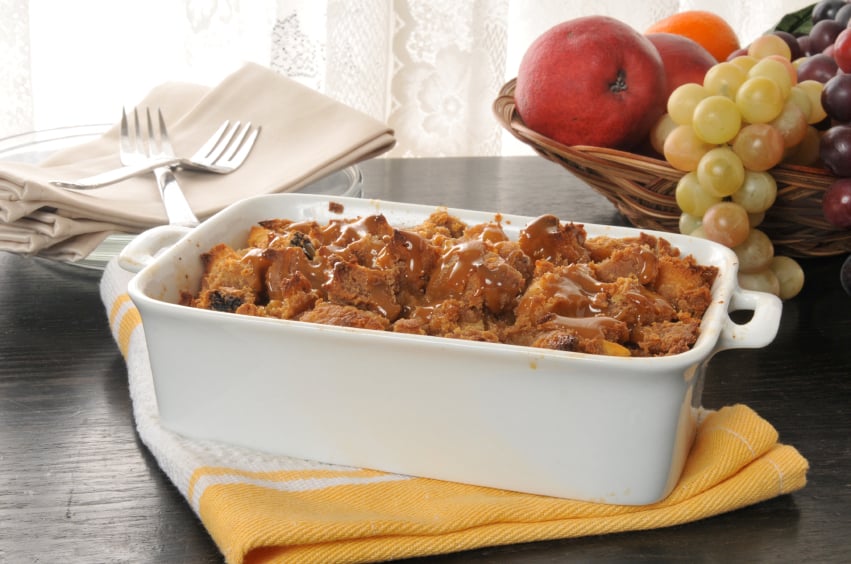 4. Overnight French Toast
Speaking of easy Saturday mornings, this recipe especially makes for a lazy one. You can make this sweet French toast featured on Tablespoon the night before and simply re-heat it in the oven come Saturday morning. Yielding 12 servings, it feeds a crowd, and is the perfect casserole for the morning after holidays, parties, and sleepovers. The Girl Who Ate Everything is the recipe developer behind this easy French toast formula.
Ingredients:
¼ cup butter, melted
¾ cup packed light brown sugar
1 loaf brioche or challah sliced into 1 ½-inch-thick slices
8 eggs, slightly beaten
1 cup whole milk
1 tablespoon vanilla extract
1 teaspoon ground cinnamon
¼ teaspoon ground ginger
½ cup pecans, measured then chopped
⅛ teaspoon salt
maple syrup and powdered sugar topping
Directions: In a small bowl, combine brown sugar and melted butter and pour on the bottom of a 9-by-13-inch baking dish. Arrange slices of bread in the baking dish, overlapping if necessary. Combine milk, eggs, vanilla, salt, cinnamon, and ginger in a bowl and pour evenly over bread slices. Sprinkle chopped pecans over bread slices. Wrap tightly with plastic wrap and place in the refrigerator for 4 to 12 hours.
In the morning, take the casserole out of the fridge for at least 10 minutes while you are preheating your oven to 350 degrees. Bake casserole for 30 to 35 minutes. Remove casserole from oven and let it cool slightly before serving. Serve with a dusting of powdered sugar and a drizzle of maple syrup.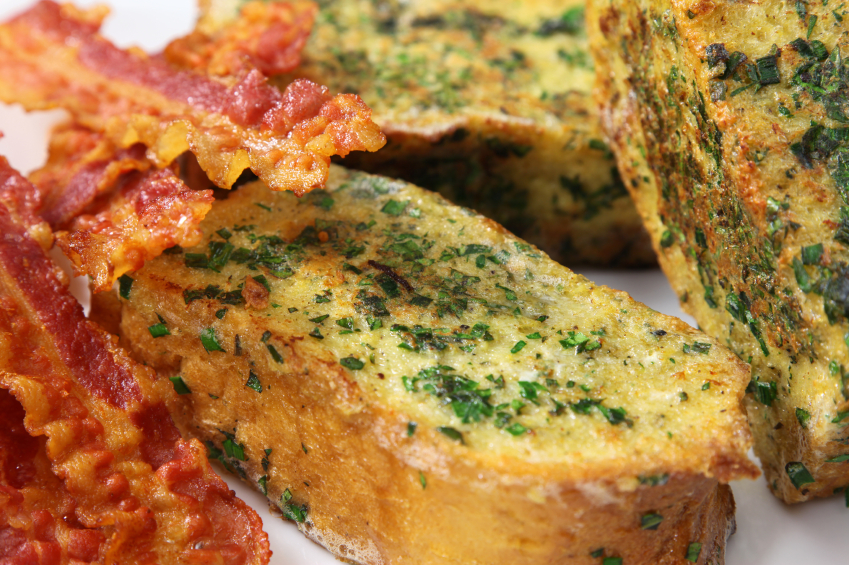 5. Crispy Salt and Pepper French Toast
Back to the savory side, we come to this recipe for Crispy Salt and Pepper French Toast from I Am A Food Blog. As its name suggests, salt and pepper are enlisted in this breakfast recipe, as are green onions, cilantro, and sriracha. Serving one to two eaters, this formula only calls for a handful of ingredients and will stave off any morning hunger.
Ingredients:
1 egg
1 tablespoon milk
sprinkle of salt
¼ teaspoon black pepper
1 tablespoon green onions
1 tablespoon cilantro
2 slices thick bread, preferably day-old or stale
butter or oil for the pan
sriracha to taste
Directions: In a shallow bowl, beat together the egg, milk, salt, pepper, green onions and cilantro. Dip slices of bread into egg mix allowing the bread to soak up the eggy goodness. Melt a pat of butter or a touch of oil in a large skillet over medium-high heat. Add the soaked slices of bread and fry, flipping once, 2 to 3 minutes per side or until deeply golden brown and crispy. Enjoy warm with sriracha to taste.
6. French Toast Custard
Our last recipe is an indulgent one from Taste of Home, and one that should be savored on the laziest of Saturday mornings. This version of French toast is definitely a sweet one, and is a spin on the traditional morning bread recipe thanks to the custard that is poured over the carbs. Next time you have some hungry morning guests on your hands, make them this breakfast that will satiate them the sweet way.
Ingredients:
8 to 10 slices day-old French bread
5 tablespoons butter, melted
4 eggs
2 egg yolks
3 cups milk
1 cup heavy whipping cream
½ cup sugar
1 tablespoon vanilla extract
¼ teaspoon ground nutmeg
Confectioner's sugar, optional
Directions: Brush both sides of bread with butter; place in a greased 13-by-9-inch baking dish. In a large bowl, beat eggs and yolks. Add milk, cream, sugar, vanilla and nutmeg; mix well. Pour over the bread slices. Cover and chill overnight. Remove from the refrigerator 30 minutes before baking. Bake, uncovered, at 350 degrees Fahrenheit for 55 to 60 minutes or until a knife inserted near the center comes out clean. Cool 10 minutes before serving. Dust with confectioner's sugar if desired.
More From Life Cheat Sheet:
Want more great content like this? Sign up here to receive the best of Cheat Sheet delivered daily. No spam; just tailored content straight to your inbox.