6 Veggie Fry Recipes That Make Eating Vegetables Fun
Everyone knows they should eat their vegetables, but most people would rather eat their fries. Fortunately, there is a way to have your veggies and eat fries, too, and that's the name of the game today. Bags of veggie chips and fries frequently line the shelves of grocery stores, but don't forget that you can make them at home, too, and watch the fresh veggies become fries with your very own eyes. If you don't trust the snacks that market themselves as healthy and promise to be nutritious even with the salt, put your mind at rest and whip up your own. Carrots, sweet potatoes, parsnips, green beans, and even avocados all have the ability to magically morph themselves into your favorite savory treats, and with these recipes, they can come out of your very own kitchen.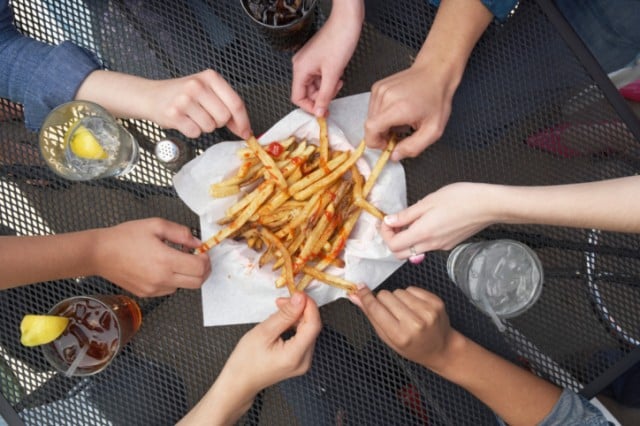 1. Roasted Carrot Fries
The first recipe we're highlighting today comes from Taste of Home and it's for Carrot Fries. They're good for your eyes! Grab your orange veggies, salt, and olive oil – that's all you need for this side dish that will make just about anyone eat their veggies. These fries are roasted, rather than fried, and don't tell anyone, but they're actually healthy. One-half cup only yields 53 calories. Eat up!
Ingredients:
1 pound fresh carrots, cup into ½-inch sticks
2 teaspoons olive oil
½ teaspoon salt
Directions: Place carrots in a greased 15 by 10 by 1-inch baking pan. Drizzle with oil and sprinkle with salt; toss to coat. Bake, uncovered, at 450 degrees Fahrenheit for 10 to 12 minutes or until crisp-tender.
2. Baked Sweet Potato Fries
And while many people mistake carrot fries for sweet potato fries, the two snacks come from different formulas, and an especially popular recipe for the latter is from a cooking blog, Cookie and Kate. The superfood becomes fries in just five steps, enlisting only four ingredients, and we shouldn't even have to remind you that baked sweet potato fries are the perfect alternative to fried white potatoes.
Ingredients:
Sweet potatoes – at least one per guest
Corn starch. A big sprinkle's worth (optional)
Olive oil to evenly coat the fries – a few teaspoons
Salt, pepper and spices
Directions: Preheat the oven to 425 degrees Fahrenheit. Peel the sweet potatoes and cut them into fry-shaped pieces. Try to cut them into similarly sized pieces so the fries will bake evenly. Toss the uncooked fries into a mixing bowl or a plastic bag, or just onto your baking sheet. Sprinkle with cornstarch (if using) and pour in a few tablespoons of olive oil, enough to lightly coat the fries. Season with salt, pepper, and spices. About one-half a teaspoon per potato or so. Mix or shake to distribute evenly.
Pour the fries directly onto a non-stick baking sheet for best results. Arrange your fries in a single layer and don't overcrowd, otherwise they will never crisp up. Bake for 15 minutes, then flip the fries so they can cook on all sides. Bake for 10 to 15 more minutes, or until the fries are crispy. You'll know they're done when the surface of the fries change from shiny orange to a more matte, puffed up texture. Don't worry if the edges are a little bit brown; they will taste more caramelized than burnt.
3. Baked Parsnip Fries
Next up is a recipe from Love and Lemons that doesn't enlist more orange vegetables, but rather, white ones. Even if you are afraid of parsnips in their natural form, we challenge you to try these babies baked and get ready for your mind to be blown. Parnip fries comes together in the same way that the aforementioned orange veggies do, but they kick it up a notch with a more sophisticated special ingredient (read: parsnips) and a more adventurous texture. You might be initially turned off by the veggie's tough exterior, but we promise a little olive oil and oven time can do amazing things.
Ingredients:
Parsnips
Salt
Olive Oil
Ketchup/Mustard
Directions: Preheat your oven to 375 degrees Fahrenheit. Scrub your parsnips clean and lightly peel them. Slice into thin strips. Toss with a drizzle of olive oil and a few good pinches of salt. Bake until golden brown, flipping halfway. Remove from oven and serve immediately, they're best hot.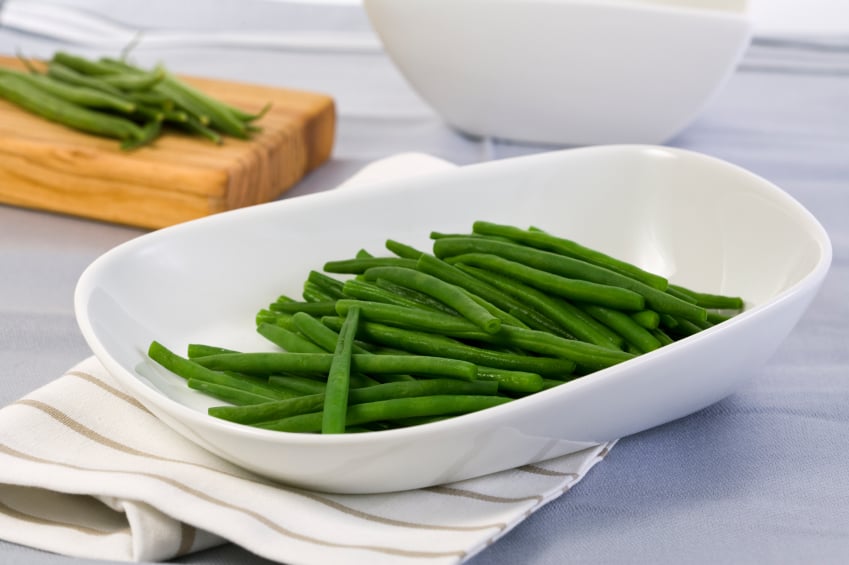 4. Baked Parmesan Green Bean Fries
Next, you have to go green for these crispy baked green beans from Dashing Dish. Healthy really never tasted so good. As long as you have whole green beans (fresh or frozen), parmesan cheese, garlic powder, and some seasoning, you're good to go. The recipe developer behind this fries formula promises that this is the recipe you need to get your kids to eat their veggies, and like them, too.
Ingredients:
1 (14 ounce) bag of frozen whole green beans (or about 4 cups fresh)
¼ cup Parmesan cheese, grated
½ teaspoon Garlic powder
¼ teaspoon Salt (or to taste)
⅛ teaspoon Pepper (or to taste)
Directions: Preheat oven to 425 degrees Fahrenheit. Line a baking sheet with foil, and spray with non-stick cooking spray. If using frozen green beans, pop the bag of green beans in the microwave for 3 to 4 minutes, or until just thawed. If using fresh green beans, wash and snip off the ends. Place green beans on prepared baking pan, making sure they are evenly spread out, and none are laying on top of each other. Sprinkle seasonings and parmesan cheese evenly over green beans. Place green beans in the pre-heated oven and bake for 10 to 15 minutes, or until golden brown and crispy!  Enjoy immediately with low sugar ketchup or dipping sauce of choice.
5. Avocado Fries
You might not believe us with this one, but your favorite healthy fat, the avocado, can be fried, too, and Food Republic is showing you how. While the other veggies on our list has been baked to turn into fries, we encourage you to go all out for the avocado and bread and fry the vegetable, rather than just baking it. Trust us when we say you'll never go back to the white potatoes again.
When life hands you avocados, make guacamole, and to dip in that, make these avocado fries. All hail the healthy fats.
Ingredients:
2 large ripe avocados
1 cup all-purpose flour
3 large eggs, beaten
2 cups panko breadcrumbs
kosher salt for sprinkling
oil for deep-frying
Directions: Slice avocados in half, twist halves apart and remove pit. Cut each half into three wedges and peel off outer skin. Dredge each wedge in flour, then soak in egg. Roll in breadcrumbs and place on a tray or platter. Preheat fryer to 350 degrees Fahrenheit. Fry avocado wedges in batches, making sure not to overcrowd the fryer. Remove after 5 minutes, or when they're golden-brown and crisp-looking. Drain on several layers of paper towels, sprinkle with salt and serve with your favorite dipping sauce.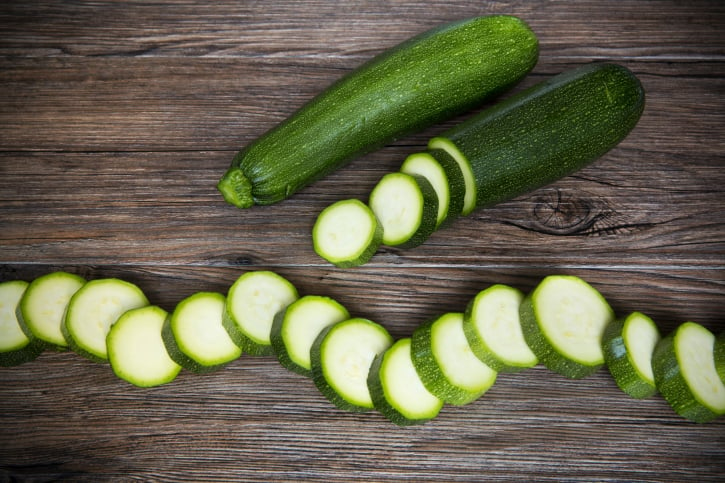 6. Zucchini Fries
Last but not least, Zucchini Fries from Health via My Recipes. Now that zucchini is in season, you really have no excuse. You can only make so much zucchini bread, muffins, and salad, so now it's high time you make some fries. Grab your bread crumbs and preheat your oven. We're back to baking our fries, rather than frying them, but don't worry, the end result will still be drool worthy.
Ingredients:
2 zucchini
1 egg white
¼ cup milk
½ cup shredded Parmesan cheese
½ cup seasoned breadcrumbs
Vegetable cooking spray
Directions: Preheat oven to 425 degrees Fahrenheit. Cut zucchini into 3-inch sticks. Whisk an egg white in a small bowl, and add milk. Combine Parmesan and seasoned breadcrumbs in a separate bowl. Dip zucchini sticks into egg mixture, and then roll in breadcrumb mixture. Coat a baking sheet with cooking spray, and place zucchini on sheet. Bake for 25 to 30 minutes or until golden brown.
More from Life Cheat Sheet:
Want more great content like this? Sign up here to receive the best of Cheat Sheet delivered daily. No spam; just tailored content straight to your inbox.