6 Ways to Love Collards, Your 'New Kale'
We're not out to replace kale, necessarily. We still have a soft spot for kale in our hearts. Kale has opened up a new world of dark, leafy greens for us, though, and we're ready to let in something new. Something that scored 13.42 points higher than kale on the Nutrient Density Scale. We're ready for collards.
Let's get something straight: There's a place for southern-style, long cooked collards, but whether you love them or hate them, there's more to the world than ham hocks and hours of stewing. If you think you don't like collards because you've had them once and weren't into it, try them again. That's like saying you don't like beef because you had it boiled once and it wasn't your thing. Like all other brassicas — vegetables like broccoli, brussels sprouts, and kale — there's a right way and a wrong way to treat them. Instead of being mushy and sulfuric, they can be silky and delicious. There's a sweet spot to collards, right between tough and sloppy, where they're infinitely lovable. Here are 6 recipes to kindle a new relationship between you and your greens.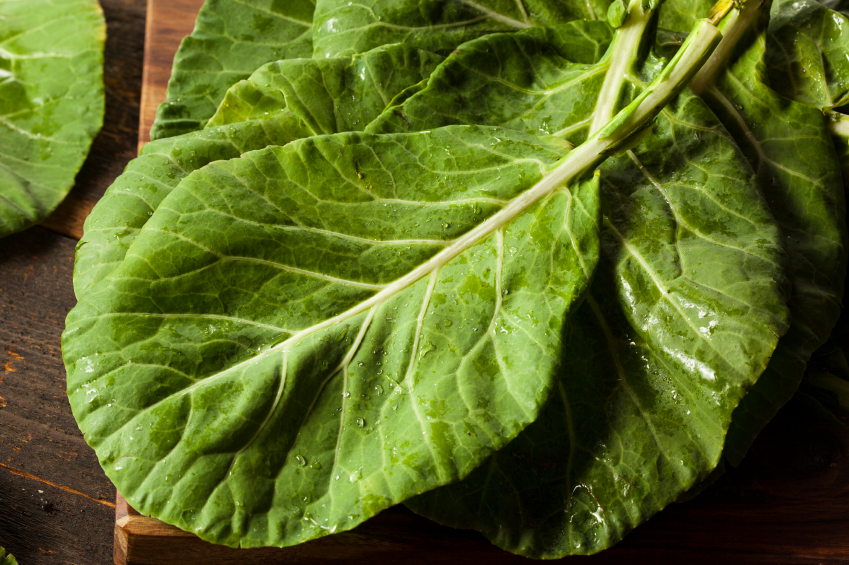 1. Pasta With Cauliflower and Collards
If you're trying something for the first time or you're giving something another shot, it's possible that the best way to give it a fighting chance is to pair it with pasta. It's hard to go wrong with this recipe from Martha Stewart, which quick-cooks collards with shallots and a dry white wine, which both tenderizes the greens and adds a lot of flavor. It's best made with leftover roasted cauliflower, though you could roast some up quickly in a hot oven while you're waiting for the water to boil. For added heft and fiber, make this with whole-wheat pasta. Serve with grated Parmesan or Pecorino cheese.
Ingredients:
Coarse salt
¾ pound short pasta, such as rigatoni or penne
1 tablespoon extra-virgin olive oil, plus more for drizzling
1 large shallot, minced
⅓ cup dry white wine, such as Pinot Grigio
1 bunch collard greens, center ribs removed, leaves sliced crosswise
Reserved roasted cauliflower
½ teaspoon grated lemon zest
Directions: In a large pot of boiling salted water, cook pasta according to package instructions. Reserve ½ cup pasta water; drain pasta.
Meanwhile, in a medium pot, heat oil over medium. Add shallot and cook, stirring occasionally, until soft, about 5 minutes. Add wine and cook until almost evaporated, about 5 minutes. Add collards and cook, stirring occasionally, until bright green and crisp-tender, 8 minutes. Add cauliflower, lemon zest, and pasta. Cook until cauliflower and pasta are hot, stirring and adding enough pasta water to create a thin sauce that coats pasta, about 4 minutes. Transfer to a serving bowl and drizzle with oil. Serve immediately.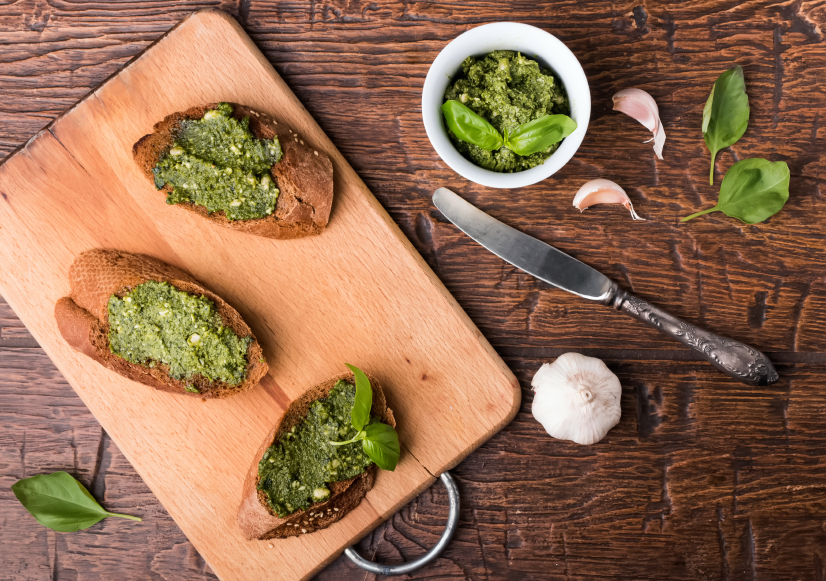 2. Collard and Pecan Pesto
Much like kale, collard greens can be made into a flavorful pesto. This one from Bon Appétit is as good on slices of baguette as it is paired with chicken or pork. A quick parboil helps the collards become tender enough that the pesto's texture better resembles a traditional basil pesto rather than little shards of tough, raw greens. The toasted pecans add a lovely depth of flavor to the dip.
Ingredients:
½ small bunch collard greens, center ribs and stems removed
Kosher salt
½ cup olive oil
¼ cup toasted pecans
2 tablespoons apple cider vinegar
½ teaspoon honey
¼ teaspoon crushed red pepper flakes
Freshly ground black pepper
Directions: Cook collard greens in a medium pot of boiling salted water until tender, about 2 minutes. Drain. Transfer to a bowl of ice water; let cool. Drain; squeeze dry with paper towels. Blend greens, oil, pecans, vinegar, honey, and red pepper flakes in a food processor until a coarse purée forms; season with salt and pepper.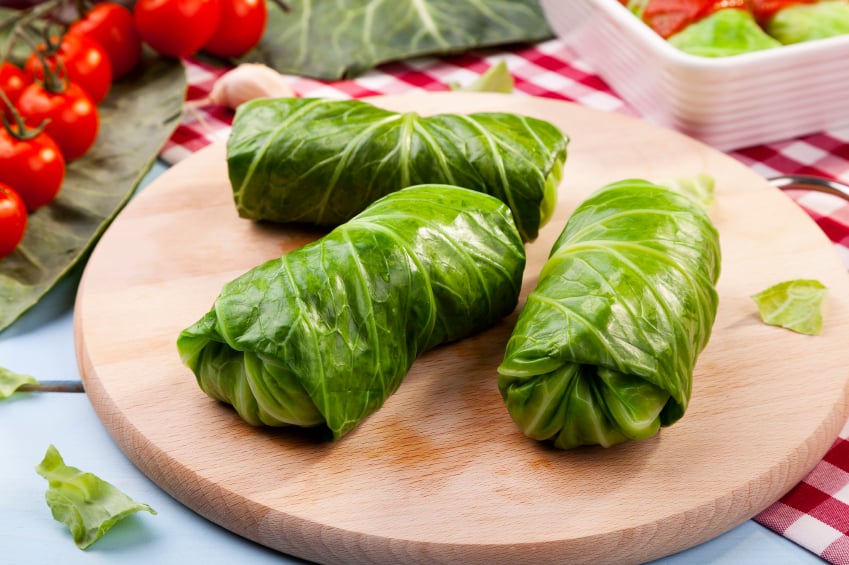 3. Pesto Chicken Collard Rolls
Speaking of pesto, you can either use the collard and pecan recipe or a traditional basil pesto for this wrap from Daily Bites. Using collards for a wrap instead of a tortilla is a low-cal, low-carb, and gluten-free way to make lunch more exciting. Since collards are the big old paddles of the leafy greens world, these wraps are hefty and super filling. The best part? Collards don't get soggy like bread does. It's perfect for work lunches and for picnics alike!
Ingredients:
8 large collard leaves
2 cups cooked, chopped chicken breast meat
2 medium carrots, peeled and shredded
½ cup pesto
Thinly sliced bell pepper or cucumber strips
Directions: Trim the stem of each collard leaf to be even with the bottom of the leaf. If the stems running through the leaf are particularly thick near the bottom, shave them down. Lay the leaf "wrong side up" on a cutting board. Hold a sharp paring knife parallel to the cutting board and carefully shave off the thick portion of the stem, taking care not to puncture the leaf or cut the stem out entirely. Repeat with remaining leaves.
Blanch the leaves in 1 inch of salted water in a skillet large enough for the leaves to lay flat. Using a pair of tongs, submerge each collard leaf in the water for about 1 minute. Remove to a paper towel-lined plate. Repeat with remaining leaves.
Make the filling by combining the chicken, carrots, and pesto in a medium bowl and mixing to coat.
Place a blanched collard leaf "wrong side up" on a work surface. Scoop ⅛ of the chicken filling onto the bottom third of the roll. Add a few slices of bell pepper or cucumber. Fold in the sides of the leaf over the top of the filling and roll away from you as you would a burrito to completely encase the filling. Repeat with remaining leaves and filling.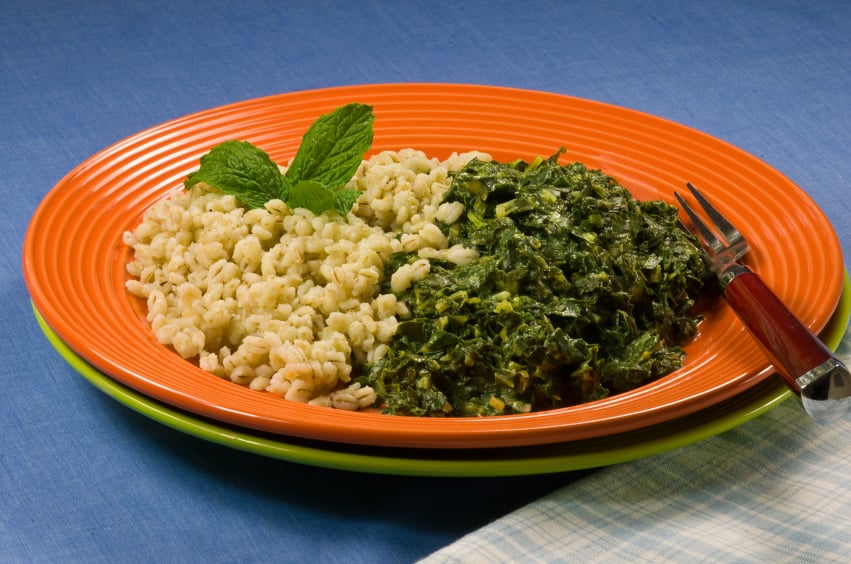 4. Collard Greens Braised in Coconut Milk
Braised collard greens aren't totally off the table, you just have to be attentive. In this recipe from Food52, the collards become tender, creamy, and very flavorful without dissolving into the mush state. Serve these with a bowl of rice and beans or some chili, or beside miso salmon.
Ingredients:
1 tablespoon coconut oil
1 onion, diced
1 clove garlic, minced
1 tablespoon grated ginger
1 pound collard greens, stems removed, cut into ribbons
¾ cup coconut milk
½ cup vegetable broth, plus more as needed
1 tablespoon lime juice
1 to 2 tablespoons tamari or soy sauce, to taste
Salt, to taste
Dash red chile flakes, to taste
Directions: Melt the coconut oil over medium-high heat in a large wok or skillet. Add the onion and sauté for 4 to 5 minutes, or until it's clear and soft. Add the garlic and ginger and cook, stirring frequently, for another minute.
Add the collard greens to the pan. Stir frequently for a minute or two, until the collards are just wilting.
Add the coconut milk, vegetable broth, lime juice, and 1 tablespoon of tamari to the wok or skillet and stir everything well. When the mixture is simmering, reduce the heat to low. Cook for 15 minutes, or until the greens are totally tender. If the simmering liquid starts to dry up, add a few splashes of vegetable broth as you go along.
Season the greens to taste with extra tamari, if desired, as well as salt and red chile flakes. Serve.
5. Spicy Parmesan Collard Chips
Kale chips aren't the only vegetable available for a snack attack fix. If you're known for needing a crunchy, salty snack and you're trying to give up potato and tortilla chips, give these spicy Parmesan collard chips from Clean Eating a try. They're thin and crisp and cook up pretty quickly. Grab a bunch or two of collards and make a big batch for the next time that snack craving hits.
Ingredients:
1 head collard greens, rinsed and dried
2 tablespoon olive oil
1 tablespoon fresh lemon juice
¼ cup grated Parmesan cheese
¼ teaspoon cayenne pepper
¼ teaspoon sea salt
Directions: Ensure that 2 racks are in place in oven, in middle and bottom third positions. Preheat oven to 300 degrees Fahrenheit.
Using a knife, remove thick stems from center of collard leaves, cutting leaves in half. Then cut each leaf into 2½-inch pieces. In a large mixing bowl, toss collards with oil, lemon juice and Parmesan until evenly coated; season with cayenne and salt.
Arrange leaves in a single layer on 2 parchment-lined baking sheets, dividing evenly. Both sheets of collards may be cooked simultaneously but placed on separate oven racks.
Bake collards for about 18 minutes, until leaves are crispy and cheese is golden brown. After 12 minutes of cooking, begin checking leaves for doneness every 2 minutes. Remove any crisp chips each time and return sheets to oven until all chips are done. Allow chips to cool to room temperature and enjoy. Chips may be stored in a sealable bag or container in a cool, dark place for up to 5 days.
6. Stuffed Collard Greens
If you're a fan of dolmades, the classic Greek stuffed grape leaves, but don't have a good supply of grape leaves, consider this recipe from The New York Times, which trades grape leaves for collards. Collards are a wonderful leaf for stuffing: they're large enough to be a cinch to work with and sturdy enough to stand up to long simmering.
Ingredients:
1 large bunch collard greens, stemmed
¼ cup extra virgin olive oil
1 large red or yellow onion, finely chopped
4 garlic cloves, green shoots removed, minced
Salt to taste
1 teaspoon sugar
¾ cup rice, either medium-grain or basmati, rinsed well in several changes of water
2 tablespoons to ¼ cup lightly toasted pine nuts
One 14-ounce can chopped tomatoes, drained; retain juice
2 tablespoons to ¼ cup currants or dark raisins
¾ teaspoon cinnamon
¾ teaspoon freshly ground allspice berries
½ teaspoon freshly ground black pepper
1¼ cups water
2 tablespoons chopped fresh mint
¼ cup chopped fresh dill
Juice of 1 lemon
1 lemon, sliced thin
Directions: Bring a large pot of water to a boil while you carefully stem the collard greens, trying to keep the leaves intact. Fill a bowl with ice water. When the water comes to a boil, salt generously and add the collard leaves in batches. Blanch two minutes and transfer to the ice water. Drain, gently squeeze out excess water and set aside.
Heat 2 tablespoons of the oil over medium heat in a large lidded skillet, and add the onion. Cook, stirring, until tender, about 5 minutes. Add the garlic, salt and sugar, and cook, stirring, until the garlic is fragrant, about a minute. Add the rice and pine nuts, and stir together until the rice is coated with oil. Stir in the tomatoes, currants, cinnamon, allspice and salt and pepper to taste. Stir together, and add 1 cup water or enough to barely cover the rice. Bring to a boil, reduce the heat, cover and simmer until all of the liquid has been absorbed, about 20 minutes. Remove from the heat. Allow to sit for 10 minutes without disturbing. Stir in the mint and dill.
Oil a wide, deep, lidded sauté pan or saucepan with olive oil. To fill the leaves, place one on your work surface, vein side up and with the stem end facing you. The leaf may have a big space in the middle where you stemmed it; if so, pull the two sides of the leaf in toward each other and overlap them slightly. Place about 1 level tablespoon of filling on the bottom center of each leaf. Fold the sides over, then roll up tightly, tucking in the sides as you go. Place seam side down in the pan, fitting the stuffed leaves in snug layers. Drizzle on the remaining 2 tablespoons olive oil, and pour on the lemon juice. Barely cover with water, and top with a layer of lemon slices.
Cover the stuffed leaves with a round of parchment paper, and place a plate over the paper to weight them during cooking. This will keep them from opening. Bring to a simmer, cover and simmer over low heat for 45 minutes to an hour until the leaves are tender. Remove from the heat, and carefully remove the dolmades from the water with a slotted spoon or tongs. Allow to drain on a rack set over a sheet pan. Serve warm or cold.
More from Life Cheat Sheet:
Want more great content like this? Sign up here to receive the best of Cheat Sheet delivered daily. No spam; just tailored content straight to your inbox.