7 Crispy Potato Side Dishes to Serve This Holiday Season
Are you prepared to expand your potato dish repertoire this season? Rather than sticking with the creamy quality that is so common of potato-based sides, perhaps it's time to try highlighting the crunchier aspect of this popular starch. There are few holiday guests who could turn down a hot and crispy potato dish at the holiday table, and we're certain that these options in particular will be popular among friends and family.
Here are seven recipes showcasing the delightfully crunchy side of potatoes. Try them out this holiday season!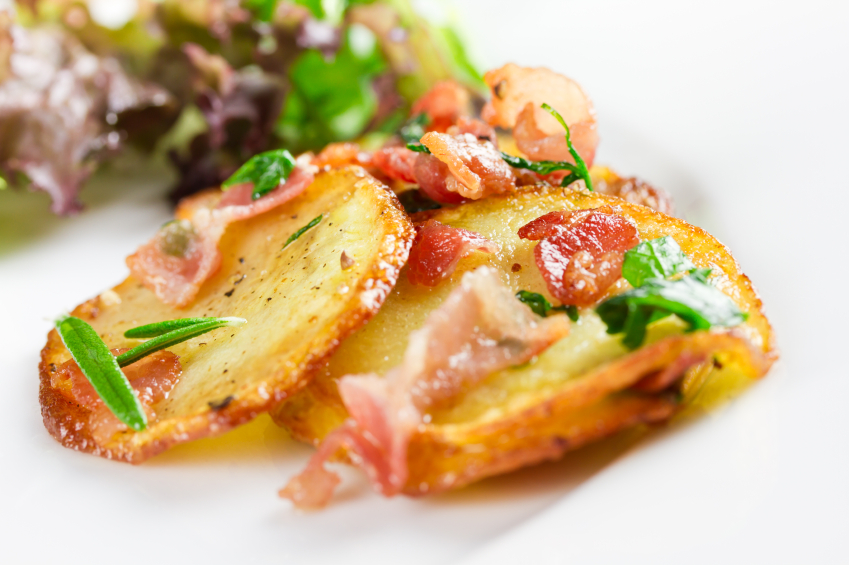 1. Crispy Potato Casserole With Bacon
Buttered Side Up Blog's Crispy Potato Casserole With Bacon is sure to be a show stealer on this year's holiday table. To achieve optimal texture in this dish, be sure not to overcook your potatoes. Instead, bake them so that their exteriors are crispy while the interiors are not overly done. Flavor-wise, you'll love what aromatic thyme offers to the mix. Chopped bacon adds one last bit of crispy, savory goodness to this side, making for a sumptuous and elegant dish that everyone will enjoy.
Ingredients:
5 medium-sized Russet potatoes
4 tablespoons butter, melted
Salt and pepper
3½ ounces bacon, chopped into little pieces
Thyme sprigs (fresh or dried)
Directions: Preheat your oven to 375 degrees Fahrenheit.
Peel the potatoes and slice them very thinly. Brush a round baking dish with some of the butter. Arrange the slices upright in the dish. Pour some of the butter over the potatoes and brush the rest on top of the potatoes.
Sprinkle with salt and freshly ground pepper. Bake, uncovered, for 1 hour and 25 minutes. If the potatoes start to look too dry, brush them with some of the butter in the bottom of the pan.
As the potatoes are baking, cook the bacon in a cast-iron skillet over medium heat until crispy. Sprinkle the bacon over the potatoes, add a few sprigs of thyme, and slide it all back into the oven for another 25 to 35 minutes, or until the potatoes are nicely crisped, but not overdone. Add a bit more salt and pepper if desired.
Serve hot with sour cream or pesto. Any leftovers can be reheated in a pan with butter.
2. Spicy and Sour Shredded Potato
Based on Chinese culinary tradition, this Spicy and Sour Shredded Potato is a delightful change of pace from your standard holiday fixings. Light Orange Bean's dish is creative in both taste and texture, with notes of ginger, chili pepper, and vinegar all mingling in your finely shredded potatoes. Please note that you'll achieve the crispiest results by rinsing off the extra potato starch after shredding the potatoes. Additionally, you'll love how these potato shreds aren't as greasy as french fries. Light Orange Bean notes that stir-frying the dish for a short time helps to preserve the ingredient's antioxidants, as well. The recipe just 10 minutes to make and yields 2 to 4 servings. The dish can be served hot or cold, according to your preference.
Ingredients:
2 medium-size potatoes (Russet or white, peeled, approximately 15 ounces)
1 tablespoon canola oil
¼ teaspoon finely chopped ginger
½ piece dried chili pepper
1 tablespoon apple cider vinegar
¼ teaspoon salt
Optional: Finely chopped green onion for garnishing
Directions: Use a knife or food processor to cut the potatoes into shreds.
Place the shredded potato in a colander, and thoroughly rinse with cold water to remove the extra potato starch. Drain the water well.
Heat oil in a frying pan over medium-high heat. Add ginger and chili pepper. Stir occasionally until fragrant. Add shredded potato. Stir constantly for 1 minute. Add vinegar and salt. Stir-fry for another minute or until the shredded potatoes are translucent. Garnish with green onion on top. Serve hot or cold.
3. Crunchy Cheese Potato Bake
Few guests could possibly turn down the comforting taste of potatoes and cheese, especially when winter weather strikes in full force. This Crunchy Cheese Potato Bake from Taste of Home is a wonderfully savory baked dish to serve for the holiday season. Crushed cornflake cereal and baked cheese provide it with a wonderfully crunchy finish. Commenters note that the dish is a soothing blend, but also recommend doubling the sauce mixture if you'd prefer a truly smothered bake. The recipe takes 1 hour and 5 minutes to make and yields 6 to 8 servings.
Ingredients:
1 cup (8 ounces) sour cream
½ cup milk
1 tablespoon minced chives
½ teaspoon salt
¼ teaspoon pepper
6 medium potatoes, peeled and sliced ¼-inch thick
1 cup (4 ounces) shredded sharp cheddar cheese
½ cup finely crushed cornflakes
Additional minced chives, optional
Directions: In a large bowl, combine sour cream, milk, chives, salt, and pepper. Add potatoes and mix thoroughly. Spread in a 15-by-10-by-1-inch baking pan. Combine cheese and cornflakes; sprinkle over potatoes. Bake at 350 degrees Fahrenheit for 50 to 60 minutes or until potatoes are tender. Sprinkle with additional chives if desired.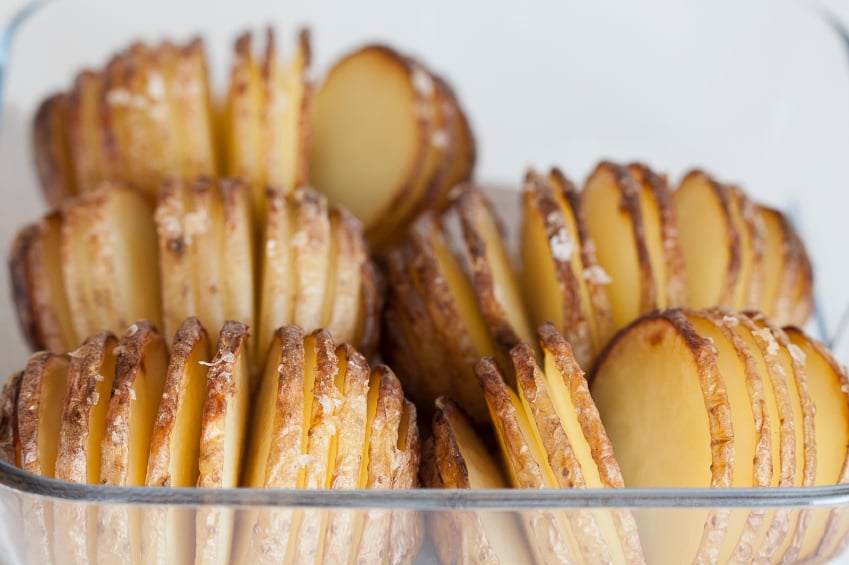 4. Rosemary-Garlic Hasselback Potatoes
Feasting at Home's Rosemary-Garlic Hasselback Potatoes are finely sliced, then baked to an exceptional crisp. The dish is flavored with fragrant rosemary and savory garlic to taste, lending a sophisticated element to your potatoes. The recipe takes about an hour and a half to make and yields about 4 to 5 servings. If you'd like a similarly crisped dish with a slightly more ambitious presentation, you may wish to try a rose petal arrangement such as this one, as presented by Pham Fatale.
Ingredients:
5 Russet or Yukon Gold potatoes, scrubbed and patted dry, but not peeled

4 tablespoons olive oil, divided

8 garlic cloves, sliced thinly lengthwise

6 sprigs rosemary

Salt and pepper
Directions:  Preheat oven to 425 degrees Fahrenheit with a rack in the lower-middle position.
Wash and dry the potatoes, leaving the skins on. Cut thin, ⅛-inch slits into each potato, stopping just before you cut through so that the slices stay connected at the bottom of the potato.
Slice the garlic, very thinly, lengthwise. Slip a piece of garlic in every other slit in the potatoes. Tuck a rosemary leaf or two into the other slits.
Brush the bottom of the baking dish with olive oil and sprinkle dish with salt and pepper. Brush top and sides of potatoes with 1 to 2 tablespoons olive oil, reserving 1 tablespoon for brushing again halfway through baking.
Arrange the potatoes in a baking dish and sprinkle generously with salt and pepper. Bake the potatoes for 35 minutes. At this point, the layers will start separating. Brush the potatoes again with a little oil, making sure some of it drips down into the space between the slices.
Bake for another 25 to 35 minutes, until the potatoes are crispy on the edges and fork tender. If they begin to get too brown, lightly cover with foil and turn heat down to 400 degrees Fahrenheit. Total baking time is about an hour to an hour and 10 minutes for average potatoes. If potatoes are on the small side or are larger, adjust cooking time accordingly.
Garnish with fresh rosemary leaves.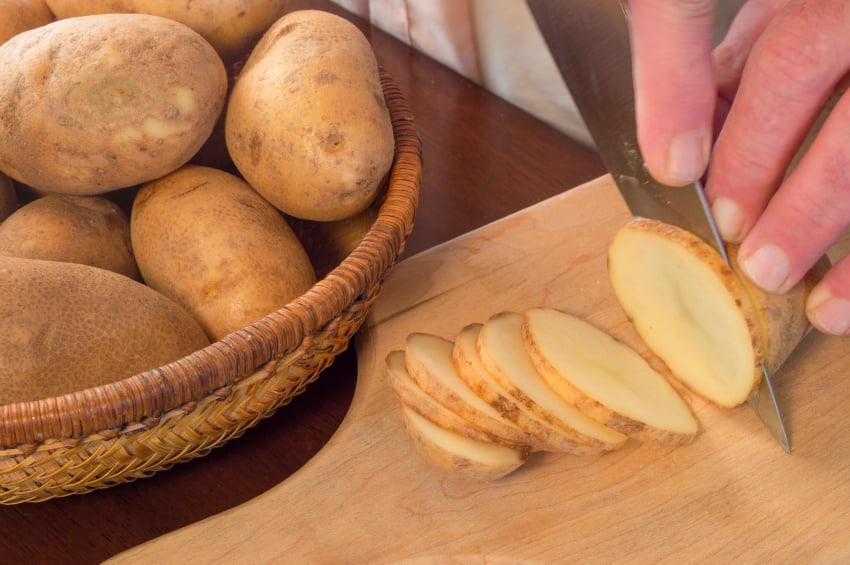 5. Crisped Herb-Roasted Potatoes
You can think of these Herb-Roasted Potatoes as a more elegant version of potato chips. Roasting your potatoes at a high temperature will culminate in perfectly crispy results. The chives, parsley, thyme, and paprika add a tinge of earthiness to the savory side dish. Mama's Gotta Bake notes that this dinnertime recipe consistently results in potatoes so delicious that her guests won't leave behind a scrap of leftovers. Don't take our word for it, though — make them during the holidays and see for yourself!
Ingredients:
1½ pounds Yukon Gold potatoes
1 tablespoon fresh parsley, minced
1 tablespoon fresh thyme, minced
1 tablespoon fresh chives, minced
Kosher salt or sea salt, to taste
Freshly ground black pepper, to taste
Paprika
Directions: Preheat the oven to 425 degrees Fahrenheit and spray rimmed cookie sheets with cooking spray. Using a mandolin, slice potatoes about ⅛-inch thick. Place them in a large bowl.
Add your fresh herbs to the bowl and sprinkle with salt, pepper, and paprika. Drizzle enough olive oil over the mixture only to lightly coat the potatoes, and with your hands toss the ingredients until each potato slice is coated.
Lay the potatoes out on the cookie sheets in one layer and place in the oven, on the center rack. About halfway through baking, using a metal spatula, flip the slices over so that the other side of the potato will brown.
Roast for about 25 minutes, or until potatoes are nice and golden brown. Remove from oven and sprinkle with additional salt, if desired. Serve immediately.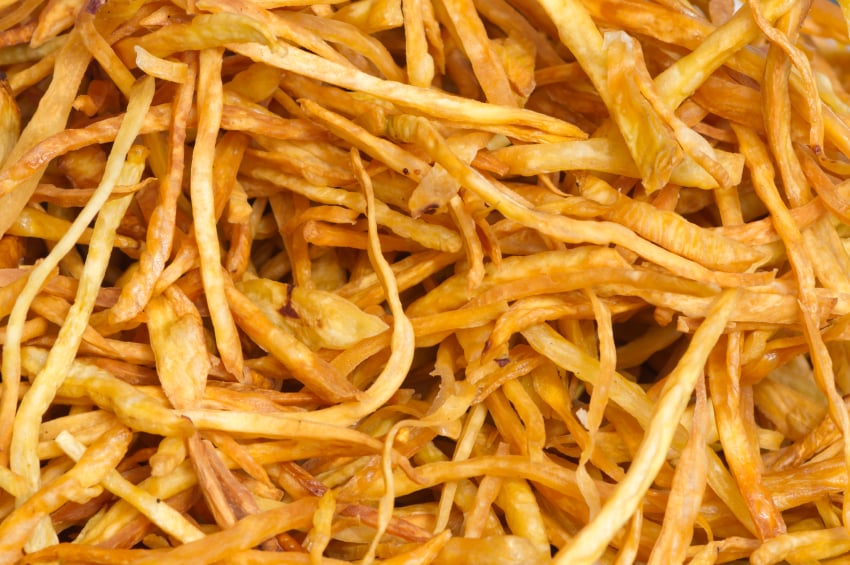 6. Fried Shoestring Potatoes With Truffle Aioli
Try a dazzling and elegant version of french fries this holiday by frying up some Shoestring Potatoes With Truffle Aioli. This recipe, shared by the Cooking Channel, will have your guests craving more potatoes on their plate! On top of that, the recipe is simple to prepare. Fry up your thinly julienned potatoes, whip together a few ingredients for your luscious truffle aioli, and you're done! The recipe takes just 40 minutes to complete and yields 4 to 6 servings.
Ingredients:
Vegetable oil, for frying
2 large Russet potatoes (about 1½ pounds), cleaned
Truffle aioli
½ cup mayonnaise
½ cup creme fraîche or sour cream
1 tablespoon white truffle oil
1 large clove garlic, grated
Zest of 1 lemon
Kosher salt and freshly ground pepper
½ cup chopped fresh parsley
¼ cup finely chopped fresh rosemary
1 tablespoon white truffle oil, for drizzling
Directions: To prepare potatoes – Heat 2 to 3 inches of oil in a heavy-bottomed pot to 350 degrees Fahrenheit.
Carefully cut the potatoes into shoestrings (or matchsticks) using a mandolin fitted with the narrowest julienne blade (about ⅛-inch wide). Rinse the cut potatoes thoroughly in a bowl of cold water to remove the surface starch. Keep the potatoes in water until you're ready to fry.
For the aioli – Whisk together the mayonnaise, sour cream, truffle oil, garlic, lemon zest, salt, and pepper to taste in a bowl. Refrigerate or set aside until ready to use.
To cook potatoes – Transfer the potatoes to a paper-towel-lined baking sheet and pat them as dry as possible. Fry the shoestrings in batches until the potatoes are crisp and turn a nice golden brown, 2 to 3 minutes per batch. As each batch of fries comes out, transfer to a large mixing bowl and toss with some of the chopped herbs, a drizzle of the truffle oil and salt to taste.
Transfer to a paper-towel-lined baking sheet. Serve with the truffle aioli.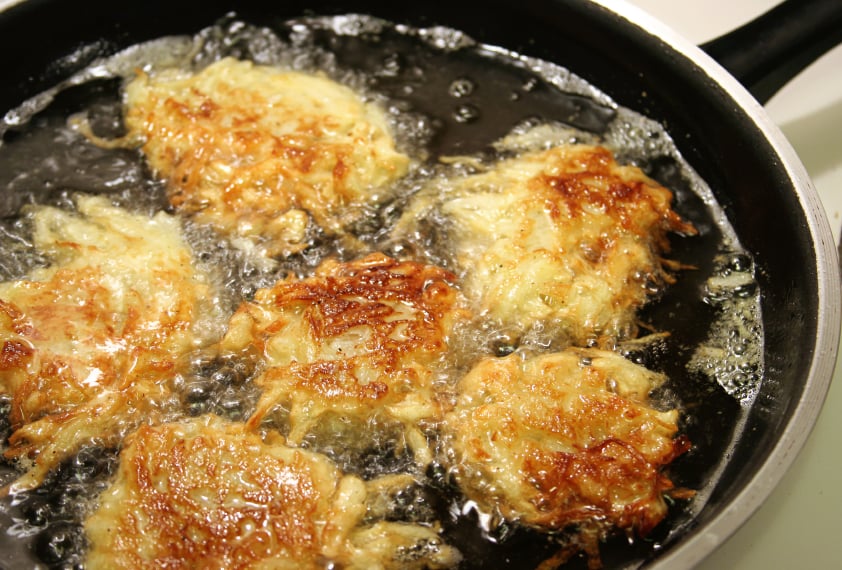 7. Crunchy Ukrainian Potato Pancakes
Crispy, crunchy, and delicious are the three best words to describe these Crunchy Potato Pancakes from Gringalicious. Begin by shredding your potatoes, either in a food processor or using a cheese grater. You'll combine those finely shredded potatoes with garlic and onion, then fry them up on the stove for an exceptionally textured holiday snack. If you have problems getting your pancakes to stick together, try adding a couple of tablespoons of flour. Gringalicious recommends serving the dish with Greek yogurt but notes that they'll go just as well with any dipping sauce you've got. The recipe takes 45 minutes to make and yields 10 servings.
Ingredients:
3 medium potatos, washed and peeled
½ large onion, finely chopped
3 cloves garlic, minced
2 teaspoons salt
½ teaspoon pepper
2 eggs
½ cup oil for frying
Directions: First, grate the potatoes with a cheese grater or shred with food processor. Mix onions and potatoes together in a large bowl. Pour out onto a large clean towel and wrap up tightly. Wring as much of the liquid as possible.
Combine garlic, eggs, salt, and pepper with onions and potatoes and stir well.
Heat oil in a medium skillet over medium-high heat until it is hot but not smoking. Carefully drop spoons of potato mixture, about 3 tablespoons, into oil and spread out with back of spoon. Cook on each side until golden brown, about 5 minutes. Remove to plate lined with paper towels to absorb excess oil. Serve immediately with Greek yogurt or your favorite dipping sauce.
More from Life Cheat Sheet:
Want more great content like this? Sign up here to receive the best of Cheat Sheet delivered daily. No spam; just tailored content straight to your inbox.