7 Foods That Taste Even Better When You Add An Egg
Adding a fried egg to a dish is a sure-fire way to upgrade your lunch or dinner. Not only are eggs cheap, they are also versatile and chock-full of vitamins and nutrients including vitamin A, vitamin D, vitamin B12, calcium, zinc, and omega-3's. According to Authority Nutrition, one egg yields only 77 calories and 5 grams of healthy fats, and it is those fats that help facilitate satiation.
If you have a dish that needs a bit of bulk, simply add a fried egg on top and see how well the eggs complement the taste, texture, and nutrient profile of your meal. We're getting you started by highlighting seven dishes that especially do well with the addition of a fried egg, but the possibilities are truly endless. Perfect the art of the fried egg and then explore how it is the ultimate dish addition.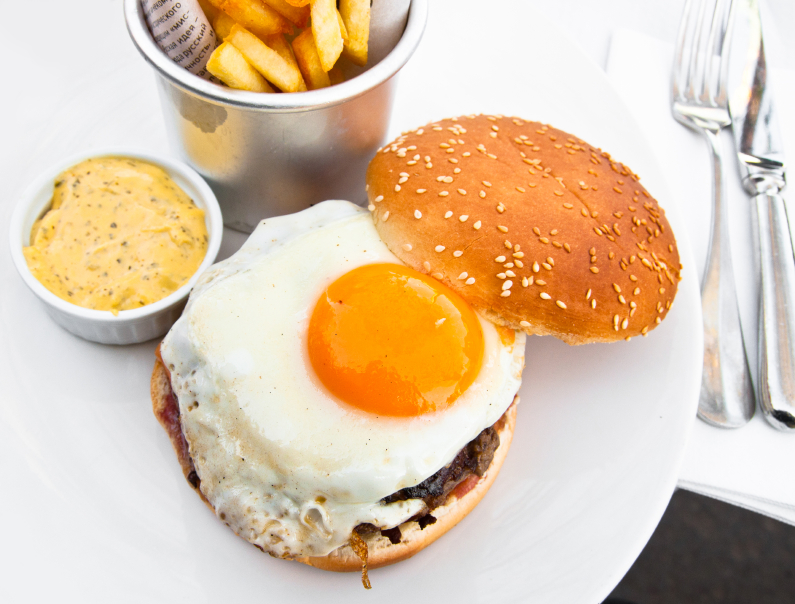 1. Green Chili Burgers with Fried Egg
Kicking things off on a strong note, we're bringing your attention to these juicy burgers from Food & Wine that go from good to great thanks to the addition of a fried egg. Serving 4, this recipe is simple, easy, and leaves no room for surprises. As long as you have ground chuck, cheese, eggs, and your relish of choice on your hands, you can whip up these burgers and show your dinner guests just how fancy ground beef can feel thanks to eggs.
Ingredients:
2¼ pounds ground chuck, preferably organic
Salt and freshly ground pepper
½ pound mild American blue cheese, cut into 4 thin slices
4 large eggs
4 brioche buns, split
4 tablespoons unsalted butter, melted
Vegetable oil
1 cup Green-Chile Relish
Directions: Light a grill. Gently form the beef into 4 thick patties and season with salt and pepper. Grill over moderately high heat until lightly charred on the outside and medium-rare within, about 5 minutes per side. Just before the burgers are done, top each one with a slice of cheese and let it melt.
Meanwhile, heat a large cast-iron skillet and brush it lightly with oil. Crack the eggs into the skillet and cook sunny-side up over moderate heat, about 4 minutes. Spread the cut sides of the buns with the melted butter and toast on the grill. Transfer the burgers to the buns. Top with the Green-Chile Relish and the fried eggs and serve.
2. Warm Spinach Salad with a Fried Egg and Bacon Vinaigrette
Next up is a slightly healthier lunch or dinner recipe from Domesticate-Me. The French have been putting fried eggs on their salads for years, and this recipe gives you instructions on how you can bring the hearty addition to your kitchen, too. Grab your greens and get ready to go. You still get to relish the bacon flavor with this recipe, but you get in your vitamins and nutrients, as well.
Ingredients:
4 slices thick-cut bacon, cut into ¾-inch strips
2 cups white mushrooms, sliced
½ red onion, very thinly sliced
5 ounces baby spinach, washed and stems removed
2 extra large eggs
1 tablespoon plus 1 teaspoon bacon grease
1 tablespoon plus one teaspoon Dijon mustard
1 tablespoon plus 1 teaspoon red wine vinegar
½ teaspoon light brown sugar, packed
Salt
Fresh ground pepper
Directions: Slice your bacon into ¾-inch strips. Cook your bacon in a large non-stick pan until it is browned and crispy. Use a slotted spoon to transfer the bacon from the pan to a paper-towel lined plate to drain. Reserve the bacon grease in a small bowl.
Heat 1½ tablespoons of the reserved bacon grease in the bacon pan and add the mushrooms and onions. Sauté for about 5 minutes until the mushrooms are tender. Set aside and keep warm while you prepare the bacon vinaigrette.
Heat 1 tablespoon plus 1 teaspoon bacon grease in a small pan. Whisk in the Dijon, vinegar, and brown sugar until smooth. Season with salt and fresh ground pepper to taste.
Fry your eggs in a non-stick pan until the whites are set, but the yolks are still runny.  Divide the spinach among two plates or bowls. Drizzle each with bacon vinaigrette and add the warm mushrooms and onions. Top each salad with a fried egg and serve immediately.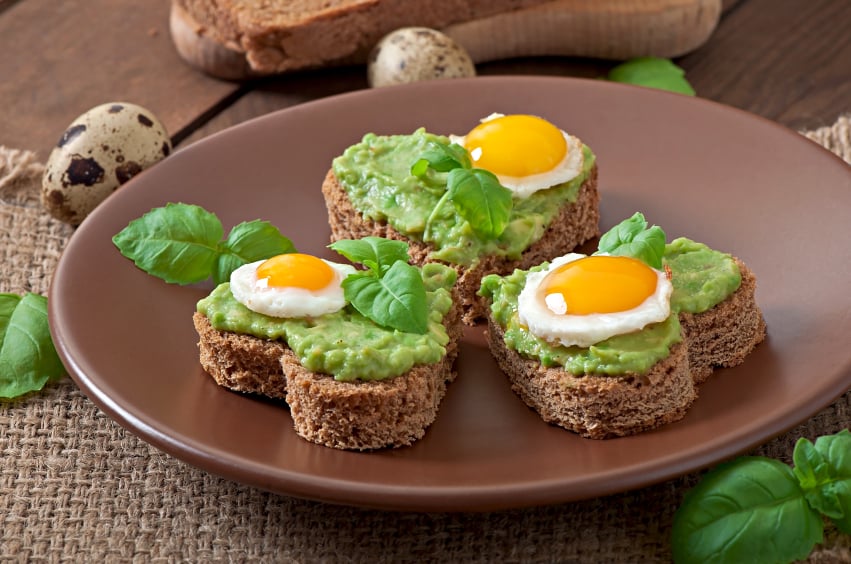 3. Avocado Toast with Fried Egg
Here's another life hack: Add a fried egg to your avocado toast and pat yourself on the back. You've just boosted the healthy fat profile of your breakfast, lunch, or snack, and you're about to experience the perfect combination of crunchy toast, creamy avocado, and pungent runny egg. This snack couldn't be easier, and it also couldn't be more satisfying. This formula from Simple Green Moms serves two.
Ingredients:
2 eggs (fried sunny side up)
2 slices of bread toasted
1 small avocado
1 teaspoon lime juice
Sea salt
Black pepper
Parsley
Directions: Prepare toast and fried eggs to personal preference. Peel and mash avocado with the lime juice, salt, and pepper. Spread avocado evenly on each slice of toast then top each with a fried eggs and additional seasonings you prefer. Serve immediately.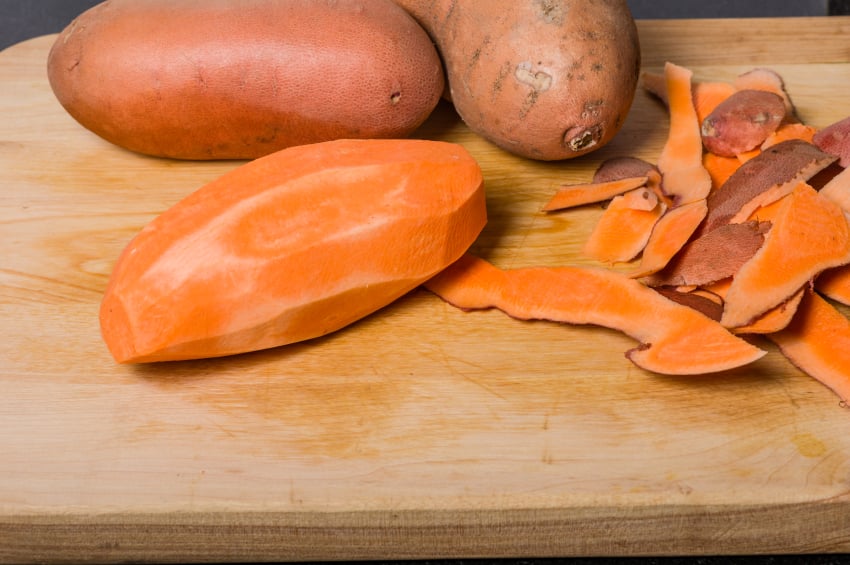 4. Sweet Potato and Kale Hash With Fried Egg
Here's another breakfast you can feel good about. Enter: Sweet Potato and Kale Hash from Shared Appetite. Packed with hearty and healthy ingredients such as sweet potatoes, kale, and eggs, this dish is nutritious just as it is indulgent and delicious. Everyone loves their breakfast potatoes, but not everyone loves their morning meals calorie-packed. With this recipe, you have the best of both worlds.
Ingredients:
2 medium sweet potatoes, peeled and cut into a fine ¼-inch dice
2 shallots, finely sliced
1 red bell pepper, cut into a fine ¼-inch dice
2 to 3 cups frozen kale or fresh kale
1 teaspoon cumin
1 teaspoon paprika
Pinch red pepper flakes
Kosher salt
Freshly ground black pepper
4 eggs
Extra virgin olive oil
Butter
Directions: Heat 4 tablespoons of extra virgin olive oil in a large skillet over medium heat. Once hot, add in the finely diced sweet potatoes, finely sliced shallot, cumin, paprika, red pepper flakes, and season very generously with Kosher salt and freshly ground black pepper.
Cook mixture, stirring occasionally, until sweet potatoes are cooked through and tender, about 15 to 18 minutes. For frozen kale, heat it according to package directions, then wrap kale in a couple paper towels and wring out any excess moisture. For fresh kale, remove ribs and stems and roughly chop leaves. Add kale into the skillet approximately during the last 5 minutes of cooking. Taste the hash and season with additional salt or pepper if needed.
As the hash is finishing up cooking, heat 2 tablespoons of olive oil or butter in a large nonstick skillet over medium-low heat. Once hot, crack open eggs and add them, one at a time, into the skillet. Season with salt and pepper and cover with a lid. This will help the tops of the whites to set before overcooking the bottom of the eggs. The eggs are done cooking once the whites are just set. Divide the hash among four plates, topping each with one of sunny-side up eggs. Sprinkle the egg with some freshly ground pepper.
5. Chicken, Pesto, and Fried Egg Pizza
One unexpected dish that also welcomes the addition of a fried egg? That would be pizza, and this recipe for Chicken, Pesto, and Fried Egg Pizza from Real Simple proves it. Pizza just got a healthy upgrade, and pesto plays a role, too. Next time you want to upgrade your pie and impress your guests, look no further than this fun formula. Have your pizza and get your omega-3s, too.
Ingredients:
1 pound store-bought pizza dough, at room temperature
2 tablespoons olive oil
1½ cups grated Asiago or Parmesan
4 large eggs
kosher salt and black pepper
1½ cups shredded rotisserie chicken, warmed
1 cup arugula
¼ cup pesto
Directions: Heat oven to 425 degrees Fahrenheit. Shape the dough into 4 rounds. Brush both sides with 1 tablespoon of the oil and place on 2 baking sheets. Dividing evenly, sprinkle with the Asiago and bake until golden, 12 to 15 minutes.
Meanwhile, heat the remaining tablespoon of oil in a large nonstick skillet over medium heat. Crack the eggs into the skillet and cook, covered, 2 to 3 minutes for slightly runny. Dividing evenly, top the baked dough with the chicken, arugula, pesto, fried eggs, and ¼ teaspoon each salt and pepper.
6. Huevos Rancheros
In our No. 6 spot is a classic dish that has been highlighting the greatness of fried eggs for years. This Huevos Rancheros recipe from Cookie and Kate is no doubt decadent, but it's also packed with good-for-you foods. It proves you can perfect Huevos Rancheros in your own kitchen and eat decadently, but also know exactly what's going into your dishes.
Ingredients:
2 cans black black beans, rinsed and drained
1 tablespoon olive oil
½ medium red onion, chopped
½ teaspoon chili powder
½ teaspoon cumin powder
¼ teaspoon cayenne pepper
1 lime, halved
Salt and pepper, to taste
Avocado Salsa Verde
1 cup mild salsa verde from a jar
1 ripe avocado, pitted and sliced
Big handful cilantro
1 medium jalapeño, deseeded and roughly chopped
1 garlic clove, roughly chopped
½ lime, halved
To Assemble
4 corn tortillas
4 eggs
½ cup feta, crumbled
Small handful cilantro, roughly chopped
4 radishes, sliced into very thin pieces
½ jalapeño, seeds and membranes removed, finely chopped
Hot sauce
Directions: Cook the beans: Heat a drizzle of olive oil in a medium-sized saucepan over medium heat. Once the oil is warmed, add the onion and sauté for a few minutes, stirring often, until the onions are turning translucent. Add the chili powder, cumin, and cayenne and stir. Add the beans and ¼ cup water and stir to combine. Cover the pan, reduce heat, and let the beans simmer for about 10 minutes. Remove from heat, mash some of the beans with the back of a big spoon and cover the pan until you are ready to serve.
Make the avocado salsa verde: In a food processor, combine the salsa verde, avocado, cilantro, ½ of the jalapeño, garlic clove, and the juice of ½ lime. Purée the salsa until it is super creamy, stopping to scrape down the sides as necessary. Transfer the salsa verde to a small saucepan and gently warm it over medium-low heat, stirring often.
Fry the eggs. To warm the tortillas: Directly over a medium-low gas burner flame or in a pan, flipping until warmed through. Assemble the huevos rancheros: On each plate, top tortilla with black beans, avocado sauce, and egg. Garnish with crumbled feta, cilantro, chopped radishes, and jalapeño.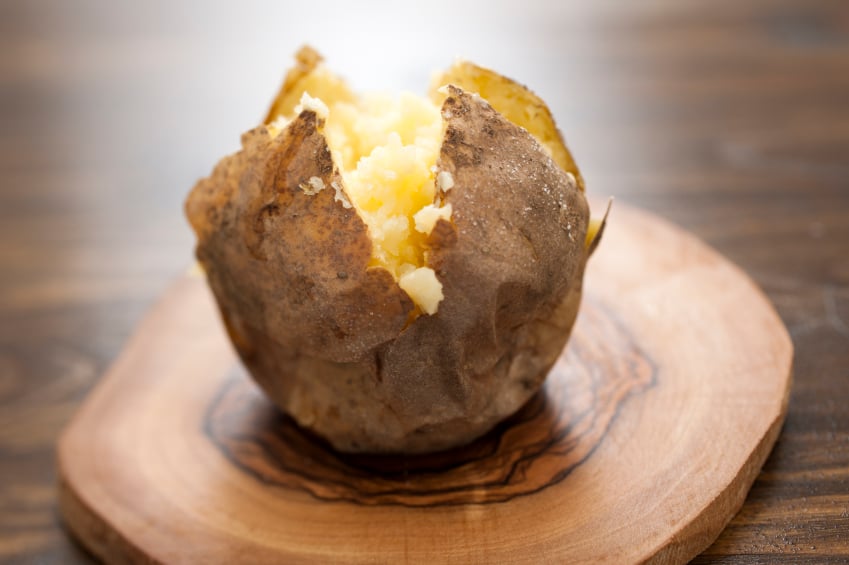 7. Twice Baked Potato with Egg on Top
Lastly, if you have extra eggs on your hands, try this one last hack. These Twice Baked Potatoes from Home Cooking Adventure might be an unexpected twist on your favorite side dish, but we promise they are delicious and nutritious. You can't exactly go wrong with twice baked potatoes, and with the addition of fried eggs, you can do even better.
Ingredients:
2 medium/large potatoes
1 medium yellow onion, diced
4 small eggs
3 or 4 cloves of garlic, chopped fine
4 ounces cheese, grated
2 tablespoons olive oil
Fresh chives, chopped
Directions: Preheat oven to 400 degrees Fahrenheit. Scrub potatoes, pierce them with a fork, and put them in the oven rack for 30 to 40 minutes until soft. In a large frying pan heat oil or butter over medium high heat. Saute the onion with garlic for about 5 minutes until soft.
When the potatoes are cool enough to handle cut potatoes in half lengthwise, scoop the interior out of each leaving about ¼ inch shell of potato flesh and skin. Add the scooped-out potato flesh, grated cheese, salt, and pepper into the pan and stir well to combine. Place the potato shells on the baking sheet and feel them with the mixture. Press the mixture with a spoon so a whole is formed to make space for the eggs. Sprinkle chives on top and crack an egg on top of each stuffed potato. Cook at 400 degrees for 10 to 15 minutes until the egg is set.
More from Life Cheat Sheet:
Want more great content like this? Sign up here to receive the best of Cheat Sheet delivered daily. No spam; just tailored content straight to your inbox.