7 Energy-Sustaining Protein Bar Recipes
When made with the proper ingredients, a protein bar is perfect for breakfast, lunch, or a nutrient-packed snack. It's an easy go-to that is great to have on hand, especially for days when you don't have time to prepare anything. These 7 protein bars are made with wholesome, nutritious ingredients, including dark chocolate, nut butters, whole grains, oats, and fruit. You'll have the energy to easily breeze through the day after eating one of these protein-packed bars.
1. Blueberry Bliss Breakfast Bars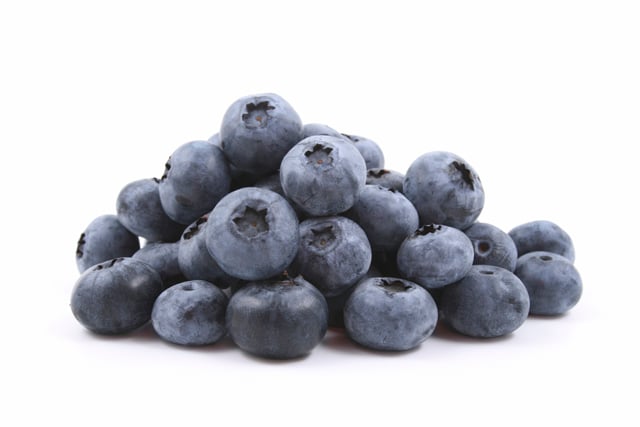 These bars are about as healthy as it gets. Each one contains 8.1 grams of protein and 232 calories. Inspired Edibles' recipe is perfect for vegans and those looking for a gluten-free bar, and the wholesome ingredients, including fruit, almonds, oats, seeds, almond butter, and honey are sure to keep you full for hours. The recipe yields 16 bars.
Ingredients:
1½ cups 100% pure, uncontaminated, rolled oats
¾ cup whole almonds
Heaping ½ cup dried blueberries
½ cup pistachios
⅓ cup ground flaxseed
⅓ cup walnuts
⅓ cup pepitas
¼ cup sunflower seeds
⅓ cup pure maple syrup or honey
¼ cup unsweetened apple sauce
1 cup almond butter
Directions: Line an 8 by 8-inch baking pan with parchment or wax paper so the paper hangs over the edges. Combine the first 8 ingredients in a large bowl and mix to combine. Add maple syrup or honey and apple sauce and mix to combine. Add almond butter to mixture and mix until combined. Place batter in prepared pan pressing down firmly with palm of hands and distributing as evenly as possible.
Allow pan to sit in freezer for approximately 1 hour. Remove pan from freezer. Lift singular slab from pan by lifting up on paper. Set slab down and gently peel paper away. Slice slab diagonally into 8 long bars and then cut each long bar in half to create a total of 16 bars.
2. Sunflower Butter Oatmeal Raisin Protein Bars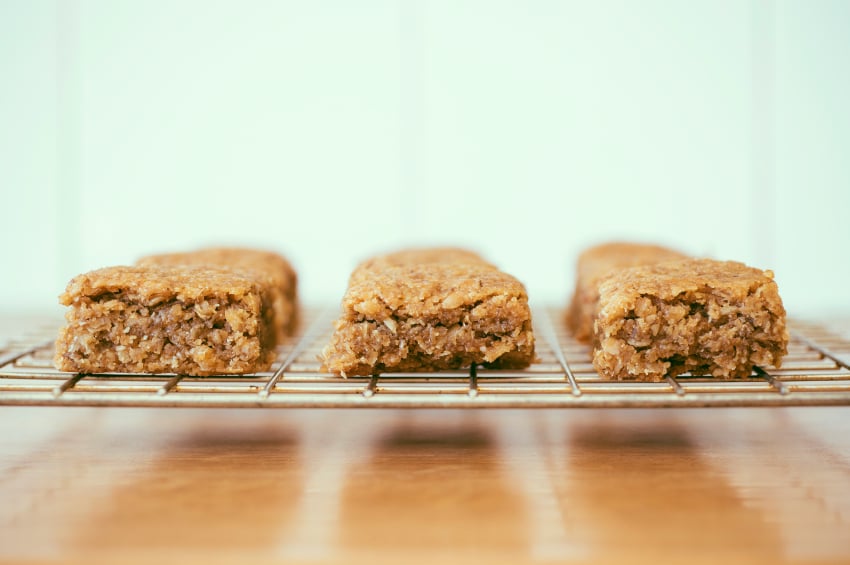 Beyond the Peel's recipe is packed with protein and good-for-you foods that are guaranteed to give you a burst of energy. Oats, coconut water, honey, and a variety of seeds create a nutritional bar you can eat any time of the day.
Ingredients:
1 cup rolled oats
Coconut water from the bottom of a coconut cream can or ½ cup of water
½ cup water
4 eggs yolks room temperature
1 cup plain 2 percent yogurt (or the coconut cream from the top of the can)
¾ cup warm honey
½ cup melted coconut oil
⅓ cup ground flax seed
⅓ cup sunflower seeds
⅔ cup rolled oats
1 cup sunflower seed butter (or any other type of nut butter you like)
1 ⅓ cup chocolate chips
1 cup raisins
1 cup pumpkin seeds toasted
Directions: Line a 9 by 13-inch pan with parchment paper. Preheat oven to 350 degrees Fahrenheit. Take a cup of oats, cover it with the coconut water and ½ a cup of water, and let it sit for an hour. Mix the eggs, yogurt, honey, and coconut butter together until well-blended.
Add all remaining ingredients and mix until no lumps remain. Break up the soaked rolled oats with a fork if need be. Pour the batter into the prepared baking dish and bake for 35 minutes. Refrigerate for at least 4 hours, so that the coconut oil and sunflower seed butter can solidify. Cut into 2 by 1 slices. They will store well in the fridge for a week. This recipe makes a large batch; you may want to wrap individually and freeze them.
3. Quinoa Protein Bars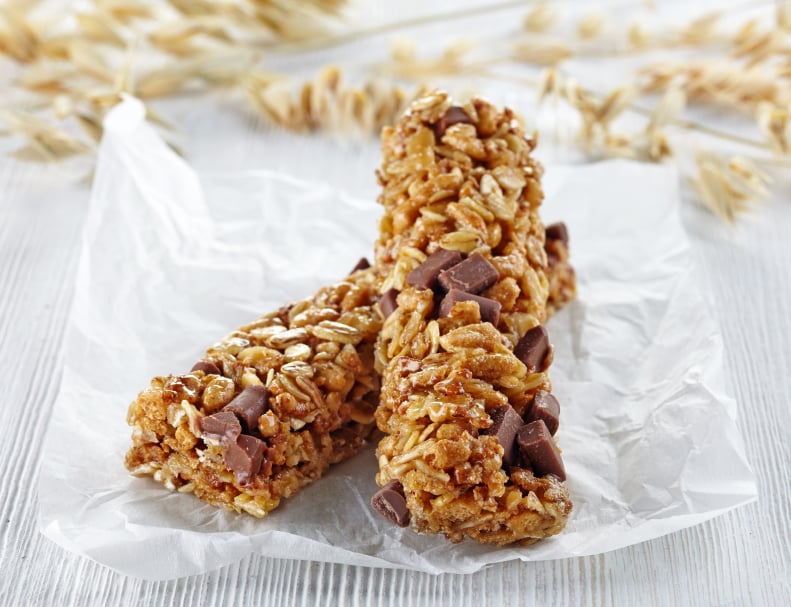 This Skinny Ms. recipe yields 8 bars, with each containing 376 calories and an amazing 14 grams of protein. It also happens to be packed full of energy-sustaining (and delicious) nutrients, including quinoa, almonds, dark chocolate, and peanut butter.
Ingredients:
⅓ cup quinoa, pre-rinsed
⅔ cup water
16 whole (pitted) dates, no sugar added
½ cup raw almonds with skin
⅓ cup natural crunchy peanut butter (you can also use almond butter)
¼ cup dark chocolate chips
1 tablespoon honey (optional)
Directions: Add quinoa and water to a small sauce, cover and bring to a boil, reduce heat to a simmer, and cook approximately 15 minutes or until all water has been absorbed. Cool to room temperature and refrigerate at least 2 hours. Using a food processor or high powered blender, add dates and pulse until they form a ball. Remove dates and place in a medium mixing bowl.
Add almonds to the food processor and pulse until finely minced. Be careful not to turn the almonds into mill. Add dates, almonds, peanut butter, and cold quinoa to the food processor, and pulse until ingredients are well-combined. Return ingredients to the mixing bowl, shape into six bars that are 2 x 1, about 1-inch thickness. Place on a dish, refrigerate until chocolate is set.
In a small saucepan, add chocolate chips and honey, melting over low heat or in a double-boiler. Evenly spread a thin layer of chocolate over the top of each protein bar, return to the refrigerator, and allow chocolate to harden. Bars can be stored in an airtight container for several days.
4. Super Protein Star Crunch Bars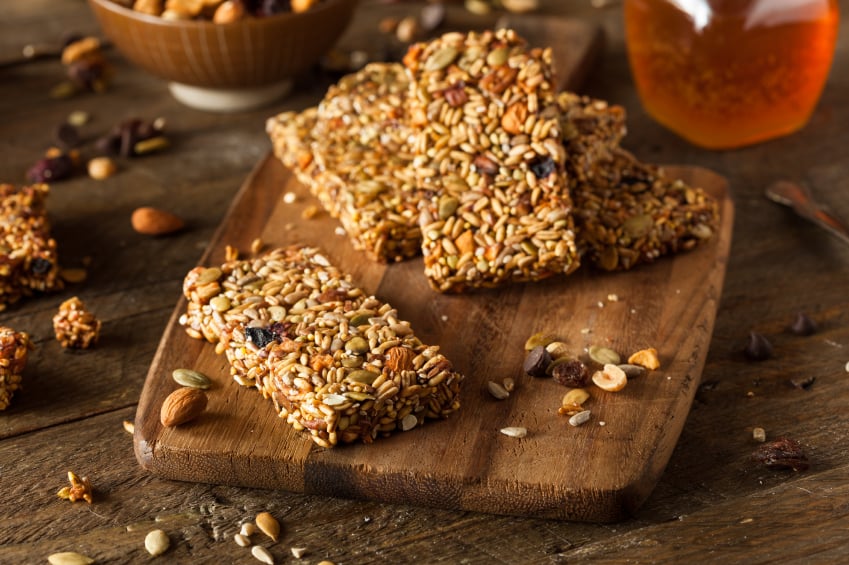 In addition to bursting with sweet caramel and dark chocolate flavors, each of these small bars packs 5 grams of protein. Blissful Basil's recipe yields 10 bars, all of which are filled with high-protein flax cereal, hemp seeds, and a super satisfying, crunchy texture.
Ingredients:
5 ounces thick caramel sauce
1½ cups crunchy flax cereal
1 tablespoon butter
4 tablespoons shelled hemp seeds
12 ounces melted dark chocolate
Directions: Heat caramel sauce in a large pot over low heat until melted. Add in the butter and hemp seeds and stir until incorporated. Remove from heat and add in the flax cereal, and stir until evenly coated with caramel mixture. Drop spoonfuls of the mixture into a well-greased muffin tin and gently press down to form patties. Pop the muffin tin in the refrigerator for 30 to 45 minutes to set the patties.
Line a baking sheet with parchment paper. Dip the cool patties, one at a time, into the melted dark chocolate to coat. Turn out onto lined baking pan. Repeat with all caramel patties. Refrigerate for 25-30 minutes to set chocolate. Leftovers can be stored in the refrigerator.
5. Nourishing Protein Bars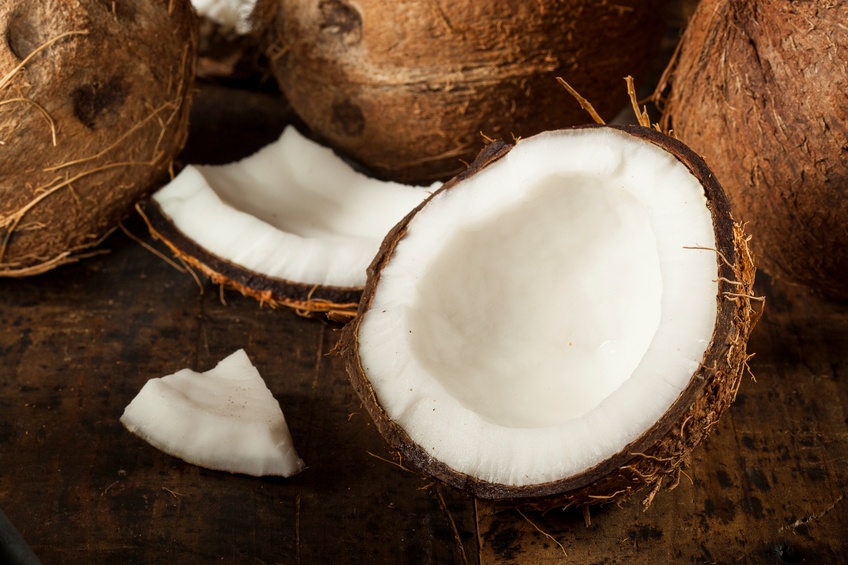 Filled with seeds, coconut, honey, dark chocolate, and peanut butter, Passionate Homemaking has created a sweet and satisfying protein bar. This recipe yields 25 bars with each containing 4.69 grams of protein. You may even find yourself reaching for more than one!
Ingredients:
2 cups almonds
¼ cup flax seeds, chia seeds or pumpkin seeds (ground in a coffee grinder or blender)
½ cup dried prunes, dates or raisins
½ cup shredded coconut (unsweetened)
½ cup peanut or almond butter
½ cup coconut oil or butter (melted)
¼ cup honey
2-3 teaspoons vanilla extract
A few squares dark chocolate, less than half a bar needed for thin layer (optional)
Directions: Place almonds, flax meal/seeds, dried fruit, shredded coconut, and almond/peanut butter in a food processor. Pulse briefly for about 10 seconds. In a small sauce pan, melt coconut oil over very low heat. Remove coconut oil from stove, stir sweeteners and vanilla into oil. Add coconut oil mixture to food processor and pulse until ingredients form a coarse paste. Press mixture into an 8 by 8-inch glass baking dish. Chill in refrigerator for 1 hour, until mixture hardens. In a small saucepan, melt chocolate over very low heat, stirring continuously. Spread melted chocolate over bars; return to refrigerator for 30 minutes, until chocolate hardens. Remove from refrigerator, cut into bars and serve. Store in refrigerator or freeze for later.
6. Healthy 5-Ingredient Granola Bars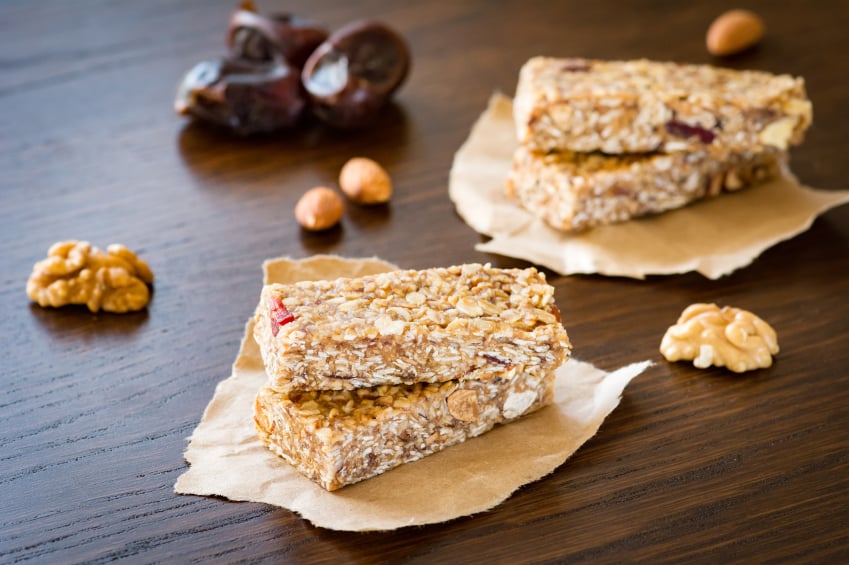 Minimalist Baker has created an easy-to-make, healthy, and delicious protein bar. The recipe makes 10 bars, with each containing 217 calories and 6 grams of protein. It's perfect for a mid-morning pick-me-up.
Ingredients:
1 cup packed dates, pitted
¼ cup honey (or sub maple syrup or agave for vegan option)
¼ cup creamy salted natural peanut butter or almond butter
1 cup roasted unsalted almonds, loosely chopped
1 ½ cups rolled oats
Optional additions: chocolate chips, dried fruit, nuts, banana chips, and vanilla
Directions: Process dates in a food processor until small bits remain, about 1 minute. It should form a dough-like consistency. Optional step: Toast your oats in a 350 degree Fahrenheit oven for 15 minutes or until slightly golden brown. Otherwise, leave them raw. Place oats, almonds, and dates in a bowl; set aside. Warm honey and peanut butter in a small saucepan over low heat. Stir and pour over oat mixture and then mix, breaking up the dates to disperse throughout.
Once thoroughly mixed, transfer to an 8 x 8-inch dish or other small pan lined with plastic wrap or parchment paper so they lift out easily. Press down until uniformly flattened. Cover with parchment or plastic wrap, and let set in fridge or freezer for 15-20 minutes to harden. Remove bars from pan and chop into 10 even bars. Store in an airtight container for up to a few days.
7. Breakfast No Powder Protein Bars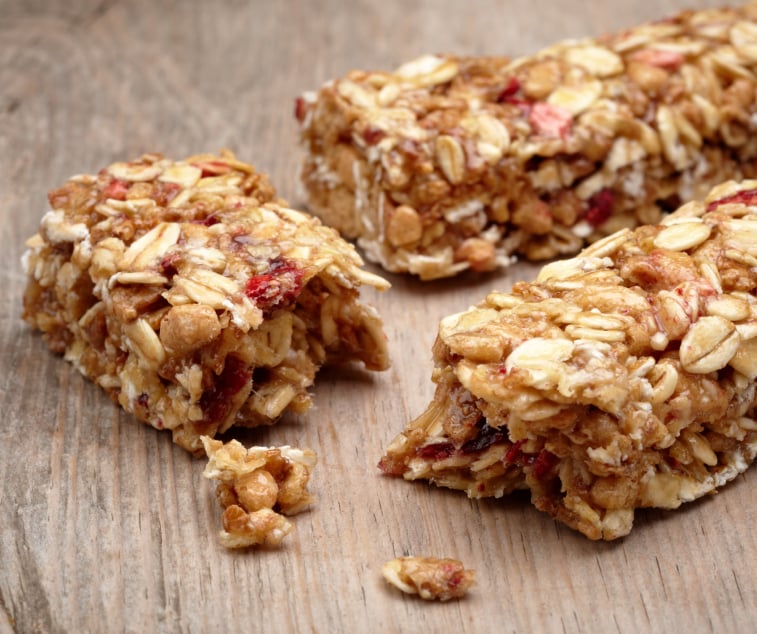 With only 4 ingredients, Neila Rey's recipe is simple, tasty, and incredibly high in protein. The recipe yields 12 bars, with each containing 372 calories and 12.5 grams of protein.
Ingredients:
2 cups (16 ounces) uncooked oatmeal
1 ½ cups (12 ounces) peanut butter
1 cup (8 ½ ounces) coconut cream
3 tablespoons honey
Directions: Open a pack or a can of coconut cream. Make sure you drain the milk if there is any clear liquid, and pour the cream into a large bowl. Whisk until the mixture is smooth. Add honey, and mix well. Add peanut butter and mix well. Add uncooked oatmeal and mix well. Flatten the dough in a dish. Place the dish into the fridge, and keep it there overnight. It will need 2 to 3 hours to chill. Cut it into 12 bars, or cut pieces off as you need them. Keep it cool at all times.
More from Culture Cheat Sheet: