7 Quesadilla Recipes Filling Your Tortillas With Fantastic Flavors
Consumers of all ages can enjoy the simple snack or light meal that is a quesadilla. You can't do wrong when carbs and cheese are involved, but you can do a lot of right. And in case you are tired of your typical tortilla and American cheese combination, try these 7 food formulas that take the easy comfort food up a notch. Enlisting veggies, various kinds of meat, and of course, cheese, these recipes will transform how you do the quesadilla. And there's something for everyone — carnivores and herbivores alike.
1. Stacked Veggie Quesadillas
Our first recipe comes from Bon Appétit, and while it's meat-free, it's still a treat. These Stacked Veggie Quesadillas are packed with fresh flavor courtesy of butternut squash, black beans, salsa, and Monterey jack cheese. They also call for a healthy serving of sour cream, along with cilantro, so before your meat-lovers turn their noses up at these quesadillas, make them try at least one bite of these delicious and nutritious quesadillas that come with a spicy kick.
Ingredients:
4 (8-inch-diameter) flour tortillas
1 (8-ounce) package peeled chopped butternut squash, cut into ½- to ¾-inch cubes
2 tablespoons vegetable oil, divided
1 cup chopped white onion
1 (15- to 16-ounce) can black beans, rinsed, drained
½ cup salsa, divided
2 garlic cloves, chopped
1 teaspoon chili powder
1 cup coarsely grated hot pepper Monterey Jack cheese
¼ cup chopped fresh cilantro
Sour cream
Directions: Preheat broiler. Put tortillas in single layer on baking sheet. Brush with oil. Broil until toasted, about 3 minutes. Turn; set aside.
Place squash in microwave-safe bowl. Sprinkle water over, cover with plastic wrap, and microwave until just tender, about 3 minutes; drain. Heat 1 tablespoon oil in large nonstick skillet over medium-high heat. Add onion and sauté until beginning to brown, about 3 minutes. Add squash; stir 1 minute. Season with salt and freshly ground black pepper. Spread out squash in even layer over 1 tortilla. Add 1 tablespoon oil to skillet. Add beans, ¼ cup salsa, garlic, and chili powder. Using potato masher, crush until beans are coarsely mashed; season with salt and pepper. Stir in ¼ cup salsa. Spread over second tortilla. Sprinkle cheese over third tortilla. Leave fourth tortilla plain.
Broil tortillas until cheese melts and vegetables are browned in spots, about 3 minutes, watching to prevent burning. Transfer black bean tortilla to plate; sprinkle ¼ cup chopped cilantro over. Top with cheese tortilla, squash tortilla, then plain tortilla. Cut into 4 wedges. Garnish with sour cream, salsa, and cilantro sprigs.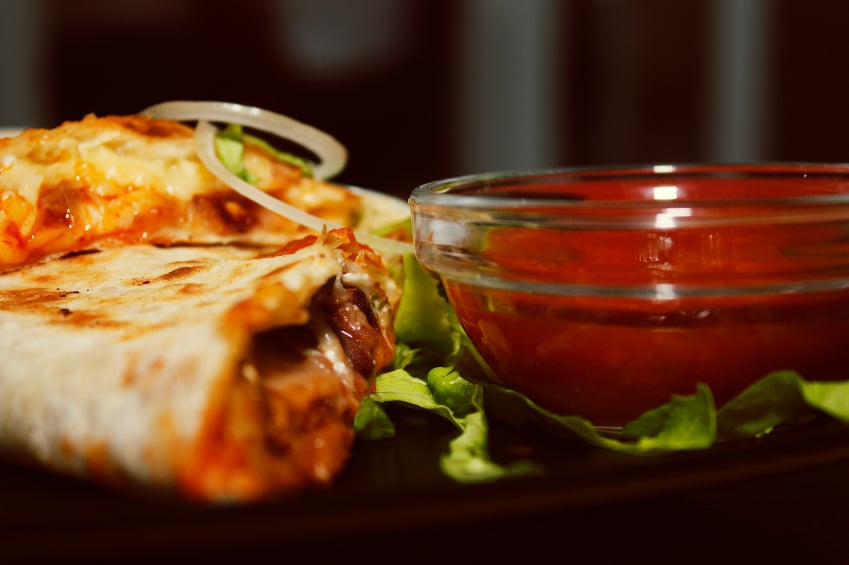 2. Pizza Quesadillas
Next up: Pizza Quesadillas from Mix and Match Mama. Is there anything better than combining our two favorite cuisines: Italian and Mexican? We think not, and these quesadillas, which are stuffed with ground beef, tomato sauce, pizza sauce, pepperoni, and shredded cheese, prove it. This recipe serves 4 and is completely customizable — just choose the pizza topping of your choice, pack them in fresh tortillas, heat up your skillet, and go. These Pizza Quesadillas are fun to make and fun to eat.
Ingredients:
1 pound ground beef
1 jar of pizza sauce
1 jar of tomato sauce
6 "burrito-sized" flour tortillas
About a cup or so of sliced pepperoni
1½ cups shredded Mozzarella cheese
Handful of fresh basil, torn
Directions: In a large skillet over medium-high heat, brown your ground beef until cooked and crumbly. Once cooked through, stir in your pizza sauce and tomato sauce. Heat through about 3 or 4 minutes. Next, preheat your indoor griddle or a second big skillet to medium-high heat. Spray lightly with cooking spray.
Lay out your six flour tortillas. Spread ground beef down across the bottom half of each tortilla. Add sliced pepperoni, shredded cheese and basil to each one. Fold the top part down to cover the bottom portion. Place each quesadilla in your skillet one at a time. Brown on both sides. Remove once browned up and slice in half. Repeat with your other tortillas.
3. Margarita Chicken Quesadillas
Carnivores, rejoice — there's meat in this next recipe, and it comes from Half Baked Harvest. Drink your margaritas and eat, them, too, via this fun formula for Margarita Chicken Quesadillas. These quesadillas are refreshing and come with a kick thanks to tequila, lime juice, cumin, and jalapeño peppers, and the recipe developer behind this dish even packs rice and two different types of cheese into it. Make this dinner tonight and see how easy the quesadillas go down.
Ingredients:
Margarita Chicken
1 pound boneless skinless chicken breast or tenders
¼ cup tequila
¼ cup olive oil
¼ cup lime juice
2 tablespoons fresh orange juice
2 tablespoons honey
3 cloves garlic, minced
1 jalapeño, minced
Zest of 1 lime
½ teaspoon salt
½ teaspoon pepper
1 teaspoon cumin
Assembly
8 whole-wheat flour tortillas
1 cup cooked white or brown rice
4 ounces sharp white cheddar cheese, freshly grated
4 ounces pepperjack cheese, freshly grated
½ cup pickled jalapeños
Olive oil for toasting
Directions: Whisk the tequila, olive oil, lime juice, orange juice, and honey in a bowl. Add the garlic, jalapeño, lime zest, cumin, salt, and pepper. Whisk to combine.
Add chicken to a ziplock bag or baking dish and pour marinade ingredients over top. Marinate in the fridge for 2 to 24 hours, flipping chicken a few times. When you're ready to prepare the quesadillas, preheat the grill to medium high heat and grill the chicken for 6 to 8 minutes per side or until cooked through. Allow to cool five minutes and then chop into bit size pieces or shred with a fork. Set aside.
Heat an electric griddle or skillet over medium heat. Add a bit of olive oil.
Place 4 tortillas down, covering each with a bit of both cheeses. Then evenly distribute the rice, then add the diced chicken. Add the pickled jalapeños and sprinkle with a little more of both cheeses. Place the tortilla on the griddle or skillet, then cover with the other tortilla. Cook until the bottom is crispy and golden brown, then gently flip and cook for another 2 to 3 minutes until crispy and golden.
4. Three Cheese Quesadillas with Garlic Butter
Say hello to these Triple Cheese Quesadillas from Fine Cooking. Meat-free never tasted so good. This recipe for Three Cheese Quesadillas with Garlic Butter calls for only 6 ingredients — three of which are cheese, and one of which is butter. Talk about a dream meal. Carbs, three cheeses, and butter are a match made in comfort food heaven, and this dish couldn't be simpler. Regardless of whether you serve your 'dillas as an appetizer or a main meal, just make sure you make them and save one for yourself. They'll go fast.
Ingredients:
2 small cloves garlic, unpeeled
2 tablespoons salted butter, at room temperature
8 ounces Monterey Jack, coarsely grated
1¼ ounces finely grated Parmigiano Reggiano
4 ounces fresh goat cheese, crumbled
4 (9- or 10-inch) flour tortillas
Directions: Position a rack in the center of the oven; heat the oven to 200 degrees Fahrenheit. In a small pot, bring 2 cups water to a boil over high heat. Add the garlic cloves and cook until soft, about 5 minutes. Drain the garlic, let it cool slightly, peel, and put it in a small bowl. With a fork, mash the garlic to a coarse paste and then add the butter and mix well.
In a medium bowl, combine the Monterey Jack, Parmigiano, and goat cheese. Spread the garlic butter on one side of each tortilla and set the tortillas on a work surface, buttered side down. Distribute the cheese mixture among the tortillas, covering only half of each and leaving a 1-inch margin at the edge. Fold the tortillas in half to enclose the filling, creating a half-moon.
In a 10- or 12-inch nonstick skillet over medium heat, cook two of the quesadillas, covered, until golden brown, about 4 minutes. Uncover and flip the quesadillas. Cook until the second side is golden brown and the cheese has melted completely, about 2 minutes. Transfer the quesadillas to the oven to keep warm and repeat with the remaining two quesadillas. Cut the quesadillas in half and serve.
5. Grilled Steak Quesadillas
If you need some red meat in your life, try these Grilled Steak Quesadillas featured on Chow. The tortillas are packed with skirt steak, two different types of cheese, pickled jalapeños, and salsa, and they're heavy enough to serve as a main meal, helping you get your iron and dairy fix for the day. Dust off your outdoor grill and cheers to spring and summer with these Grilled Steak Quesadillas. Mexican cravings are always in season.
Ingredients:
1 pound skirt steak, cut widthwise into 6- to 8-inch pieces
1 chipotle in adobo sauce, finely chopped
Kosher salt
Freshly ground black pepper
Vegetable oil, for oiling the grill
12 ounces Monterey Jack cheese, shredded
4 ounces sharp cheddar cheese, shredded
8 flour tortillas
⅓ cup small-dice jarred or homemade pickled jalapeños
Salsa, for serving
Directions: Heat an outdoor grill to high, about 400 degrees Fahrenheit to 500 degrees Fahrenheit. Pat the steak pieces dry with paper towels and lay flat. Brush the chipotle on one side of the steak pieces. Season both sides of each piece generously with salt and pepper.
When the grill is ready, use tongs to rub the grate with several layers of paper towels dipped in vegetable oil. Place the steak pieces on the grill and cook until medium rare, flipping halfway through the cooking time, about 5 to 6 minutes total.
Combine the cheeses in a medium bowl. Place 2 tortillas side by side on a clean cutting board or 2 plates. Sprinkle each tortilla with a quarter of the steak, jalapeños, and cheese mixture. Top each tortilla with another tortilla and gently press down.
Carefully slide the quesadillas from the cutting board or plates onto the grill. Cover the grill and cook, rotating 90 degrees halfway through the cooking time, until the cheese is completely melted, the tortillas are crispy, and grill marks have appeared on the bottom, about 3 to 4 minutes total. Using a spatula, carefully flip the quesadillas over and repeat cooking and rotating until the bottom tortillas are crispy, about 2 to 3 minutes more. Using a spatula, transfer the quesadillas to a cutting board and let rest for 2 minutes. Repeat with the remaining tortillas and filling to make 2 more quesadillas. Cut each quesadilla into wedges and serve with salsa, guacamole, and sour cream.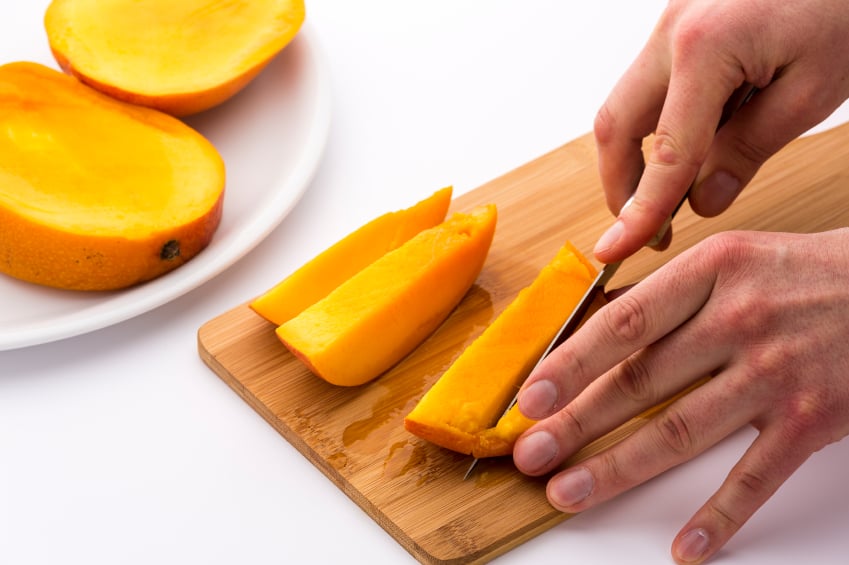 6. Brie and Mango Quesadillas
Brie is probably not the first cheese you think of using when you're making quesadillas, but it actually performs perfectly with a wide range of foods, including fresh mangos. Give these Brie and Mango Quesadillas from Food.com a try and see what we're talking about. Soft brie cheese and sweet mango complement each other in the tortillas, alongside peppers, green chilis, jalapeños, and cilantro. This vegetarian snack or light meal is simple yet sophisticated, and can even pack a spicy punch.
Ingredients:
8 ounces brie cheese, rind removed and cut into ½ cubes
1 large mango, peeled and cut into ½ inch cubes
1 red pepper, roasted peeled, seeded and diced
1 can chopped green chilies, drained
¼ cup finely chopped red onion
3 tablespoons coarsely chopped cilantro
1 jalapeno, seeded and minced
¼ teaspoon salt
¼ teaspoon fresh ground black pepper
8 (6-inch) flour tortillas
Directions: Combine all ingredients in bowl. Mix well. Divide mixture evenly among tortillas and fold tortillas in half. Heat large non stick skillet over medium high heat, add 1 or 2 filled tortillas. Cook until cheese melts, turning once, about 3 minutes per side. Repeat with remaining tortillas, cut each in half to serve.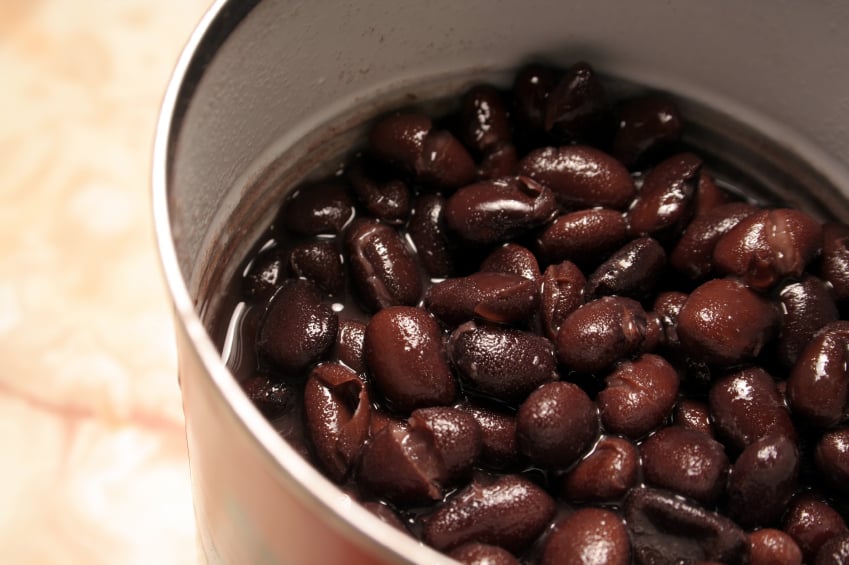 7. Roast Turkey and Black Bean Quesadillas
Last but not least: Roast Turkey and Black Bean Quesadillas from Serious Eats. Regardless of whether you have turkey left over from the night before or a holiday feast, the white meat will perform well in a day-after Mexican-flavored treat. These quesadillas are packed full of protein thanks to turkey and the beans, and they also get their flavor from cheese, cilantro, and jalapeños. Leftovers never tasted so good.
Ingredients:
4 ounces grated Jack, Cheddar, or Oaxacan string cheese
4 ounces pulled roasted turkey meat
½ cup drained rinsed canned black beans
2 pickled jalapeños, finely minced
¼ cup chopped fresh cilantro leaves
2 flour tortillas
3 tablespoons vegetable oil
Kosher salt
Directions: Combine cheese, turkey, black beans, jalapeños, and cilantro in a medium bowl. Spread half of cheese mixture over one half of one tortilla, leaving a small border around the edge. Fold tortilla firmly in half to enclose the cheese. Repeat with remaining tortilla.
Heat oil in a 10-inch nonstick or cast iron skillet over medium heat until shimmering. Carefully add both folded tortillas to skillet and cook, shaking pan gently until first side is golden brown and puffed, 1 to 2 minutes. Carefully fip tortillas with a flexible slotted spatula, sprinkle with salt, and cook on second side until golden brown and puffed, 1 to 2 minutes longer. Transfer to a paper towel-lined plate and allow to rest 1 minutes. Cut each into four pieces and serve.
More from Life Cheat Sheet:
Want more great content like this? Sign up here to receive the best of Cheat Sheet delivered daily. No spam; just tailored content straight to your inbox.