7 of the Best Chimichanga Recipes You Can Make at Home
In the mood for a marvelous Mexican dish? A baked or fried tortilla bursting with cheese, meat, veggies, and seasonings — otherwise known as a chimichanga — may be just what you're looking for. These seven chimichanga recipes can be easily prepared and are guaranteed to create a dish everyone will look forward to. Keep reading to learn about the delicious meat-filled, vegetarian-friendly, and dessert chimichangas we've compiled.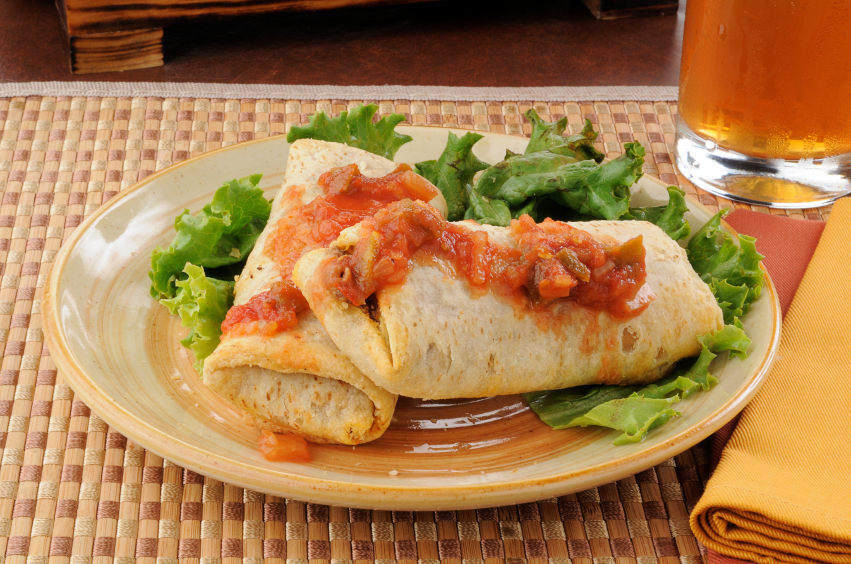 1. Baked Chicken Chimichanga
Food.com's baked chicken chimichanga recipe is delicious, easy, and will rival any dish you'd order at a restaurant. Serve this dish, which yields four to six servings, with cilantro, salsa, and onion for a flavorful dinner.
Ingredients:
8 ounces cream cheese
8 ounces monterey jack pepper cheese, shredded
1½ tablespoons taco seasoning
1 pound cooked chicken, shredded
8 flour tortillas
Cooking spray
Shredded cheddar cheese
Green onion (to garnish)
Sour cream
Salsa
Directions: Stir together cream cheese, pepper jack cheese, and taco seasoning. Fold in chicken. Divide among tortillas. Tuck in sides and roll up each tortilla. Lay seam side down in a sprayed 9-by-13 baking dish. Spray tops of tortillas with cooking spray. Bake at 350 degrees Fahrenheit for 15 minutes. Turn the chimichangas over and bake an additional 15 minutes. Serve with cheddar cheese, green onions, sour cream, and salsa.
2. Baked Pork Chimichangas
Lean pork, pinto beans, green chilies, and picante sauce create homemade, flavorful, and well-seasoned chimichangas. Taste of Home's recipe yields thirty servings and contains 276 calories and 8 grams of fat in each.
Ingredients:
1 pound dried pinto beans
1 boneless pork loin roast (3 pounds), trimmed
3 cans (4 ounces each) chopped green chilies
1 large onion, chopped
⅓ cup chili powder
½ cup reduced-sodium chicken broth
30 flour tortillas (6 inches)
4 cups (16 ounces) shredded reduced-fat cheddar cheese
2 cups picante sauce
1 egg white
2 teaspoons water
Directions: Place beans in a stockpot; add water to cover by 2 inches. Bring to a boil; boil for 2 minutes. Remove from the heat; cover and let stand for 1 hour. Drain and rinse beans, discarding liquid. Place roast in a Dutch oven. In a large bowl, combine the chilies, onion, chili powder, and beans. Spoon over roast. Cover and bake at 350 degrees Fahrenheit for 30 minutes. Stir in broth; cover and bake 30 to 45 minutes longer or until a thermometer reads 145 degrees Fahrenheit. Remove meat; let stand 10 minutes.
Shred meat with two forks; set aside. Mash bean mixture; stir in shredded pork. Spoon ⅓ cup mixture down the center of each tortilla; top with 2 tablespoons cheese and 1 tablespoon picante sauce. Fold sides and ends over filling and roll up. Place seam side down on two 15-by-10-by-1 baking pans coated with cooking spray. In a small bowl, whisk egg white and water; brush over top. Bake, uncovered, at 350 degrees for 25-30 minutes or until heated through. Serve immediately, or cool, wrap, and freeze.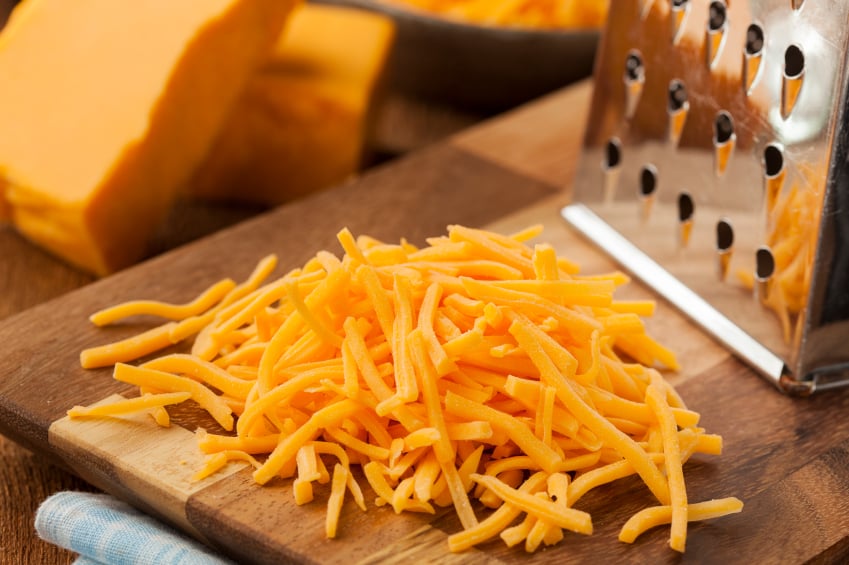 3. Beef Chimichangas
AllRecipes.com's beef chimichanga recipe won't disappoint. Top this dish, which yields six chimichangas, with shredded cheese, lettuce, tomato, salsa, and sour cream for a well-rounded and filling dinner.
Ingredients:
1 pound ground beef
1 small onion, chopped
1 clove garlic, minced
½ teaspoon taco seasoning mix, or more to taste
1 teaspoon dried oregano
¼ cup sour cream
1 (4 ounce) can chopped green chilies
2 tablespoons distilled white vinegar
1 cup shredded cheddar cheese
¼ cup margarine
6 (7 inch) corn tortillas
Directions: Preheat oven to 450 degrees Fahrenheit. Brown the ground beef, onion, garlic, taco seasoning, and oregano in a skillet over medium heat, breaking the meat up into crumbles as it cooks, about 8 minutes. Drain off excess fat. Stir in sour cream, chilies, and vinegar until well mixed. Remove from heat, and mix in the cheddar cheese. Melt margarine in a small skillet over low heat.
When melted, dip each tortilla into the margarine for about 30 seconds, or until soft. Place the softened tortilla onto a baking sheet, and fill with about ⅓ cup of the meat mixture. Fold the right and left sides of the tortilla over the filling, then the top and bottom, making an envelope that completely encloses the filling. Flip the tortilla seam side down on the baking sheet. Repeat with remaining tortillas and filling. Bake in the preheated oven until the tortilla is crisp, about 15 minutes.
4. Almost-Famous Chimichangas
Food Network set out to replicate Chi Chis' chimichangas, resulting in an absolutely mouthwatering dish. Cinnamon, chili powder, and ground cumin work with the recipe's fresh ingredients to create a hearty and tasty dinner. The recipe yields four servings.
Ingredients:
2 tablespoons unsalted butter
4 tablespoons vegetable oil
1 white onion, chopped
3 cloves garlic, chopped
1 jalapeño pepper, diced (remove seeds for less heat)
1½ teaspoons chili powder
½ teaspoon ground cumin
¼ teaspoon ground cinnamon
Kosher salt
1 small tomato, chopped, plus more for topping
2 tablespoons chopped fresh cilantro
2½ cups shredded rotisserie chicken
¼ cup sour cream
1 (15 ounce) can refried beans
4 (10 inch) flour tortillas
1 cup shredded monterey jack cheese, plus more for topping
Mexi-sauce, for topping
Shredded lettuce, for topping
Mexican rice, for serving
Directions: Preheat the oven to 450 degrees Fahrenheit. Melt the butter with 2 tablespoons vegetable oil in a skillet; transfer to a bowl. Heat the remaining 2 tablespoons oil in the skillet. Add the onion, garlic, and jalapeno and cook until soft, about 3 minutes. Add the chili powder, cumin, cinnamon and 1 teaspoon salt; toast 30 seconds. Add the tomato and cilantro and cook until slightly dry, about 2 minutes. Stir in the chicken and sour cream and warm through. Remove from the heat.
Brush a rimmed baking sheet with some of the butter-oil mixture. Spread 2 tablespoons refried beans down the center of each tortilla, leaving a 2-inch border on both ends. Top with 1 cup chicken mixture and ¼ cup cheese. Fold in the ends and roll up. Put the chimichangas seam-side down on the baking sheet; brush with the butter-oil mixture. Bake 8 to 10 minutes per side, brushing again after you flip. Top with the sauce, more cheese, lettuce, and tomato. Serve with rice and the remaining beans.
To make the Mexi-sauce, saute ½ cup chopped onion and 2 chopped garlic cloves in a skillet with vegetable oil. Add a pinch each of chili powder, cumin, sugar and salt; cook 30 seconds. Stir in two 4-ounce cans chopped green chilies, and cook 2 minutes. Add 1 cup chicken broth and simmer until thickened, then puree. Stir in ¼ cup chopped cilantro.
5. Chicken Chimichangas with Sour Cream Sauce
If you know you'll be running short on time, prepare the chicken ahead of time, and you'll have a fast and delicious dinner you can quickly whip up. AllRecipes.com's chimichanga recipe, which makes eight servings, will have you coming back for seconds.
Ingredients:
Chicken Filling:
2 large skinless, boneless chicken breast halves
3 cups water
1 tablespoon chili powder
½ teaspoon salt
½  teaspoon ground cumin
¼ teaspoon ground black pepper
¼ teaspoon garlic powder
¼ teaspoon onion powder
⅛ teaspoon cayenne pepper
1 (7 ounce) can chopped green chilies, divided
½ cup diced onion
3 large cloves garlic, minced
Sour Cream Sauce:
2 tablespoons butter
2 tablespoons all-purpose flour
1 cup water
1 cube chicken bouillon
½ cup sour cream
Salt and pepper, to taste
Oil for frying
8 (8 inch) flour tortillas
8 ounces shredded Monterey Jack cheese
Directions: Place the chicken breasts into a large saucepan. Pour in the water, and season with chili powder, ½ teaspoon salt, cumin, ¼ teaspoon black pepper, garlic powder, onion powder, and cayenne pepper. Bring to a simmer over high heat, then reduce heat to medium-low, and simmer 15 minutes. After 15 minutes, stir in 4 ounces of green chiles, onion, and garlic; continue simmering until the liquid has reduced to 1 cup. Reserve remaining 3 ounces of chopped green chilies. Remove the chicken, shred with two forks, and return to the onion mixture.
Meanwhile, melt the butter in a small saucepan over medium heat. Stir in the flour, and cook for 1 minute. Whisk in the water and bouillon cube until the water has thickened and the bouillon cube has dissolved, about 4 minutes. Whisk in reserved 3 ounces of green chilies and the sour cream; season to taste with salt and pepper. Keep warm. Heat oil in a deep-fryer or large saucepan to 375 degrees Fahrenheit. Place a tortilla onto your work surface, then spoon about ⅓ cup of the chicken filling halfway between the bottom edge and the center of the tortilla.
Flatten the filling into rectangle shape with the back of a spoon. Sprinkle about 1 ounce of the Monterey Jack cheese over the filling. Fold the bottom of the tortilla snugly over the filling, then fold in the left and right edges. Roll the chimichanga up to the top edge, forming a tight cylinder; secure the ends with wooden toothpicks. Repeat with the remaining ingredients. Cook the chimichangas, 2 at a time, in the hot oil until they are crisp and golden brown on both sides, about 1 minute per side. Drain on a paper towel-lined plate, and remove toothpicks. Top with sour cream sauce to serve.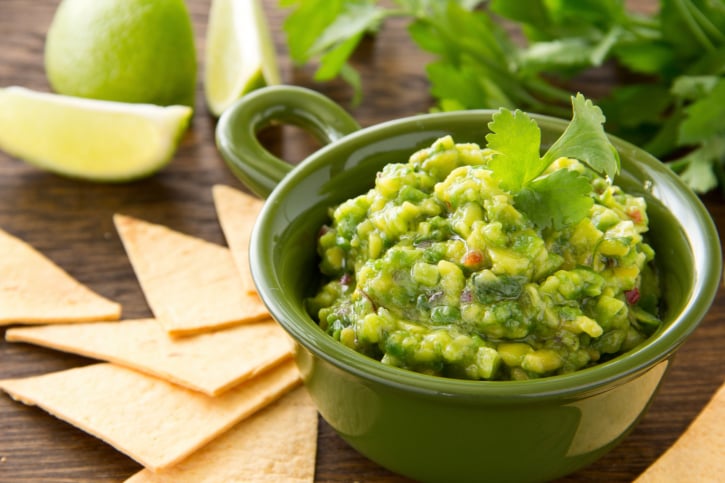 6. Vegetarian Chimichanga
This vegetarian-friendly Spices Inc. recipe is oozing with fresh ingredients, including onions, chilies, corn, olives, and cilantro. You'll also get a hint of creamy flavor from the salsa and guacamole used in this dish. The recipe makes six chimichangas, with each containing 424 calories.
Ingredients:
2 (15 ounce) cans black beans, rinsed and drained, no salt added
2 cups cooked brown rice
½ cup black olives, sliced
½ cup corn kernels
1 (4½ ounce) can green chilies
½ cup green onions, greens and whites chopped
1 teaspoon taco seasoning
½ cup fresh cilantro, chopped
6 whole wheat flour tortillas for burritos
2 teaspoons olive oil
2 tablespoons fresh cilantro, chopped, for garnish
6 tablespoons medium spice salsa, for garnish
6 tablespoons guacamole (optional)
Directions: Preheat oven to broil. In a large mixing bowl, stir together black beans, rice, olive, corn, green chilies, green onions, taco seasoning, and cilantro. Scoop 1 cup of black bean filling into center of a tortilla. Fold in both ends of tortilla. Then roll up tortilla from one side to the other, locking ends inside. Repeat with remaining tortillas. Spray a cookie sheet with nonstick cooking spray.
Place chimichangas seam side down on cookie sheet. Brush tops of chimichangas with olive oil. Broil on middle rack of oven for 5 minutes, until crisp and lightly browned. Remove chimichangas from oven and turn over. Brush with olive oil and return to oven. Broil on middle rack of oven for another 3 minutes, until this side is crisp and lightly browned. Serve each with ⅓ cup salsa and ⅓ cup guacamole on the side.
7. Chocolate-Hazelnut and Banana Chimichangas
The Cooking Channel has created a sweet and savory chimichanga dessert recipe. You can enjoy bite after bite of deep-fried tortillas that are filled with bananas and a rich chocolate-hazelnut spread. This recipe yields eight servings.
Ingredients:
Chimichangas:
8 small tortillas (about 6 inches across)
½ cup chocolate-hazelnut spread
1 large banana
4 ounces chocolate
Oil for frying
½ cup sugar
1 tablespoon cinnamon
Dulce de Leche:
1 (14-ounce) can sweetened condensed milk
Pinch salt
Directions: Spread 1 tablespoon of the chocolate-hazelnut spread in the middle of a tortilla, layer on two slices of banana and two small chunks of chocolate. Fold the tortilla over the filling, then fold in one side, then the other side, to create a pouch. Fold down the top to seal the pouch shut. Use a toothpick to hold the pouch shut. Make sure it is tightly wrapped so the filling doesn't spill out while frying.
Heat the oil in a pot, fitted with a candy thermometer, until it reaches 360 degrees Fahrenheit. Place two or three chimichangas in the oil and fry until golden. Place the fried chimichangas on a baking sheet lined with paper towel. Fry the remaining pouches. Combine the sugar and cinnamon in a bowl. Roll the chimichangas in the cinnamon sugar.
To make the dulce de leche, preheat oven to 400 degrees Fahrenheit. Pour the condensed milk into an 8-inch baking dish. Sprinkle the top with salt. Cover tightly with foil. Set the baking dish into a roasting pan. Fill the roasting pan with very hot water. Place in the oven and bake for 1 hour. Drizzle the dulce de leche over the chimichangas.
More from Life Cheat Sheet:
Want more great content like this? Sign up here to receive the best of Cheat Sheet delivered daily. No spam; just tailored content straight to your inbox.