7 Red Hot Sriracha Recipes to Try in Your Kitchen
Sriracha chili sauce has become embedded in today's food culture, with foodies thickly laying it on everything from hotdogs to Bloody Marys. While this hot red sauce is well on its way to becoming its own food group, methods of using it in cooking seem to multiply by the hour. Not only are people just throwing it on top of what they're eating — they're using it in the cooking itself. Culinary innovators are working hard to bring us the very best in sriracha-based recipes, and so far, they haven't disappointed.
Try any of these seven recipes to get a taste of zesty sriracha in your home cooking!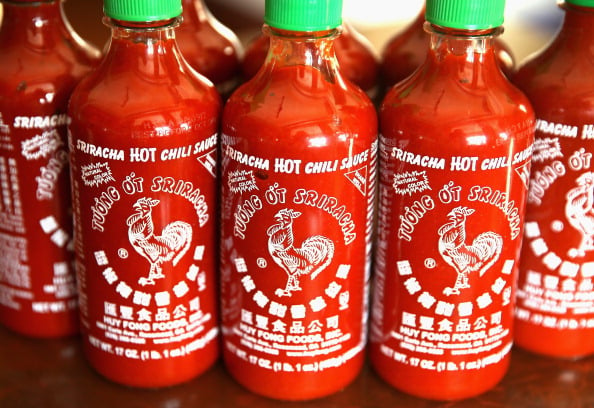 1. Sriracha Deviled Eggs
This recipe was shared with Chow by Mitch Prensky, chef-owner at Supper in Philadelphia. It's your classic deviled eggs appetizer with an Asian-fusion twist, using the flavors of sriracha, lime juice, and cilantro to give your egg filling a spicy zip. Pickled carrots or daikon (radish) are suggested as a garnish to further accent the Asian flavors in the dish. The recipe takes 45 minutes to complete and yields 8 to 10 servings as an appetizer.
Ingredients:
12 eggs
6 tablespoons mayonnaise
2 teaspoons Dijon mustard
4 teaspoons sriracha hot sauce
2 teaspoons freshly squeezed lime juice
2 teaspoons finely chopped fresh cilantro
Kosher salt
Freshly ground black pepper
Pickled carrots or daikon, for garnish (optional)
Finely chopped fresh cilantro leaves, for garnish (optional)
Directions: Hard-boil the eggs; cool, peel, and halve them; and carefully remove the yolks. Reserve the whites. Combine the egg yolks, mayonnaise, Dijon, sriracha, lime juice, and cilantro in a medium nonreactive bowl. Season well with salt and pepper, then mix well until the yolks are broken up and the ingredients are evenly incorporated.
Evenly pipe or spoon the yolk mixture into the reserved egg white halves. As desired, top with pickled carrots or daikon and chopped cilantro leaves.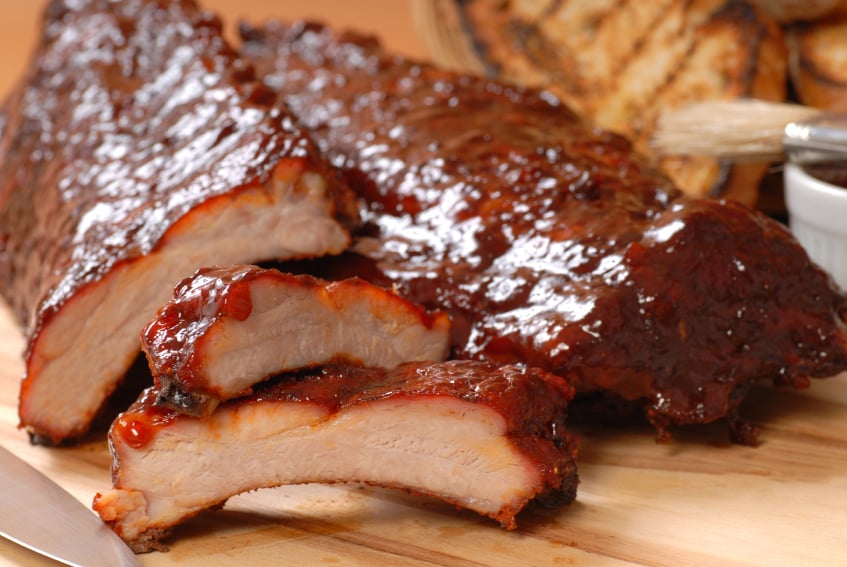 2. Sriracha BBQ Pork Ribs
Few things could possibly make ribs better — but sriracha manages to accomplish just that. This is a recipe for a standard barbecue sauce that incorporates the distinct sriracha flavor to give it — and your ribs — further complexity of flavor. These ribs can be grilled or slow-cooked in the oven at 250 degrees Fahrenheit. This recipe from Not a Cook yields 1 rack of ribs (about 4 servings) and takes about an hour and a half to prepare, plus 2 to 3 hours of cook time.
Ingredients:
1 rack of pork ribs (3 to 4 pounds)
1 onion, diced
1 tablespoon tomato paste
1 cup ketchup
1 cup chicken stock
¼ cup cider vinegar
2 tablespoons sriracha
2 tablespoons brown sugar
1 tablespoon Worcestershire sauce
1 tablespoon molasses
1 teaspoon salt
1 teaspoon pepper
Directions: Clean and trim any large excess of fat off the pork if needed. Leave some fat on the meat; it is what makes the ribs fall-off-the-bone-tender in the end. Pat dry with some paper towels, set aside.
Start the grill. If using charcoal, start the coals and set them to one side of the grill. Once the grill grates are hot, clean them with a grill brush to remove any leftover buildup from the previous grilling session. Make a non-stick cooking surface by dipping a small wad of paper towel into vegetable oil and running it along the grill grates.
While the grill is heating up, prepare the sriracha BBQ sauce. In a small saucepan over medium heat, cook the onions with a drizzle of olive. Once the onions have turned translucent, stir in the tomato paste and continue to cook for a couple minutes to bloom the flavor in the paste. Whisk in the remaining ingredients, bring to a boil, then reduce heat and simmer for 15 minutes, stirring occasionally.
Brush both sides of the ribs with the sauce. Place the ribs onto the cooler side of the grill, with the meatier side facing the heat source. Cover and cook for 2 to 3 hours, flipping every 30 minutes and brushing both sides with more sauce each time. The ribs will be done when the meat starts to pull away from the bone. Remove from grill, loosely cover with foil and allow to rest 10 minutes before cutting to separate the ribs.
While the ribs are resting, reheat the sauce; bring it back to a boil, then reduce heat and simmer for 5 minutes. Pass the sauce through a fine mesh strainer. Allow to cool, then serve with the ribs.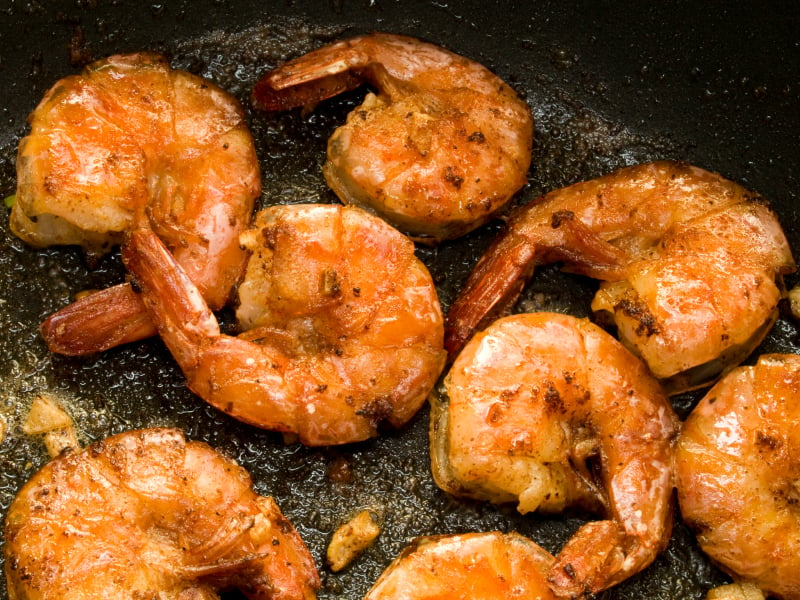 3. Sriracha-Buttered Shrimp
Sriracha? Butter? Count us in. Here is a dish any amateur cook can throw together in 10 to 15 minutes. Garlic, lemon zest, and sriracha lend the shrimp its rich, flavorful taste. Shrimp is light and refreshing, but it packs in the protein, making it a great featured player in summertime dishes. These savory shrimp from Bon Appétit can be served on skewers as an appetizer. The recipe yields about 4 servings.
Ingredients:
2 tablespoons butter
6 tablespoons sriracha
3 cloves minced garlic
1 pound head-on shrimp
1 tablespoon lemon zest
2 tablespoons minced fresh mint
2 tablespoons minced fresh basil
Directions: Whip butter with sriracha and melt in skillet. Sauté minced garlic in it and toss in shrimp. Just before they're done, add lemon zest and mint and basil and let them wilt.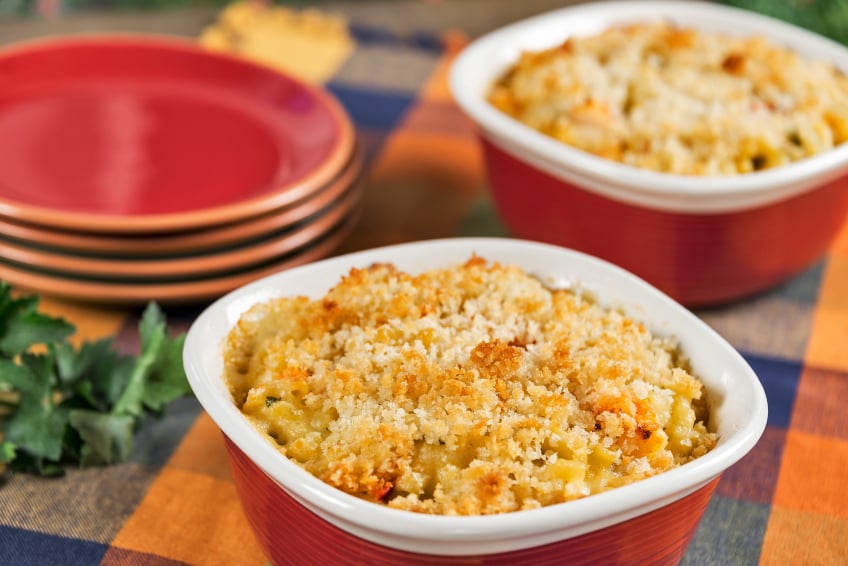 4. Creamy Sriracha Pasta Bake
This recipe is like a spinoff of your standard macaroni and cheese. The butter-cheese base is thick and creamy on its own, but the addition of sriracha is what gives this pasta bake its character. Top with breadcrumbs to give your pasta bake an irresistible crunch. This recipe from Bake Your Day takes 35 minutes to complete and yields 4 generous servings.
Ingredients:
1 pound bowtie pasta (or your favorite pasta)
2 tablespoons butter
2 tablespoons flour
2 cups milk
¼ teaspoon nutmeg
½ teaspoon dried oregano
¾ cup (6 ounces) sharp white cheddar cheese, shredded plus ¼ cup for topping
½ cup (4 ounces) grated Parmesan cheese plus ¼ cup for topping
¼ cup (2 ounces) Colby Jack cheese, shredded
¼ cup sriracha sauce
1 cup breadcrumbs
Directions: Preheat oven to 375 degrees Fahrenheit. Cook pasta according to package directions. Spray a 9-by-9-inch baking dish with non-stick cooking spray.
While pasta is cooking, heat a medium saucepan over medium heat. Add the butter, and once it's melted and bubbly, add the flour. Whisk, creating a roux and cook until the mixture is blended and golden brown. Stream in the milk, stirring constantly, and bring to a boil. Continue stirring until milk thickens. Stir in the nutmeg, oregano and grated cheeses and continue to stir until mixture is smooth. Stir in the sriracha sauce one tablespoon at a time until the sauce reaches your desired heat level. Season with salt and pepper if needed.
Add pasta to the casserole dish and add in cheese-sriracha mixture and mix thoroughly. Mix the breadcrumbs with the additional cheddar cheese and Parmesan cheese. Spread the breadcrumb-cheese mixture evenly on top of the pasta. Bake for 25 minutes.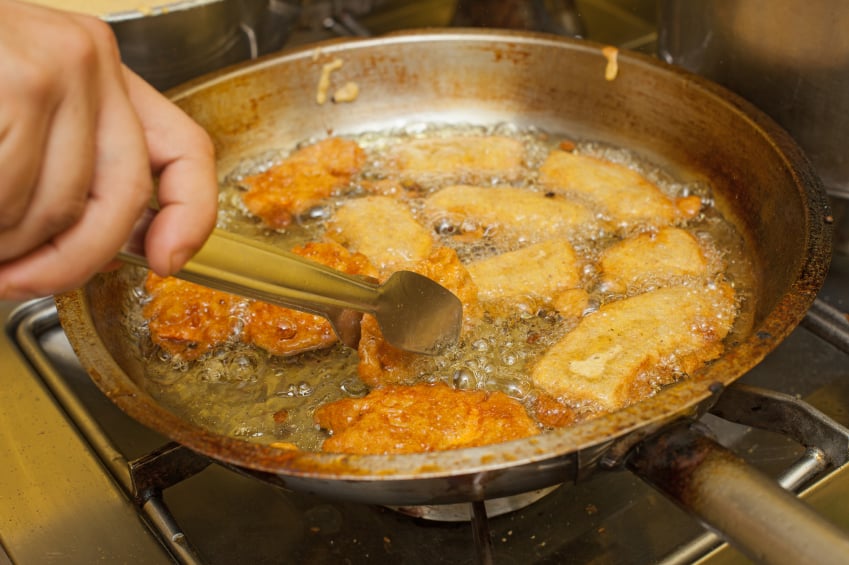 5. Crispy Sriracha Honey Lime Tofu
This is a great way for vegetarians to work that beloved sriracha taste into their main course. Zesty sriracha and lime work beautifully off the sweet profile of honey. Add a well-cooked, crispy potato starch-coated tofu to the mix and you've got a mouthwatering masterpiece for dinner. This recipe from I Am a Food Blog yields 8 pieces of prepared tofu and takes 20 minutes to complete.
Ingredients:
1 block medium or firm tofu
1 cup potato starch
1½ tablespoons sriracha
1½ tablespoons honey
1½ tablespoons lime juice
Sliced green onions for garnish
Directions: Drain tofu and cut it into 8 even pieces. Place a couple of paper towels down on a plate or cutting board and lay out tofu. Place a couple of paper towels on top to remove excess moisture. Leave it a bit moist to ensure a soft and creamy tofu interior that will contrast with the crunchy potato starch coating.
Spread potato starch out in a shallow dish and coat each piece of tofu, ensuring that there are no bare spots. In a cast iron pan, heat up a bit of oil over medium high heat. When the oil is hot and shimmery, add the coated pieces of tofu and cook until golden brown and crispy. When one side is brown, flip it over and repeat. Rest tofu on a wire rack to ensure crispiness as your prepare the sauce.
In a small sauce pan, heat up the sriracha, honey, and lime juice over medium-high heat until slightly reduced and glossy. Drizzle over the tofu pieces and top with sliced green onions.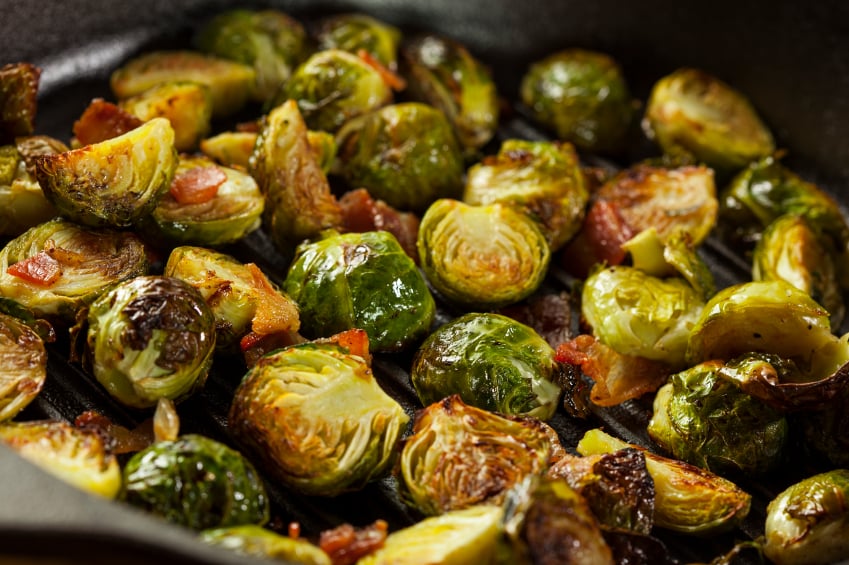 6. Crispy Fried Brussels Sprouts With Honey and Sriracha
As we've already discovered, honey and sriracha are an all-star combination. These ingredients are both incorporated in a recipe featuring what is perhaps the most misunderstood of all vegetables: Brussels sprouts. Truth be told, this is a delicious veggie — especially when prepared correctly! Consider this dish from Food 52 the delicious answer to all of your Brussels sprout doubts. The recipe takes 20 minutes to complete and yields 2 to 4 servings.
Ingredients:
1 pound Brussels sprouts
1 tablespoon sriracha (or to taste)
3 tablespoons honey
Juice of 1 large lime
Salt
Vegetable oil for frying
Directions: Trim the stem end of the sprouts and gently separate the leaves with your fingers, collecting them in a large bowl. When you reach the heart of the sprout, add the heart to the bowl with the leaves. In a small bowl, whisk together the sriracha, honey and lime juice. Taste and add more sriracha or honey as desired. Set aside.
Set about 2 inches of oil in a large, heavy pot over medium heat. Heat until a Brussels sprout leaf begins to sizzle and crisp as soon as you add it to the oil. Fry the sprouts in batches, using a screen to protect you from sputtering oil and keeping your face away from the pot as the sprouts cook.
Remove the sprouts with a slotted spoon after 30 seconds to a minute, when crisp and brown. Drain them on a double layer of paper towels while you fry the rest of the sprouts. Once all the sprouts are fried, transfer them to a large bowl and sprinkle them generously with salt. Toss gently to combine.
Working quickly, drizzle some of the sauce over the sprouts and toss again to coat lightly. Taste, add more sauce if necessary, and serve immediately before they wilt.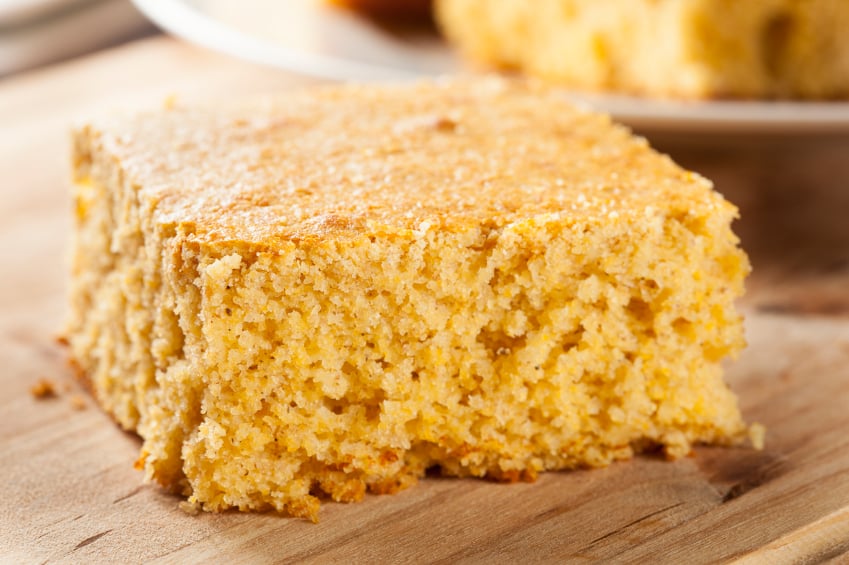 7. Sriracha Cheese Bread
You've got sriracha in your appetizer, sriracha in your mains, and sriracha on the side. Now all you need is a sriracha bread to soak up any extra sriracha you might have missed. This chili cheese bread is an excellent and distinct accompaniment to a meal, and also makes for a great sandwich! This recipe from All Recipes takes 2 hours and 25 minutes including cook time and yields a 5-by-9-inch loaf of bread.
Ingredients:
¼ cup warm water (100 to 110 degrees Fahrenheit)
1 (¼-ounce) package active dry yeast
1 teaspoon honey
½ cup milk
¼ cup chile-garlic (sriracha) sauce
¼ cup warm water (100 to 110 degrees Fahrenheit)
1 egg, lightly beaten
1 cup white whole wheat flour
½ teaspoon salt
½ cup shredded sharp Cheddar cheese
2 ½ cups bread flour
1 tablespoon butter
Directions: Combine ¼ cup warm water, yeast, and honey in work bowl of a stand mixer, stirring to dissolve honey. Let stand until yeast forms a creamy layer, about 10 minutes. Beat milk, chile-garlic sauce, and ¼ cup warm water into yeast mixture; mix in egg.
Beat white whole wheat flour into liquid ingredients on low speed until flour is moistened; let stand 10 minutes for flour to absorb moisture. Add salt, Cheddar cheese, and 2 cups bread flour to bowl and mix until thoroughly incorporated. Continue to beat remaining bread flour into dough, 1 tablespoon at a time, until the dough forms a ball and separates from the side of the mixing bowl. Set the mixer to medium-low speed and knead for 10 minutes. Dough should be slightly sticky.
Shape dough into a ball and place into an oiled bowl; turn dough ball around in the bowl to coat dough lightly with oil. Cover with a cloth and set into a warm place to rise until doubled, 1 hour to 1 hour and 15 minutes.
Gently punch down dough to break bubbles and pat out on a floured work surface to a 9 x 12-inch rectangle. Roll dough tightly in a spiral, starting at a 9-inch edge; pinch seams together to form a log. Place dough into a 5 x 9-inch loaf pan with seam side down and tuck ends of dough underneath neatly. Cover with a cloth and let rise until dough top clears the sides of the pan, 30 to 45 minutes.
Preheat oven to 375 degrees Fahrenheit. Bake the bread in the preheated oven until the loaf sounds hollow when tapped and the crust is golden brown, about 30 minutes. Spread top of hot loaf with butter to make a soft crust; let cool in the pan.
More from Life Cheat Sheet:
Want more great content like this? Sign up here to receive the best of Cheat Sheet delivered daily. No spam; just tailored content straight to your inbox.