The Health Benefits of 7 Classic Thanksgiving Foods
Thanksgiving is known as a day of indulgence, packed with calories from start to finish. In spite of all the grief this holiday gets for being a diet destroyer, the traditional Thanksgiving feast offers a great deal of health benefits. Staple items like turkey, potatoes, and stuffing all have their share of core nutritional values, so keep in mind that the holiday isn't so unhealthy — as long as you treat it with some moderation.
Read on to learn the health benefits of 7 classic dishes on your Thanksgiving table. We promise you'll feel less guilty about indulging!
1. Turkey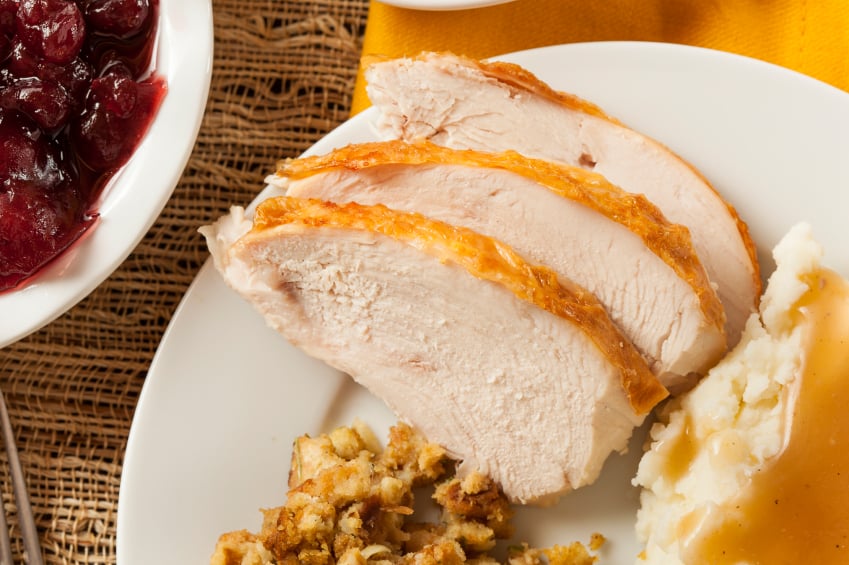 Although both white and dark turkey breast meats are protein powerhouses, nutritionists advise eaters to opt for the leaner white meat to shave off calories and fat content. Livestrong reports that a 4-ounce serving of white meat provides a whopping 32 grams of protein — that's 65% of your recommended daily intake!
That same serving contains less than 12% of your recommended daily saturated fat intake. U.S. Department of Agriculture (USDA) data shows that a standard 4-ounce turkey breast contains 214 calories. Not bad, considering all the nutritional benefits it brings to the Thanksgiving table!
2. Potatoes
On their own, potatoes are about 110 calories a pop. Livescience reports that they're also great sources of vitamin C, vitamin B6, manganese, phosphorus, niacin, and pantothenic acid. USDA data shows that potatoes are also a source of health-promoting phytonutrients.
With the hundreds of calorie-packed potato preparation methods that culinary whizzes come up with on Thanksgiving, we can't honestly testify to the health benefits behind each and every buttery bite, so — as always — enjoy that salty, buttery, and sometimes cheesy dish in moderation!
3. Sweet Potatoes
"Sweet potatoes are high in vitamin A, vitamin B5, B6, thiamin, niacin, riboflavin, and, due to their orange color, are high in carotenoids," San Diego-based nutritionist Laura Flores tells Livescience. Where to begin?
Stated simply, sweet potatoes are potatoes' healthier cousins. They're free of fat, low in sodium, and even lower in calories than potatoes (there are 100 calories in each medium-size sweet potato). Furthermore, a single sweet potato is packed with 120% of your recommended vitamin A intake for the day. The presence of vitamin A in the diet promotes bone health and good vision, the National Institute for Health (NIH) reports. Meanwhile, studies from the Harvard University School of Public Health report that the vitamin B6 in sweet potatoes helps to promote cardiovascular health.
4. Stuffing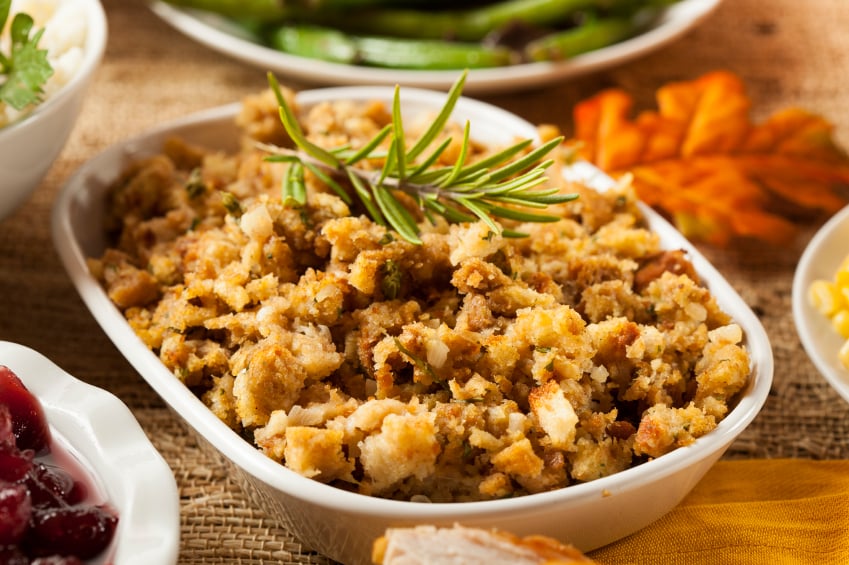 Stuffing — the traditional Thanksgiving platter made of bread, eggs, veggies, herbs, and spices — does not jump to mind when considering healthy dishes, but even this holiday favorite has one advantage to provide: antioxidants. Science Daily reports on a study originally published in the Journal of Agricultural and Food Chemistry, which found that a cancer-fighting antioxidant called pronyl-lysine exists in high concentrations in bread crust.
It gets better, stuffing lovers: The antioxidant is most likely even more abundant when bread is broken down into smaller pieces and baked, as it is with stuffing. This is because these smaller pieces have greater surface areas, promoting more pronyl-lysine-producing reactions.
5. Cranberries
Cranberries are well-known for their antioxidant properties, but that's not all this classic Thanksgiving food has to offer. One cup of chopped cranberries contains 51 calories, an impressive 5.1 grams of fiber, and 15% of your recommended daily vitamin C intake, reports the USDA.
Livestrong adds the antioxidants in these berries are known to stave off urinary tract infections and E. coli, also protecting us from common illnesses such as colds and the flu.
6. Green Beans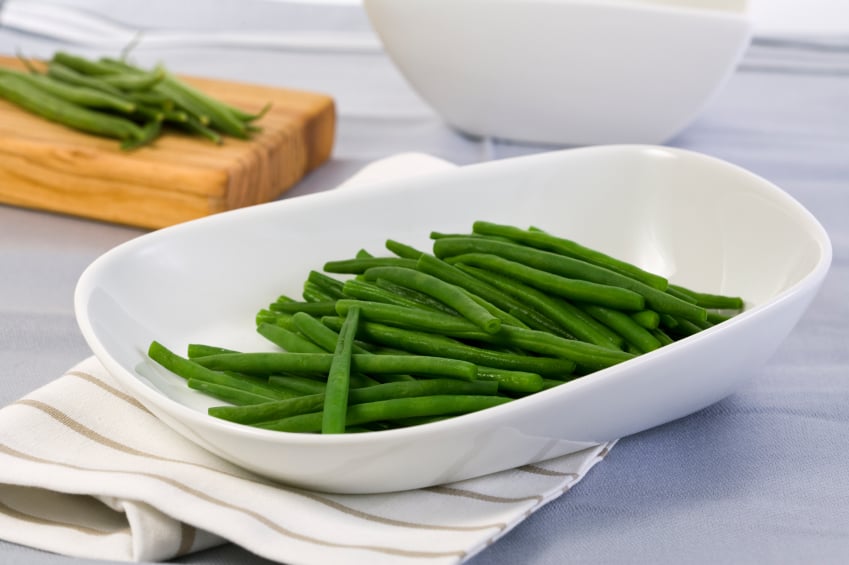 Whether you're enjoying them on their own, seasoned, or in a full-on casserole, green beans are a wonderfully nutrient-packed Thanksgiving staple. USDA data shows that one full cup of cooked green beans contains just 44 calories, providing you with 2.4 grams of protein and 4 grams of fiber. Livestrong adds that these veggies are fat-free and full of antioxidants such as beta-carotene, lutein, and zeaxanthin. They also contain nutrients such as vitamin C and vitamin K.
7. Pumpkin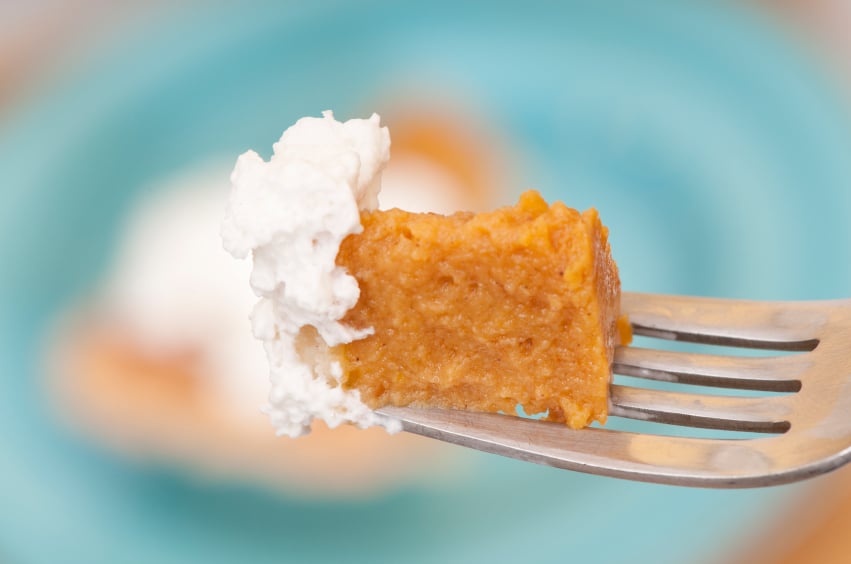 Luckily for us, pumpkin — perhaps the most beloved ingredient of the season — is full of nutritious qualities. USDA data reports that one cup of cooked and mashed pumpkin contains 49 calories and 3 grams of fiber. It also packs in more than 200% of your recommended daily vitamin A intake, plus about ⅓ of your recommended vitamin C intake.