Nachos Recipes That Use Healthy and Unique Ingredients
A plateful of nachos is a popular appetizer that's typically packed with chicken, beef, sour cream, guacamole, and cheese. But if this is the only way you eat the tasty treat, it may be time to give your nachos a makeover. With these seven recipes, you can create nachos using sweet potatoes, zucchini, pumpkin, apples, bananas, and pepperoni. Whether you're looking for something sweet, savory, or healthy, these noteworthy nachos will cure any craving.
1. Healthy Grilled Sweet Potato Nachos
Rather than using some of the bad-for-you ingredients typically found in nachos, Pinch of Yum's recipe calls for sweet potatoes, beans, and roasted corn. The recipe yields 4 servings as a meal or 6 when served as a snack.
Ingredients:
Nachos
2 large sweet potatoes
1 tablespoon olive oil
1 teaspoon each chili powder and cumin
1 (14 ounce) can refried black beans
1 cup frozen sweet corn
3 ounces multigrain tortilla chips
Chopped cilantro for topping
Crumbled Cotija cheese for topping
Cheese Sauce
½ teaspoon butter
1 large clove garlic, minced
1½ cups milk
2 tablespoons flour
¼ teaspoon salt, more to taste
½ cup shredded cheese of choice
Directions: To make the sweet potatoes, turn the grill on to medium-high heat. Wash the sweet potatoes and pierce with a fork. Wrap the sweet potatoes in a paper towel and microwave on high for 4 minutes. When cool enough to handle, cut sweet potatoes into wedges and toss with the olive oil, chili powder, cumin, and salt to taste. Transfer sweet potatoes to the hot grill and grill for a few minutes on each side until roasted and delicious. Meanwhile, heat the refried beans on the stove or in the microwave until warmed through and roast the corn in a dry nonstick skillet until golden brown.
On a large platter, arrange the chips in a single layer. Top with the sweet potato wedges, black beans, and corn. Melt the butter in a small saucepan to make the cheese sauce. Add the garlic and saute for 1 to 2 minutes. Add ¾ cup milk and heat until simmering. Whisk the remaining ¾ cup milk with the flour; add to the saucepan and stir until smooth and thick. Remove from heat and whisk in the salt and the cheese until melted. Drizzle the cheese sauce over the nachos and top with cilantro and Cotija cheese.
2. Apple Nachos With Peanut Butter and Chocolate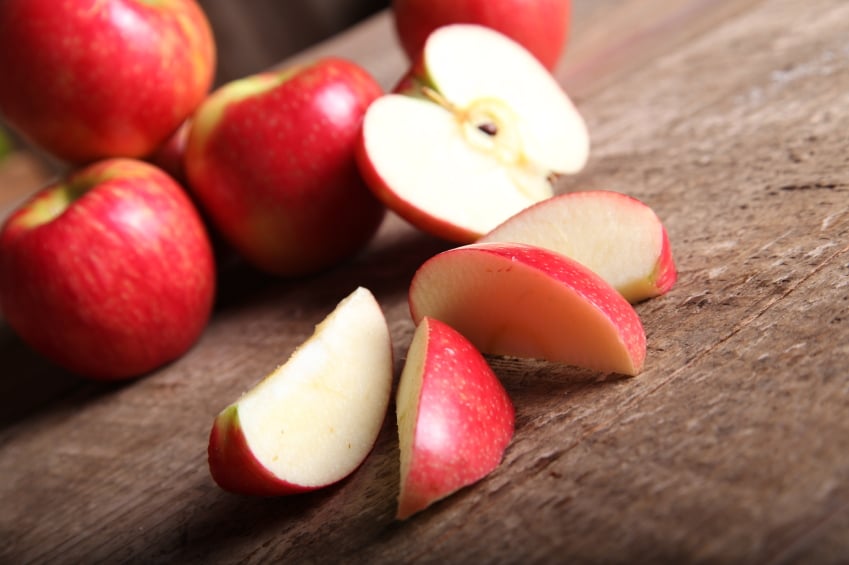 These nachos may sound unhealthy, but they're actually filled with good-for-you foods. Apples are packed with vitamins and antioxidants, while the peanut butter provides healthy fats and protein. Trial & Eater's recipe is the best of both worlds: It will satisfy your nacho craving and provide you with key nutrients.
Ingredients:
1 Fuji apple (or slicing apple of your choice), cut into 32 thin slices
¼ cup smooth peanut butter, melted
¼ cup semi-sweet chocolate chips, melted
Handful of chocolate chips, for sprinkling
Directions: Arrange apple slices on a plate. Drizzle melted peanut butter over apple slices with a spoon, and do the same with the melted chocolate. Sprinkle handful of chocolate chips over the plate as topping. Serve immediately.
3. Banana S'more Nachos With Peanut Butter Sauce
Food Network's nacho recipe contains graham crackers, bananas, chocolate chips, and marshmallows. It's topped with a sauce that consists of milk, pumpkin pie spice, and peanut butter. As an added bonus, pumpkin pie spice is packed with health benefits. Natural News says it has been shown to inhibit tissue damage and inflammation caused by high blood sugar levels in the body.
Ingredients:
Nonstick cooking spray
8 graham crackers, broken into quarters
1 ripe banana, chopped
1 cup semisweet chocolate chips
½ (10.5 ounce) bag mini marshmallows
Peanut Butter Sauce
½ milk
¼ teaspoon pumpkin pie spice
¼ cup creamy peanut butter
Directions: Preheat oven to 350 degrees Fahrenheit. Lightly spray an 11-by-7 baking dish or a medium-sized oval baking dish with cooking spray. Layer half of graham crackers, chopped bananas, chocolate chips, and marshmallows into the baking dish. Repeat with remaining ingredients.
Bake in for 10 to 12 minutes or until marshmallows have turned slightly golden and chocolate chips are melted. To make the sauce, combine the milk and pumpkin pie spice in a small saucepan over medium-low heat. Once the milk is hot, whisk in peanut butter until well-combined and smooth and let cook for another 3 minutes until thick. Drizzle sauce over top of baked s'mores.
4. Roasted Pumpkin Nachos Recipe
Taste of Home's recipe calls for pumpkin, tortilla chips, black beans, salsa, and cheese, ensuring you've got a nacho dish that's full of fresh flavors. It yields 12 servings.
Ingredients:
4 cups cubed fresh pumpkin or butternut squash (about 1 pound)
2 tablespoons olive oil
¼ teaspoon salt
⅛ teaspoon pepper
1 package (13 ounces) tortilla chips
1 can (15 ounces) black beans, rinsed and drained
1 jar (16 ounces) salsa
3 cups (12 ounces) shredded Mexican cheese blend
Optional toppings: minced fresh cilantro, sliced green onions, and hot pepper sauce
Directions: Preheat oven to 400 degrees Fahrenheit. Place pumpkin in a greased 15-by-10-by-1 baking pan. Drizzle with oil; sprinkle with salt and pepper. Toss to coat. Roast 25-30 minutes or until tender, stirring occasionally. Reduce oven setting to 350 degrees. On a greased 15-by-10-1 baking pan, layer half of the chips, beans, pumpkin, salsa, and cheese. Repeat layers. Bake 8-10 minutes or until cheese is melted. Add toppings of your choice; serve immediately.
5. Pizza Nachos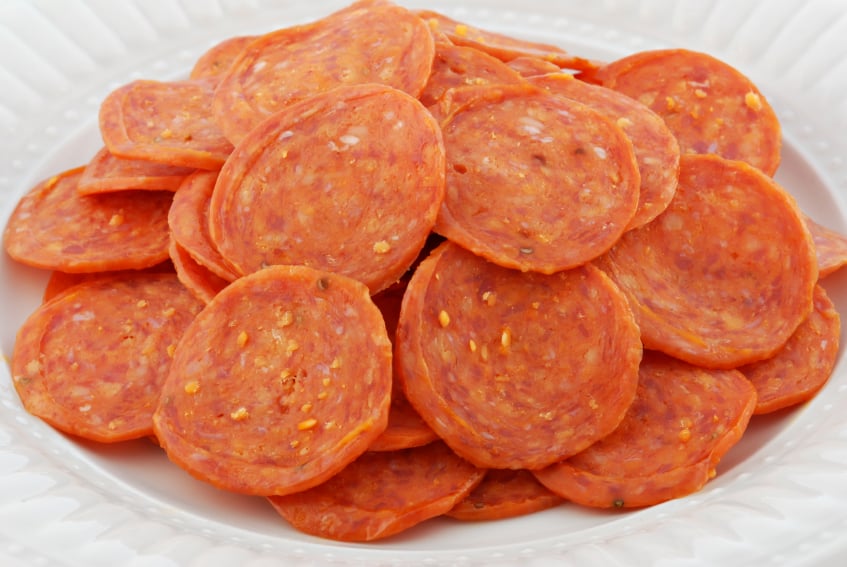 When you mix pizza and nacho flavors, you get an amazing combination that consists of a garlic cream sauce, pepperoni, tortilla chips, olives, peppers, and plenty of cheese. The Comfort of Cooking's recipe yields 14 servings.
Ingredients:
Garlic Cream Sauce
1½ tablespoons butter
½ tablespoon olive oil
2 cloves garlic, minced
½ cup heavy cream
¼ cup milk
1 pinch each: salt, pepper and red pepper flakes
¼ cups grated Parmesan cheese
Nachos
Tortilla chips
½ cup garlic cream sauce
¼ cup red onion, small diced
½ cup pepperoni, cut into bite-sized pieces
¼ cup sliced black olives
½ whole green bell pepper, diced
1½ cups shredded Colby-Jack cheese or any Mexican cheese blend
Directions: Start by making the garlic cream sauce. In a medium pan, melt butter and olive oil on medium heat. Once melted, add garlic and stir. Add cream and milk, whisking until it comes to a boil. Reduce heat to low to simmer sauce. Add salt, pepper, red pepper flakes, and Parmesan cheese, continuing to whisk frequently. Once the sauce has thickened, remove from heat and set aside.
Preheat oven to 400 degrees Fahrenheit. First add a layer of chips. Drizzle a bit of garlic cream sauce over the chips. Top with onions, pepperoni, olives, and bell pepper. Sprinkle on some cheese. Repeat layering, with chips, cream sauce, toppings, and cheese until you reach the top of the dish. Top with remaining cheese. Place in preheated oven, baking until the cheese is melted and nachos are warm throughout, about 7 minutes or so.
6. Fully Loaded Zucchini Nachos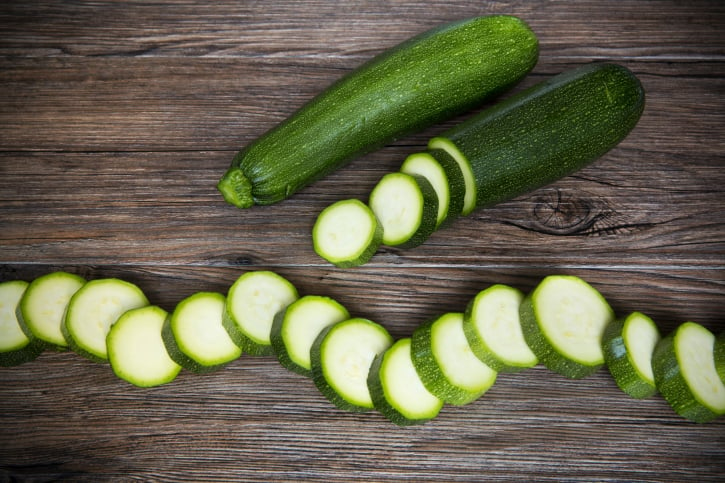 Zucchini is a great source of vitamin C and essential minerals, and contains two phytonutrients, lutein, and zeaxanthin, which promote healthy eyesight, explains Livestrong. The nutrient-rich food also happens to pair perfectly with nacho ingredients. Being Bethany Jane's recipe uses zucchini instead of tortilla chips and is packed with plenty of fresh veggies. It yields 4 servings.
Ingredients:
1 large zucchini (or 2 medium)
1½ cups mozzarella cheese
Goat cheese (optional)
½ corn
½ olives
½ red and ½ yellow pepper
½ onion
½ jalapeño pepper diced (optional)
Black beans (½ can)
200 grams ground beef (optional)
Olive oil
Garnish
Cilantro
Avocado
Salsa
Sour cream
Green onion (diced)
Directions
: Cut zucchini in ¼ inch slices. Bake the zucchini at 400 degrees Fahrenheit until brown or fry them in a pan. Pile them onto a pan lined with tin foil. Meanwhile, prepare all the toppings. Grate cheese, open cans, chop onion and peppers, and dice jalapeños. Sprinkle ½ cheese and then add all of your toppings. Sprinkle the rest of the cheese on top and goat cheese. Bake at 375 or 425 degrees for approximately 15 minutes, or until brown. Broil for the last minute to really brown the cheese. Garnish with desired toppings.
7. Dessert Nachos
Sweet chips, whipped cream, chocolate sauce, and berries create ultimate dessert nachos. Sally's Baking Addiction's recipe calls for strawberries and blueberries, but feel free to use raspberries, apples, and bananas instead. It yields 4 servings.
Ingredients:
Fresh Whipped Cream
½ cup heavy cream
1 tablespoon granulated sugar
½ teaspoon vanilla extract
Homemade Cinnamon-Sugar Tortilla Chips
8 small flour tortillas
3 tablespoons unsalted butter, melted
1 cup granulated sugar
2 teaspoons ground cinnamon
Homemade Chocolate Sauce
½ cup semi-sweet chocolate chips
½ cup heavy cream
2 tablespoons granulated sugar
2 tablespoons light corn syrup
1 teaspoon vanilla extract
Additional Ingredients
½ cup diced strawberries
½ cup blueberries
Directions: For the fresh whipped cream, place cream and sugar in a small mixing bowl and beat on high for 1-2 minutes using a hand mixer or a stand mixer fitted with a whip attachment. Add the vanilla and beat for an additional 1-2 minutes or until soft peaks form. Don't whip too much or you will end up with curdled looking whipped cream. Chill until ready to use in recipe. For the homemade tortilla chips, preheat oven to 400 degrees Fahrenheit. Line two large baking sheets with parchment paper or silicone baking mats. Set aside. Cut the tortillas into 8 even triangles. Place in a large mixing bowl.
Pour melted butter over top and toss with a large wooden spoon until each triangle is fairly coated. Mix the sugar and cinnamon in a small bowl. Add ¾ of the mixture to the bowl and toss the triangles to coat. Line the triangles onto baking sheets in an even layer. Bake in batches for 5 minutes, flipping halfway through. Feel free to sprinkle a little more cinnamon-sugar on top of the finished chips if desired. Reserve the rest of the cinnamon-sugar for garnish. For the chocolate sauce, pour the chocolate chips in a medium bowl. Set aside. Combine the cream, sugar, and corn syrup in a small saucepan over low heat.
Bring to boil, stirring often. Remove from heat and pour immediately over the chocolate. Stir until the chocolate is smooth, then stir in the vanilla. For the nachos, pile the tortilla chips onto 2 separate plates. Top with the fruit, then drizzle with the chocolate sauce. If the chocolate sauce won't pour easily, try warming it in the microwave for 15 seconds, then stir and pour. Top the nachos with whipped cream and a sprinkle of leftover cinnamon-sugar.
More from Culture Cheat Sheet: