7 Ways to Make Frozen Peas Shine in Your Meal
Though it's eagerly awaited, it's not spring yet. Greenhouses are full of sprouts for summer plants to be transplanted, but the early vegetables like peas haven't gone to ground yet. It can be tough waiting for fresh pea season, an ephemeral moment of nature's green candy, but frozen peas are here to help soothe the tough wait.
Sure, a lot can go wrong with frozen peas. Badly microwaved peas can get dried out. Thawed and refrozen peas will inevitably get mushy. But when properly handled, IQF, or Individually Quick Frozen peas — preserved at the height of freshness and brought to your local freezer aisle — can make for a very acceptable stand-in.
These recipes make the most of frozen peas. We're looking for minty peas, not mushy peas. We're not going to let them get too soggy or start to gray by cooking them all day long. We're going to treat them with surgical precision, and in return, they'll carry us through until the peas are plump in their pods on their tendril-covered vines.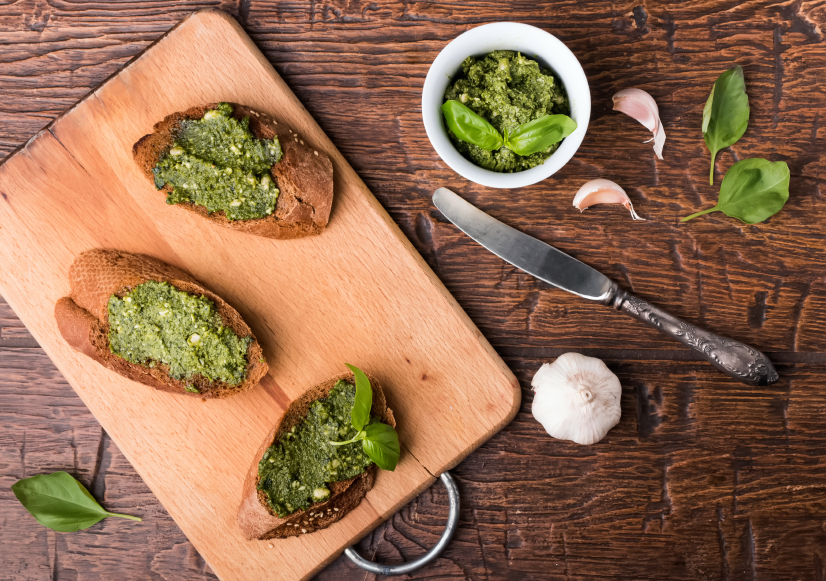 1. Pea and Mint Pesto Crostini
If you're looking at this recipe and saying, "Mint? And peas? Yeah, right" — just give it a chance. Mint and peas are actually an amazing combination, as the mint brings out the subtleties of the flavor beyond starchy and green. With frozen peas, it's almost a necessity; because they don't have quite the same crispness that fresh peas have, they can really benefit from the brightness of the herb. This recipe from The Food Network transforms the combination into a delicious spread for crostini, but it could also be used on pasta or other starchy meals.
Ingredients:
Pesto
10 ounces frozen peas, thawed
½ cup grated Parmesan
1 garlic clove
¼ cup fresh mint leaves
1 teaspoon kosher salt, plus extra for seasoning
¼ teaspoon freshly ground black pepper, plus extra for seasoning
⅓ cup olive oil
Crostini
Whole-grain baguette or ciabatta bread, cut into ½-inch thick slices
⅓ cup olive oil
8 cherry tomatoes, halved, or 1 small tomato, diced
Directions: Add the peas, Parmesan, garlic, fresh mint, and salt and pepper in a food processor and pulse to combine. With the machine running, slowly add the olive oil until well combined, about 1 to 2 minutes. Transfer to a small bowl and set aside.
Preheat a stovetop griddle or grill pan on medium-high heat. Brush both sides of the bread with olive oil and grill until golden, about 1 to 2 minutes.
Transfer the bread to a clean surface and spread 1 to 2 tablespoons of the prepared pesto on each slice. Top with 2 tomato halves and transfer to a serving platter before serving.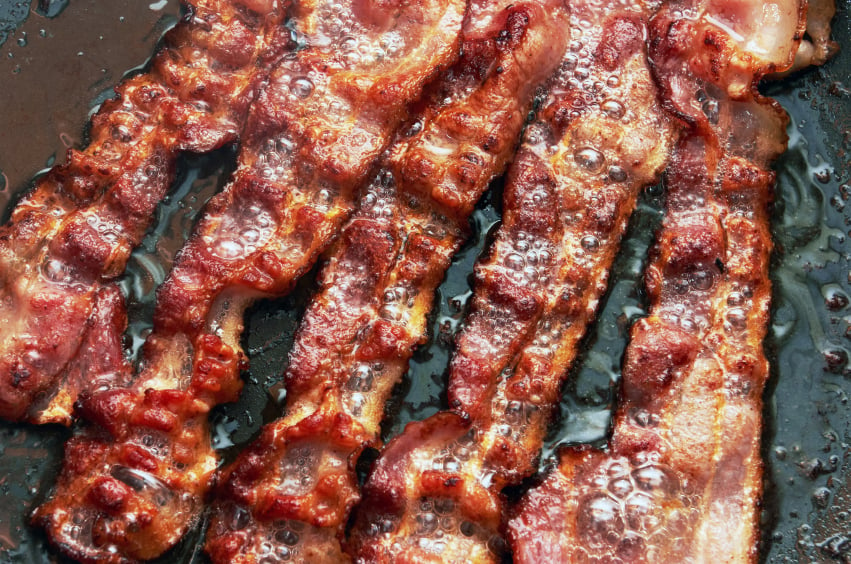 2. Bacon and Pea Macaroni and Cheese
Pasta, swimming in a creamy cheese sauce, studded with bacon and peas. It's possibly the most comforting meal on the planet, but it's lightened up here, too. This recipe from Damn Delicious trades whole milk or cream for almond milk and uses Greek yogurt instead of sour cream in this recipe. Because it doesn't spend hours baking, the peas stay bright and fresh tasting. They're the perfect addition to an otherwise heavy dish.
Ingredients:
8 ounces elbow macaroni
1 cup frozen peas
4 slices bacon, diced
1 cup unsweetened original almond milk
2 cloves garlic, minced
1 tablespoon chopped fresh thyme leaves
¾ cup shredded Gruyere cheese
½ cup shredded sharp cheddar cheese
Kosher salt and freshly ground black pepper, to taste
½ cup plain Greek yogurt
1 tablespoon hot sauce, optional
Directions: In a large pot of boiling salted water, cook pasta according to package instructions. Within the last minute of cooking time, add peas; drain well.
Heat a large skillet over medium-high heat. Add bacon and cook until brown and crispy, about 6 to 8 minutes. Transfer to a paper towel-lined plate.
In a medium saucepan, combine almond milk, garlic, and thyme over medium heat. Bring to a slight boil. Stir in cheeses, a handful at a time, until smooth, about 1 to 2 minutes; season with salt and pepper, to taste.
Stir in pasta, peas, and bacon until well combined. Stir in Greek yogurt and hot sauce. Add more almond milk as needed until desired consistency is reached.
Serve immediately.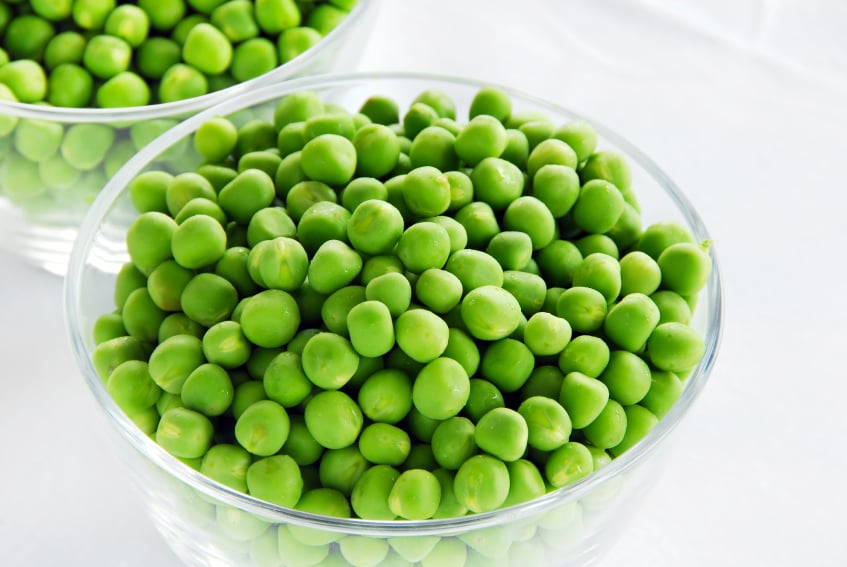 3. Peas in White Wine and Butter
There's not much that can go wrong with this side dish: It combines peas simmered in wine with butter. Serve this dish from The Globe and Mail with chicken or fish; we're thinking it would be particularly good with scallops. Use a dry, zesty wine like Sauvignon Blanc or Pinot Gris rather than anything sweet or oaky.
Ingredients:
5 tablespoons unsalted butter
¼ cup water
4 cups thawed peas
½ cup white wine
Salt and pepper
Directions: Heat butter and water in a medium saucepan until butter melts. Add peas and wine.
Cover and bring to a boil, remove lid, and allow peas to simmer until cooked, about 5 minutes. Season with salt and pepper.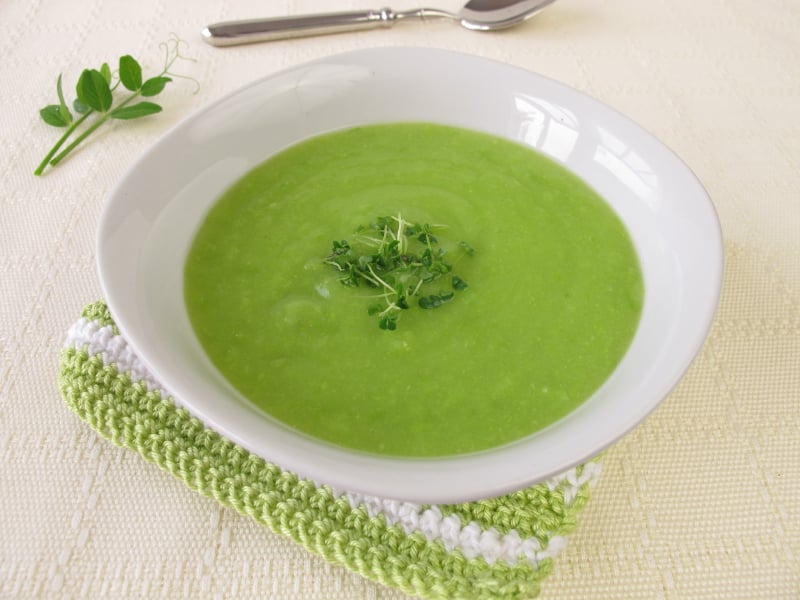 4. Pea Soup
After a long, cold winter, the produce section starts looking sad and a bit flabby. This soup from Eating Well, though, made with frozen peas, is bright green and fresh-tasting and can get you through to spring. It's still warm and comforting, but it's not heavy, and it's plenty zippy. Serve with lemon ricotta crostini.
Note: Did you know there's such a thing as chicken-flavored broth and it's actually vegetarian? If you don't eat meat, this could be a great way to add a little extra depth to the soup.
Ingredients:
1 tablespoon butter
1 tablespoon extra-virgin olive oil
1 medium onion, chopped
1 stalk celery, chopped
2 cloves garlic, chopped
1 teaspoon chopped fresh thyme or parsley
6 cups peas, fresh or frozen
½ cup water
4 cups reduced-sodium chicken broth, "no-chicken" broth, or vegetable broth
½ cup half-and-half, optional
½ teaspoon salt
Freshly ground pepper to taste
Directions: Heat butter and oil in a Dutch oven over medium heat until the butter melts. Add onion and celery; cook, stirring occasionally, until softened, 4 to 6 minutes. Add garlic and thyme or parsley; cook, stirring, until fragrant, about 10 seconds.
Stir in peas. Add water and broth; bring to a lively simmer over high heat. Reduce heat to maintain a lively simmer and cook until very tender, about 1 minute.
Purée the soup in batches in a blender until smooth. Be careful, as blending hot liquid can be explosive. Stir in half-and-half (if using), salt, and pepper.
5. Sautéed Cod With Pea Cream
This dish from Saveur juxtaposes buttery, flaky cod with creamy pea purée and spicy mustard seeds. The mustard seeds add a bit of texture and perky flavor to the fish, but ultimately, the flavor of the fish really shines through here. The pea purée is almost the texture of mashed potatoes here, drawing on their creamy, starchy composition for a comforting bed for the fish.
Ingredients:
2½ pound boneless, skinless cod fillets, cut into 2-inch chunks
1 tablespoon mustard seeds, lightly crushed
4 tablespoons unsalted butter
2 shallots, finely chopped
3½ cups fresh or frozen, thawed peas
Kosher salt and freshly ground black pepper, to taste
⅔ cup half-and-half
2 tablespoons olive oil
Roughly chopped dill, to garnish
Directions: Sprinkle cod evenly with mustard seeds and set aside.
Heat butter in a 10-inch skillet over medium heat. Add shallots; cook until soft, about 5 minutes. Add peas, 1 cup water, and salt and pepper, and cover partially with lid; cook until reduced, about 10 minutes. Set aside and keep warm.
Purée ¾ cup peas, half-and-half, and salt and pepper in a food processor; transfer to a small saucepan and keep warm over low heat. Heat oil in a 12-inch skillet over medium-high heat. Add cod; cook, turning once, until golden brown, about 4 minutes. Season with salt.
Divide pea purée among 6 serving plates and top with cod; spoon over sauce and garnish with dill.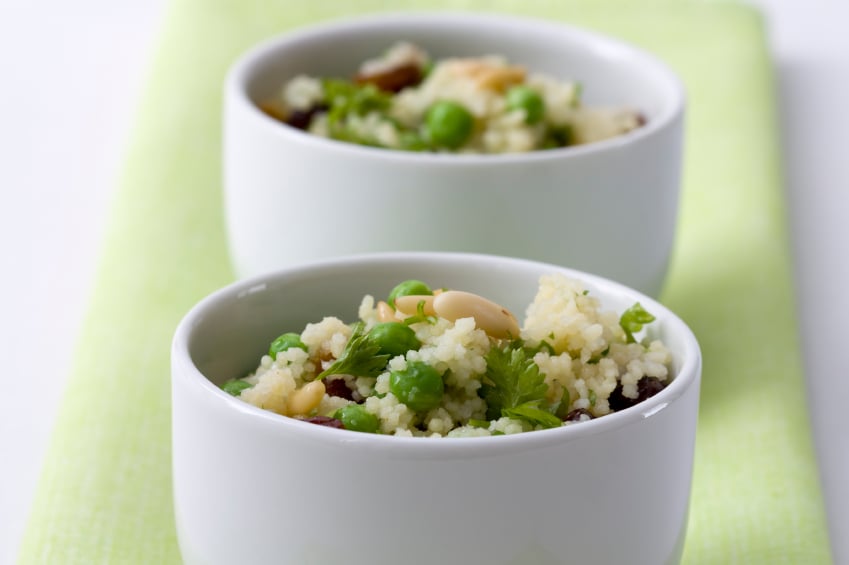 6. Israeli Couscous With Peas and Mint
Another pea and mint duo, this time from Food & Wine. Israeli, or pearl, couscous is a larger round pasta than normal couscous, making it a great textural match for peas. This dish can be served as a side dish or as a pasta salad.
Ingredients:
1½ cups Israeli couscous
4 tablespoons unsalted butter
1 tablespoon very finely chopped garlic
¾ cup frozen baby peas, thawed
Salt and freshly ground pepper
2 tablespoons finely chopped mint
Directions: Bring a medium saucepan of salted water to a boil. Add the Israeli couscous and cook until al dente, about 4 minutes. Drain the Israeli couscous, reserving 1½ cups of the cooking liquid; wipe out the saucepan.
Melt 2 tablespoons of the butter in the saucepan. Add the chopped garlic and cook over moderate heat until softened. Add the baby peas and toss to coat. Add the couscous, the remaining 2 tablespoons of butter, and 1 cup of the couscous cooking liquid and simmer, stirring occasionally, until the couscous and peas are tender and coated in a creamy sauce, 3 to 4 minutes. Season the couscous and peas with salt and pepper and stir in the mint. Stir in some of the remaining cooking liquid if the couscous seems dry. Transfer the couscous to a bowl and serve.
7. Orecchiette With Leeks, Peas, and Pecorino
Orecchiette may be the ultimate pasta shape for a pea dish; it perfectly cradles the peas without trapping them. The sweetness of the leeks complements the sweetness of the peas, and the creaminess of the sauce is comforting without being as heavy as a mac and cheese dish. If you're looking for a quick pasta meal with virtuous vegetables and creamy comfort, this recipe from Real Simple does the trick.
Ingredients:
1 pound dry orecchiette
2 tablespoons olive oil
4 leeks, white and light green parts only, thinly sliced
½ teaspoon kosher salt
½ teaspoon black pepper
2 cloves garlic, finely chopped
1 (10-ounce) package frozen peas, thawed
¾ cup heavy cream
1 cup grated Pecorino
2 teaspoons lemon zest
¼ cup fresh mint leaves, torn
Directions: Cook the pasta according to the package directions. Drain it and return it to the pot.
Meanwhile, heat the oil in a large saucepan over medium heat. Add the leeks to the saucepan, season with the salt and ¼ teaspoon of the pepper, and cook, stirring occasionally, until soft, about 7 minutes. Add the garlic and peas and cook for 2 minutes more.
Stir in the cream and ¾ cup of the Pecorino. Simmer until the sauce has thickened slightly, about 4 minutes.
Add the sauce, lemon zest, and mint to the pasta pot and toss. Divide among shallow bowls and sprinkle with the remaining Pecorino and pepper.
More from Life Cheat Sheet:
Want more great content like this? Sign up here to receive the best of Cheat Sheet delivered daily. No spam; just tailored content straight to your inbox.