7 Winter-Friendly Moroccan Dishes Filled With Warming Spices
Winter is all about consuming comforting, soul-warming and stomach-satisfying foods. Soups and stews take center stage while fresh salads fall by the wayside, and spices also come out with a vengeance. While many different cuisines shine during different times of the year, one cuisine that is especially winter-friendly is Moroccan. It enlists many spices that are rich, flavorful, and sometimes spicy. According to About.com, the most common spices found in Moroccan dishes are ginger, turmeric, saffron, ginger, paprika, cumin, and cinnamon. These are essential for Moroccan meat and vegetable dishes, tagines, and stews.
Before the winter is over, try your hand at Moroccan cooking and spice things up. As long as you get your hands on the aforementioned spices, you're good to go, and a rich, soul-warming dish is just a few steps away.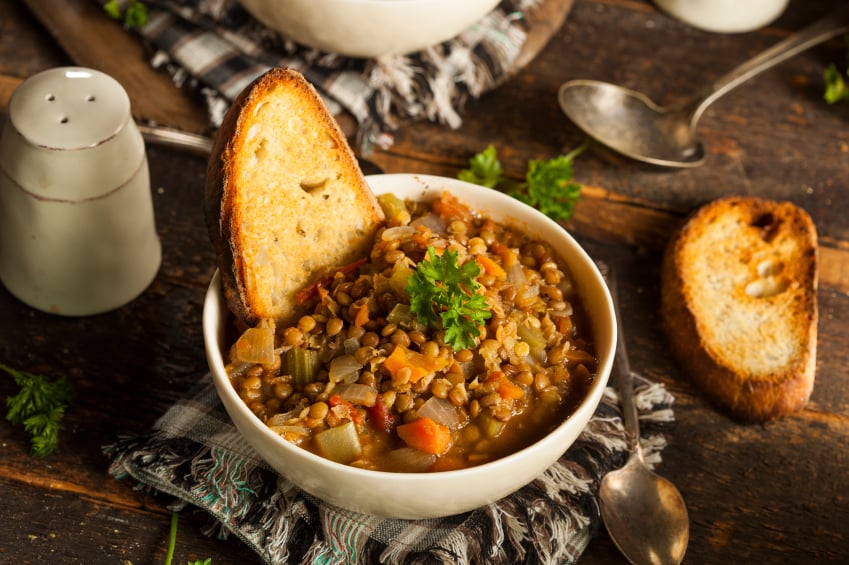 1. Crockpot Moroccan Stew
Here's an easy Morocccan Stew from Eat Live Run to kick things off. This stew recipe is simple because your crockpot does all the hard work for you, and all you have to do is load all your ingredients into the slow cooker and turn the heat to low for 9 hours. The dish is vegetarian and can easily be made vegan. Make this and you'll enjoy dinner tonight as well as leftovers for days.
Ingredients:
1 large red bell pepper, diced
1 large orange bell pepper, diced
4 cups diced butternut squash
2 zucchinis, chopped
1 large yellow onion, diced
3 garlic cloves, minced
1 (15-ounce) can diced tomatoes
1 cup green lentils, dry
2 bay leaves
1 can chickpeas, drained and rinsed
4 cups water or veggie broth
1 teaspoon red chili flakes
1 teaspoon smoked paprika
1½ teaspoons cinnamon
2 to 3 teaspoons salt
Greek yogurt, for serving
Fresh mint, for serving
Olive oil, for drizzling
Directions: Combine all ingredients, minus the chickpeas, in a slow cooker. Turn heat to low and cook for 9 hours. Add the chickpeas and cook on low for one more hour. Taste and add more salt if necessary.
2. Moroccan Lentil Soup
Here's another soul-warming dish from Making Thyme for Health. This Moroccan Lentil Soup is packed full of vitamins and minerals, and the spices enlisted in the dish are touted as having a healing effect on the body. Sarah explains on her site, "Cayenne, for example, is supposed to shrink the blood vessels in your nose and throat to help relieve congestion, while cinnamon and turmeric are high in antioxidants and also possess antibacterial properties."
So whether you're sick at home or healthy at work this week, be sure to make this hearty soup for dinner. It just might relieve you of all your symptoms, and even if it doesn't, at least it will taste good.
Ingredients:
1 cup brown lentils
1 fennel bulb, diced
1 yellow onion, diced
2 carrots, peeled and chopped
1 sweet potato, peeled and chopped
3 cloves garlic, minced
1 tablespoon olive oil
2 teaspoons cumin
1 teaspoon turmeric
½ teaspoon coriander
¼ teaspoon cayenne
¼ teaspoon cinnamon
6 cups vegetable broth
juice of 1 lemon
salt to taste
fresh cilantro for topping
thinly sliced radishes for topping
Directions: Warm the olive oil in a large pot or Dutch oven over medium heat then toss in the onion and the fennel. Cook for 2 to 3 minutes. Next add the carrots, garlic, and sweet potato along with the spices. Stir together and cook for 1 minute then pour in ½ cup vegetable broth. Bring to a low boil and cook for 15 minutes so that the liquid reduces by approximately 1/3. Pour in the remaining broth along with the rinsed lentils and bring to a boil. Reduce to a simmer and cook for 20 minutes, or until the lentils are tender.
Turn off the heat and then squeeze in the lemon juice and stir together. Ladle into individual bowls for serving and top with cilantro and radishes.
3. Moroccan Chicken, Apricot, and Almond Tagine
Next up is a dinner dish for the chicken-lovers in your life. This is a recipe for tagine with chicken, apricot, and almond flavors. According to The Daring Gourmet, chicken is the most widely eaten meat in Morocco, and tagines are especially popular. The Daring Gourmet explains that a tagine is a "a special North African pot formed entirely of a heavy clay, which is often painted or glazed, such as this one. It consists of a base where the food is placed and a large cone/dome-shaped lid that is designed to promote the return of all condensation to the bottom. With the cover removed, the base can be taken to the table for serving."
And not only are chicken tagines popular — so too are vegetable, lamb, and beef tagines, but this recipe from The Daring Gourmet focuses on the poultry and key Moroccan spices.
Ingredients:
2 tablespoons olive oil
1 small onion, diced
1 tablespoon garlic, minced
1 tablespoon ginger, grated
1 pound chicken breast, diced
2 teaspoons ground turmeric
2 teaspoons ground cumin
2 teaspoons ground coriander
½ teaspoon ground cinnamon
1 cup water
3 chicken or vegetable bouillon cubes
1 can garbanzo beans, drained
1 tablespoon harissa
1½ tablespoons honey
⅓ cup dried apricots, chopped
⅓ cup raisins
⅓ cup slivered almonds
½ of a preserved lemon
4 cups butternut squash, peeled, seeded and cut into bite sized pieces
Salt to taste
Extra slivered almonds for garnishing
Couscous
2 cups water
2 tablespoons butter
1 chicken or vegetable bouillon cube
2 cups couscous
Directions: Heat the oil in a large Dutch oven. Add the onion and saute until translucent, about 5 minutes. Add the garlic and ginger and saute for another 2 minutes. Add the chicken, turmeric, coriander, cumin, and cinnamon, stir to combine, and saute until the chicken is no longer pink.
Add the water, bouillon cubes, chickpeas, harissa, honey, raisins, almonds, and lemon juice. Stir to combine. Bring it to a boil, reduce the heat to low, cover and simmer for 10 minutes. Add the butternut squash, stir to combine, return to a simmer, reduce the heat to low, cover and simmer for another 25 minutes, or until the squash is fork-tender. Garnish with some slivered almonds and serve with the couscous.
To make the couscous: Bring the water to a boil in a medium saucepan. Add the butter and bouillon cubes and stir until dissolved. While the water is still boiling, add the couscous. Turn off the heat, cover, and let stand for 10 minutes. Fluff with a fork and serve.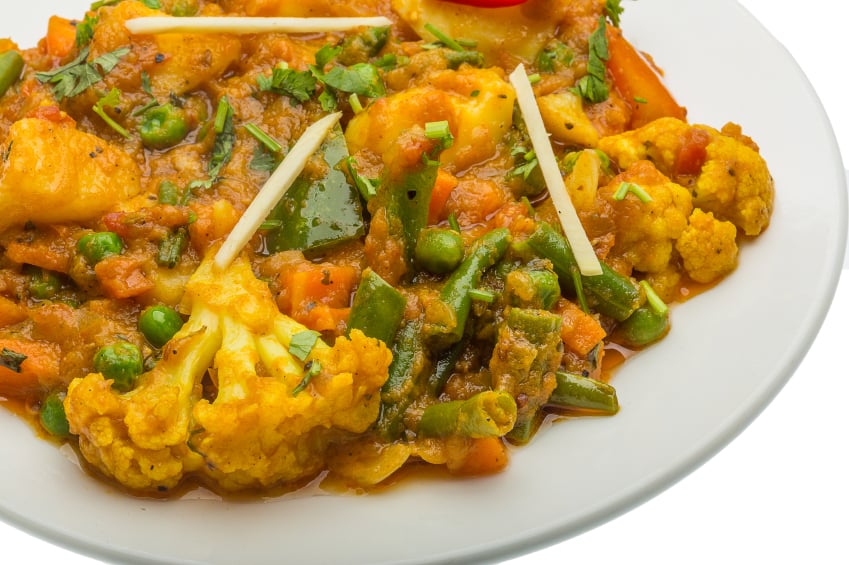 4. Vegetable Tagine
Speaking of vegetarian tagines, here is a recipe for a delicious one from Vegetarian Times. Enlisting soothing Moroccan spices and fibrous vegetables, this dinner will leave you feeling nourished and satisfied, but not over-stuffed. The dinner is a great example of comfort food that is actually good for you, and is great to serve on any given Meatless Monday or Friday during Lent.
Ingredients:
2 tablespoons olive oil
4 shallots, chopped
2 cloves garlic, minced
1 (1-inch) piece peeled fresh ginger root, minced
1 stalk celery, chopped
1 3-inch cinnamon stick
1½ teaspoon ground coriander
1½ teaspoon ground cumin
1½ teaspoon paprika
1 teaspoon salt
1 teaspoon freshly ground black pepper
⅛ teaspoon cayenne pepper or to taste
1 (32-ounce) can crushed or diced tomatoes
1 large carrot, peeled and cut into chunks
⅓ pound green beans, ends trimmed
1 small butternut squash or sweet potato, peeled and cut into chunks
½ head cauliflower, cut into florets
½ fennel bulb, trimmed and cut into chunks
Vegetable broth or water
¼ teaspoon crushed saffron
1 cup cooked or canned chickpeas
½ cup pitted kalamata olives
½ cup halved pitted prunes
3 tablespoons chopped fresh parsley
Directions: Preheat oven to 350 degrees Fahrenheit. In large Dutch oven, heat oil over medium heat. Add shallots, garlic, ginger, celery and cinnamon stick, and cook, stirring often, until shallots and celery begin to soften, about 5 minutes. Add coriander, cumin, paprika, salt, pepper and cayenne. Cook, stirring constantly, until spices are fragrant, about 1 minute. Stir in tomatoes, carrot, green beans, squash or sweet potato, cauliflower and fennel. Add enough vegetable stock or water to cover vegetables. Stir in saffron.
Cover and bake until vegetables are tender, 40 to 45 minutes. About 5 minutes before stew is done, stir in chickpeas, olives and prunes. Stir in parsley just before serving.
5. Moroccan Braised Beef
And here's a Moroccan beef recipe for your beef-eaters at home. They'll love this Moroccan Braised Beef from Taste of Home that has a welcomed kick thanks to paprika, curry powder, cumin, coriander, and cayenne pepper spices. The hearty dinner is easy to make and easy to eat, and what's more, it can be prepared entirely in a crockpot. Just throw your ingredients in a slow cooker and cook on low for 8 to 9 hours until your meat is tender. Bon Appetit!
Ingredients:
⅓ cup all-purpose flour
2 pounds boneless beef chuck roast, cut into 1-inch cubes
3 tablespoons olive oil
2 cans beef broth
2 cups chopped onions
1 can diced tomatoes, undrained
1 cup dry red wine
1 tablespoon curry powder
1 tablespoon paprika
1 teaspoon salt
1 teaspoon ground cumin
1 teaspoon ground coriander
½ teaspoon cayenne pepper
1½ cups golden raisins
Hot cooked couscous, optional
Directions: Place flour in a large resealable plastic bag; add beef and toss to coat. In a large skillet, brown beef in oil. Transfer to a 5-quart slow cooker. Stir in the broth, onions, tomatoes, wine and seasonings. Cover and cook on low for 7 to 8 hours or until the meat is tender.
During the last 30 minutes of cooking, stir in the raisins. Serve with couscous if desired.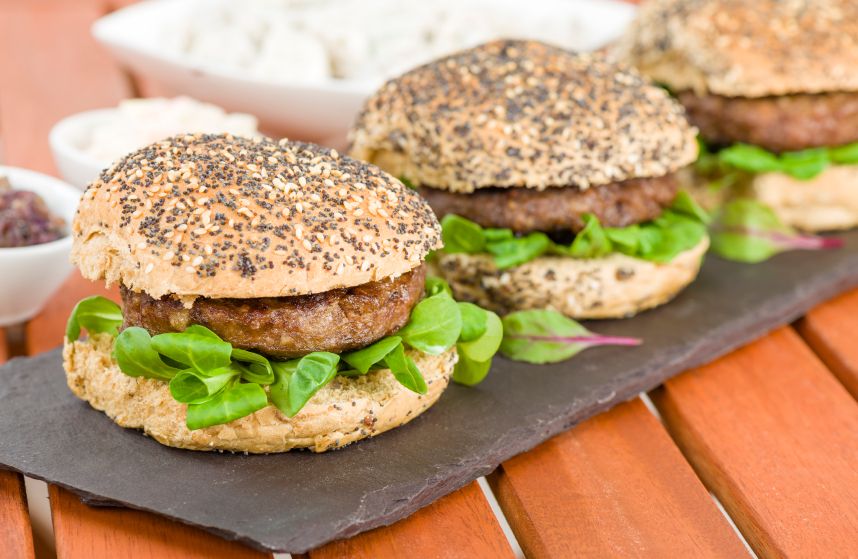 6. Moroccan Lamb Burgers with Mint-Yogurt Sauce
Lamb is the next highlighted meat on our list, and with this recipe from Food & Wine, it's getting turned into a burger. All your Moroccan dreams just came true thanks to Moroccan Lamb Burgers with Yogurt Sauce. Pivot away from the typical beef burgers and instead make these patties that call for lamb, pine nuts, a handful of spices, and parsley. The burgers will get dressed with a tangy mint-yogurt dressing and then it's up to you to serve them to your guests or keep this mouthwatering recipe within the family.
Ingredients:
1 cup plain whole milk yogurt
¼ cup chopped mint leaves
1 garlic clove, minced
1 tablespoon plus 1 teaspoon fresh lemon juice
Kosher salt and freshly ground pepper
2 tablespoons dried currants
2 tablespoons pine nuts
2 tablespoons coarsely chopped flat-leaf parsley
1 teaspoon finely grated lemon zest
½ teaspoon ground cumin
½ teaspoon ground coriander
½ teaspoon cinnamon
1¾ pounds ground lamb
Vegetable oil, for the grill
4 hamburger buns or kaiser rolls, split
Directions: In a small bowl, mix the yogurt with the mint, garlic and 1 tablespoon of the lemon juice. Season the yogurt sauce with salt and pepper and refrigerate.
In a mini food processor, combine the dried currants, pine nuts, chopped parsley, lemon zest, cumin, coriander and cinnamon with the remaining 1 teaspoon of lemon juice and 1 teaspoon of salt. Process the ingredients until a coarse paste forms.
Scrape the currant–pine nut paste into a large bowl and add the ground lamb. Using your hands, gently mix the ground meat thoroughly with the seasonings and pat into 4 plump burgers. Set the burgers on a plate, cover them with plastic wrap and refrigerate for 15 minutes.
Light a grill. Lightly brush the grate with oil. Grill the burgers over a medium-hot fire for 6 minutes per side for medium rare. Grill the buns, cut side down, until toasted. Set the burgers on the buns and serve with the mint-yogurt sauce.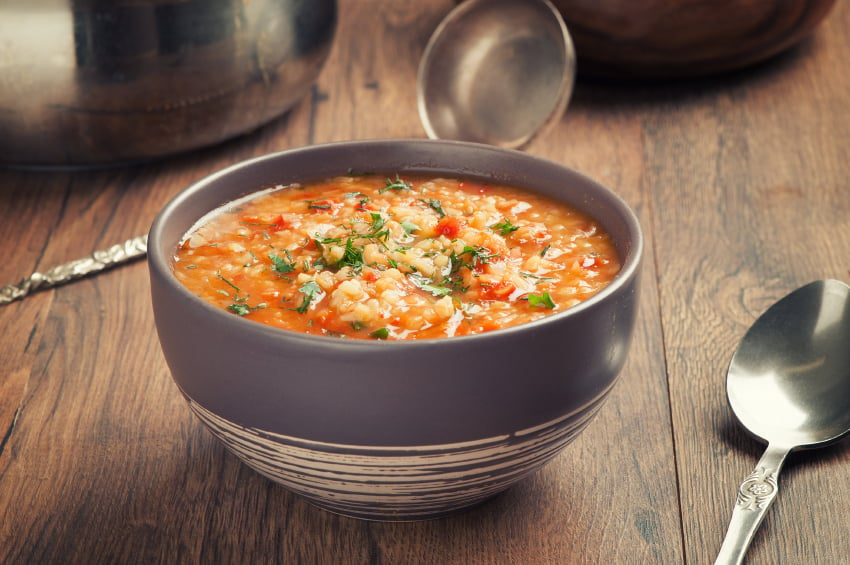 7. Moroccan Spiced Chickpea Soup
Last but not least, Dave Lieberman's Moroccan Spiced Chickpea Soup featured on the Food Network. We're concluding our list on a vegetarian note, just in case you haven't gotten enough of your healthy food yet this winter. Whip this soup up for dinner and stick to your healthy-eating New Year's resolutions. This dinner will warm you up without filling you out and still packs a protein punch thanks to the chickpeas and spinach. Who knew a meat-free dish could be so satiating?
Ingredients:
¼ cup extra-virgin olive oil, plus more for garnish
1 large onion, medium diced
6 to 8 cloves garlic, pressed
1 teaspoon ground cinnamon
1 teaspoon ground cumin
⅛ teaspoon cayenne pepper
1 heaping teaspoon sweet paprika
1 (14.5-ounce) can chopped tomatoes
3 (15-ounce) cans chickpeas, drained and rinsed well
1 quart vegetable broth or reduced-sodium chicken broth
1 teaspoon sugar
Kosher salt
Freshly ground black pepper
1 (5-ounce) package pre-washed baby spinach
Directions: Heat olive oil in a large pot over medium-high heat. Add onion and garlic and saute until the onions begin to turn translucent; lower heat if browning starts to occur. Add spices and saute a minute or so. Add tomatoes, chickpeas, broth, and sugar. Season with a couple pinches of salt and 10 grinds fresh pepper. Stir well. Chickpeas should be just covered with liquid. If level is shy, add some water so the chickpeas are just covered.
Bring to a simmer, then lower heat to low and gently simmer for 45 minutes. Remove soup from heat. Use a potato masher to mash up some of the chickpeas right in the pot. Stir in the spinach and let heat through until wilted, just a couple minutes.
Season again, to taste, with salt and pepper.
More From Life Cheat Sheet:
Want more great content like this? Sign up here to receive the best of Cheat Sheet delivered daily. No spam; just tailored content straight to your inbox.