The Los Angeles Times is reporting that the California cherry season will be short, KEPR in Washington is saying the season came early there, and farmers say it is one of the best seasons in years. The industry is hoping that the bumper crop out of the Northwest will keep the season from being cut unexpectedly short due to the low levels in California production, The Packer states. With a limited chance to get your California varieties, combined with the strong production in Washington, plus the simple fact that cherries are an amazingly addictive, wonderful fruit you should be running to the grocery store to buy a bag. But before you head out, you'll want to plan what you're going to make with these pitted, bite-sized treats. To help you out, we've got eight of the best recipes using cherries that you have to try this year.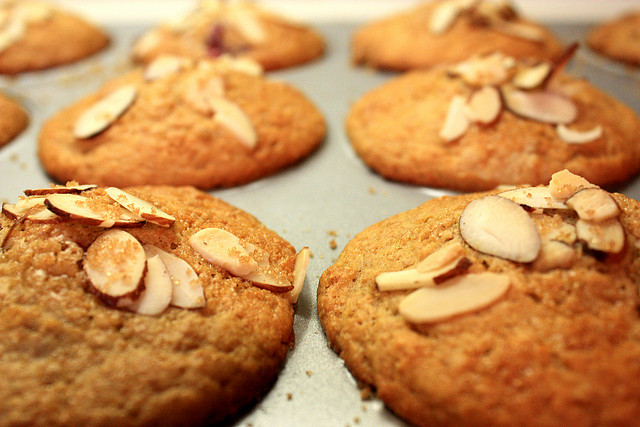 1. Cherry Almond Muffins
With a slight crunch from the toasted almond slivers, the cherry almond muffins from King Arthur Flour with be a delightful start to your day. If you have never pitted cherries before, there are plenty of resources online to help you out. Whole Foods uploaded this video tutorial several years ago, and Lifehacker can tell you how to do so with chopsticks and a bottle.
Ingredients:
½ cup (1 stick) butter
1 cup (7 ounces) granulated sugar
2 large eggs
2 cups (8½ ounces) All-Purpose Flour
½ cup (4 ounces) milk
2 teaspoons baking powder
½ teaspoon salt
2 cups (10 to 12 ounces) cherries, pitted, coarsely chopped, and drained
1 cup (4 ounces) slivered almonds, lightly toasted
1 teaspoon almond extract
granulated sugar
Directions: Preheat oven to 350 degrees Fahrenheit. Cream butter and sugar until fluffy. Beat in eggs, one at a time. Sift together dry ingredients and add them to butter/sugar mixture alternately with milk. Stir in almond extract, then gently fold in almonds and cherries.
Spoon muffin batter into 12 greased muffin cups; cups will be quite full. Sprinkle each muffin with a little granulated sugar, and bake for 30 minutes, or until muffins test done.