8 Foods That Pack a Protein Punch
Protein is the short answer for those people who want to burn fat, build muscle, feel fuller, and achieve their weight loss goals. Maintain a diet high in this nutrient. According to Medline Plus, a protein-rich diet aids your body in repairing and creating new cells. There are many ways to keep your diet sufficiently high in protein: meats, seafoods, plants, nuts, and other parts of your daily diet will contribute to your body's development in innumerable ways.
Below are eight great sources of protein that will keep your body strong and your diet balanced.
1. Lentils
Cooked lentils pack in 18 grams of protein per cup, according to Men's Fitness. This delicious legume is also a great source of your daily iron and fiber intakes. For a quick, simple protein boost, try cooking lentils in water or broth until soft; this will take about 20-30 minutes. If you'd like to get more adventurous, try whipping up this protein-rich barley and lentil salad with goat cheese from Real Simple.
2. Lean Meats
All kinds of meat are packed with protein, but it's better to opt for leaner ones like turkey and chicken to avoid high fat levels and associated cardiac problems. One serving of turkey contains 24 grams of protein, says the United States Department of Agriculture (USDA); beef is higher in fat than most poultry products, but according to the USDA, a 3-ounce lean cut (85 percent lean meat, 15 percent fat) packs in 22 grams of protein. Try a turkey-lettuce wrap or a salad with lean beef or chicken to get a protein boost in one quick meal.
3. Seafood (Shrimp, Salmon, Cod, etc.)
You'll find that many varieties of seafood serve as a delicious, protein-heavy addition to your diet. Most seafoods are not only delicious and healthy, but are also easy to prepare. Fish and shellfish are relatively low in calories and fat, but pack in tons of essential vitamins (B12, D, selenium, among others), writes Men's Fitness. Shrimp, for example, contains 12 grams of protein for every 3 ounces. Simply thaw a package of cooked, frozen shrimp and enjoy with cocktail sauce or prepare a nice, heart-healthy shrimp pilaf.
If you prefer fish, try a simple baked salmon fillet — one half of a fillet contains 40 grams of fat, and this fish goes exceptionally well with a bourbon glaze!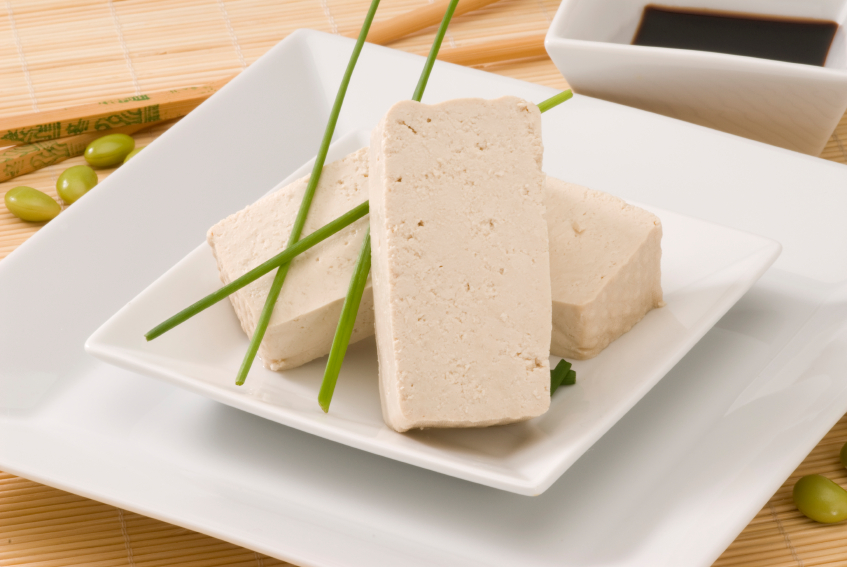 4. Firm Tofu
Soy-based tofu is one of the most versatile ingredients available for use in the kitchen today. Firm tofu is frequently used in dishes as a meat substitute, and it has the protein to do the job! According to FitDay, firm tofu contains 10 grams of protein for every 4 ounces. The high protein levels in tofu aid in muscle development and overall strength in tissues and membranes. Firm tofu is also high in calcium and aids your body in maintaining healthy cholesterol levels. Try tofu in a TLT (tofu, lettuce, and tomato sandwich) or in a salad with kale!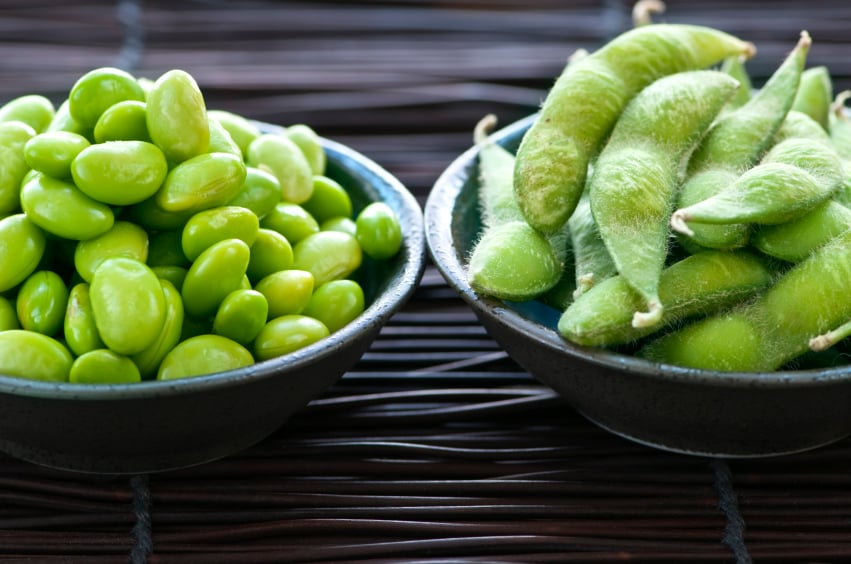 5. Edamame
Edamame contain a whopping 17 grams of protein per cup, according to the USDA – with just over 100 calories in that same serving. This food offers your body plant-based proteins and is also a great source of unsaturated fats. You can eat edamame plain, salted, or spiced to your liking! These are a perfect, quick, portable snack that can be thrown into a baggie and enjoyed on the go, according to Men's Fitness.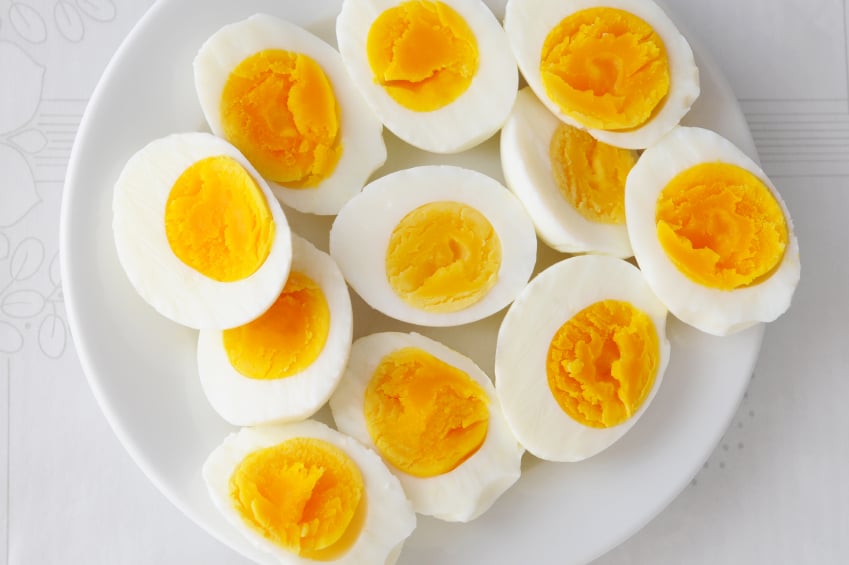 6. Eggs
At 78 calories a pop, eggs are a great and relatively low-calorie way to get your protein. The USDA explains that each egg contains over 6 grams of the nutrient. Eggs also contain vitamins B6, B12, D, E, iron, phosphorus, and zinc. Having some egg in your diet will help your body feel full, as well as break down stored fats, writes Men's Health. Try them scrambled, and be sure to throw in some vegetables for flavor and added nutritive benefits — spinach, kale, peppers, and mushrooms all make great additions.
7. Quinoa
The USDA lists cooked quinoa as containing over 8 grams of protein per cup. Quinoa is a whole grain that gives your body the fiber and B vitamins it so needs to keep and store energy. Whole grains like quinoa make a great substitute for sugary breakfast cereals in the morning, and can also be a balanced part of your lunchtime and dinnertime dishes. Try it in a black bean salad or throw it in with some tomatoes and peppers for a quick, nutritious treat!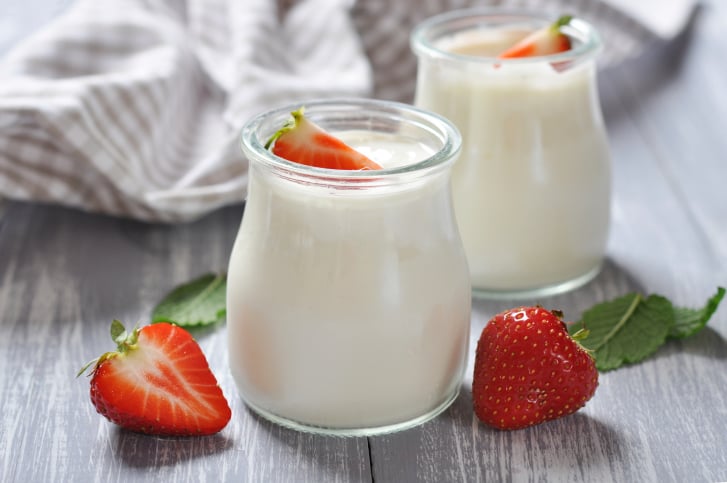 8. Greek Yogurt
One of Greek yogurt's main selling points — aside from being yummy — is the abundance of protein it contains. Each 6-ounce serving contains from 15-20 grams of protein, according to U.S. News and World Report — this amount is equivalent to the protein in 2-3 ounces of lean meat! Greek yogurt is higher in protein than standard yogurt, making it an especially helpful nutritive source for vegetarians. Either throw in some fruits and honey for a quick, healthy snack, use it as a sour cream substitute, or prepare something more ambitious using Greek yogurt as your base: a Lemon Greek Yogurt Mousse is a great choice for health-conscious eaters with a sweet tooth!
More From Life Cheat Sheet:
Want more great content like this? Sign up here to receive the best of Cheat Sheet delivered daily. No spam; just tailored content straight to your inbox.