Bank on Being Fit: Eat and Exercise Like Tyra Banks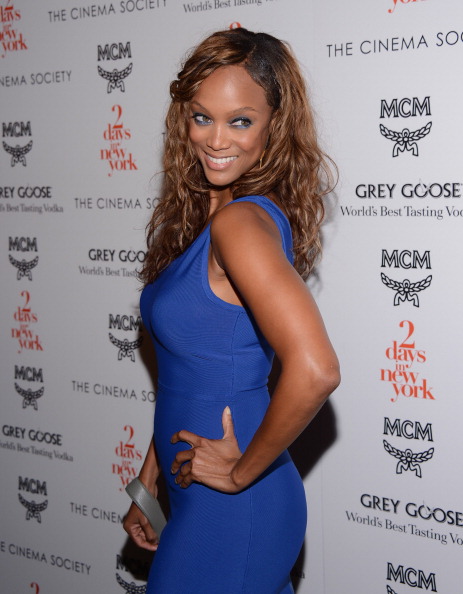 From her extraordinary modeling career to her hit TV show, American's Next Top Model, Tyra Banks conquers everything she tries. So it's no surprise she is also successful when it comes to following a healthy diet and exercise plan. There are no tricks or strange diets, either — it's all about eating healthy and hopping on a treadmill.
Even more inspiring? Banks has struggled with her weight in the past, but rather than succumbing to a quick diet fix, she worked it off following a realistic fitness regimen. Banks is a role model for many, including young girls, aspiring models and even successful supermodels.
Banks says her weight was even an issue at the start of her modeling career. As her curves began to appear, Tyra tells People she was rejected over and over again, particularly by high-end designers. However, Banks found a way to embrace her curves. "I said, 'Child, you're telling me I'm too big? I'm going to the commercial side,'" she told People. Banks then went on to become Sports Illustrated's first African-American cover girl, in addition to becoming a model for Victoria's Secret. "When she walked down the [Victoria's Secret] runway, she was bigger than all the other girls. She hid the body parts she didn't want to show, and she rocked it," Heidi Klum, Banks' friend and former model, told People.
Despite it all, Banks has maintained her confidence and a stunning body, proving you don't need to follow a crazy diet to lose weight. Ready to follow a few tips and tricks that this former model follows? Here's a look into Banks' workout and diet plan.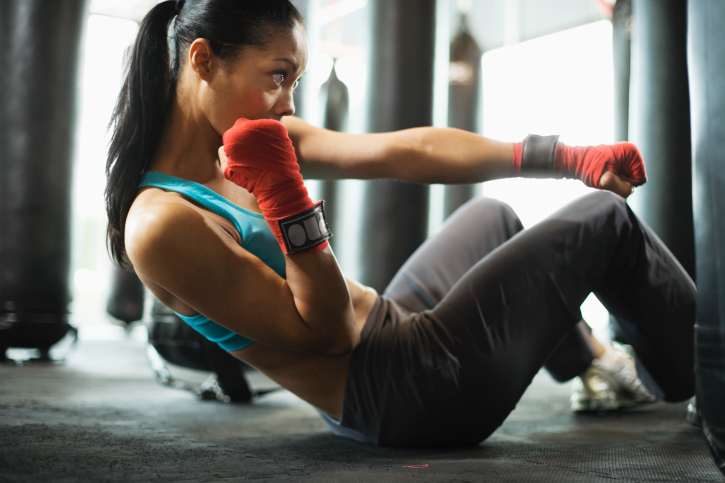 Banks' Workout Plan
One of Banks' workout tricks? Finding something to keep her entertained while she's doing cardio. Banks works out to episodes of Sex and the City, and recommends others find something they can look forward to when they hop on a cardio machine, per Examiner. Banks keeps it simple when it comes to cardio, spending time on either the treadmill or elliptical. On any given day, you could also see Banks getting some fresh air while on a jog or a brisk walk. The key, Banks says, is to get in the habit of doing it often.
However, she's also been known to get a bit more physical when it comes to blasting fat and burning calories. Her trainer Martin Snow told Us Weekly that Banks is a fan of boxing.
"I have a boxing gym so I basically do the moves with her that a fighter would do. She tends to get bored just doing conventional stuff. She has an athletic body, so I just try to bring it out. She responds very well to exercise. I do old-man Charles Atlas workouts. Stuff that old-time fighters used to do to get in shape," Snow said.
A typical routine for Banks includes doing a few warm-ups, some running drills and a parachute run (Banks runs with a parachute around her.) There's also usually medicine balls involved, and "she will take heavy medicine balls and run and chase after them, and throw them at different angles," Snow said.
Snow says Banks will come in for about an hour to an hour, 30 minutes each time. The trick is variety. Her workouts can range from using old tractor tires to swinging sledgehammers, in addition, of course, to some hardcore boxing.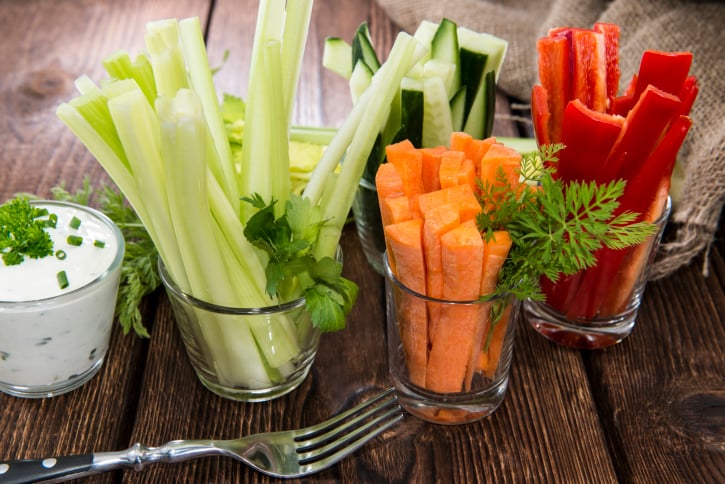 Banks' Diet
In 2009, Banks dropped about 30 pounds and made sure she let people know just how she was able to make it happen. Her nutritionist, Heather Bauer, said Banks dropped the weight gradually, with "no radical diets, no shakes, no starvation." One of the ways Banks lost weight and was able to keep it off was because of her healthy mentality. "This is not a diet. I do not believe in diets. I have been on diets in the past. They are a bunch of bologna. This is a lifestyle change. It's not about being skinny. It's about being in the best shape you can be," she said in a statement.
Her new way of eating emphasized eating a lot of foods high in fiber, while avoiding empty carb calories. Carbs you should avoid include bagels, muffins, scones, pastas, candy, and sweets, while good carbs include brown rice, sweet potatoes, corn, beans, peas, whole wheat bread, and (some) sauces, according to Zap2it. Also stick to high-fiber cereals and crackers, aiming for two servings of fiber a day.
She didn't rely on a personal chef, either. "Tyra is actually a perfect example for people to follow because she doesn't have a personal chef or someone spoon-feeding her healthy meals. She's a real woman who loves food and wants it to taste good," Bauer said.
One of the keys to her success? Banks started keeping track of everything she was eating in a food journal, which helped her to balance her meals. For example, if one day she splurged on a hamburger or piece of dessert, she would write it down as a reminder to eat better the following day. Sounds doable, right? There is a big difference between keeping a food journal and writing down what you eat, Banks says. In fact, she refuses to count calories. "My nutritionist says, 'If you bite it, write it.' Writing down everything that you put in your mouth really helps. I don't count a damn calorie. But when I'm really trying to eat healthy, I write everything down. It really holds me accountable and puts me on a healthier path," Banks said to Women's Health.
Banks keeps it simple when it comes to her foods. In addition to writing stuff down, she opts for plenty of fresh fruits (mango and papayas are a few of her favorites), in addition to salads with lean meats, such as chicken or shrimp, per I'm Not Obsessed. Her favorite go-to snack? Crudites (it's a hor d'oeuvre consisting of various raw vegetables) with onion dip. Here are a few of her sample meals, per Zap2it.
Breakfast: Have some yogurt and fruit, high fiber cereal, oatmeal, or eggs.
Lunch: Have a salad with vinaigrette and chicken. You can even splurge and have a little Parmesan cheese and a couple of croutons. Gazpacho, caprese salad, or a turkey sandwich are also viable options.
Snack: Only have a snack if it helps you eat less at dinner, Banks suggests. It should be under 200 calories, and can include fruit, cheese, or rice cakes.
Dinner: Have a protein and vegetables, paired with one carb. For something quick and easy, try a frozen organic dinner or microwaveable veggies.
More From Wall St. Cheat Sheet:
Want more great content like this? Sign up here to receive the best of Cheat Sheet delivered daily. No spam; just tailored content straight to your inbox.