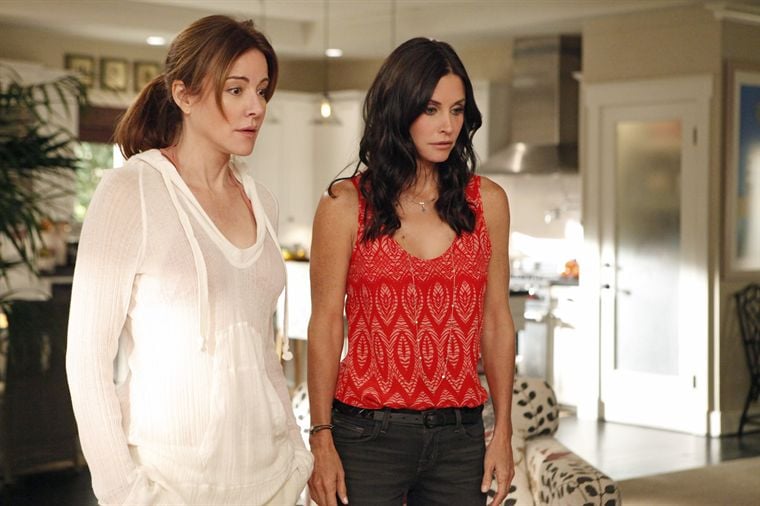 Courteney Cox, 49, is well-known for her toned body, killer abs, and vibrant appearance. The former Friends actress and current star of Cougar Town has managed to maintain a youthful physique despite her busy lifestyle, which includes taking care of her 9-year-old daughter. She can partially thank her trainer, Michelle Lovitt, who helps her target her trouble spots by focusing on strength training. The other part, however, can be credited to Cox who, for the most part, is a pretty strict dieter. She has been known to partake in low or no-carb diets, while eating fairly healthy the rest of the time. While most of us probably won't wake up one day and be a successful actor like Cox, we can (eventually) wake up with a body like hers. Here's a few tips to help get you started.
Workout like Cox
"My fitness philosophy is to be active in life and enjoy what I am doing," Cox told Shape. "I have always loved exercise and feel that being active is important to maintain not only physical health, but mental health as well."
Cox focuses on variety when it comes to her workouts, especially with cardio. Once an avid runner, she now also focuses on Pilates, tennis, surfing, yoga, bike riding, strength training, and martial arts, writes Shape. But if you're hoping to have some of the muscle definition that Cox has, you'll need to do more than play tennis. Try one of these Lovitt recommended workout sessions, or try doing doing all of them throughout the week, per Fitness.
Session 1: Focus on upper body toning moves from every angle using two types of resistance bands, followed by cool down stretches on a vibrating Power Plate. "Courteney's favorite machine," Lovitt says to Fitness.
Session 2: Aim for a 75-minute cardio session (think treadmill intervals) followed by a lower body medley of squats and lunges. When you're doing this session, use a heart rate monitor (Cox does) to track your intensity when you're doing cardio. Otherwise, you're just guessing at your intensity level, and you don't want to cheat yourself.
Session 3: Begin with treadmill intervals and then head back to the resistance bands for more upper body sculpting. A great move to try is the cross-body bicep curl. To do it, stand with your right foot on one end of a bow-tie resistance band (think of a figure 8) and hold the other end in your left hand to curl the band across your body toward your left shoulder.