It's time to put a piece of pie on your dinner plate. Why would you want to do this? We're glad you asked. Often filled with meat, cheese, and vegetables, a savory pie can be a fulfilling and substantial part of your dinner. When you use a pre-made crust, you can have dinner on the table in a flash — or you could use a crustless pie recipe and eliminate that aspect entirely. Plus, over the years people have been inventive with the flavor profiles, turning kid favorites like pizza into a pie you can dish out to even the pickiest of eaters. But from here on out, we'll let the pies speak for themselves. Keep reading for six savory pies to make tonight.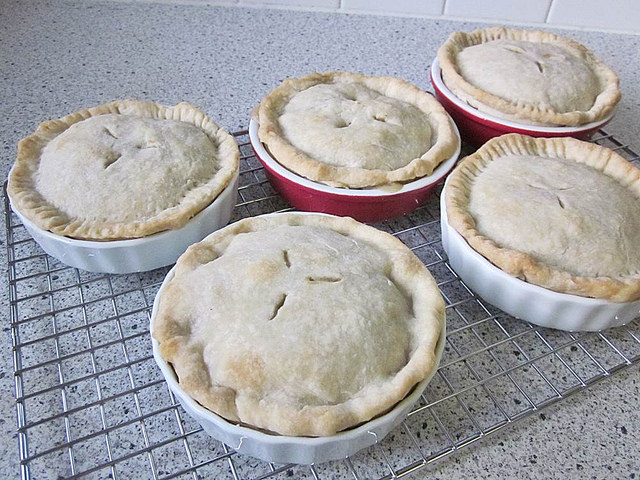 1. Pizza Pot Pies
For a pizza-flavored pie that isn't a pizza pie, we're turning to Betty Crocker's pizza pot pies. The pies are baked in individual casserole dishes, ramekins, or whatever you have that is ovenproof and between 10 and 12 ounces. Other potential ingredients include peppers, pepperoni, or olives.
Ingredients:
1 pound lean ground beef or Italian sausage
½ cup chopped onion
½ cup chopped green bell pepper
1 can (8 ounces) pizza sauce
1 can (4 ounces) sliced fresh mushrooms
1 cup shredded mozzarella cheese (4 ounces)
1 cup Original Bisquick mix
¼ cup very hot water
Directions: Heat oven to 375 degrees Fahrenheit. Grease four 10- to 12-ounce casseroles. Cook ground beef, onion, and bell pepper in 10-inch skillet over medium heat, stirring frequently, until beef is brown; drain. Stir in pizza sauce and mushrooms. Heat to boiling, stirring occasionally; reduce heat. Simmer uncovered 5 minutes, stirring occasionally. Spoon beef mixture into casseroles. Sprinkle ¼ cup cheese on each.
Combine Bisquick mix and very hot water; beat vigorously 20 seconds. Turn dough onto surface dusted with Bisquick mix; gently roll in Bisquick mix to coat. Shape into ball; knead about 10 times or until smooth. Divide dough into four balls. Pat each ball into circle the size of diameter of casserole. Cut steam vent in each circle with knife or cookie cutter. Place each circle on beef mixture in casserole. Bake 15-20 minutes or until very light brown.