Let's talk about a less-than-healthy side to fruit — or if you prefer to see things on the optimistic side, a possibly healthy addition to alcohol. Naturally sweet and abundant in summer, fruit is a great match for liquor at your next over-21 picnic or gathering. You'll need to be careful with these six boozy offerings, especially if you let the fruit soak for any considerable amount of time. The bite to the alcohol lessens with time, just as the potency of the fruit increases. Check out the following six ways you'll be eating or drinking alcohol infused fruit this summer.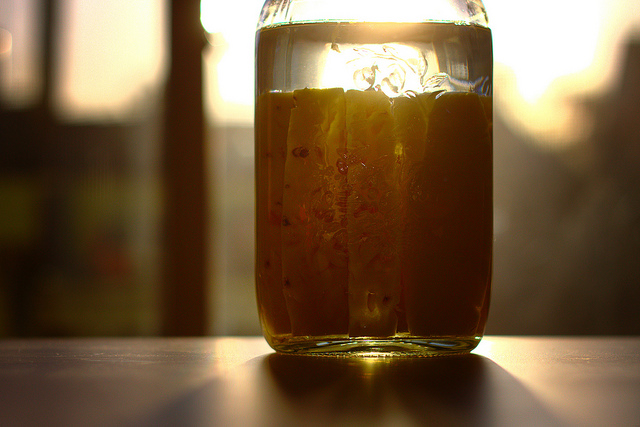 1. Stoli Doli
Stoli (Stolichnaya vodka) Doli (Dole pineapples) debuted at Capital Grille in Providence, Rhode Island in 1990, Boston Common explains. This simple combination of pineapple and vodka lends itself to copycat recipes, meaning that you don't need to travel to Providence to try it out. What you will need is patience. "Capital Grille has pineapple flown in from Hawaii and it is sliced and put into a large, glass jar," Jim Kinney, general manager at Capital Grille, is quoted as saying in Baltimore Style. "The jar is then filled with Stoli vodka and left to sit for seven days. You can't touch it until day eight. The result is no bite — just a nice, pineapple taste. We serve it in a martini glass." 
Ingredients:
1 fresh pineapple, cut into pieces
1 (750 milliliter) Stolichnaya vodka (or preferred brand)
Directions: Place the pineapple pieces into a large container and pour the vodka over them. Cover and refrigerate for 7 days. Serve in a martini glass to emulate the original.