School is almost out, and kids will be home for the summer. As you plan activities for their vacation days, consider getting them involved in the kitchen. When the proper precautions are taken, kids can safely join in on helping to prepare a meal or bake dessert. Julie Negrin, a nutritionist, told the Food Network that although parents may need to give themselves a bit of extra time when bringing kids into the kitchen, the extra set of little hands doesn't have to slow them down too much.
Negrin recommends having a child work station setup and setting age-appropriate tasks like washing vegetables and stirring for the younger set, with duties increasing in complexity as they age. You know your kids best and will know when they are ready to graduate from cutting out shapes in dough to scrambling eggs, so take the ideas in these six recipes, tailor them to your kitchen, and get cooking!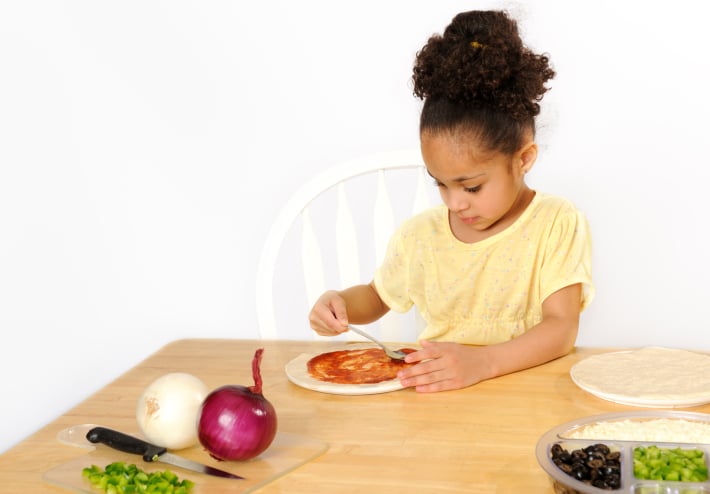 1. Pita Pizzas
Let the kids layer all the toppings on this pita pizza from Kraft. The adult on hand can handle taking the pizzas in and out of the oven and making sure they are cool enough to work with before handing the pizzas over to the kids after the first baking.
Ingredients:
2 whole-wheat pita breads
2 teaspoons fat-free Italian dressing
¼ cup pizza sauce
4 mozzarella slices
¼ cup each chopped green peppers, sliced fresh mushrooms, and sliced red onions
Directions: Preheat oven to 375 degrees Fahrenheit. Place pitas on baking sheet; brush with dressing. Bake 8 minutes, or until lightly browned. Top with remaining ingredients. Bake for 4-6 minutes or until mozzarella slices begin to melt.