8 Recipes for Gourmet Nachos for Any Meal
Nachos shouldn't just be served as a snack or appetizer; they also work wonderfully for breakfast, lunch, dinner, and dessert. Whether you're craving layers of breakfast foods, nacho versions of sandwiches, hearty dinner dishes, or a sweet cinnamon-and-chocolate-covered dessert, these eight recipes will help you prepare nachos for every meal of the day. Just make sure you have plenty of tortilla chips before you head to your kitchen — it's the one ingredient these recipes all have in common.
1. Breakfast Nachos Skillet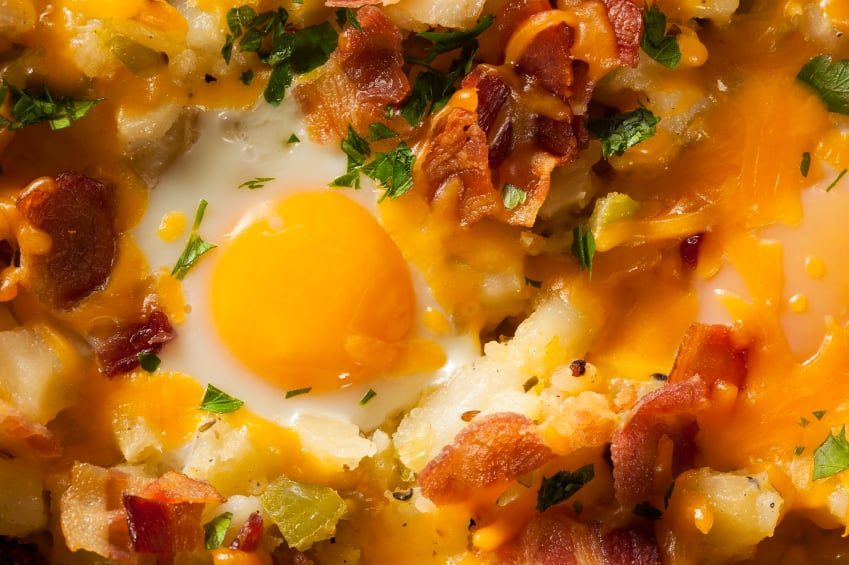 Eating nachos for breakfast may seem strange, but it's actually quite delicious. Lee Frank and Rachel Anderson's recipe for Breakfast Nachos Skillet, which is in the cookbook Ultimate Nachos and can be found via Serious Eats, contains layers of eggs, spinach, mozzarella, cherry tomatoes, and tortilla chips. It yields 4 servings.
Ingredients:
2 tablespoons olive oil, divided
1 onion, diced
2 leeks, white parts only, chopped
Salt and black pepper
1 (6-ounce) bag baby spinach
Juice of 1 lemon
7 ounces corn tortilla chips, approximately half of a store-bought bag
8 ounces fresh mozzarella cheese, thinly sliced
4 large eggs, preferably organic if you prefer runny eggs
10 cherry tomatoes, halved
Directions: Preheat oven to 350 degrees Fahrenheit. Heat a sauté pan over medium heat until hot. Add 1 tablespoon of the olive oil to the pan and swirl to coat. After a minute, add the onion and leeks to the pan and season with the salt. Cook the vegetables until translucent and tender. Add the spinach and continue to cook, turning the spinach over, until wilted and coated in oil. Add the lemon juice and continue to cook. Meanwhile, evenly arrange the tortilla chips in a cast-iron skillet. Cover the chips with half of the cooked spinach-leek mixture.
Evenly distribute the fresh mozzarella slices over the vegetables. Spread the remaining vegetables over the cheese. Make four wells an equal distance apart in the vegetable mixture. Crack an egg into each well. In a small bowl, toss the halved cherry tomatoes in the remaining 1 tablespoon olive oil, and season with salt and pepper. Evenly distribute the tomatoes around the edge of the skillet to garnish. Bake the nachos skillet in the oven for 15 minutes, or until the egg whites have firmed up. Bake for longer if you do not like runny eggs.
2. Pancake Breakfast Nachos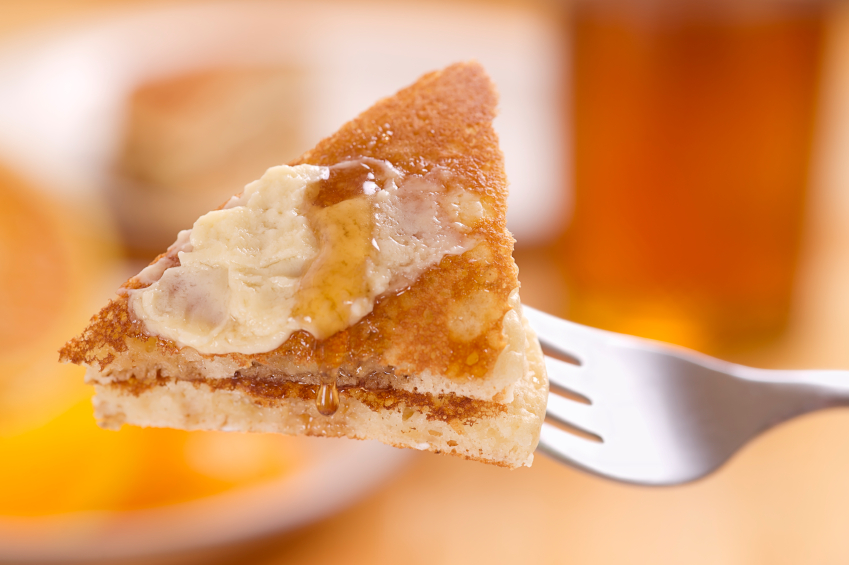 A combination of the very best breakfast foods — including pancakes, sausage, eggs, and bacon — creates a mouth-watering morning meal that will satisfy any craving. If you're looking for an easy pancake recipe to use in The Delicious Life's sweet and savory Breakfast Nachos, we suggest following Martha Stewart's recipe for Easy Basic Pancakes.
Ingredients:
Tortilla chips
Thick pancakes, cut into quarters
Shredded cheese
Black beans
Cooked spicy breakfast sausage
Cooked, chopped bacon
Pico de gallo
Sliced fresh avocado (or guacamole)
Sliced jalapeños
Sliced radishes
Chopped fresh cilantro
3 large eggs
Directions: Turn on broiler in oven to high. Line an ovenproof baking sheet with parchment paper for easier cleanup. Spread out a layer of tortilla chips mixed with the cut pancakes. Top chips and pancake quarters with shredded cheese. Place sheet under broiler, about 6 to 8 inches from the heat. Watch carefully, and remove once the cheese has almost completely melted.
While the chips and cheese are broiling, fry the eggs. Remove the baking sheet from the oven. If you are using a separate serving plate, slide the chips/pancakes/melted cheese onto it. Top with black beans, cooked breakfast sausage, and cooked bacon. Place the fried eggs on top. Add pico de gallo, sliced avocado, jalapeños, radishes, and cilantro.
3. Herbed Tuna Salad Nachos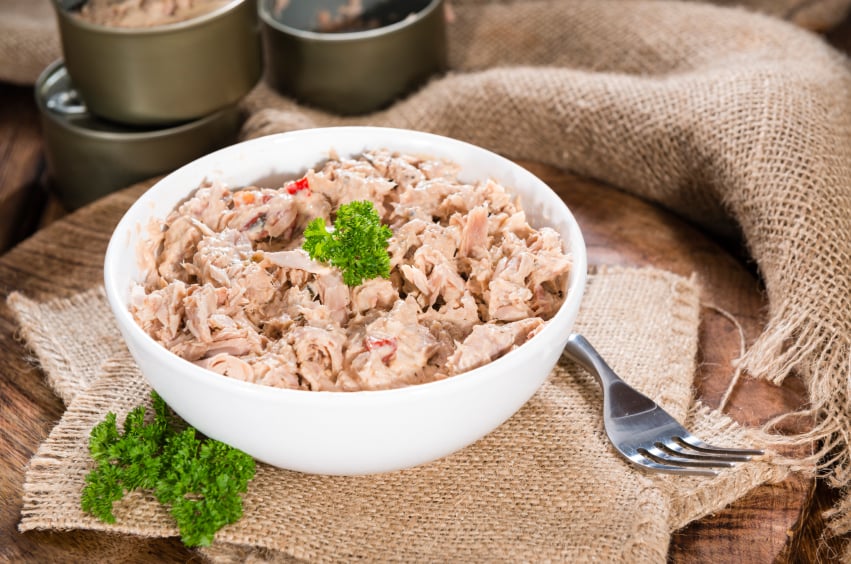 Looking for a new way to enjoy tuna salad? Prepare Instructables' Herbed Tuna Salad Nachos, a rich, creamy, and zesty lunch dish you'll look forward to eating all morning.
Ingredients:
1 small can Albacore Tuna packed in water, drained
¼ cup mayonnaise
1 Roma or plum tomato, diced
1 small stalk of celery, chopped
1 tablespoon capers, drained and chopped
¼ teaspoon dill weed
¼ teaspoon garlic pepper
¼ tablespoon sea salt
Tortilla chips
Garnish
1 teaspoon feta cheese, crumbed
Lime wedges
Pinch dill weed
Directions: Use a fork to gently toss the drained tuna and mayonnaise together. Try to keep the tuna as flaky as possible. Add the rest of the ingredients, except garnishes, and refrigerate the salad until you're ready to serve. Before serving, toss the tuna salad again to redistribute any liquid. Layer a bowl with the tortilla chips. Spoon the tuna salad in. Sprinkle with feta cheese and add a pinch of dill. Garnish with lime wedges.
4. PB & J Nachos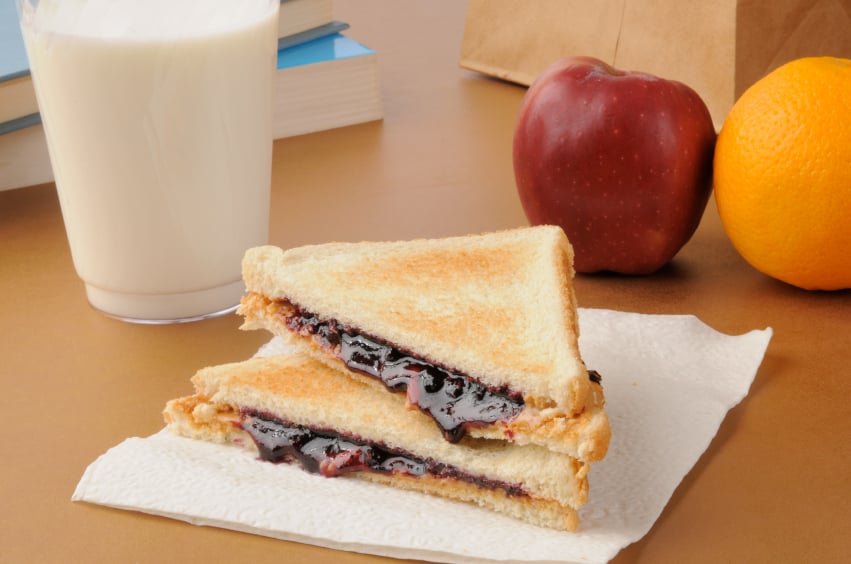 Macheesmo's PB & J Nachos adds a fun element to a classic lunch sandwich by combining tortilla chips, peanut butter, apples, and jelly. This recipe, which yields 2 to 4 servings, creates a simple yet satisfying dish that is packed with sweet and salty flavors; it's the perfect way to add a little variety to your midday meal!
Ingredients:
1 cup peanut butter
1 cup jelly
1 apple, cored and diced
¼ cup roasted and salted peanuts
Tortilla chips
Directions: Heat your peanut butter and jelly in separate pots over the stove top. Add about a tablespoon of water to each. Don't bring to a boil; take them off the heat when they are hot and easy to pour. Place a layer of tortilla chips on a serving platter and drizzle each sauce over the chips. Top with apple pieces and peanuts, and enjoy!
5. Super Nachos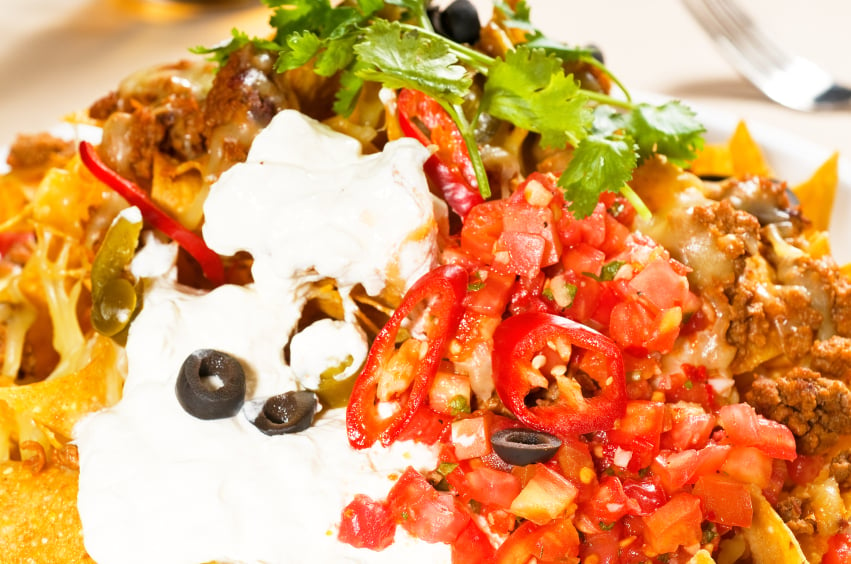 Filled with cheesy, meaty, and zesty flavors, this is a dinner dish your family will devour. Feel free to include as many extra toppings as you'd like: sour cream, scallions, olives, pimento, and avocado are all welcome additions. Rachael Ray's recipe for Super Nachos via Food Network yields 4 servings.
Ingredients:
2 bags corn tortilla chips in 2 colors or different flavors
Pico de gallo salsa
4 vine-ripe tomatoes, seeded and chopped
1 jalapeño pepper, seeded and finely chopped
1 small white onion, chopped
¼ cup, 2 handfuls, cilantro leaves, finely chopped
Salt
Beef and beans topping
1 tablespoon extra-virgin olive oil
1 pound ground sirloin
2 cloves garlic, chopped
1 small onion, chopped
1 jalapeño pepper, seeded and chopped
1 teaspoon salt
1½ teaspoons dark chili powder
1½ teaspoons ground cumin, half a palmful
2 teaspoons to 1 tablespoon cayenne pepper sauce
1 (15-ounce) can black beans, drained
Cheese sauce
2 tablespoons butter
2 tablespoons all-purpose flour
2 cups milk
¾ pound pepper jack cheese, shredded, about 2½ cups
Additional toppings to choose from (optional)
Sour cream
Chopped scallions
Chopped black olives
Diced pimento
Sliced avocado, dressed with lemon juice
Hot pepper sauces
Directions: Arrange a mixture of 2 varieties of corn chips on a very large platter, or use your broiler pan as a platter. Combine salsa ingredients in a bowl and set aside for flavors to marry. Heat a medium nonstick skillet over medium-high heat. Add oil, garlic, onion, and peppers to the pan and sauté 2 minutes, then add meat and crumble with wooden spoon. Season meat with salt, chili powder, cumin, and cayenne pepper sauce.
Cook meat 5 minutes, then stir in beans and reduce heat to low. In a medium sauce pot, melt butter and add flour to it. Cook flour and butter 1 to 2 minutes over moderate heat, then whisk in milk. When milk comes to a bubble, stir in cheese with a wooden spoon. Remove cheese sauce from the heat. Pour cheese sauce evenly over the massive spread of chips and top evenly with beef and beans, pico de gallo, and other desired toppings.
6. Hearty Rice and Bean Nachos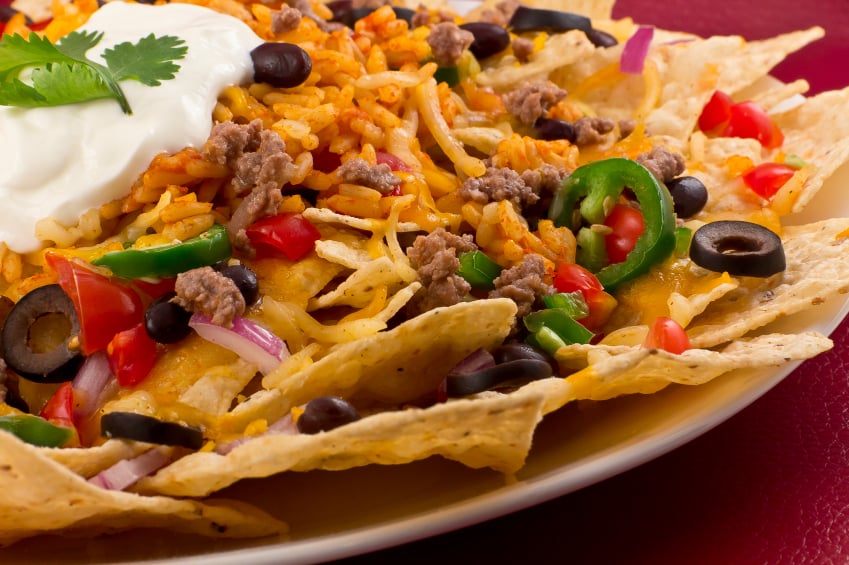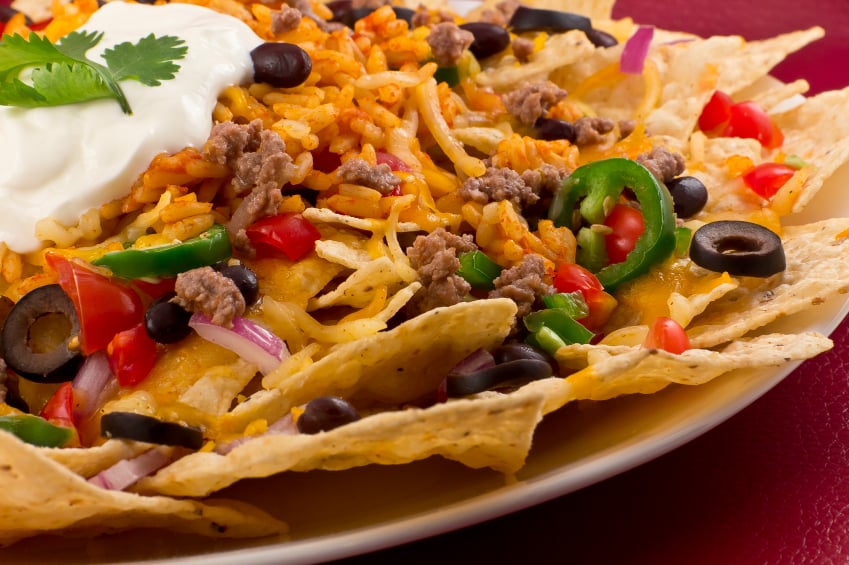 Whole Foods Market's recipe, which yields 4 servings, proves that nachos don't have to be unhealthy. In fact, thanks to brown rice, these Hearty Rice and Bean Nachos are packed with health benefits. Men's Fitness notes that brown rice is a good source of fiber, magnesium, and complex carbs, and may help protect against heart disease, type 2 diabetes, and cancer.
Ingredients:
2 teaspoons canola oil
8 ounces vegetarian sausage, crumbled, or meatless crumbles
¾ cup cooked brown rice
5 ounces (about 6½ cups) tortilla chips
¾ cup cooked no-salt-added kidney beans, rinsed and drained if canned
1¼ cups shredded Mexican blend cheese
1 jalapeño pepper, seeded and finely chopped (optional)
½ cup prepared salsa
½ cup chopped fresh cilantro
½ lime
Directions: Preheat oven to 450 degrees Fahrenheit. In a medium skillet, heat oil over medium heat. Add sausage and cook, stirring frequently, until sausage is browned, about 5 minutes. Stir in rice and cook 1 more minute. Spread chips in a 9-by-13-inch baking dish and spoon sausage and rice mixture over top. Sprinkle with kidney beans, cheese, and jalapeño; bake until cheese melts and nachos are very hot, 8 to 10 minutes. Spoon salsa over nachos, sprinkle with cilantro, and squeeze lime over the top.
7. Nacho Lasagna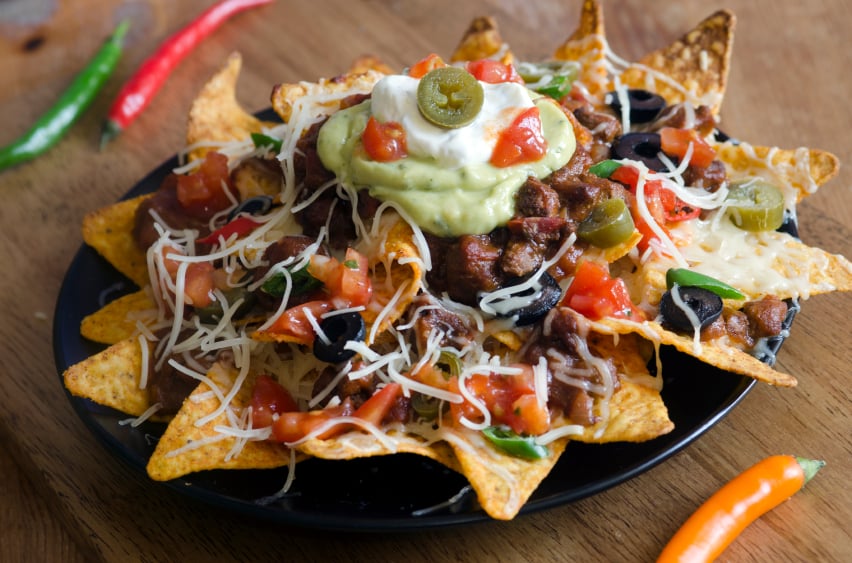 Lasagna-like nachos can be on the table in 40 minutes thanks to AllRecipes.com's quick recipe, which yields 8 servings. Feel free to personalize this dish as you please; sausage and venison can be used to replace the beef sirloin, and more or less jalapeños can be used to make your dinner as hot or mild as you'd like.
Ingredients:
1 pound beef sirloin, cut into bite-size strips
1 small onion, chopped
2 teaspoons chopped garlic
1 (10-ounce) can diced tomatoes and green chiles
1 (4-ounce) can chopped jalapeño peppers
1 (18-ounce) package tortilla chips
1 (10-ounce) can black olives, drained
1 tomato, chopped
3 cups shredded cheddar-monterey jack cheese blend
Directions: Preheat oven to 350 degrees Fahrenheit. In a large, heavy skillet over medium heat, cook beef, onion, and garlic until beef is evenly brown. Drain excess fat. Remove from heat and stir in tomatoes and jalapeños. Pour half of beef mixture in a 9-by-13 inch pan. Top with a layer of tortilla chips, ½ of black olives, ½ of tomato, and ½ of shredded cheese. Repeat layers. Bake in preheated oven for 10 to 15 minutes, or until cheese is melted.
8. Cinnamon Chocolate Nachos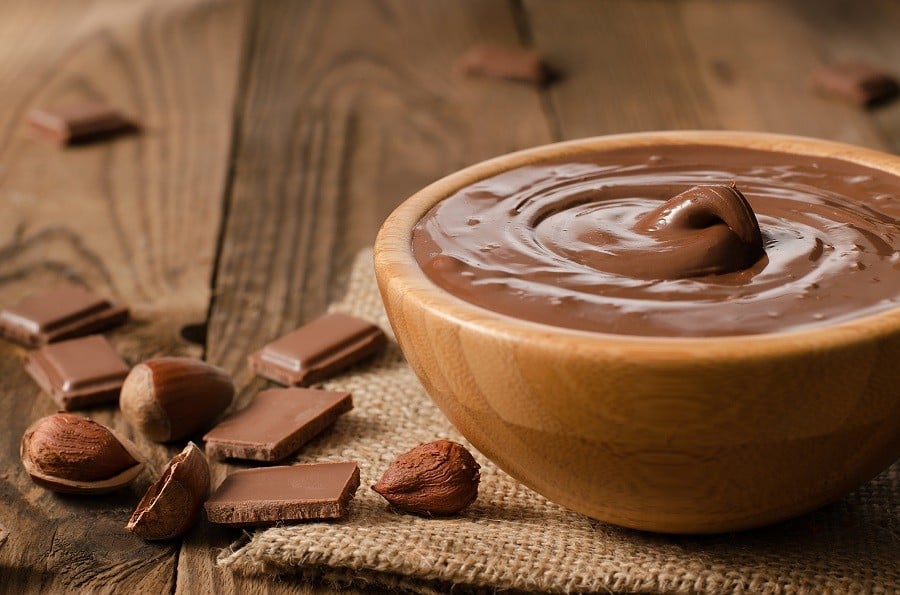 Dessert doesn't get any sweeter than Taste of Home's Cinnamon Chocolate Nachos. Chock-full of heavenly ingredients, we guarantee this toothsome treat won't last long! The recipe yields 12 servings.
Ingredients:
6 flour tortillas
7 tablespoons butter, melted and divided
6 tablespoons sugar, divided
½ teaspoon ground cinnamon
½ cup heavy whipping cream
⅓ cup packed brown sugar
1 ounce unsweetened chocolate, chopped
½ teaspoon vanilla extract
½ cup chopped pecans
Directions: Preheat oven to 350 degrees Fahrenheit. Brush both sides of tortillas with 4 tablespoons butter. Combine 2 tablespoons sugar and cinnamon; sprinkle over one side of each tortilla. Stack tortillas, sugared side up; cut into 12 wedges. Arrange in a single layer on baking sheets. Bake at 350 degrees Fahrenheit for 12 to 14 minutes, or until crisp. Meanwhile, in a heavy saucepan, combine the cream, brown sugar and remaining butter and sugar.
Bring to a boil over medium heat, stirring constantly. Cook and stir for 5 minutes or until slightly thickened. Remove from the heat; stir in chocolate and vanilla. Cool slightly. Arrange half of the tortilla wedges on a large serving platter. Drizzle with half of the chocolate sauce; sprinkle with half of the pecans. Repeat layers.
More from Culture Cheat Sheet: